Giants have confidence in veteran Hundley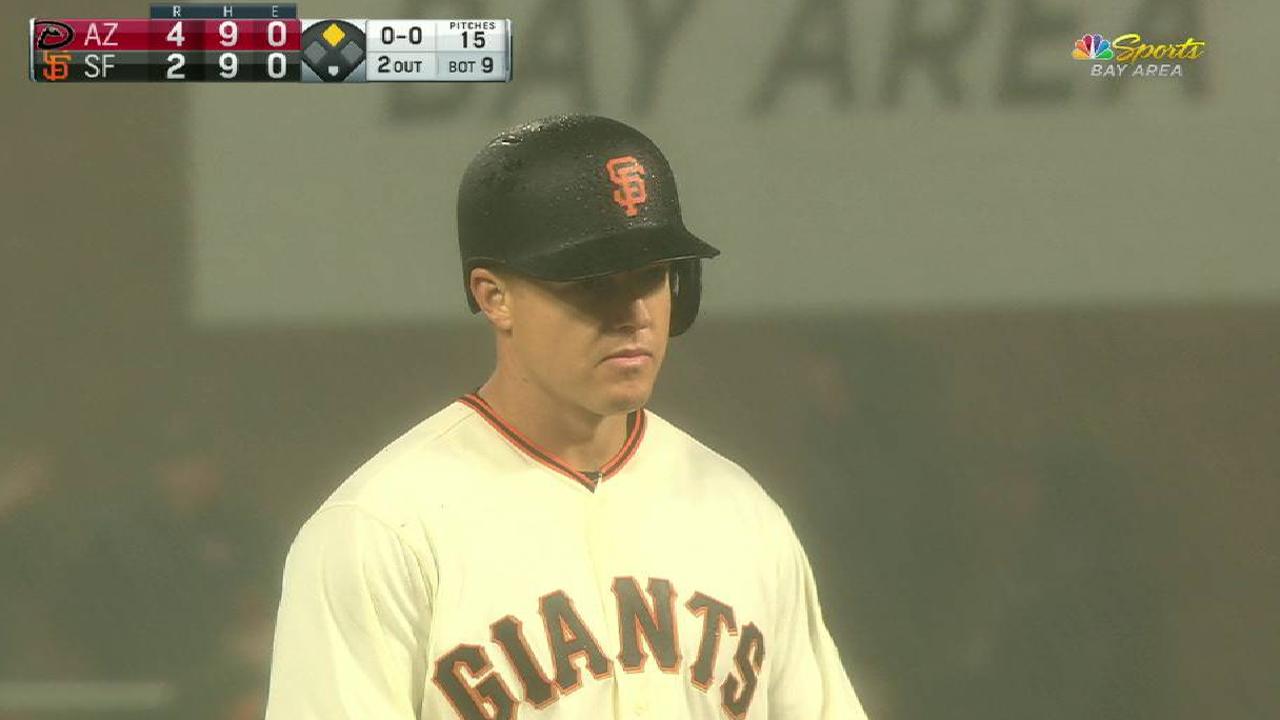 SAN FRANCISCO -- After playing in just one of his team's first six contests of the year, Giants catcher Nick Hundley has been thrust into the spotlight with Buster Posey's injury. Since Posey was hit in the head by a pitch from Arizona righty Taijuan Walker on Monday and subsequently placed on the seven-day concussion disabled list, Hundley has assumed the duties behind the plate for San Francisco.
The 33-year-old veteran made a big statement in his first start since taking over for Posey, going 3-for-5 with two doubles, two runs scored and an RBI in Tuesday's 4-3 loss to the D-backs.
"That's why it's good to have depth," Giants manager Bruce Bochy said. "You have an experienced catcher, an experienced everyday guy who can handle the staff and can handle the bat. I think we're in good hands. We'll miss Buster. But we've got to hold the fort 'til he gets back."
Bochy said he was encouraged Posey was able to watch Tuesday's contest from the dugout and handle the lights and ballpark sounds with no problems.
"He's doing just fine right now," Bochy said.
This marks Hundley's first season with the Giants after he earned the backup catcher's gig out of Spring Training. The outgoing and talkative veteran posted a .326/.396/.609 slash line with three home runs and 12 RBIs in 19 spring contests, beating out last year's backup Trevor Brown, who is dealing with an ankle injury.
Excluding a 50-game stretch with Baltimore in 2014, Hundley has spent his entire 10-year career in the National League West. Hundley spent 2008-14 in San Diego before playing 2015-16 with Colorado. During his time with the Rockies, Hundley recorded back-to-back 10-homer seasons with a combined .282/.330/.455 slash line in 186 contests.
"I couldn't have more confidence in the guy we have," Bochy said. "Nick, he's a guy that's very well prepared. Again, he knows these teams as well as we do, as much as he's been playing against them."
Upton Jr. signs
The Giants announced the signing of veteran outfielder Melvin Upton Jr. to a Minor League contract Wednesday. Upton will work out in extended spring camp and eventually could be an option in case the Giants' production from their left fielders doesn't improve. The 32-year-old batted .238/.291/.402 with 20 homers and 61 RBIs in 149 games with the Padres and Blue Jays last season.
"He's a good athlete," Bochy said. "He can run, play left, center and I'm sure right field. He's got some pop. He's had some big years offensively. I talked to some people that saw him in spring, and they said he had a pretty good Spring Training. He's a guy with a lot of experience. He's definitely worth taking a look at to see if he can help us."
Alex Espinoza is a contributor to MLB.com and covered the Giants on Wednesday. This story was not subject to the approval of Major League Baseball or its clubs.