Reddick credits Beltran with key batting advice
Astros right fielder says veteran pointed out mechanical flaw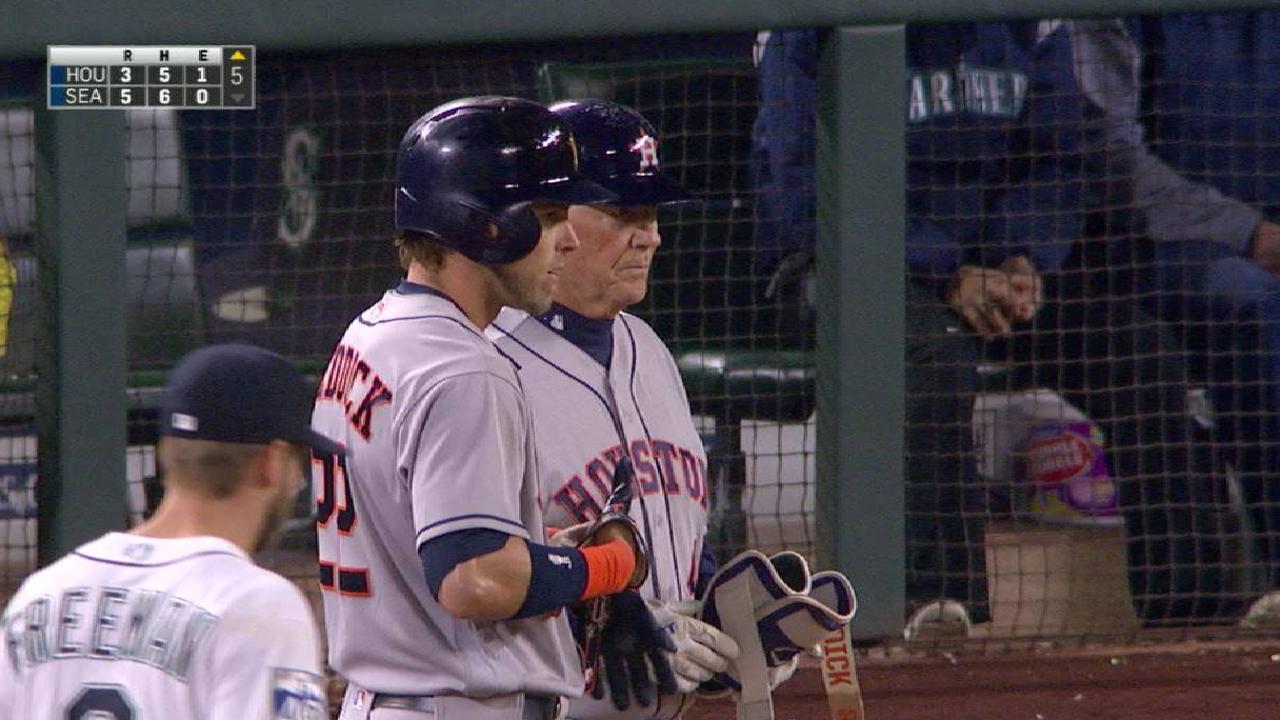 SEATTLE -- Astros outfielder Josh Reddick credits teammate Carlos Beltran with giving him a tip prior to Tuesday's game that helped his swing. Reddick went 2-for-2 Tuesday, though one of the hits was a bunt single against the shift.
That was the first multi-hit game of the year for Reddick, who had hit safely in six of the seven games he started prior to Wednesday.
"It's coming around slowly," said Reddick, who signed a four-year, $52 million deal in the winter. "I had a talk with Beltran yesterday about some things and he pointed out a very obvious thing I was doing. I knew I was opening my hips, but he put it in different perspective for me. It's a matter of staying within myself and using the whole field like what I did [Tuesday]. If they're going to give me that free bunt for a hit, hopefully I can get it fair."
Reddick said Beltran helped him take the focus off opening up his hips and made him focus on his shoulder.
"It was something that happened before the game, maybe a little five-minute talk," he said. "It wasn't anything intense. He just came in and said, 'Do this' and 'Think about this and let it happen.' That was the one thing I tried to focus on in the box [Tuesday] and try to have a little bit more rhythm. I felt like I was stiff as a board in the box as of late and it was causing me to fly open a little bit."
Astros manager A.J. Hinch has been starting Reddick against right-handers and some lefties, though he said he's picky about what southpaws he faces. After getting two hits Tuesday, Reddick was pinch-hit for, and Evan Gattis hit a three-run double in his place against a lefty reliever.
"He's been creative against lefties," Hinch said. "I'm very particular with the kind of lefties I want him to face. Left-handed relievers are paid to come in and get these guys out matchup wise, so that's a little tougher request for him, which is why you've seen me pinch-hit [for him against] them. The guys that have some good fastballs, the lefties we've faced, I thought he's hung in there pretty well. … His at-bats against right-handed pitching have been really good, and it's been really good for the better part of his whole career. I don't expect that to be any different."
Brian McTaggart has covered the Astros since 2004, and for MLB.com since 2009. Follow @brianmctaggart on Twitter and listen to his podcast. This story was not subject to the approval of Major League Baseball or its clubs.