Rangers to be conservative with Beltre's injury
Third baseman's rehab from calf injury likely to take weeks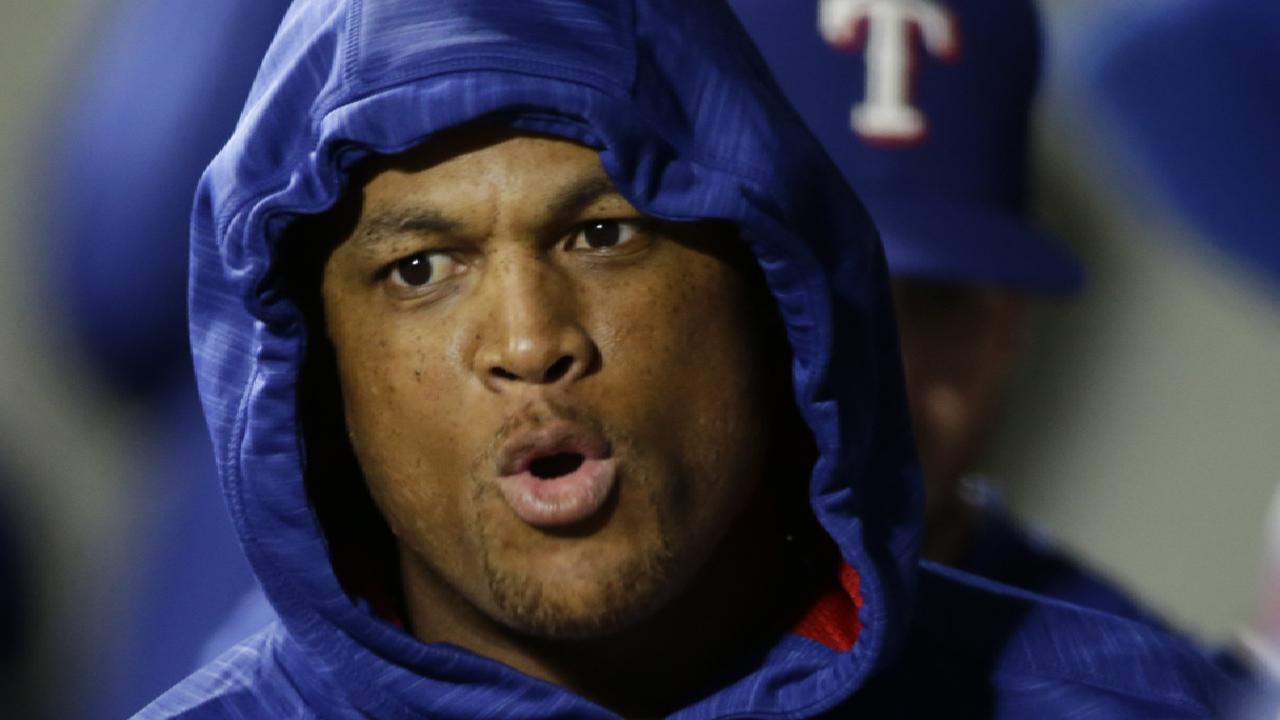 ANAHEIM -- Rangers third baseman Adrian Beltre will be sidelined for weeks rather than days as he recovers from a strained right calf muscle, assistant general manager Mike Daly said.
Daly said the Rangers are planning to take a "conservative approach" to Beltre's treatment and recovery period.
"We understand a calf injury is challenging to come back from," Daly said. "We want to make sure Adrian isn't pushing it and we aren't pushing it. It's a long season. It's April 12. We need him for the long haul. There is no need to push him. Let it calm down."
Beltre began the season on the disabled list with tightness in the right hamstring. He was eligible to come off on Sunday, but he re-injured the calf on Saturday while getting ready to play in a simulated game.
"It's tough," Beltre said. "I'm trying to be patient and understand it's going to take longer than expected and it will get better."
Beltre said he felt the calf muscle while warming up for the simulated game. He was hoping to both hit and run the bases in the game, and possibly get clearance to play Sunday.
"I started jogging, I wasn't even running, and I felt it," Beltre said. "I decided I couldn't run but I could still hit because I didn't know how bad it would be."
Beltre said he doesn't feel he tried to rush back too soon.
"When I was trying to play, they said it would be 10 days to two weeks," Beltre said. "It had been two weeks when I tried to run."
Diekman has second surgery
Pitcher Jake Diekman underwent a second abdominal surgery on Wednesday at the Mayo Clinic in Minnesota. Diekman underwent surgery in late January to have his colon removed and this operation was designed to rebuild his digestive tract. The procedure is known as the ileoanal anastomosis surgery.
Hey @JakeDiekman, we're all behind you. #GoodLuck #GutItOut pic.twitter.com/TLEDELdobK

— Texas Rangers (@Rangers) April 12, 2017
"This is the hardest of the three surgeries," Diekman told the Fort Worth Star-Telegram. "I've heard from tens of hundreds of people that this one is the worst one."
T.R. Sullivan has covered the Rangers since 1989, and for MLB.com since 2006. Follow him on Twitter @Sullivan_Ranger and listen to his podcast. This story was not subject to the approval of Major League Baseball or its clubs.