Mancini leads O's homer parade against Sox
Rookie makes franchise history by clubbing 5 in first 10 games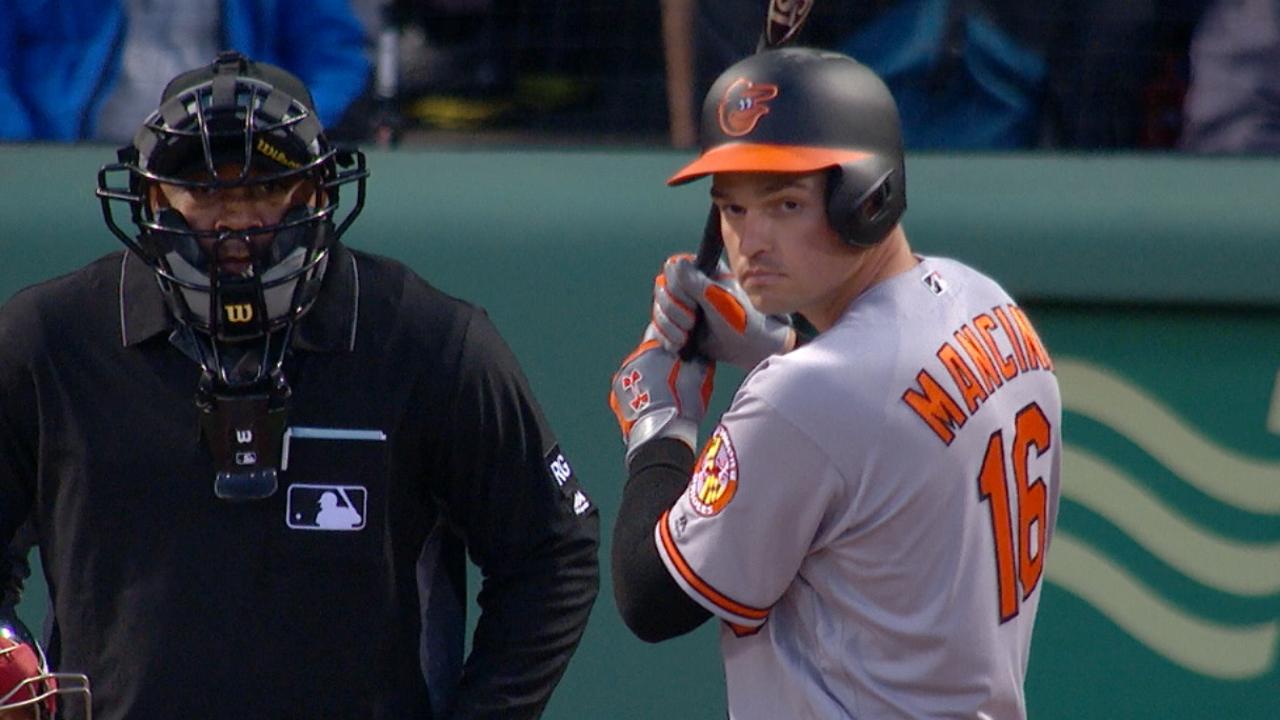 BOSTON -- After scoring just one run in the series opener on Tuesday, the Orioles' bats erupted in the early innings of a 12-5 win over the Red Sox on Wednesday night, as they connected for five home runs over the first three frames, including two by O's No. 5 prospect Trey Mancini.
Mancini became the first player in franchise history to hit five home runs in his first 10 games, something the rookie was pleasantly surprised to hear when asked about it by a reporter after the game.
"I didn't know that, actually. That's really cool," he said. "That's something that I can definitely appreciate."
The O's wasted little time against knuckleballer Steven Wright, who hit Seth Smith with the game's first pitch before laboring in a six-run opening frame.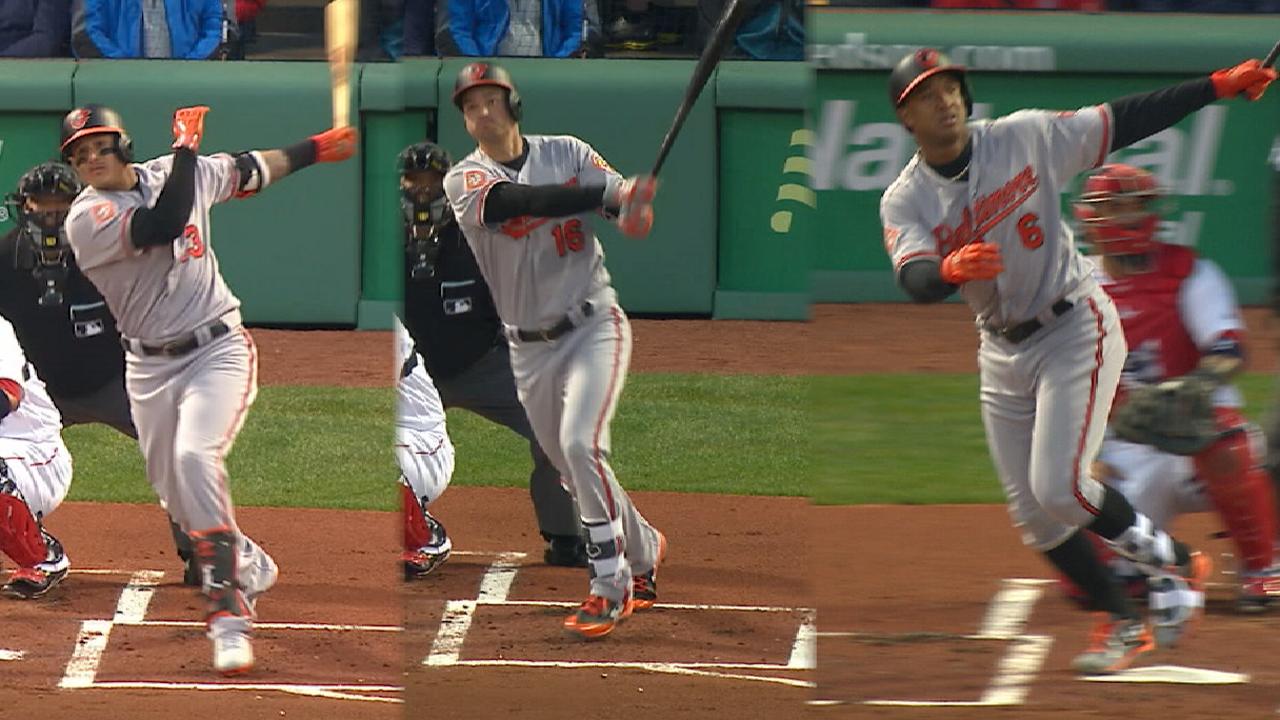 "I could tell walking around the locker room today that our guys were frustrated about last night," manager Buck Showalter said. "They were looking to get back out there and getting back to playing the type of baseball we're capable of and have to play."
Manny Machado's double, two batters later, opened the scoring, while Mark Trumbo and Welington Castillo singles helped set the stage for Mancini's first homer, and the left fielder took a 1-0 pitch the opposite way into the Red Sox bullpen to make it 5-0.
Jonathan Schoop hit the next pitch by Wright into the Green Monster seats -- his first homer of the season -- to cap the huge inning that saw 10 batters step to the plate.
Adam Jones then led off the second with a homer, and after Machado grounded out, Chris Davis hit a first-pitch homer, his second of the season, to chase the Red Sox starter.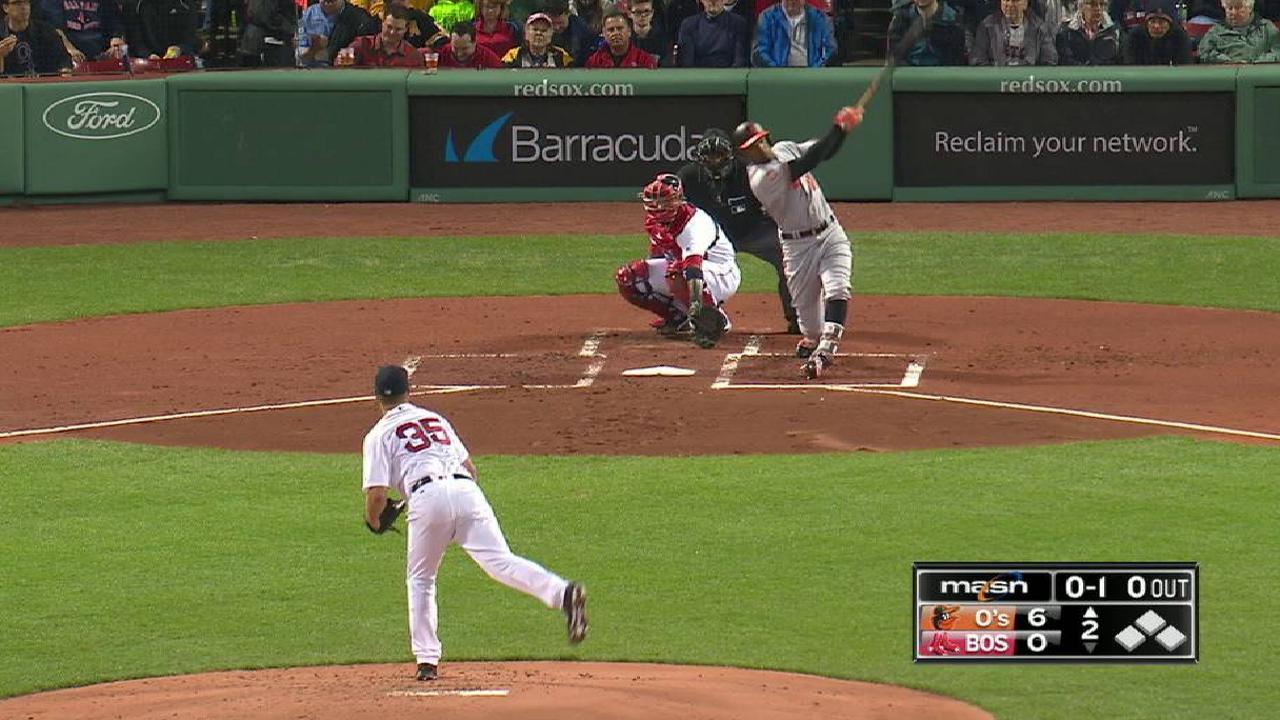 "They're a good-hitting team, a powerful team, as they showed tonight," Wright said. "I was throwing a lot of strikes and that can not be a good thing if you don't have a good knuckleball, and you're throwing it too much over the plate. It becomes BP."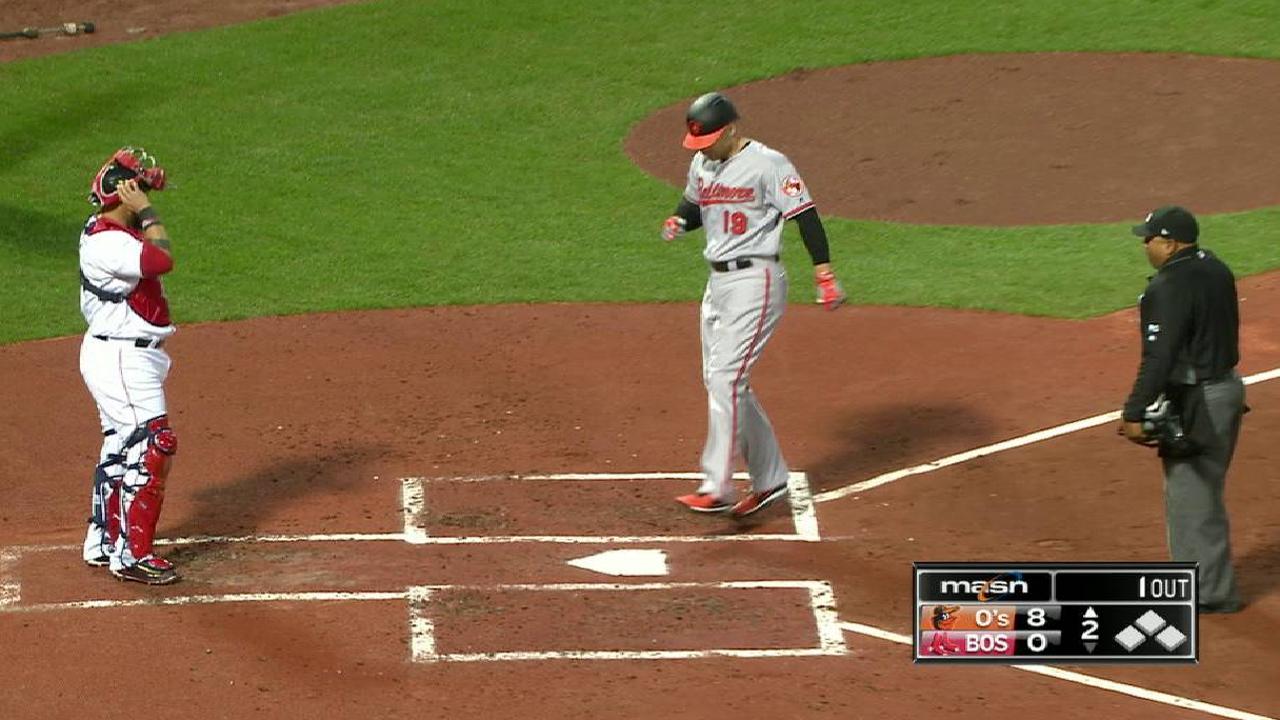 Leading off the third, this time against reliever Ben Taylor, Mancini worked the count full before hitting his second blast -- this one into the Green Monster seats with an exit velocity of 115.6 mph, according to Statcast™.
"Hitting is really contagious," said Mancini, who went 2-for-3 with a walk and a career-high four RBIs. "It's an old baseball cliché, but for whatever reason, I don't know if it gives everybody confidence. ... It was really awesome to be a part of that."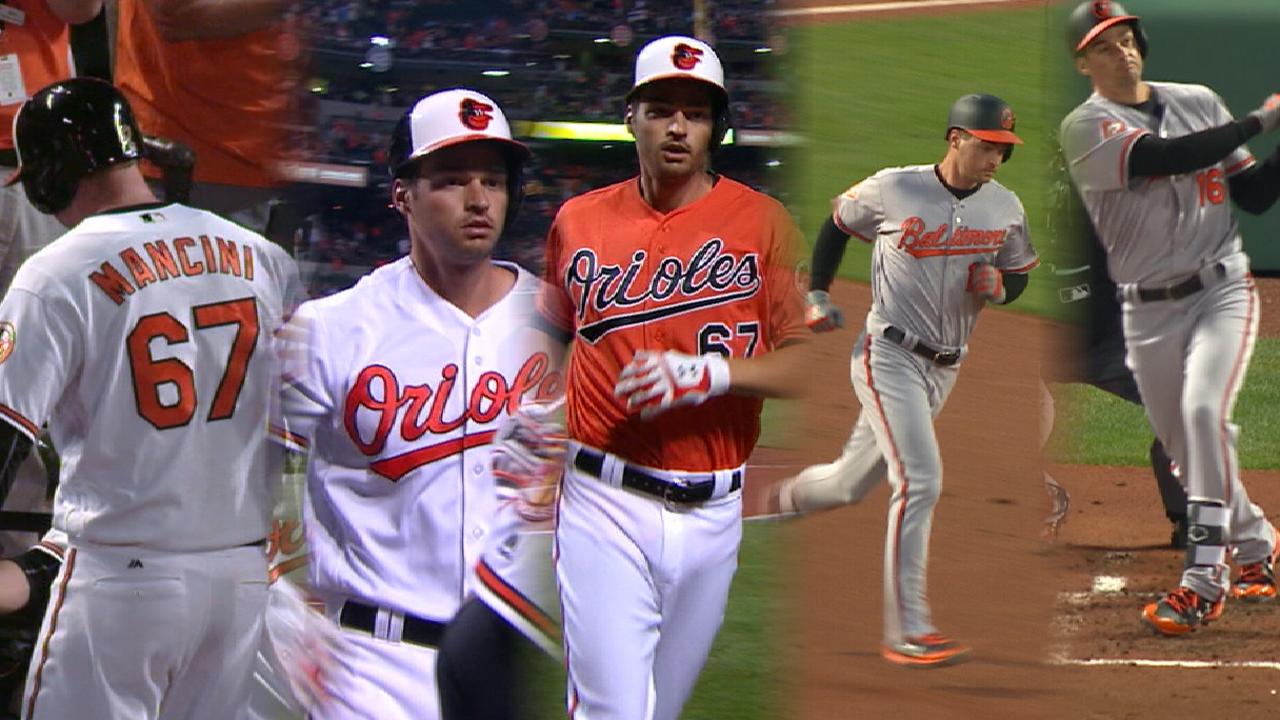 It was the first multi-home run game and first two homers this season for Mancini, who has hit four of his five career home runs against the Red Sox, the second of which staked the Orioles to a nine-run lead in the third inning. The most home runs in one game by a Baltimore team came just two years ago -- eight against the Phillies on June 16, 2015.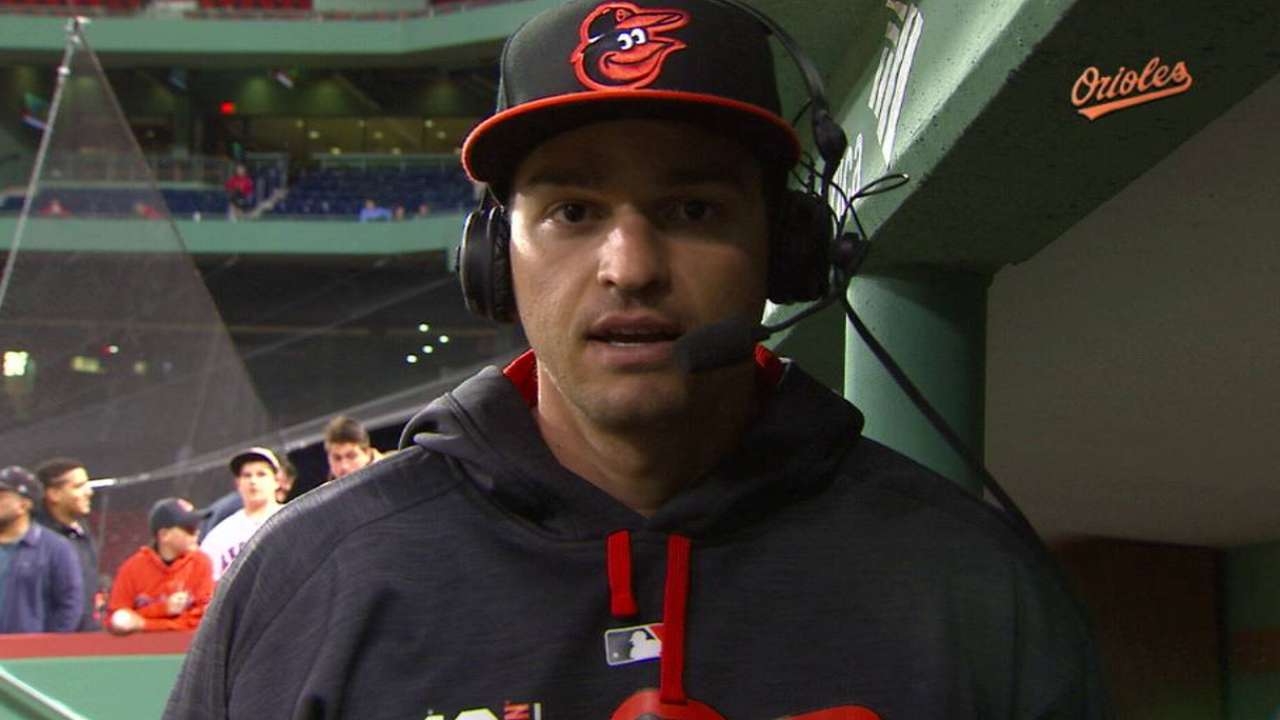 "It felt incredible and something that I'll remember my whole life," Mancini said. "It was a special night for sure and to be able to do it at a place like this is something that I couldn't have imagined before."
Craig Forde is a contributor to MLB.com based in Boston. This story was not subject to the approval of Major League Baseball or its clubs.