With HR, Conforto furthers case for playing time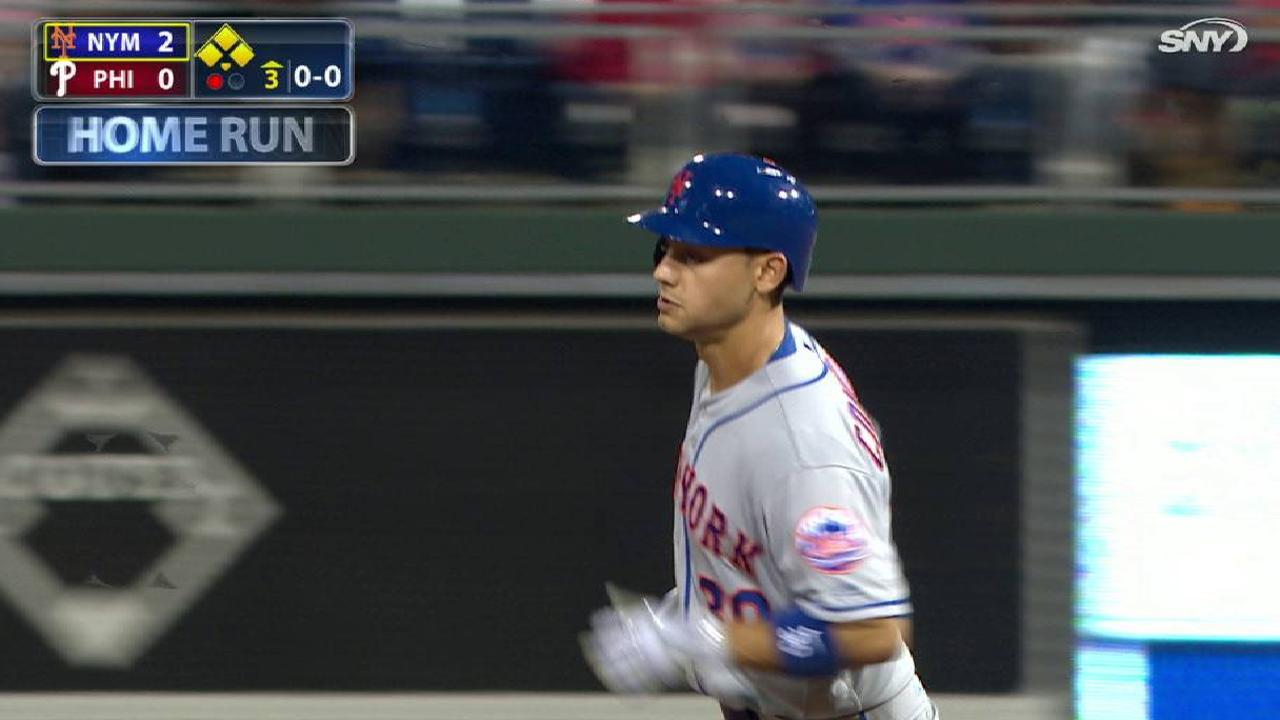 PHILADELPHIA -- The calls for Michael Conforto come daily now -- in the tabloids, on the radio, in a social media deluge. Tantalized by Conforto's potential and early big league success, Mets fans do not merely want the 24-year-old outfielder to remain in the Majors. They want him to start on a regular basis.
They want to see more of the sort of thing Conforto offered Wednesday, homering, reaching base three times and scoring three runs in the Mets' 5-4 win over the Phillies at Citizens Bank Park. They want to see Conforto prove, once and for all, if he is indeed a star in the making.
Conforto cannot do that if he does not play.
"Anytime it's difficult for them, I think that's a good thing," Conforto said of the Mets' lineup decisions. "It just means we've got a lot of good players, we've got a lot of depth, and it means we're playing well."
Lacking the authority to write out his own lineup, all Conforto can do is excel in the limited opportunities the Mets give him. The first of those came on Sunday, when Conforto homered, walked and drove in two runs against the Marlins. Three days later, manager Terry Collins wrote Conforto's name onto the lineup card again, this time in the leadoff spot, wanting to give Curtis Granderson a day off to rest his 36-year-old legs.
Conforto responded immediately, singling and scoring off Vince Velasquez in the first inning before hitting a booming home run a projected 422 feet to left-center with an exit velocity of 108.1 mph, per Statcast™, in the third.
"A back-door, two-seam to try to freeze him, I'm not known for that," Velasquez said. "I'm trying to do stuff that's out of my repertoire. I don't know why. Sometimes it's just the heat of the moment gets the best of me."
Conforto added a walk and a third run in the fifth off Velasquez. And while he struck out looking in each of his final two at-bats against Phillies relievers, he saw 23 pitches in total on the night.
"Every good at-bat that I have, I continue to feel more comfortable out there," said Conforto, who improved his batting average and OPS to .400 and 1.538, respectively. "The more consistently I can get out there, I think the more comfortable I'm going to be. That goes for at the plate and in the field. It's definitely a good thing getting that second start."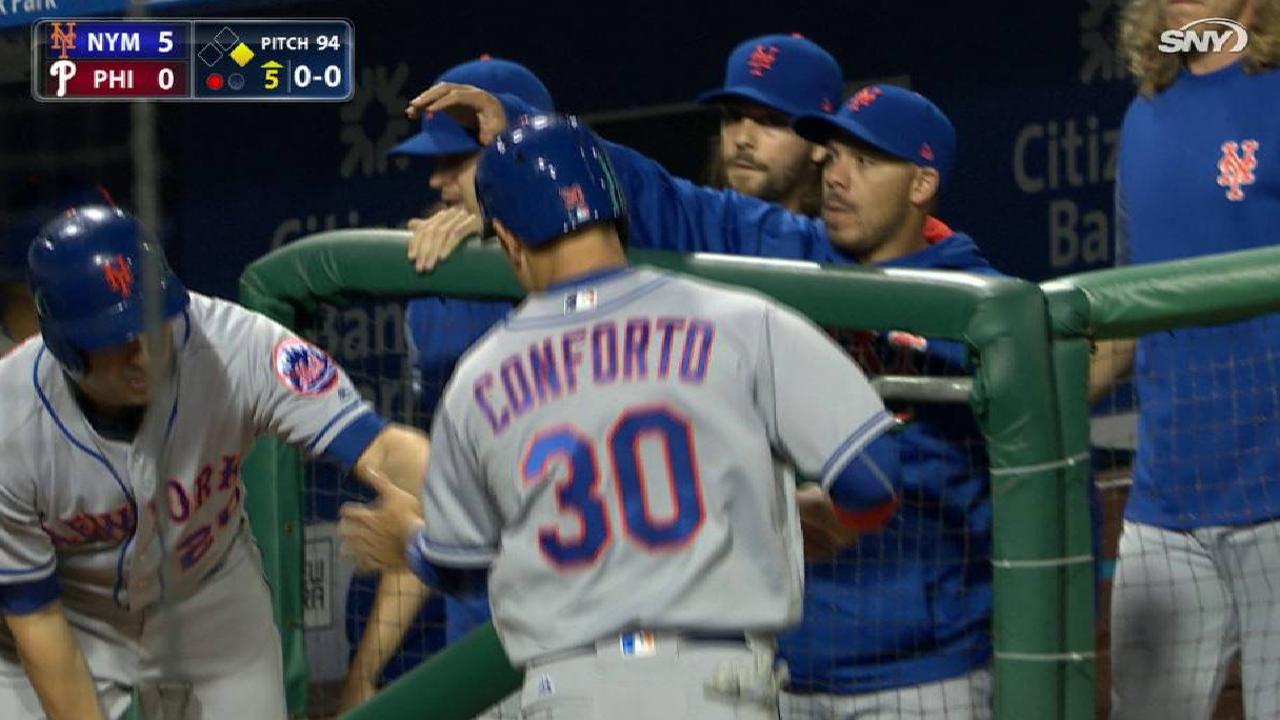 A third start should come this weekend in Miami, Collins said, almost certainly on Saturday or Sunday. Though Collins demurred on the details, the implication there is clear: Conforto is likely to stick around after fourth outfielder Juan Lagares returns from the disabled list, which could happen as soon as Thursday.
Yet beyond this weekend, the Mets' outfield logjam isn't about to become any less jammed. Yoenis Cespedes, Granderson and Jay Bruce are still the starters. That's not changing. So for Conforto to play, the Mets will need to find ways to give one or more of those outfielders regular days off -- a puzzle that becomes exponentially more complicated the more Conforto thrives.
"Each and every game that he plays, I think he's driven to have a good game so that he continues to get opportunities," Collins said. "And I salute that."
Anthony DiComo has covered the Mets for MLB.com since 2008. Follow him on Twitter @AnthonyDiComo and Facebook, and listen to his podcast. This story was not subject to the approval of Major League Baseball or its clubs.