Sox SS Anderson: Approach at plate will evolve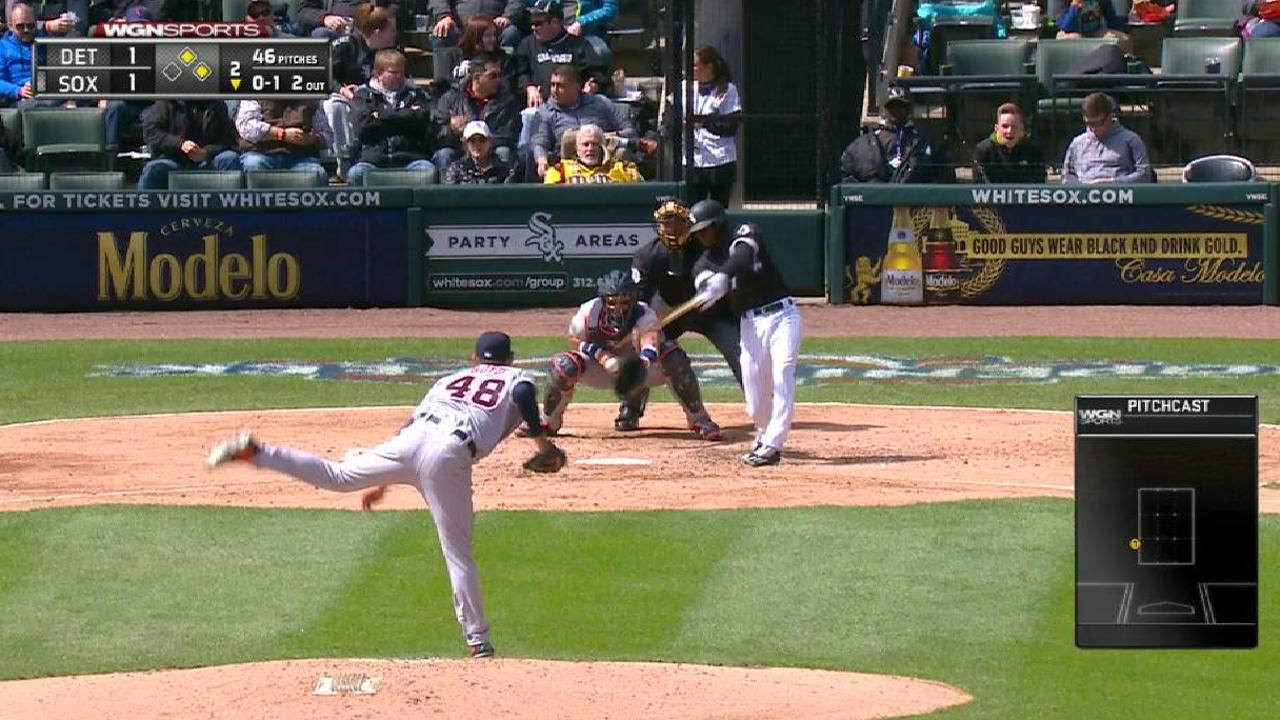 CLEVELAND -- Controlled aggression would be the best way to depict Tim Anderson's offensive approach.
And despite having 125 strikeouts and 13 walks over 457 career plate appearances entering play Wednesday in Cleveland, pure patience is not necessarily going to be a virtue in his hitting vocabulary.
"That's something for the people on the outside looking in," said Anderson of the low walk rate. "If I start walking, they are going to say start hitting. If I don't hit, they are going to say start walking. It has its pros and cons.
"It's definitely nothing I pay attention to. At the end of the day, I'm in the box to help the team win."
Anderson entered Wednesday's contest hitting .192 with one RBI and no extra-base hits in six games. But the 23-year-old still features the upbeat demeanor on display really since reaching the Majors.
There's no reason for Anderson to be down when considering his six-year, $25 million extension he agreed upon with the White Sox during Spring Training, with options potentially taking it over $50 million. He also has the confidence of conquering a perceived defensive challenge, with many experts projecting Anderson more as an outfielder than shortstop.
Adjustments will have to be gradually made by Anderson. According to Statcast™, Anderson hit only .221 against the slider in '16 and opposing pitchers figure to try to get him to chase that pitch a little more out of the zone.
A thought process certainly sits at the core for each Anderson at-bat.
"I'm a middle-away guy," Anderson said. "When I hit middle away, those balls tend to create a lot of backspin and carry in those gaps. It'll definitely eliminate most of those strikeouts.
"When I tend to pull some ... I get too excited and roll over something. It has to be reaction when I hit something. I can't just really focus on that. My aggressive approach is something that I'm still working on as I mature. Kind of how to control the aggressiveness as I become a better hitter and mature and become a better player."
Late scratches
The White Sox lineup was ever-evolving on Wednesday.
Todd Frazier originally was listed as the third baseman, but he was scratched for Matt Davidson due to flu-like symptoms. Catcher Geovany Soto was replaced by Omar Narvaez, with Soto suffering from right elbow soreness.
White Sox manager Rick Renteria had talked before the game about moving closer to a 50-50 split between Soto and Narvaez, but he wasn't referring to Soto's malady.
"We're just trying to make sure Narvy is gathering more experience and being with all the guys we have and trying to take advantage of Geo's experience and working with a couple of the guys in [James Shields] and [Derek Holland]," Renteria said. "Hopefully you'll see Narvy about 50/50, or maybe a little bit more."
Scott Merkin has covered the White Sox for MLB.com since 2003. Read his blog, Merk's Works, follow him on Twitter @scottmerkin, on Facebook and listen to his podcast. This story was not subject to the approval of Major League Baseball or its clubs.