Statcast spotlight: 5 players to watch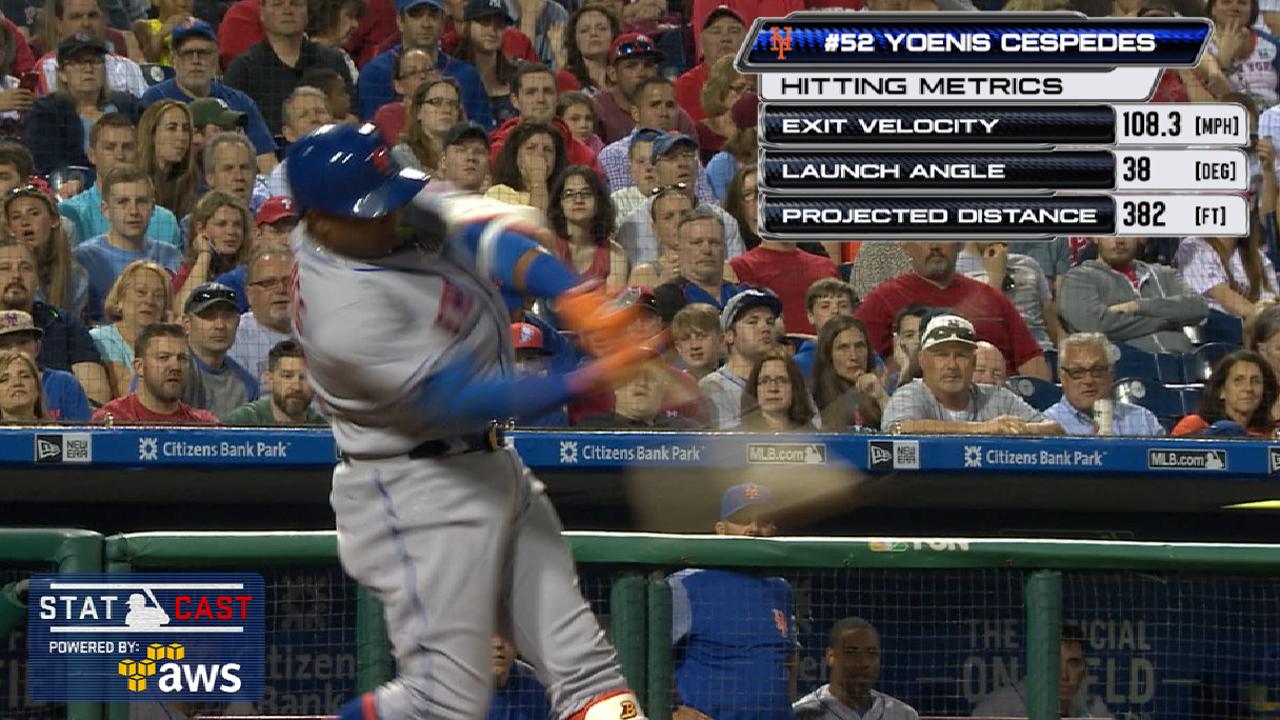 Using revolutionary Statcast™ data, here are five players to keep an eye on today. Watch it all on MLB.TV.
Yoenis Cespedes
7:05 p.m. ET -- Mets at Phillies
Cespedes broke out of his early-season slump in a big way Tuesday, going deep three times in the Mets' 14-4 win over the Phillies at Citizens Bank Park. Not only did Cespedes become the first player in franchise history to have a pair of three-homer games, he's also now the third player to record four barreled balls in a game in the Statcast™ Era. Cespedes' hardest hit Tuesday wasn't any of the home runs, but a 111-mph double in the seventh inning. His home runs in the first, fourth and fifth innings tracked at 105.2 mph, 109.2 mph and 108.3 mph, respectively, and traveled a combined 1,220 feet.
Players with a four-barrel game in 2015-17
1. Steven Souza Jr., Rays, April 6, 2016
2. Matt Carpenter, Cardinals, June 26, 2016
3. Cespedes, Mets, April 11, 2017
Khris Davis
8:15 p.m. ET -- Athletics at Royals
Davis connected with a pitch from Ian Kennedy in the fourth inning Monday, sending it off the bat at 104.9 mph with a 33-degree launch angle. Davis' shot went up into a gusting wind at Kauffman Stadium that helped carry it over the right-field wall for a home run. The homer was Davis' 14th opposite-field blast hit at least 100 mph or greater since the beginning of the 2016 season. Only Miguel Cabrera of the Tigers has hit more in that span among right-handed batters.
Most homers to right of at least 100 mph by right-handed hitter since start of 2016
1. Cabrera, 15
2. Davis, 14
3 (tie). Chris Carter, 10
3 (tie). Wil Myers, 10
3 (tie). George Springer, 10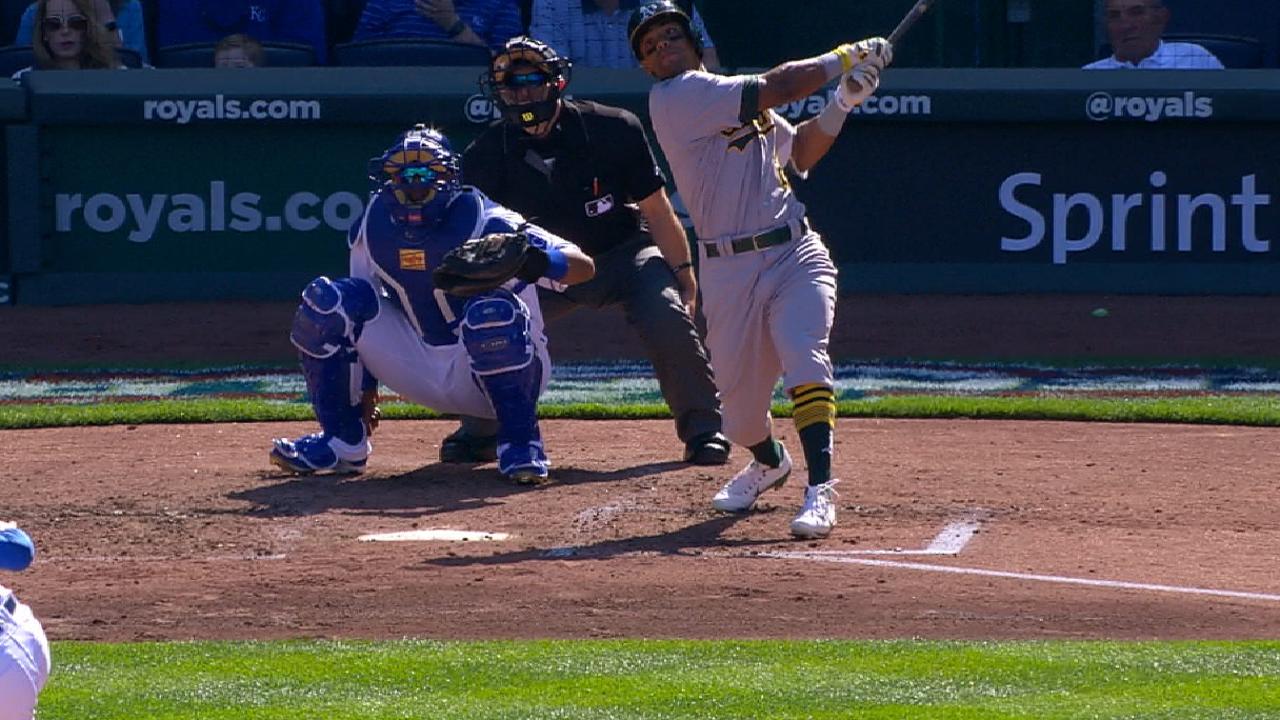 Yunel Escobar
10:07 p.m. ET -- Rangers at Angels
No one is hitting the ball with authority more often than Escobar is this season. He ripped singles with exit velocities of 106.9 mph and 99.2 mph against the Rangers on Tuesday, giving him 14 batted balls of at least 95 mph (a good baseline for hard-hit balls) in 2017. That's tied for the Major League lead with the Padres' Wil Myers.
Most batted balls of at least 95 mph in 2017
1 (tie). Escobar: 14
1 (tie). Myers: 14
3. Nicholas Castellanos: 13
Shelby Miller
10:15 p.m. ET -- D-backs at Giants
In his season debut last Friday against the Indians, Miller showed off some of his best fastball velocity of the Statcast™ Era. He threw five of his six fastest four-seamers since the start of 2015, topping out at 98.1 mph, and he averaged 95.7 mph with the pitch. That was his third best for a game since 2015, and higher than in any outing last year.
Miller's highest single-game average four-seamer velocity since 2015 (minimum 20 pitches thrown)
1. 95.9 mph -- 7/25/15
2. 95.8 mph -- 6/24/15
3. 95.7 mph -- 4/7/17
4. 95.5 mph -- 9/28/16
5. 95.4 mph -- 6/18/15
Miller's highest individual four-seamer velocity since 2016
1. 98.1 mph -- 4/7/17
2. 97.8 mph -- 4/7/17
3. 97.7 mph -- 9/12/16
4. 97.5 mph -- 4/7/17
5. 97.3 mph -- 4/7/17
6. 97.2 mph -- 4/7/17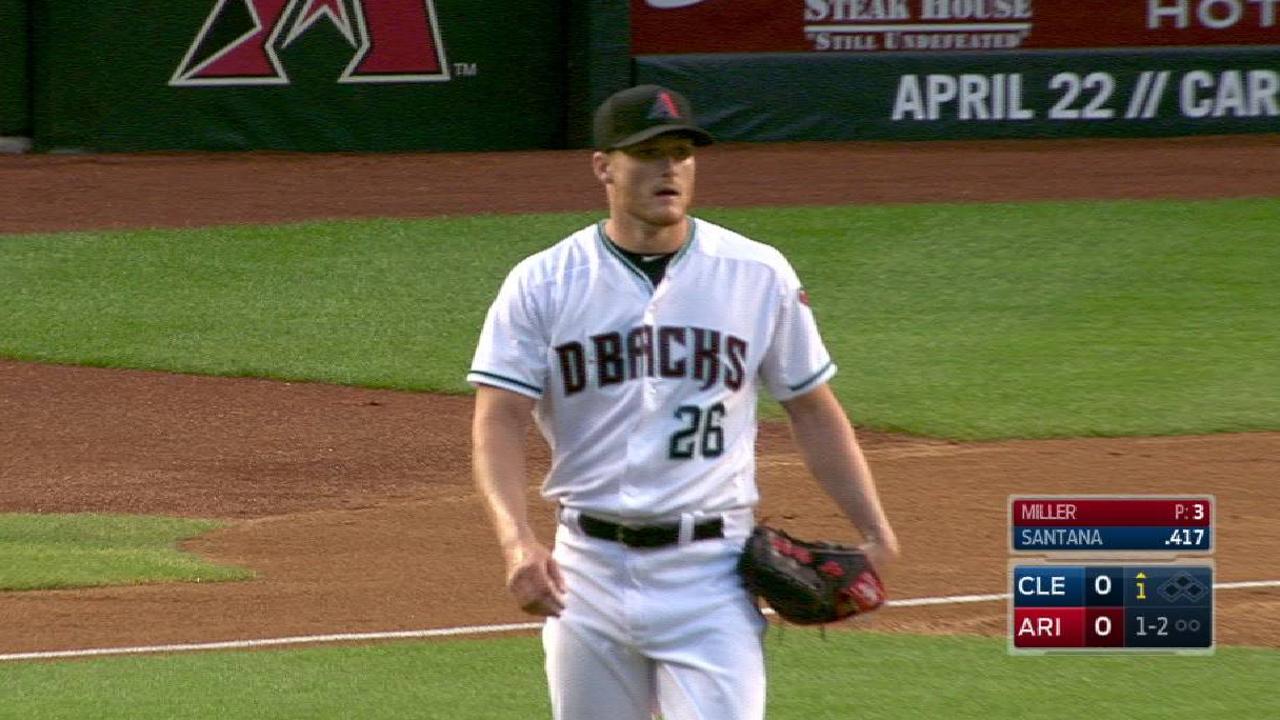 Matt Cain
10:15 p.m. ET -- D-backs at Giants
In his first start of the season last Friday at San Diego, Cain allowed four runs over 4 1/3 innings, walked three and threw only 45 of his 85 pitches for strikes. Statcast™ shows that just 29.4 percent of his pitches were within the strike zone, his lowest single-game rate of the Statcast™ Era.
Cain's lowest single-game zone percentage since 2015 (minimum 50 pitches)
1. 29.4 percent -- 4/7/17
2. 29.9 percent -- 4/19/16
3. 31.6 percent -- 8/8/15
4 (tie). 32.5 percent -- 6/13/16
4 (tie). 32.5 percent -- 7/17/15