Samardzija finishes strong in loss to D-backs
SAN FRANCISCO -- Jeff Samardzija met all the minimum requirements for a satisfying evening. All he lacked was a victory.
The Giants starter remained at close to peak effectiveness for 6 2/3 innings Tuesday but absorbed the decision in San Francisco's 4-3 loss to the Arizona Diamondbacks.
Samardzija improved vastly over his previous outing last Thursday, which also happened to be against the D-backs. That night at Chase Field, he yielded homers to David Peralta, Paul Goldschmidt and Jake Lamb, which accounted for five of the six runs he allowed through 5 1/3 innings in San Francisco's 9-3 loss.
This time, Samardzija kept the ball in the park. He yielded three runs in 6 2/3 innings and struck out the final two batters he faced in the sixth inning, reflecting his reserve of physical strength. That convinced Giants manager Bruce Bochy to let Samardzija work into the seventh.
"To go out and finish strong felt great," Samardzija said. "Obviously, in those spots, you want to make sure you do a good job so they remember how you finished up and they're not scared to do it again for you. I felt like I could attack them there in the seventh using all my pitches."
The 3-0 deficit that the bullpen inherited from Samardzija easily could have been smaller. Center fielder Gorkys Hernandez barely missed catching Lamb's third-inning, bases-loaded triple, which accounted for all of Arizona's runs off Samardzija.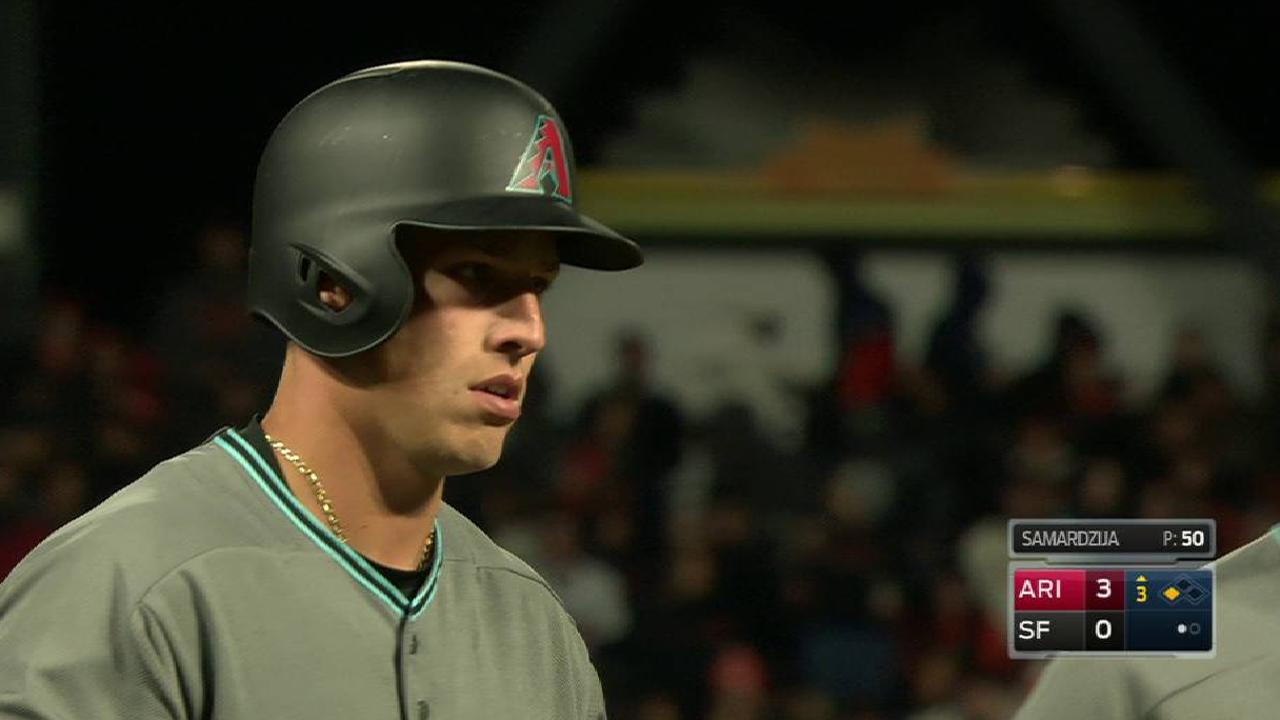 "I thought he had a bead on it," Bochy said, referring to Hernandez's attempt. "He's so good out there. He was upset with himself [for not catching the ball]. That was a big play, obviously. He's a gifted center fielder and he didn't come up with it."
Said Hernandez, "It was pretty close. I almost got him. That happens. I tried to do the best I can for Samardzija and the team. I jumped a litle bit to try to catch the ball and it hit my glove."
Hitting Goldschmidt with a first-inning pitch was less of a close call for Samardzija. His delivery smacked Goldschmidt in the buttocks. It was perceived as retaliation for the pitch that beaned Buster Posey on Monday and put him on the seven-day concussion disabled list. But none of the Giants would admit that.
Reminding reporters that Goldschmidt hit an opposite-field home run off him last Thursday, Samardzija said, "We gotta attack him [inside]. ... I obviously didn't feel like any pitches out over the plate was a good idea."
Said Bochy, "I don't have anything to say about that."
Chris Haft has covered the Giants since 2005, and for MLB.com since 2007. Follow him on Twitter at @sfgiantsbeat and listen to his podcast. This story was not subject to the approval of Major League Baseball or its clubs.