Haniger's missed catch looms big in loss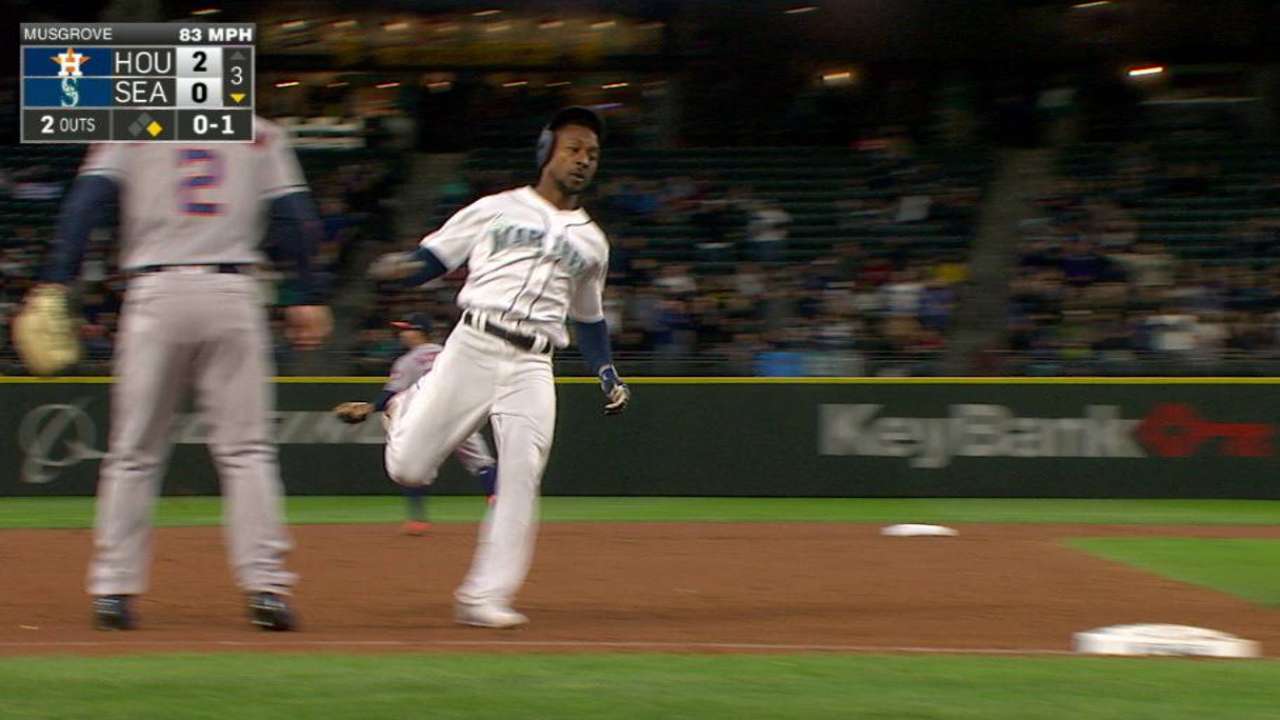 SEATTLE -- Rookie right fielder Mitch Haniger has been a breakout player for the Mariners in the first nine games of the season, leading the Majors in runs and ranking second on the Mariners in RBIs while ripping three home runs and three doubles from his No. 2 spot in Seattle's batting order.
But the 26-year-old was the center of attention Tuesday for a play he didn't quite make, after a bases-loaded blooper down the right-field line by Evan Gattis deflected off his glove on a sliding attempt that would have gotten reliever James Pazos out of a big jam in the sixth inning of a 7-5 loss to the Astros.
"Tough play," Haniger said. "We were trying to cover the gaps. Gattis is more of a pull guy. It was a long run, I got a good jump, I just didn't haul it in."
Instead, three runs scored as the Astros rallied from a 3-2 deficit with a four-run sixth. But indeed, Statcast™ noted that Haniger needed to cover 77 feet in 4.3 seconds to make the grab, giving him just an 18-percent catch probability.
Had Haniger pulled it in, Statcast™'s ranking system would have called it a 5-Star defensive play, their highest rating. But the youngster is well regarded defensively and manager Scott Servais figures he'll make that catch more often than not this year.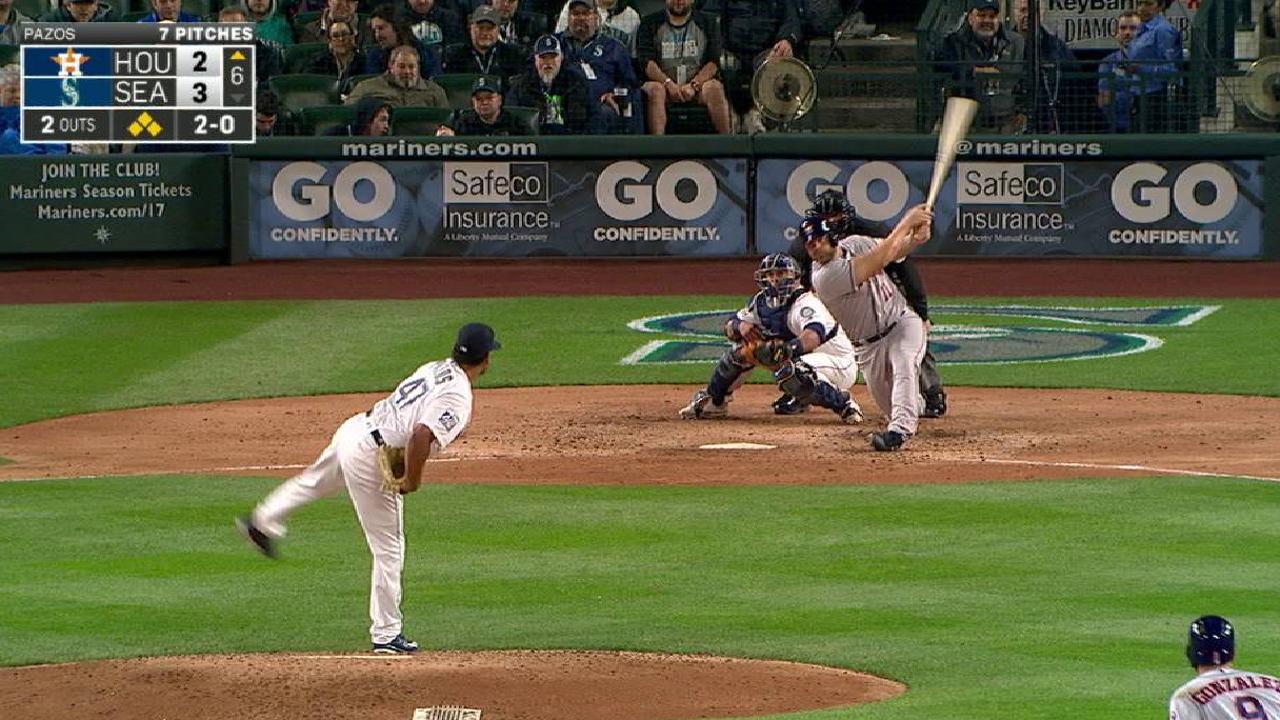 "I think Mitch would say that's a ball he comes up with most times," Servais said. "Great effort, he went after it the way he should with the game on the line there in the sixth with the bases loaded. He just didn't come up with it. Some nights it happens. But I'm sure he'd be the first to say he probably should have had that one."
Haniger wasn't saying much afterward, however, as he absorbed a difficult defeat that dropped Seattle to 2-7.
"I'm just trying to do my job, trying to get to everything I can," he said. "I don't know. Maybe next time I'll get it."
At the plate, the 6-foot-2, 210-pounder has been Seattle's best all-around hitter. Following up on a strong spring, when he led the Cactus League with a club-record 11 doubles, he's opened the season by continuing that trend. With six extra-base hits, he's batting .257 and leads the Mariners starters in on-base percentage (.395) and slugging percentage (.600) after going a 1-for-2 with the double and three walks on Tuesday.
Haniger doubled high off the wall in left in the third to score Jarrod Dyson from first for his sixth RBI of the season, then crossed the plate himself on Robinson Cano's base hit for his 10th run of the season. He's scored in eight straight games, tying Seattle's club record for a rookie set by Danny Tartabull in 1986.
"Mitch is really seeing the ball well right now," Servais said. "He just missed a home run there close to the top of the wall. Really good at-bats, a couple walks, he's seeing the ball well, his timing is good and he's making good adjustments at the plate."
Said Haniger: "I'm just trying to be picky and swing at good pitches."
But in the end, none of that mattered much in a quiet clubhouse.
"Tough loss," said Haniger.
And there wasn't much else to say.
Greg Johns has covered the Mariners since 1997, and for MLB.com since 2011. Follow him on Twitter @GregJohnsMLB and listen to his podcast. This story was not subject to the approval of Major League Baseball or its clubs.