Senzatela dedicates first win in mother's honor
Rockies starter tosses seven solid innings vs. Padres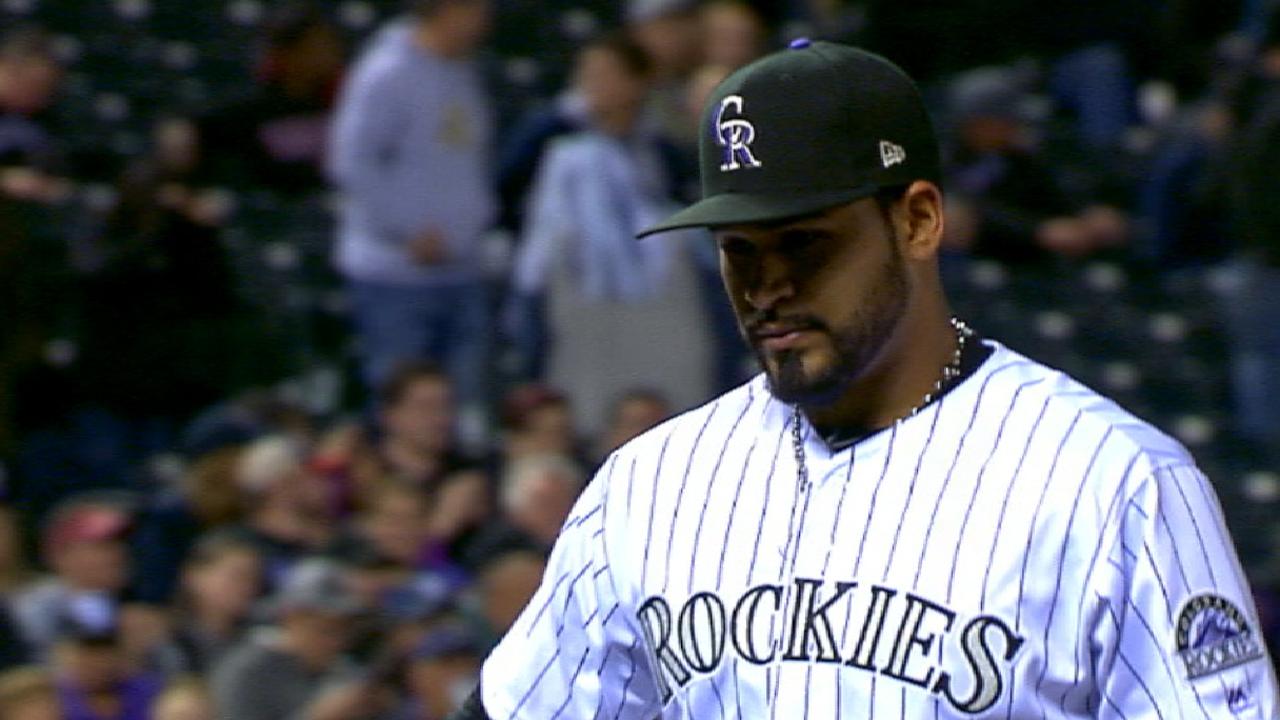 DENVER -- Rockies rookie starter Antonio Senzatela made a special dedication after Tuesday's 3-2 win over the Padres at Coors Field, during which he shook off yielding a leadoff homer to throw seven innings for his first Major League win.
During starts, Senzatela stashes the rosary used by his mother, Nidya, in his back pocket. Nidya died of cancer in Venezuela on Aug. 24, 2016. After the game, Senzatela kept a ball from the win in the top shelf of his locker.
"I'm going to take it and give it to my mom," Senzatela said, before his voice trailed. "In her tomb."
Senzatela, 22, was limited to seven Double-A starts last year. He had two bouts with right shoulder inflammation and, he also went to Venezuela to be with his mom for the final month before her death. But during a strong Spring Training, Senzatela demonstrated why the Rockies moved him past the Triple-A level.
When Senzatela is most confident, he believes he can beat teams with his fastball because he can locate it well. He recalled using 12-15 sliders on Tuesday -- including Manuel Margot's leadoff blast into the left-field bleachers -- and just one changeup.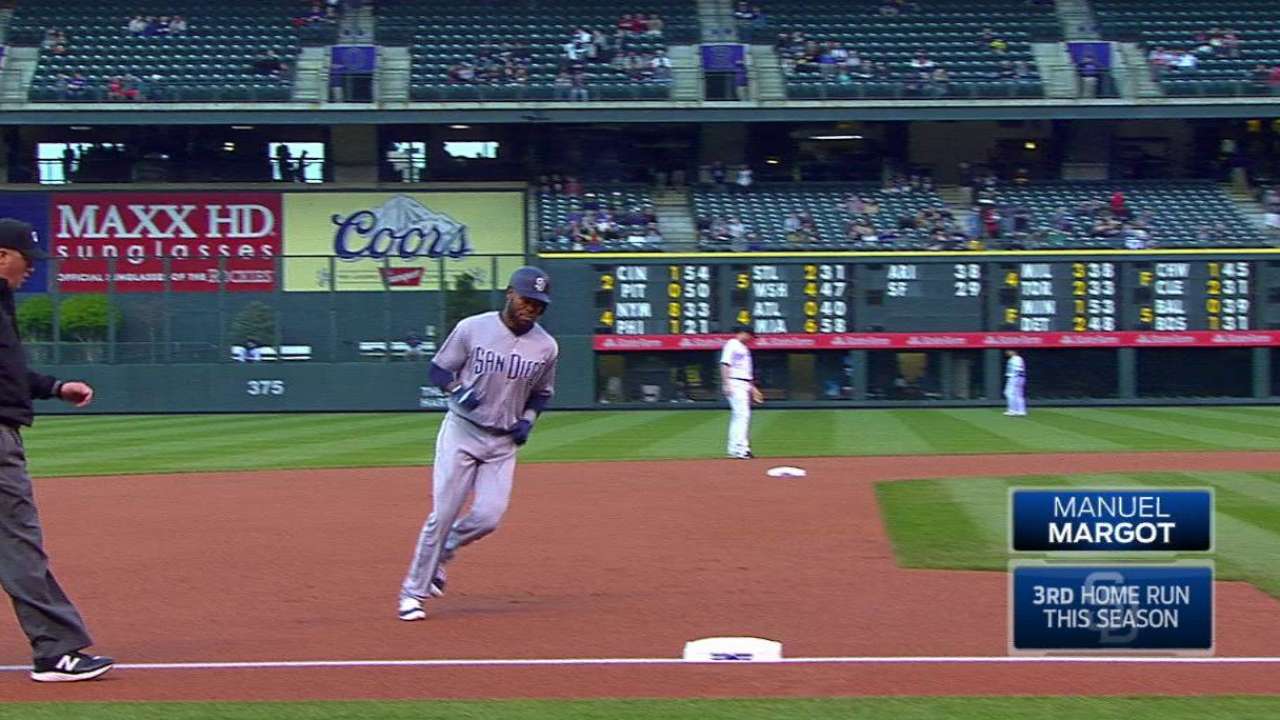 The rest of the pitches, Senzatela used the fastball to dominate. He struck out five and scattered five hits.
"I've got confidence in all my pitches, but my fastball was really good, good command," Senzatela said.
Like Senzatela's debut, when he escaped a bases-loaded, first-inning jam with a double-play grounder and threw five solid innings in a no-decision at Milwaukee, he demonstrated good composure.
"He has a calming sense of nature," Rockies catcher Tony Wolters said. "He calmed me down. He seems like he's been in the league for a long time."
Senzatela gave up a one-out Wil Myers triple in the fourth, but stranded him by forcing two fly balls. The Padres had runners at the corners in the sixth, but managed only a Myers sacrifice fly.
Senzatela started the seventh with a walk to Ryan Schimpf, then faced runners on first and second with two outs and pinch-hitter Luis Sardinas at the plate.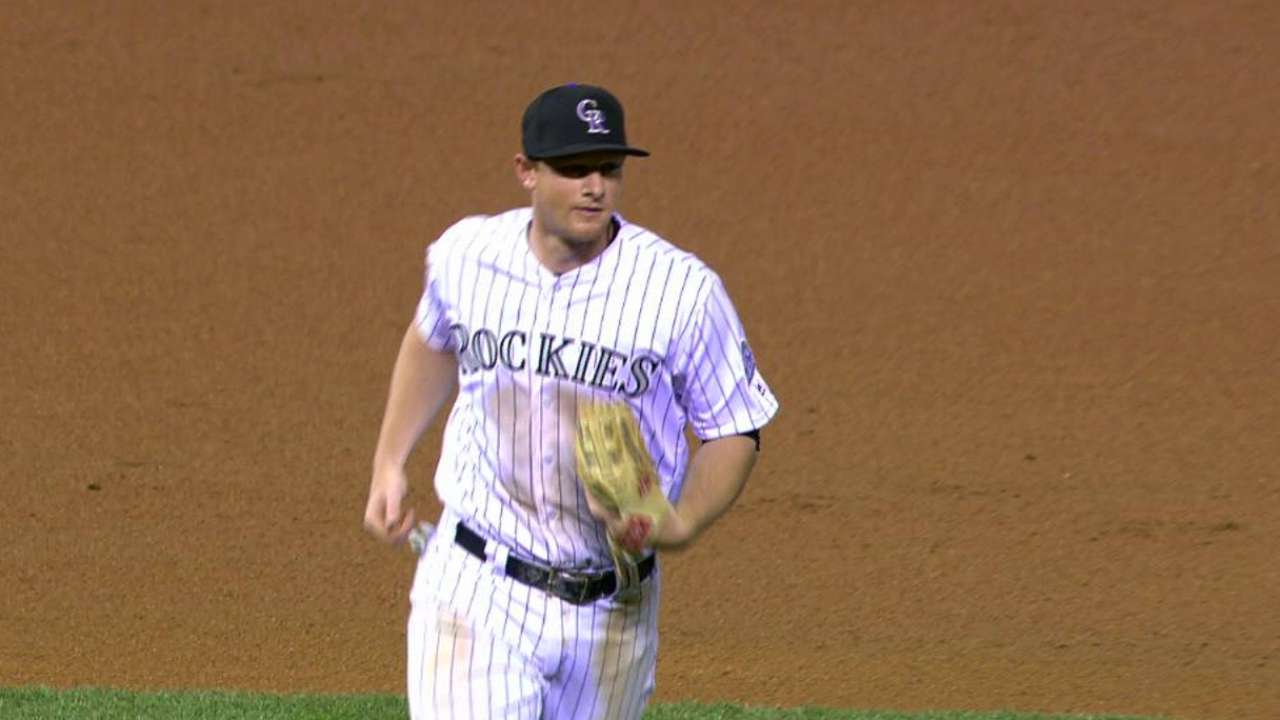 Manager Bud Black didn't reveal specifics of his mound visit, but he did say the discussion centered on strategy against Sardinas. There were no qualms about Senzatela's stuff, and certainly not his composure.
"I talked to him and Tony [Wolters] about how he was feeling, but I wanted to talk to them about how we were going to face Sardinas," Black said. "I felt pretty good about how he was throwing."
Senzatela forced a grounder to second, and ended up with a win and a special gift to deliver when he returns to Venezuela.
Thomas Harding has covered the Rockies since 2000, and for MLB.com since 2002. Follow him on Twitter @harding_at_mlb, listen to podcasts and like his Facebook page. This story was not subject to the approval of Major League Baseball or its clubs.