Gennett having blast with hometown Reds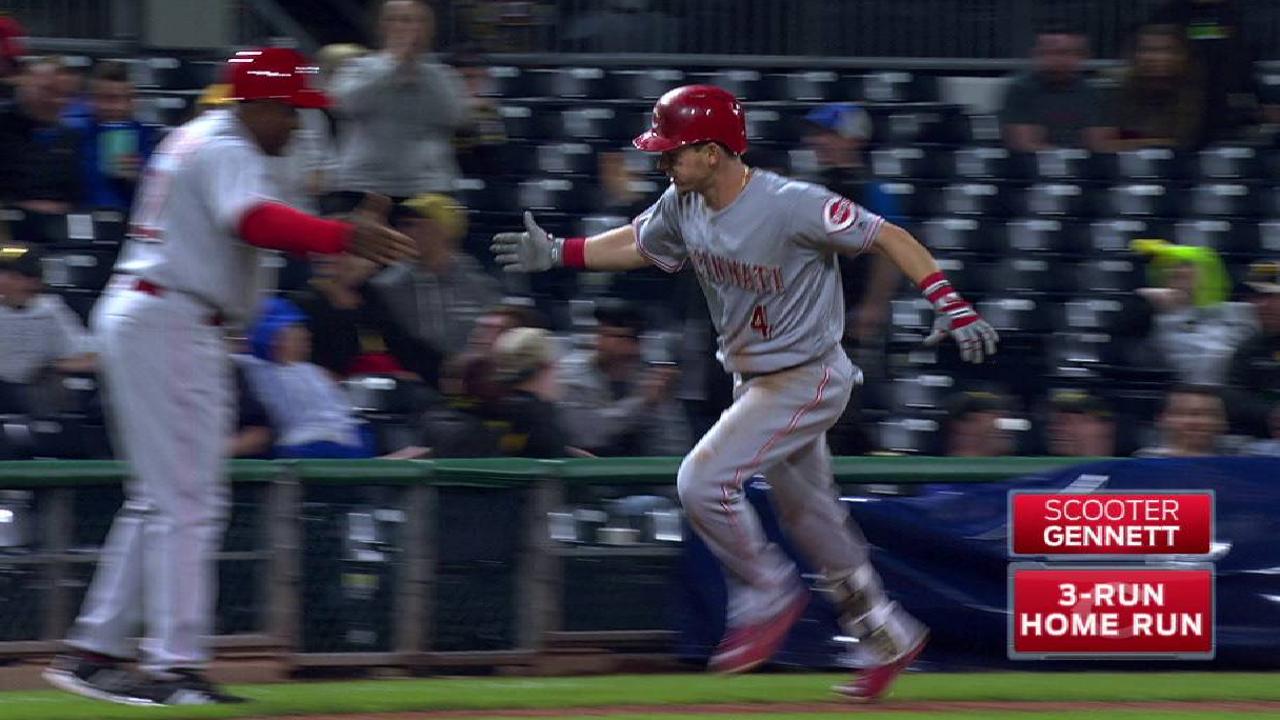 PITTSBURGH -- Zack Cozart's sore wrist proved to be a royal pain for the Pirates on Tuesday.
With the Reds' starting shortstop out of the lineup for a second straight game, a bit of shuffling in the infield sent Scooter Gennett again out to second base. He began the evening with two hits, both home runs. He now has four hits on the season, including a double that became the go-ahead run and a third homer, a three-run blast, that iced the Reds' 6-2 win over the Pirates at PNC Park.
Gennett hit 14 homers for Milwaukee last season. He spent four years with the Brewers, who drafted him out of high school in the 16th round of the 2009 Draft, and produced solid offensive numbers. But the club placed the Cincinnati native on waivers at the end of March. His hometown team was delighted to claim him. Gennett called his homecoming a "Wow, am I dreaming? kind of deal."
Listed, perhaps generously, at 5-foot-10, 185 pounds, Gennett does not resemble a slugger, but here he is with three homers already.
"I don't know, man," he said, pressed for an explanation. "Sometimes that's how it works. I don't think that will be a consistent thing."
Gennett committed a big defensive flub in the sixth inning when he dropped a relay on a potential double play that would have allowed the Reds to escape with a 2-1 lead intact. That wasn't an error, but shortstop Jose Peralta's errant throw on Adam Frazier's grounder definitely was. Francisco Cervelli scored from third base and the game was tied.
Gennett, who grew up watching the Reds at Riverfront Stadium and Cinergy Field, led off the seventh with a double. After moving to third on Tucker Barnhart's sacrifice, he scored when Billy Hamilton lined a sharp single to center.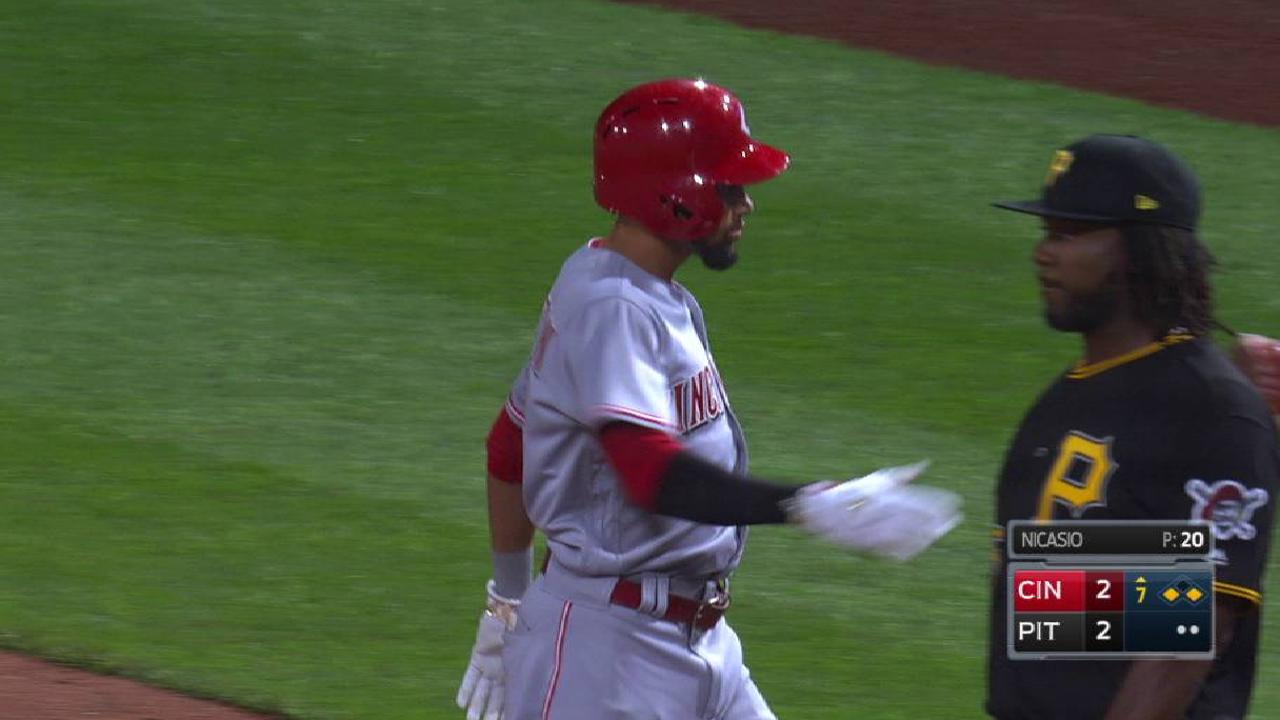 That put the Reds up, 3-2, before Gennett sewed things up with a homer off Trevor Williams in the eighth with two runners aboard.
Gennett said he was "pretty upset" over his miscue but managed to find atonement.
"That's the least I could do," he said through a big smile. "Hit a home run and a double and make up for it."
Cincinnati is now 6-2 after winning just 68 games and finishing fifth in the National League Central last season.
"They're out in front in a good spot right now," Pirates manager Clint Hurdle said. "As we all know the season's not a sprint. It's a marathon. They have a very athletic team, and I think they're feeling good about themselves. They should. They're playing good baseball."
Bob Cohn is a contributor to MLB.com based in Pittsburgh. This story was not subject to the approval of Major League Baseball or its clubs.