Ozuna, Marlins get to Colon, hold off Braves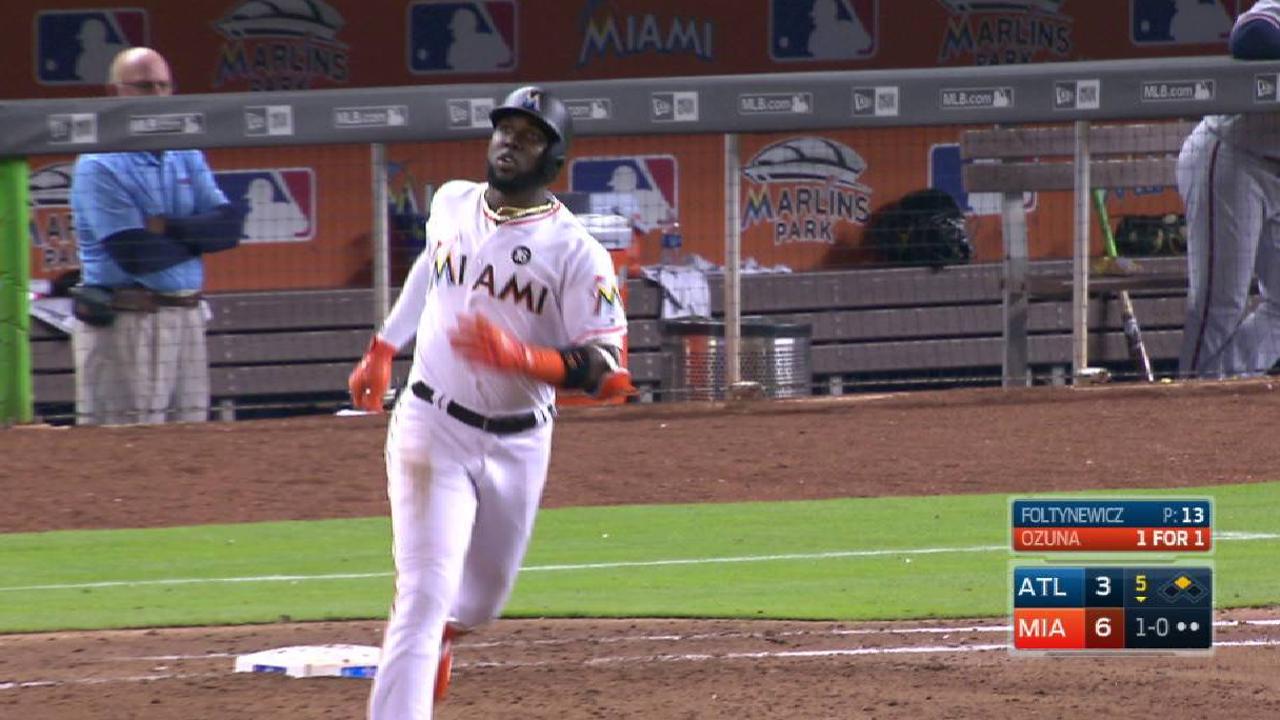 MIAMI -- Three heroes from the 1997 World Series championship team threw out the ceremonial first pitches before the Marlins' home opener on Tuesday night. Miami's bats took over when the game begun, with Marcell Ozuna clubbing two home runs and driving in six runs in an 8-4 win over the Braves at Marlins Park.
The excitement started pregame as the Marlins recognized the 20th anniversary of their first World Series championship team. Livan Hernandez, Charles Johnson and Edgar Renteria tossed out the first pitches to loud cheers.
• Cat joins in on fun in Miami
Winners of four of five, the Marlins also were able to close out the Braves, a team they went 7-11 against last year.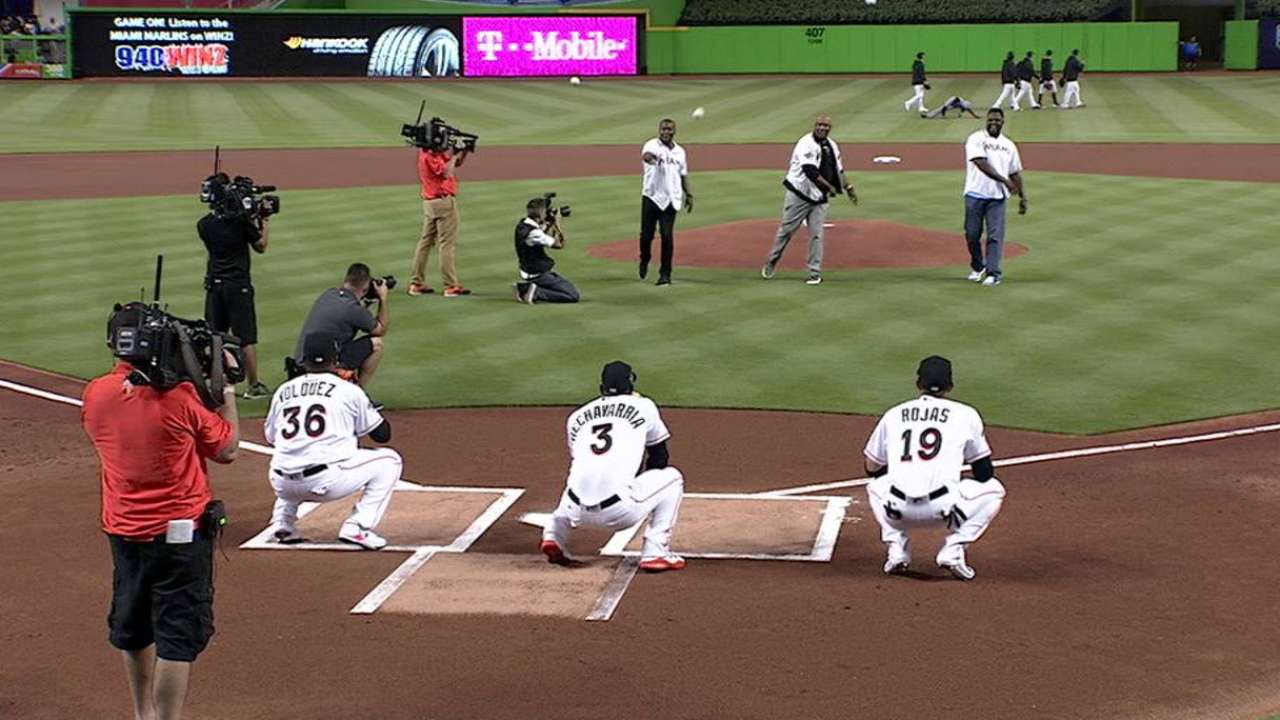 "Last year, we had a couple of games where we had leads and didn't tack on and they came back to beat us," Marlins manager Don Mattingly said. "That set a trend. We had trouble with Atlanta last year. We know you've got to keep scoring and give yourself some breathing room. Things are going to happen. Other teams are going to score."
When the game began, Dan Straily and Bartolo Colon went to work for the Marlins and Braves, respectively. Nick Markakis homered for Atlanta off Straily in the fourth inning.
But that came after Ozuna's three-run homer in the third inning gave the Marlins a six-run lead, and Colon was lifted after four innings, surrendering seven hits and two walks. This marked just the fourth time since the start of the 2014 season (97 starts) that the 43-year-old Braves pitcher has allowed at least six runs while completing four innings or fewer. But he's now done so in both of his past two starts at Marlins Park.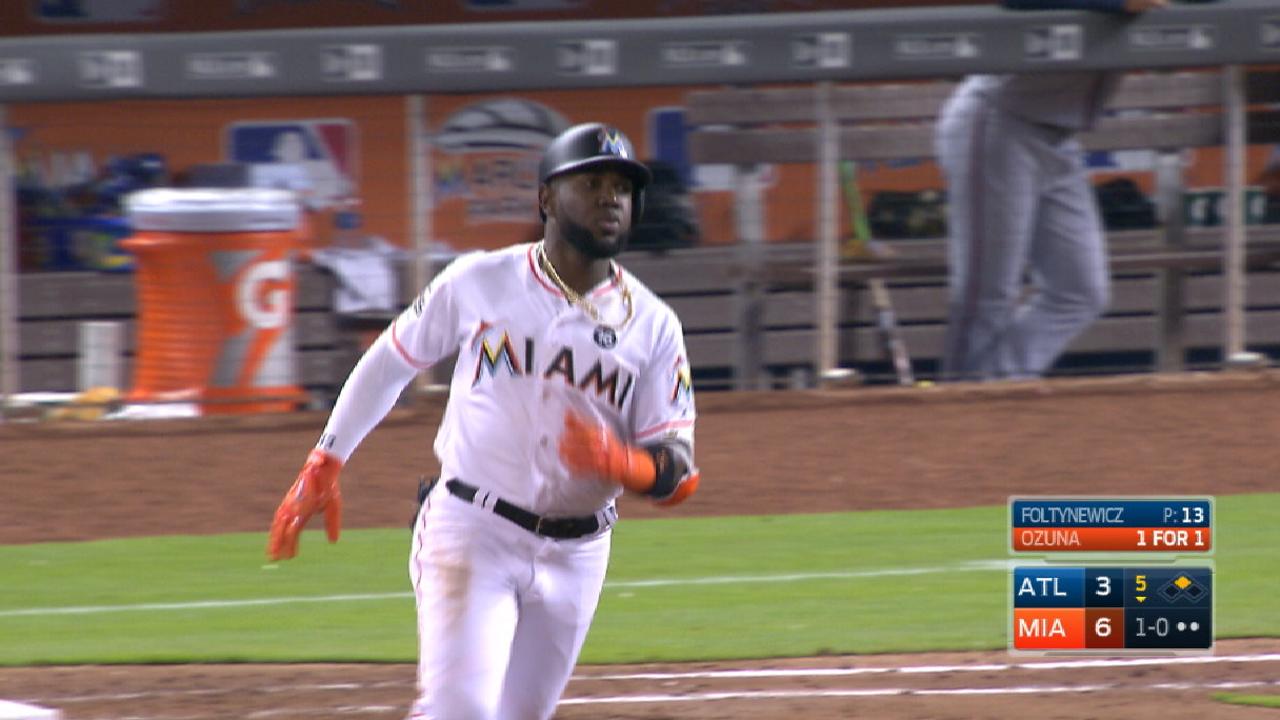 "I was focused on hitting the ball [to right]," Ozuna said of his first homer. "I trusted myself and trusted my ability, and that happened. The second one, I hit it hard with two outs, man on second. I'm thinking, 'Drive him in.'"
The Braves tallied a pair of fifth-inning runs after Straily loaded the bases with none out, but the visitors squandered too many opportunities and saw Colon's early struggles too significant to overcome as they dropped to 1-6.
• Colon's recent trips to Miami no vacation
"Our record should be way better than it is," Braves second baseman Brandon Phillips said. "We've had opportunities. I feel like we should have lost just one or two games. But things happen. We're still learning each other. Hopefully we can learn each other quick and everybody can do their job a little better."
MOMENTS THAT MATTERED
Ozo goes oppo: Ozuna made an impact in the first inning with his sacrifice fly, but it was his three-run, opposite-field home run off Colon in the third inning that gave Miami some breathing room. Per Statcast™, the laser shot was projected at 401 feet with an exit velocity of 106.4 mph. The second Ozuna blast was a two-run drive to left, projected at 393 feet with a 101.8 mph exit velocity. It was the outfielder's second multi-homer game, with the first coming on June 20, 2016, at Colorado. The six RBIs were a personal best. The club record is seven, shared by four players.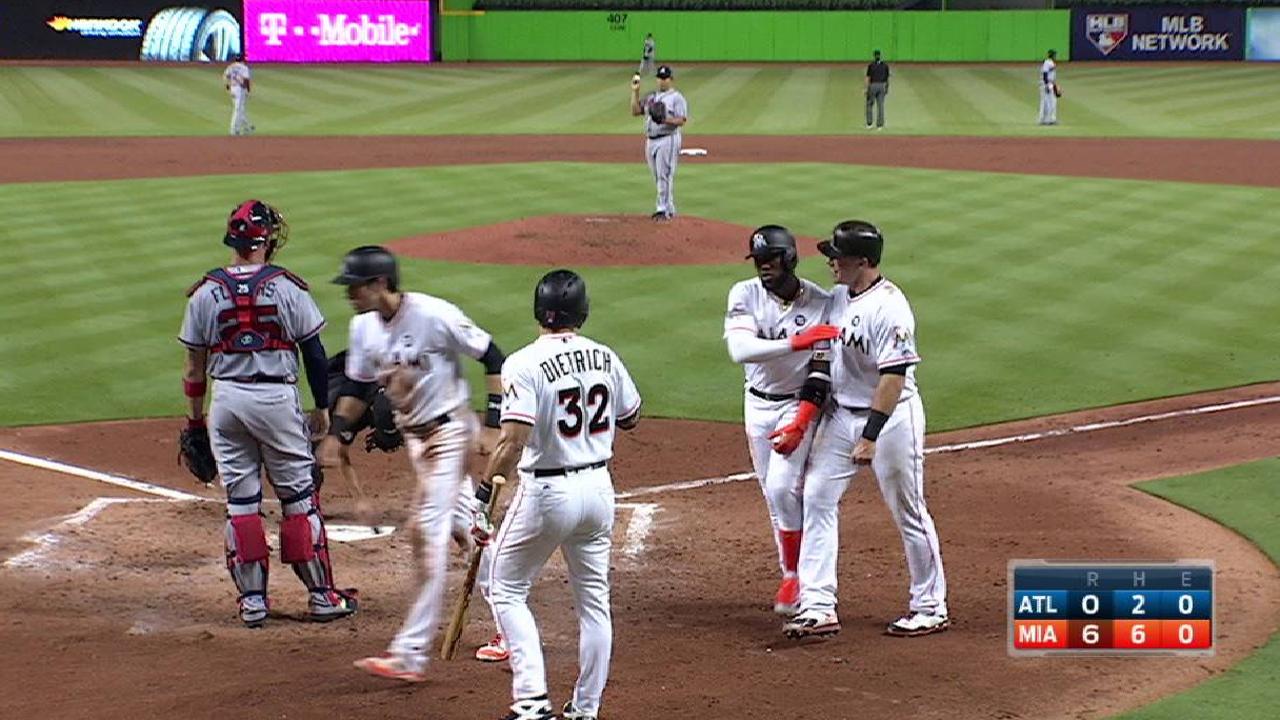 "Bartolo had been tough on him in the past," Mattingly said. "To get that sac fly was good, I thought. He was in trouble there in that second AB, down two strikes. He fought him off, then got a pitch to hit and was able to do something with it. The next one, actually, was big too. They kind of got a couple of runs back. He pushes us back to eight."
Ozuna had been 3-for-19 with no RBIs before Tuesday. More >
Bases-loaded, no damage: Down six early, the Braves kept battling, creating some stressful innings for Miami relievers, even if they didn't always score. A potential turning point was in the seventh, when trailing 8-4, Atlanta loaded the bases with one out off Kyle Barraclough. The Braves weren't able to break through as Freddie Freeman struck out, and on a 3-1 pitch, Nick Markakis lined out to left. The Braves also had the bases full with no outs in the fifth inning, they did score twice, but didn't get any more in a 6-3 game at the time.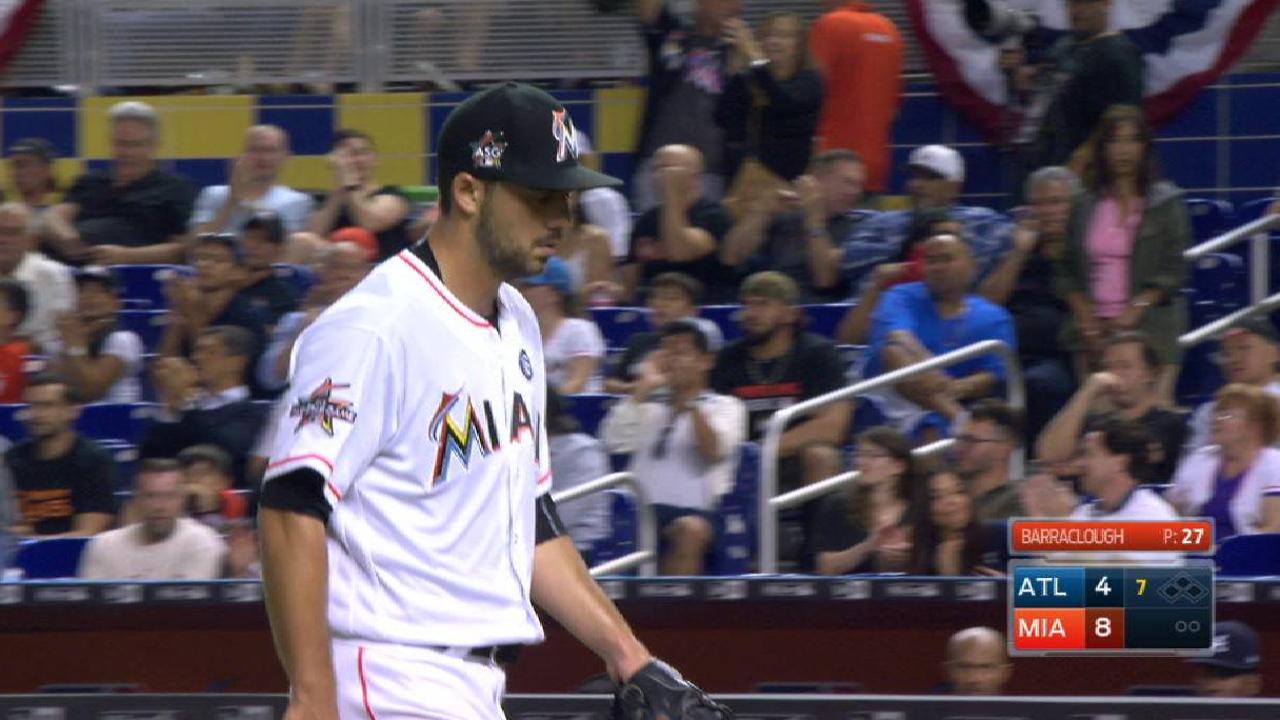 "We had the deck stacked in our favor in that one inning, but it just didn't happen," said Braves manager Brian Snitker, whose team has batted .183 (11-for-60) with runners in scoring position.
QUOTABLE
"He started laughing. He said something, like, 'I know you still love me.' Something like that. That's just BP for us. There was zero intention behind that pitch. I was trying to move him off the plate and lost the pitch. It's good when a guy can take it that way instead of overreact." -- Straily, on his joking exchange after inadvertently hitting his former Reds teammate, Brandon Phillips, with a pitch in the fifth inning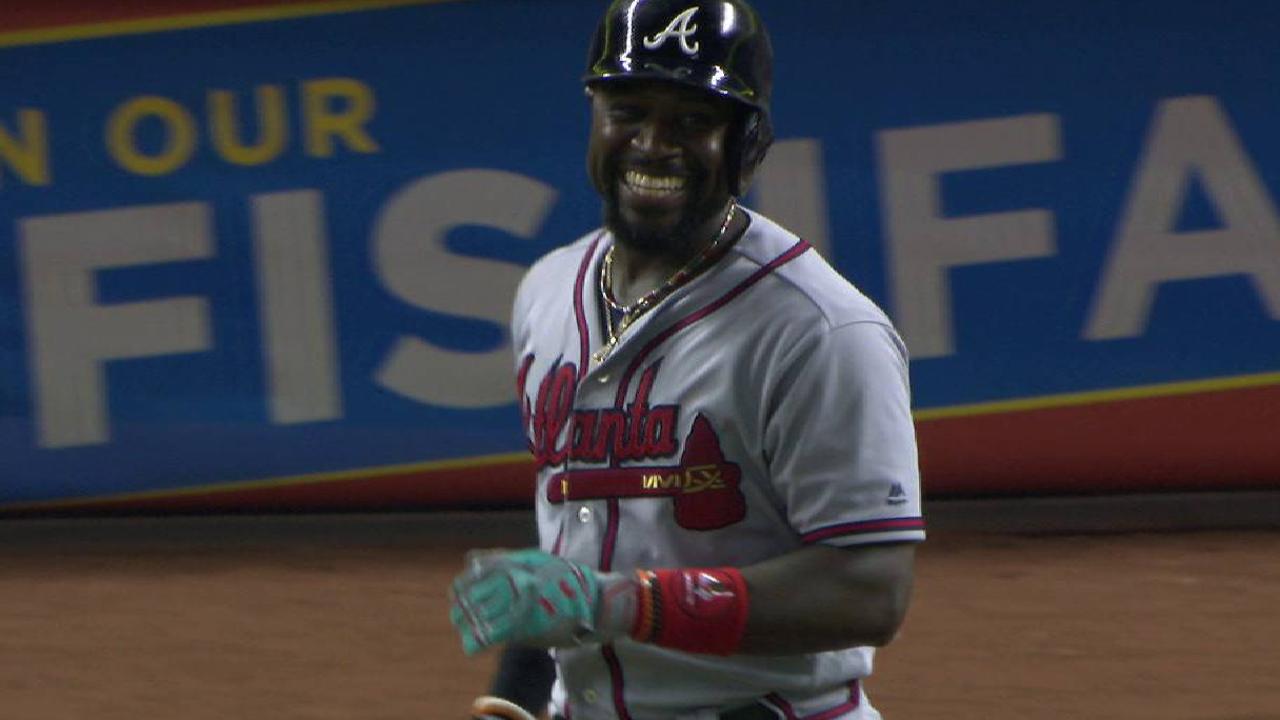 "We're having a hard time getting on the same page and putting a complete game together and getting a big hit. It seems like every mis-hit ball is finding a hole. It's just like one of those things where you have to handle that in order for something good to come on the back end of it." -- Snitker
SOUND SMART WITH YOUR FRIENDS
Phillips recorded two hits and swiped two bags to increase his career stolen base total to 201. His second-inning steal marked the 54th time in his career he has swiped third base. Ichiro Suzuki, Jose Reyes, Rajai Davis and Carlos Beltran are the only active players with more steals of third base.
WHAT'S NEXT
Braves: Jaime Garcia will attempt to get back on track when Atlanta concludes an eight-game road trip with Wednesday night's series finale in Miami at 7:10 ET. A couple of sliders foiled Garcia as he allowed four earned runs over the six innings during Thursday's season debut against the Mets.
Marlins: Tom Koehler worked five innings in a no-decision at Washington in his first start of the season. The right-hander draws the second home game on Wednesday in the series finale with the Braves. Koehler is 3-5 (3.71 ERA) lifetime against Atlanta.
Watch every out-of-market regular-season game live on MLB.TV.
Joe Frisaro has covered the Marlins for MLB.com since 2002. Follow him on Twitter @JoeFrisaro and listen to his podcast.

Mark Bowman has covered the Braves for MLB.com since 2001.

This story was not subject to the approval of Major League Baseball or its clubs.