Diaz's defense makes walk-off win possible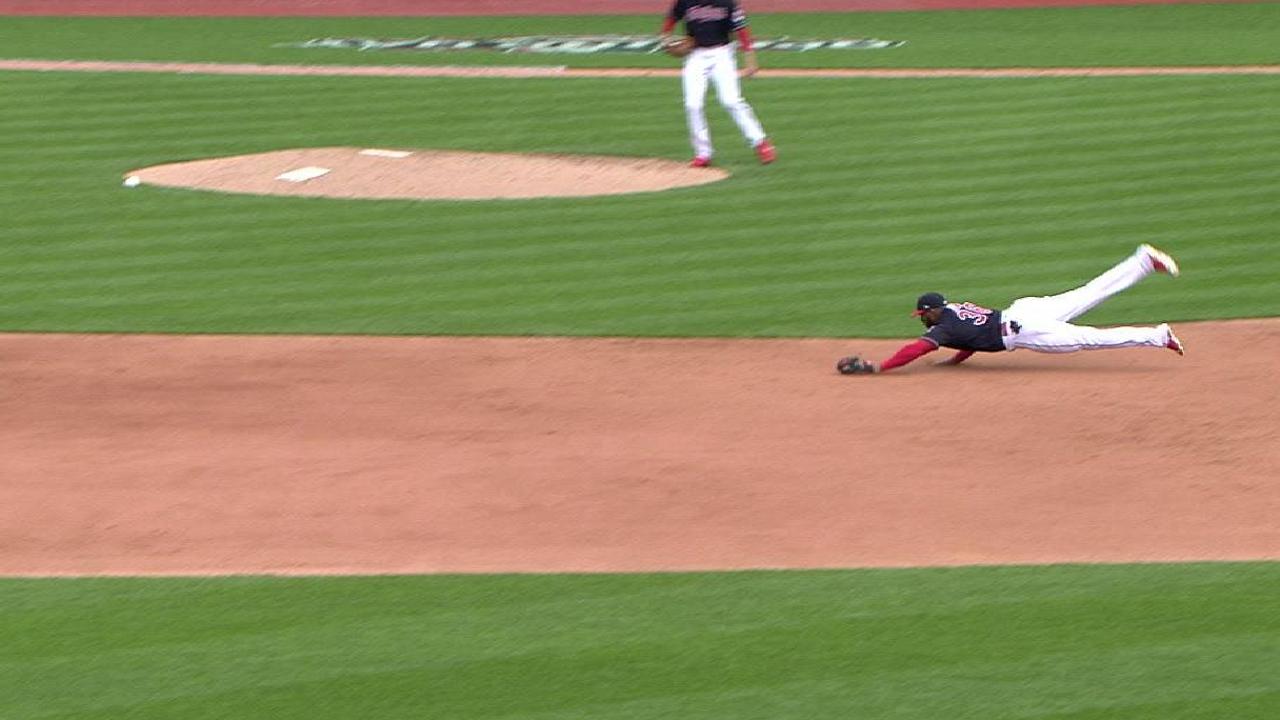 CLEVELAND -- The mob reached Michael Brantley on the infield grass to the left of the mound. As the fireworks popped overhead, and the sellout Progressive Field crowd reacted in a manner reminiscent of October, the outfielder was swarmed and swallowed by the pack.
Brantley provided the highlight that will be played on a loop -- a two-strike, two-out, 10th-inning double to left that sent the Tribe to a 2-1 walk-off win over the White Sox on Tuesday. In the wake of the home-opening victory, Brantley raved about another play -- a critical diving catch by rookie third baseman Yandy Diaz -- that made the decisive blow possible.
"It was a game-saving play," Brantley said. "It was awesome."
The situation arrived in the top of the eighth inning, when Indians manager Terry Francona handed the ball to relief ace Andrew Miller with the game caught in a 1-1 deadlock. Indians starter Carlos Carrasco had locked horns with James Shields in a tightly-contested game that felt like the winning moment would come when one team finally flinched.
Miller allowed a one-out single to Geovany Soto and then watched pinch-hitter Matt Davidson slice a pitch deep to right field for a wind-aided double. That put runners at second and third for Chicago, which sent Leury Garcia to second as a pinch-runner.
A few pitches into Miller's next battle with White Sox leadoff man Tyler Saladino, Indians third-base coach Mike Sarbaugh surveyed the infield alignment. Sarbaugh, who doubles as Cleveland's infield instructor, asked manager Terry Francona if he could move Diaz back a few steps.
"Sarby deserves the assist," Francona said.
That is because of what happened next.
Miller spun an 84-mph slider that dropped just below the strike zone, and Saladino pulled it to the left side at an exit velocity of 79 mph. It was hardly a rocket, but that actually made the liner potentially more detrimental for the Indians. In left field, Brantley was not sure he would be able to get the ball home in time to stop Garcia from scoring from second.
"He was too fast," Brantley said. "The ball wasn't really hit hard enough, so two runs would've scored right there."
Diaz sprung to his left and snared the baseball with a diving play that elicited a stunned roar from his home audience. After realizing he had actually made the catch, the third baseman quickly scrambled to his feet, holding the runners in check.
"I can't tell you what happened," Diaz said through team translator Anna Bolton. "The ball just went into my glove. I saw that the ball was in my glove when I got up off the ground."
Miller followed with a strikeout of Tim Anderson to escape the inning unscathed.
With each passing game, Diaz has looked more comfortable at third base. That has been an encouraging development, because the rookie was described as a "work in progress" defensively when he made the Opening Day roster. With Jason Kipnis on the disabled list, and Jose Ramirez sliding to second base, the Indians had a need and Diaz won the job after going on an offensive tear in the preseason.
In his brief time in the big leagues -- a tenure that could end upon Kipnis' return -- Diaz has impressed Francona and his teammates.
"He doesn't look nervous to me," Francona said. "He's enjoying the opportunity to play here."
Brantley won the game, but Diaz's play made it possible.
"Yandy came and saved the day," Indians shortstop Francisco Lindor said.
Jordan Bastian has covered the Indians for MLB.com since 2011, and previously covered the Blue Jays from 2006-10. Read his blog, Major League Bastian, follow him on Twitter @MLBastian and listen to his podcast. This story was not subject to the approval of Major League Baseball or its clubs.