Rings will bring Cubs' celebration full circle
Maddon wants club to enjoy moment; watch live on MLB.com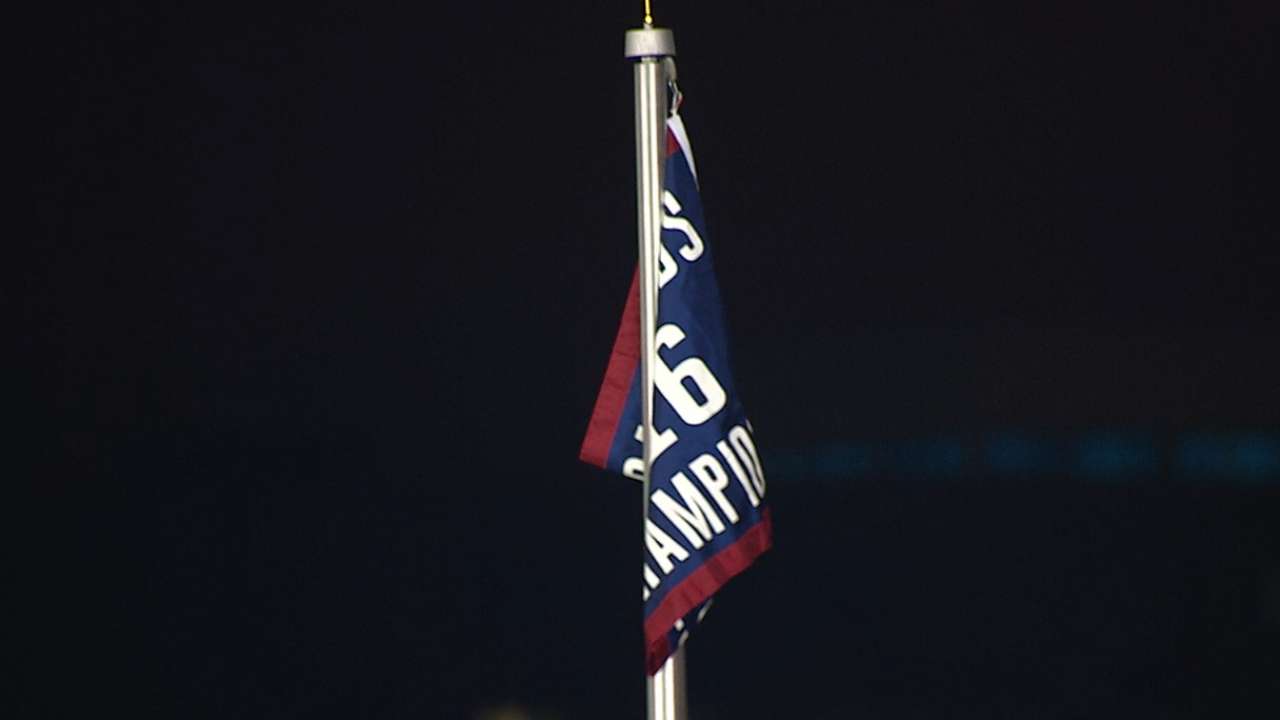 It's been a celebration more than a century in the making, but tonight the Cubs will turn the page on their 2016 championship with one last commemoration before refocusing their attention on securing a repeat title.
Cubs players and staff will receive their World Series rings at Wrigley Field prior to the evening's MLB Network Showcase game (8:05 ET) against the Dodgers, the team Chicago defeated in last year's National League Championship Series to advance to the Fall Classic. The ceremony is scheduled to begin at 7:30 p.m. ET and will stream live on Cubs.com.
"Symbolically, the ring ceremony will be the conclusion of turning the page, but come on, enjoy it," Cubs manager Joe Maddon said. "I want them to take the mental snapshots. ... It's possibly a once-in-a-lifetime opportunity, so don't miss out."
The ring ceremony comes two days after the Cubs unveiled banners for all three of the franchise's championships, which will now flank the center-field scoreboard. Hall of Famers Ryne Sandberg, Fergie Jenkins and Billy Williams were on hand to help raise flags for the 1907 and '08 titles and the 2016 NL pennant, while the Cubs players took turns raising the 2016 flag.
The proceedings were delayed by nearly two hours due to weather, but the fans who stuck around were treated to rain-delay entertainment of former Cubs backstop David Ross on "Dancing with the Stars" followed by a dramatic walk-off victory against the Dodgers. After his performance, Ross was scheduled to fly to Chicago to receive his ring in person.
The rings the Cubs will receive today feature at least 108 diamonds, signifying the 108-year wait for a third championship. Jason Heyward and Anthony Rizzo were among the players involved in the design.
Cubs president of baseball operations Theo Epstein said the team split the banner and ring ceremonies so fans could enjoy each celebration on its own.
"I think it will prove to be a benefit to the fans," Epstein said. "More people can say they were there for one of the ceremonies. Hopefully, there will be special moments, and by the first pitch on Wednesday we can truly turn the page."
Chad Thornburg is a reporter for MLB.com. This story was not subject to the approval of Major League Baseball or its clubs.