Simmons' hot start a sign of comfort in AL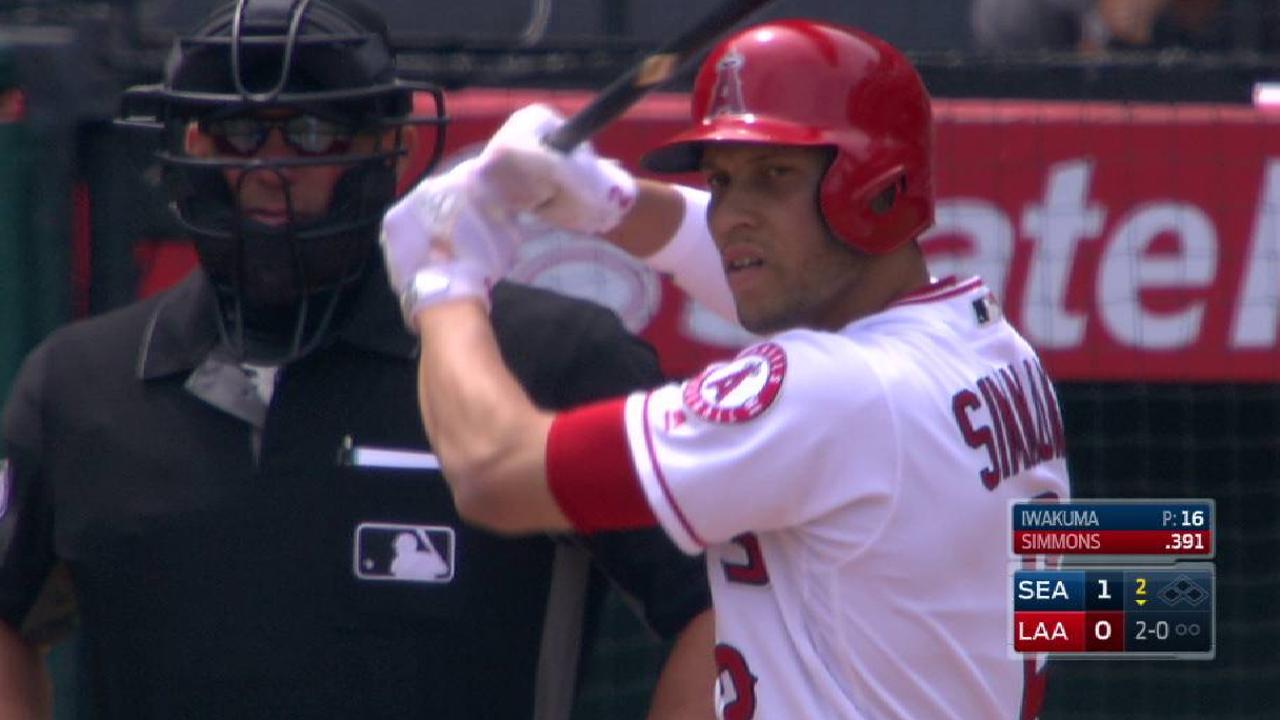 ANAHEIM -- Angels shortstop Andrelton Simmons said during Spring Training that he hoped his participation in the 2017 World Baseball Classic would help serve as a launching pad into the regular season. It seems to be working so far, as Simmons entered Tuesday batting .400 (10-for-25) and collected a hit in each of the Angels' first seven games of the year.
"He's squaring the ball up," manager Mike Scioscia said prior to the Halos' series opener against the Rangers at Angel Stadium. "He finished really strong for us last year in the second half, so he just carried that over. I think there's a familiarity that you need with the pitchers in the league, and he's found that. I think he's more comfortable, and he's picked up where he left off."
Simmons, 27, opened the season batting seventh for the Angels, but his fast start prompted Scioscia to elevate him to the No. 5 spot on Saturday. Tuesday marked Simmons' third consecutive game batting fifth, though Scioscia said he doesn't expect to keep him there permanently, as he would prefer to have a bigger power presence behind Albert Pujols.
Simmons hit 17 home runs for the Braves in 2013 and crushed his first home run of the season against the Mariners on Sunday, but he profiles more as a steady contact hitter.
"I think when some guys are swinging the bat that probably have a chance to hit the ball out of the park with a little more consistency, we'd like to get them up there and take advantage of when [Mike Trout's] going to get on and Albert and Kole [Calhoun]," Scioscia said. "But right now, Andrelton is a guy that's going to put the ball in play with guys on base. He's perfect right now. I think there are some things we'll look at. If Andrelton keeps going, sure, you can always consider keeping him there, but I think we're best served if we can lengthen our lineup and get somebody behind there that can maybe protect Albert."
Worth noting
• Right-hander Garrett Richards (right biceps strain) should resume throwing in the next couple of days and is feeling "much better," Scioscia said.
• Infielder Luis Valbuena (right hamstring strain) has begun running on the field and is taking groundballs at third base.
"He's moving very well," Scioscia said. "The next step is for him to go through the running progression on the field. We'll see how long that takes. That's totally dependent on how a guy feels after his workout, but to get him on the field, he's cleared one important hurdle. We're just going to build the strength back up and see how he is running and when he's ready to go out and get some at-bats."
Maria Guardado covers the Angels for MLB.com. This story was not subject to the approval of Major League Baseball or its clubs.