MLB.com Columnist
Anthony Castrovince
Tribe's ascent brings buzz back to Cleveland
Despite raising flag, Lindor and Co. not content with AL superiority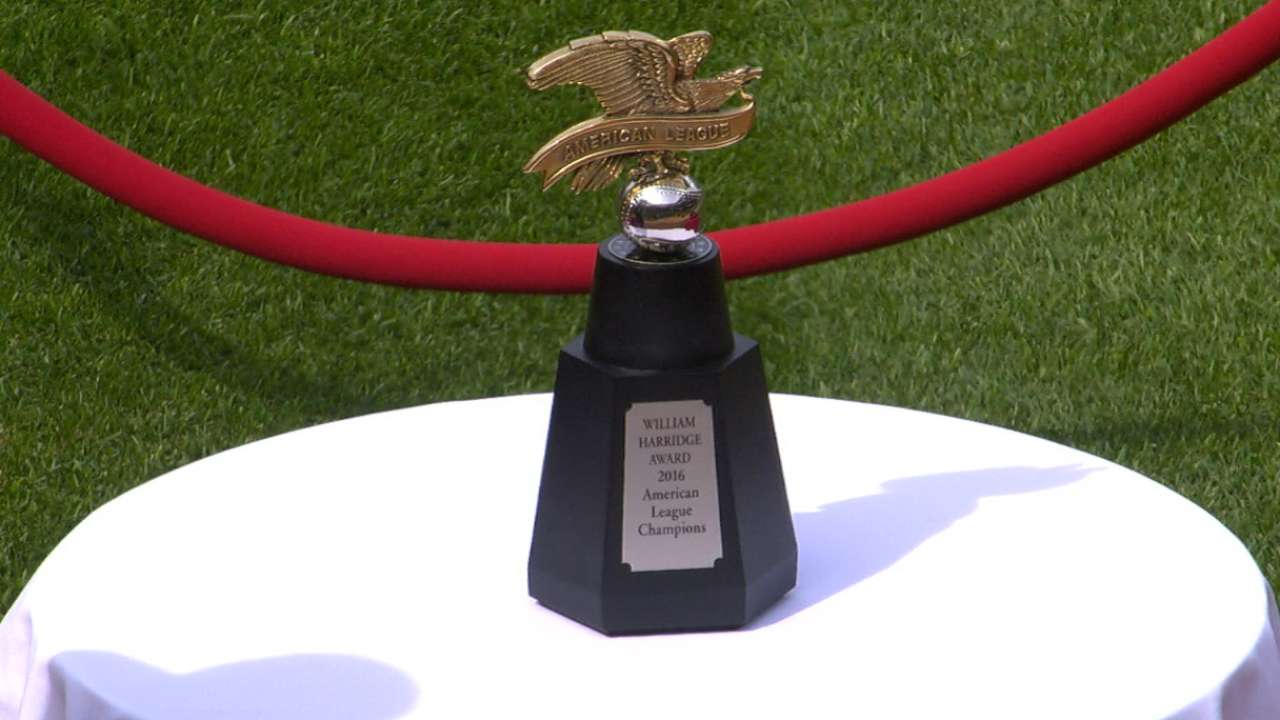 CLEVELAND -- Josh Tomlin got a notification about it from his MLB At Bat app and quickly swiped it away. Terry Francona caught a glimpse of it on the lobby bar TV and turned his back. Andrew Miller didn't even have his cable set up yet, but he admitted he would have avoided it, either way.
In an unscientific survey of the Indians' clubhouse, only Francisco Lindor claimed to watch more than a couple minutes of the Cubs' banner-raising championship ceremony on Monday night.
"It's tough, it's tough," Lindor said. "It hurts watching the Cubs. But you've got to deal with it. You don't like it? Win."
So the Indians won on Tuesday -- beating a Chicago team in the 10th inning, no less. The 2-1 win over the White Sox was small consolation after the way Game 7 unfolded, but it was also a small step toward getting back.
Rings. https://t.co/LH3Pr2LtlC#RallyTogether pic.twitter.com/330XuawWV0

— Cleveland Indians (@Indians) April 11, 2017
After the Indians received their American League championship rings, the two guys who weren't even active in October -- Brantley, who lined the game-winning RBI double to left, and Carlos Carrasco, who was sharp for seven innings -- were the heroes of the home opener. Ignore the six men stranded by prized (and clearly pressing) free-agent import Edwin Encarnacion in his home debut and accentuate the positive, which is that Cleveland is possibly a more complete team than the one that walked off the field last November dazed, wet and angry.
The long-awaited return to Progressive Field did not find these guys ensconced in gold-lettered jerseys or flaunting the Tiffany-crafted World Series trophy. And heck, the AL pennant they raised to the sound of exploding fireworks had actually already been flown during last year's Fall Classic, making this moment the ceremonial equivalent of reheating leftovers.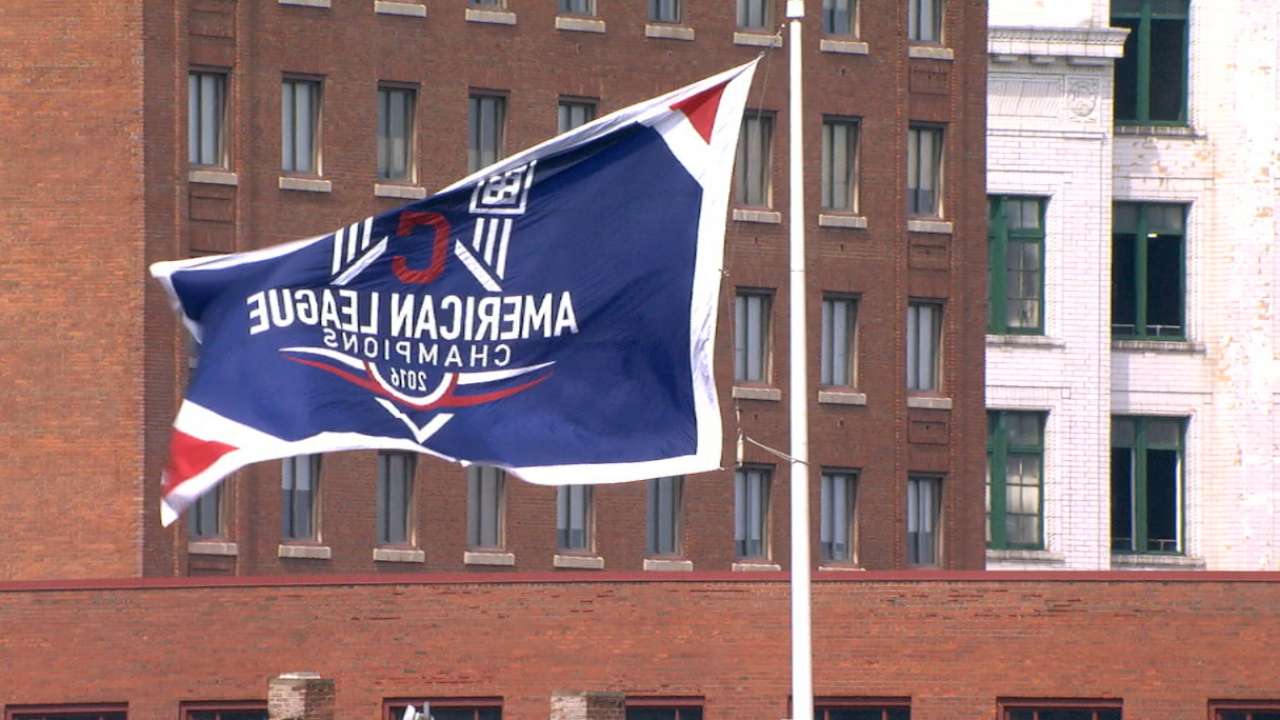 But the Indians are proof that there is value even to finishing an oh-so-close second. It is there in the hungry words of young Lindor, who, shortly after describing his new ring encrusted with 94 diamonds (one for every regular-season win in 2016) as little more than motivation to win "a bigger one," went deep in the first inning. It is there in Brantley and Carrasco, who saw October from the sidelines and want badly to experience the real thing. And it is there in the unmistakable enthusiasm of a fan base reinvigorated by the run and hopeful that what is now the game's longest title drought (69 years) will soon end.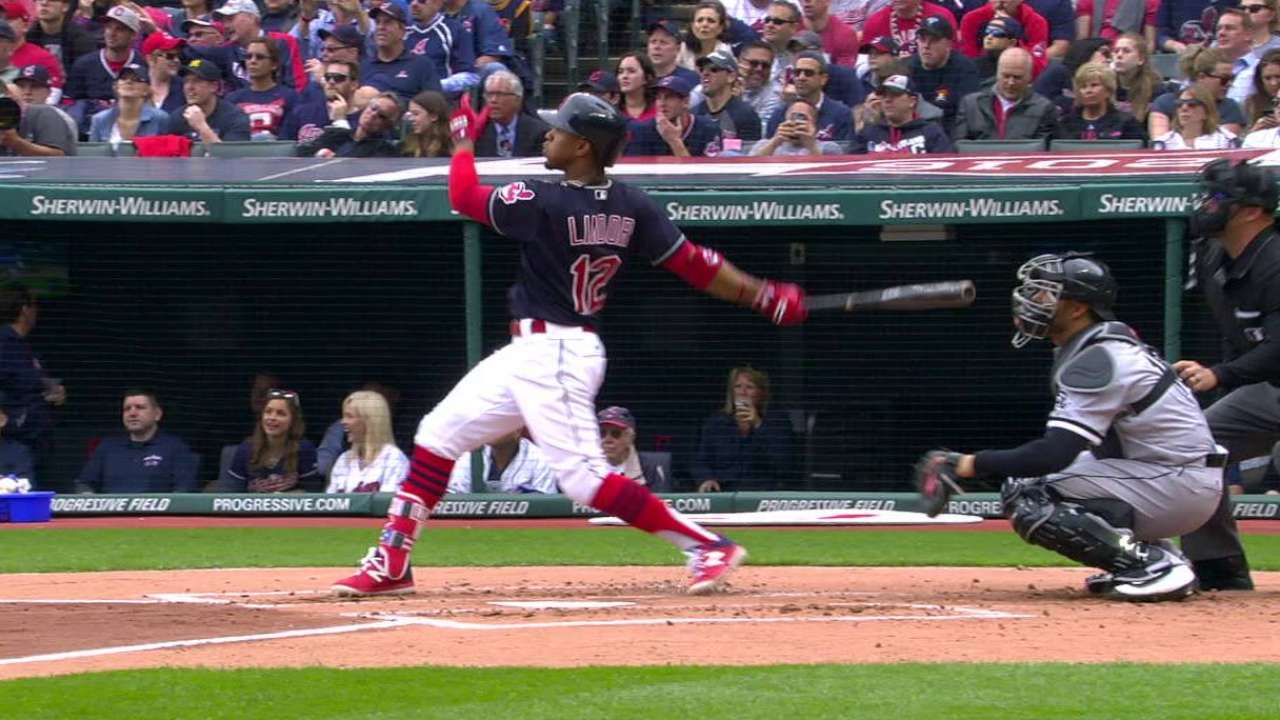 The Tribe's ticket sales have already hit the 1.3 million mark -- a number that wasn't reached until late July last year. Season-ticket sales are up more than 42 percent, giving the Indians a daily base of 12,300 on which to build.
"That's the way it should be," Miller said. "You don't just deserve to have fans, especially if you're not playing well. But if you put a good product on the field and back it up like the way we played last year, you earn them."
Another one. #RallyTogether pic.twitter.com/wNfMpqjqp1

— Cleveland Indians (@Indians) April 11, 2017
Remember, in a 2016 season in which Cleveland ran away with the AL Central, it had the third-lowest average attendance in the Majors. The Indians' AL Championship Series home dates against the Blue Jays were infiltrated by a cavalcade of Canadians, and Game 7 against the Cubs might as well have been played at a neutral site.
So in the Tribe's clubhouse, they hear about the encouraging uptick and feel their home park might be morphing into the advantage it's intended to be.
Home sweet home. pic.twitter.com/udYmTDL3UF

— Jordan Bastian (@MLBastian) April 11, 2017
"In July and August, when guys might be dragging, if you get to the seventh or eighth inning down a run and get guys on first and third with one out and the crowd gets into it, the game might speed up on that reliever for the other team," closer Cody Allen said. "I saw it myself two years ago when we went to Toronto in August and they had just made those moves for David Price and Troy Tulowitzki. You really had to fight yourself to slow the game down. That's what you want. You want the other team to feel uncomfortable at your place."
And if you're going to lose Game 7 in extra innings on your own turf, you want to turn that misery into an emotional advantage, too. That's what the Indians have chosen to do.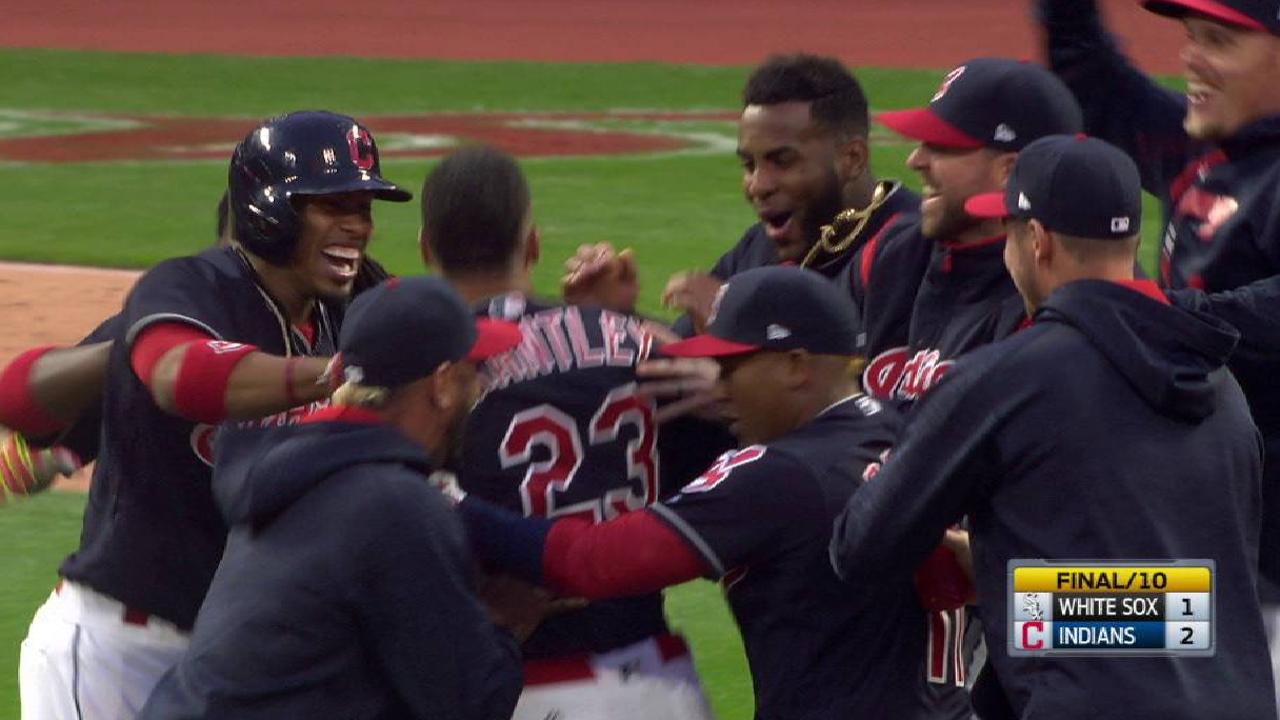 Even when up 2-1 and 3-1 in the Fall Classic, the Indians' players would take note of the national coverage and joke, "Hey, any idea who the Cubs are playing in the World Series?" So you can only imagine how they've felt about the "Saturday Night Live"-starring, White House-visiting, national television-dominating aftermath.
"They've earned it, and it's hard to avoid," Miller said. "It seems like it's been a pretty steady parade for them since they got the last out, but it is what it is. It's our goal in here to seek out that last win."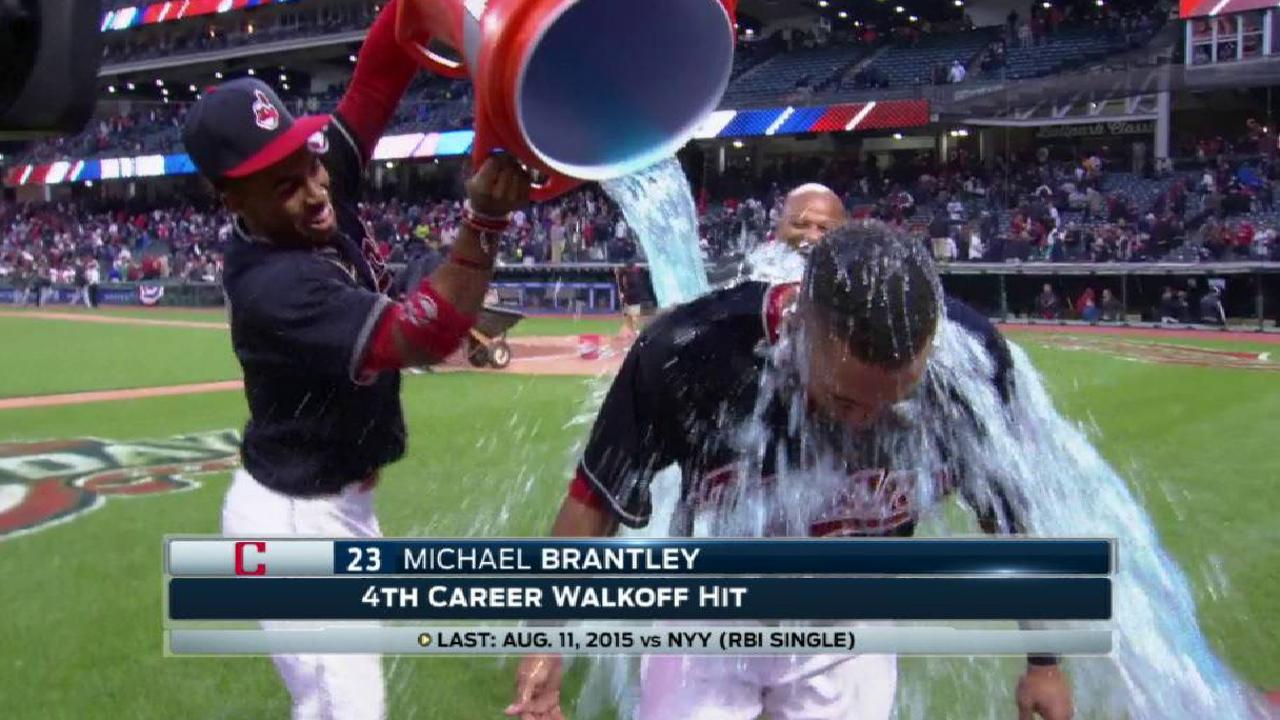 Tuesday's triumph was one tiny piece of the Indians' big picture, one potentially enhanced by a healthier roster. And if they do what they came here to do, they'll have a celebration to soak in, not tune out.
Anthony Castrovince has been a reporter for MLB.com since 2004. Read his columns and follow him on Twitter at @Castrovince. This story was not subject to the approval of Major League Baseball or its clubs.