Cozart sits out second game with sore left wrist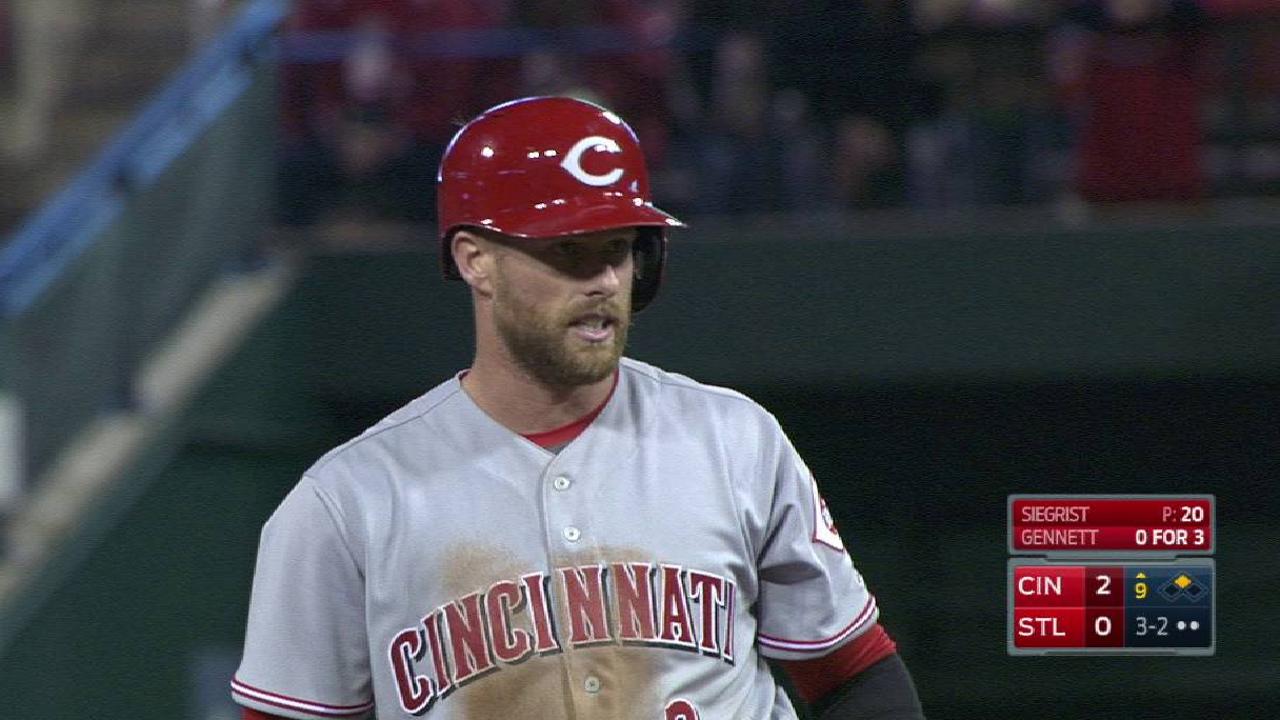 PITTSBURGH -- Nursing a sore left wrist, Reds shortstop Zack Cozart was held out of the lineup for a second straight game Tuesday.
"Just precautionary," manager Bryan Price said before his club beat the Pirates, 6-2, at PNC Park. "When you're messing around with a wrist issue, you can't get around it. He's got to swing the bat, he's got to field ground balls and throw."
But, Price added, "It's greatly improved from yesterday [Monday]."
"Yesterday it didn't feel great, but today it feels way better," said Cozart, who was 9-for-20 in the Reds' first six games. "I'm doing everything, hitting and everything."
Cozart said he likely hurt his wrist diving for a ball last Wednesday against Philadelphia. He did not miss a game, however, until Monday. He said he probably will wear a protective splint on the basepaths after he returns "so I'm not jamming it into the ground when I'm sliding and stuff."
Jose Peraza, the regular second baseman, again replaced Cozart at shortstop, with Scooter Gennett again starting at second. Gennett went 3-for-4 and hit his third homer, a three-run blast in the eighth.
Helping himself
Price said it's only a matter of time before Cody Reed will start a game. That time might be drawing closer after the 23-year-old left-hander pitched three perfect innings in relief during Monday's victory.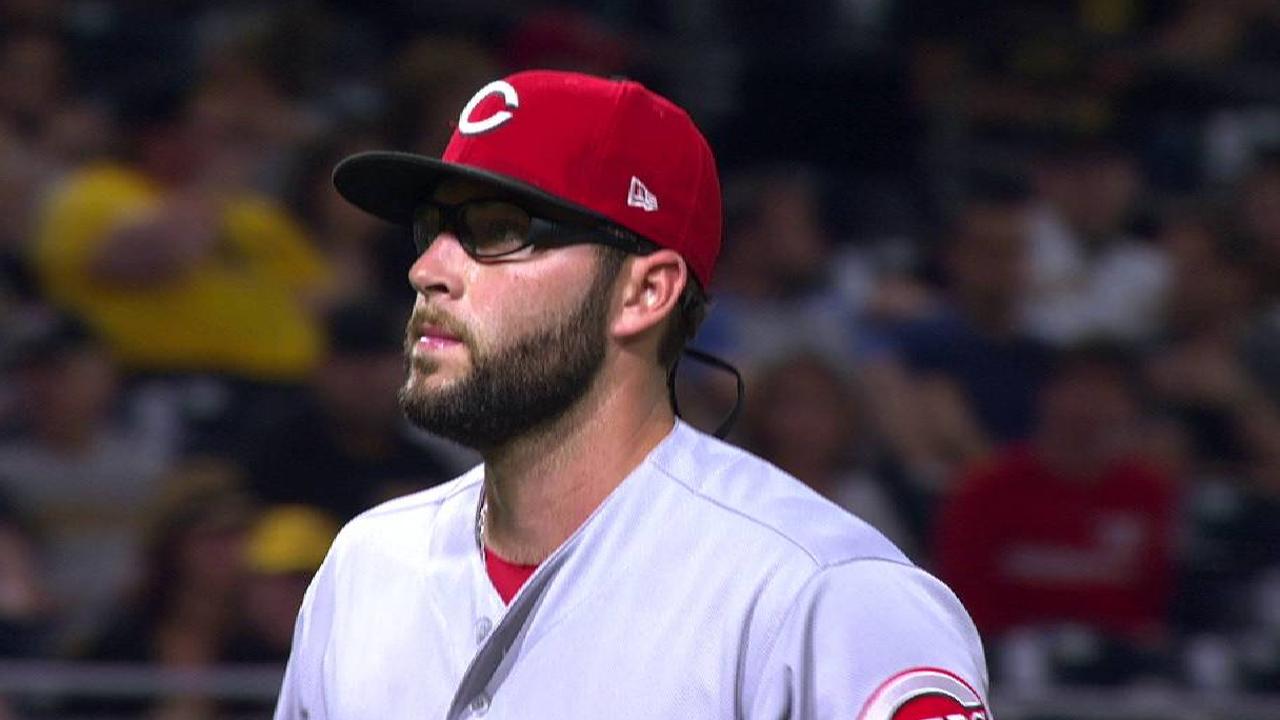 "I want him to pitch in the bullpen to a point where he is executing pitches like he did [Monday]," Price said. "And right now, he's serving a wonderful purpose in that exact role. He's been in there twice. He gets a win against the Phillies [Thursday], he gives us three impactful innings against the Pirates, and that's what I'd like to see. I'd like to see him really just get a foothold on being a big league pitcher."
Reed has yet to allow a hit in five scoreless innings. He was 0-7 with a 7.36 ERA in 10 starts as a rookie in 2016.
Leftovers
Monday's game was not just memorable for the Reds' club-record seven perfect innings from the bullpen. Tyler Glasnow of the Pirates and the Reds' Brandon Finnegan were the first opposing starters since 1893 to walk five batters or more while pitching two innings or less, according to the Elias Sports Bureau.
Also, Eugenio Suarez's fifth-inning solo shot off Pirates reliever Wade LeBlanc gave the Reds a home run in each of their first seven games, their longest streak since they homered in nine straight to start the 2000 season.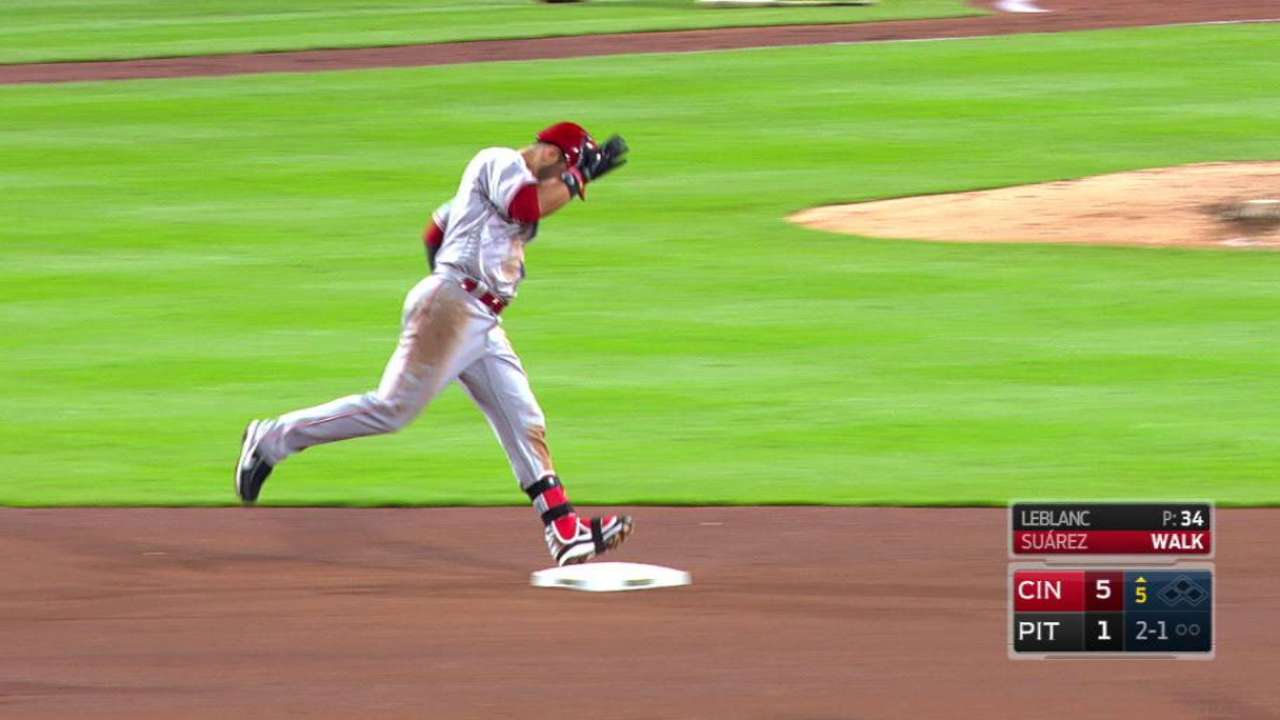 Bob Cohn is a contributor to MLB.com based in Pittsburgh. This story was not subject to the approval of Major League Baseball or its clubs.