Reds beat Pirates to win third straight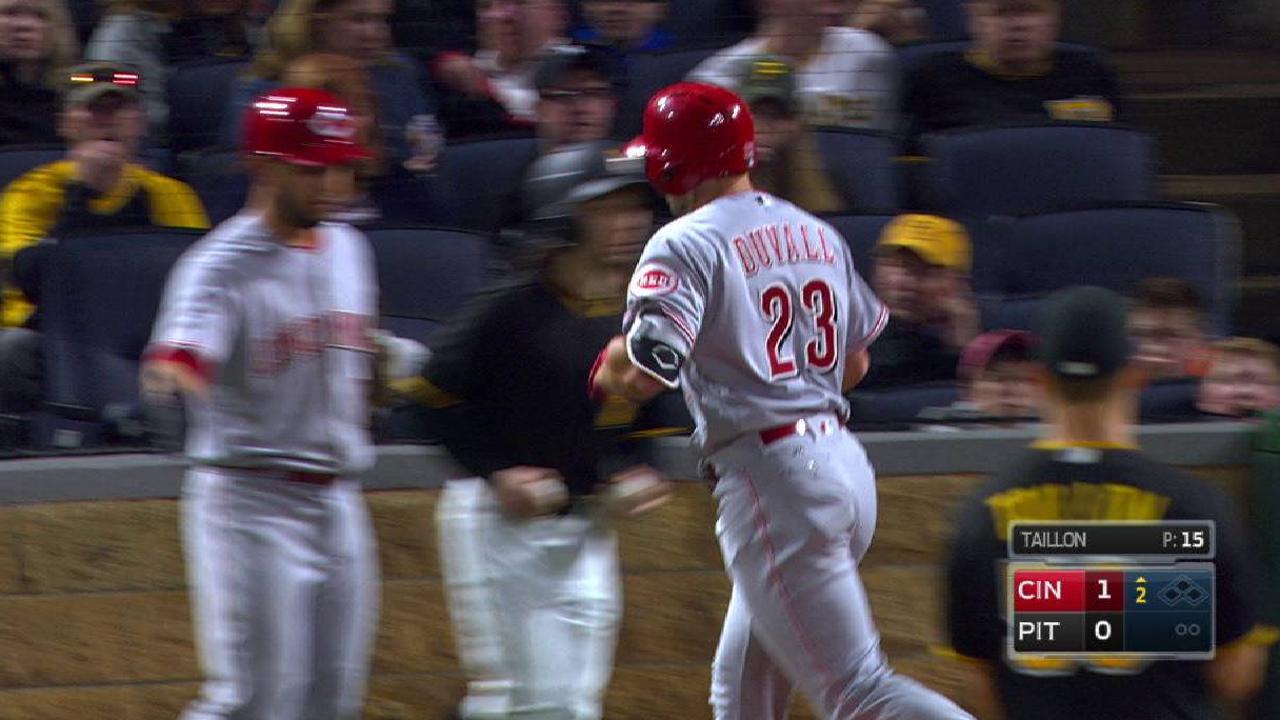 PITTSBURGH -- Adam Duvall and Scooter Gennett crushed their third homers of the season, continuing the Reds' team-wide power surge and backing a solid group effort by their pitching staff in a 6-2 win over the Pirates on Tuesday night at PNC Park.
The Reds have won three straight series to start the season for the first time since 1990, when they went on to win the World Series.
Duvall continued his early season hot streak, going deep to left field against Pirates starter Jameson Taillon in the second inning. Cincinnati has now homered in each of its first eight games, and Gennett's blast off Trevor Williams in the eighth inning brought the team's total to 13 in eight games. That was more than enough support for starter Rookie Davis and five Reds relievers, who held the Pirates to six hits in Cincinnati's third straight win.
• Davis exits game after being hit by pitch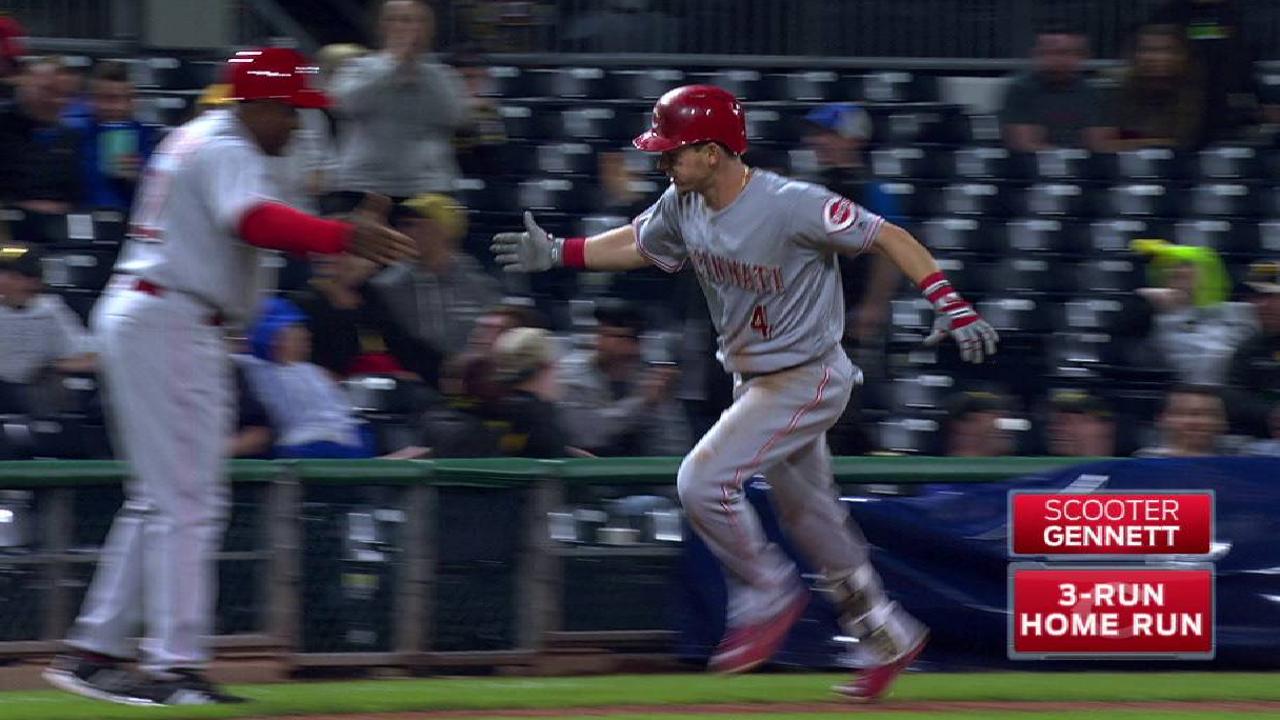 "One of the benefits of having an eight-man bullpen early in the season is weather issues or short starts," said Reds manager Bryan Price, who replaced Davis after four innings when he sustained a right forearm bruise after being hit by a pitch. "The guys came in and did the job."
Pirates right-hander Taillon put together another strong start, allowing two runs over six efficient innings, after waiting out a 1-hour, 14-minute rain delay. But he was again unrewarded. The Pirates could not put together a sustained rally, with their first run coming on a single, a walk and a delayed double-steal during which Starling Marte swiped home. The Bucs went 0-for-10 with runners in scoring position and stranded 11 runners.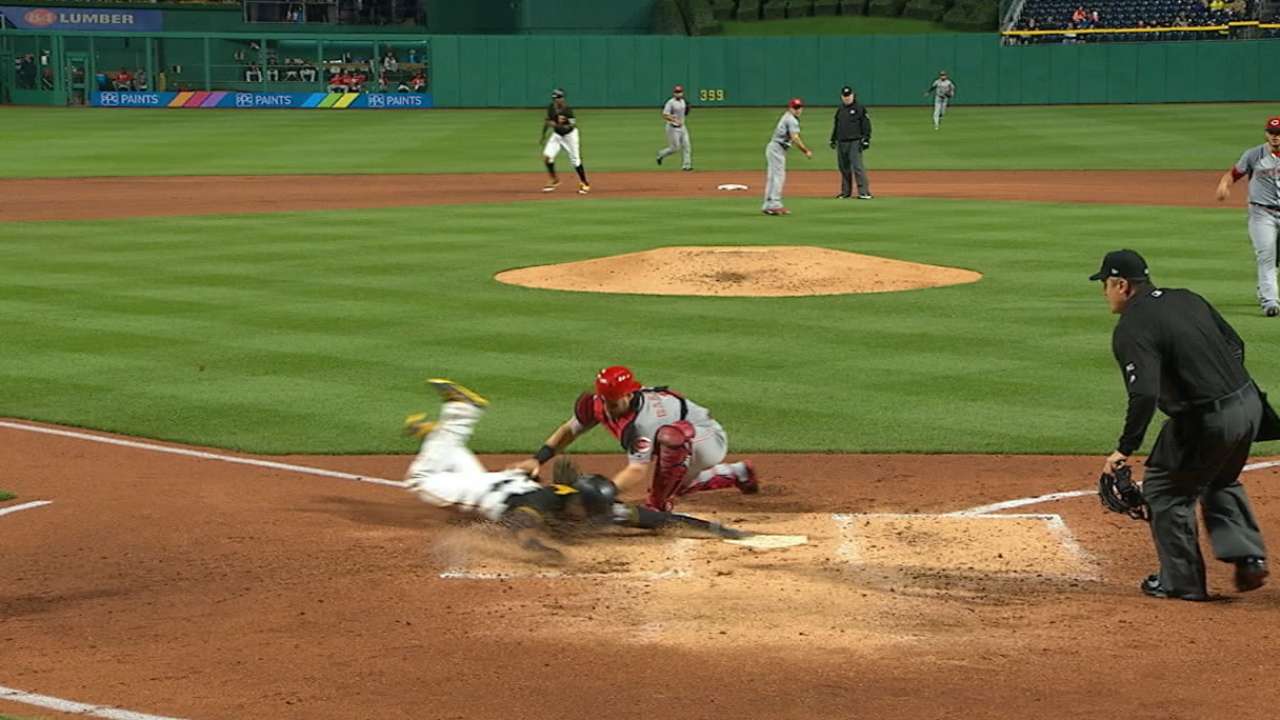 "We're getting out there. We're not getting in," Pirates manager Clint Hurdle said. "We're not touching the plate."
• Lack of key hits strands Pirates
Taillon was lifted for a pinch-hitter in the sixth inning, and the Bucs went on to tie the game. But Billy Hamilton laced an RBI single to center in the seventh, giving the Reds a one-run lead, and Gennett's three-run homer put the game out of reach.
"He doesn't hit singles. He hits doubles and homers, apparently," Price said of Gennett. "I didn't know that about him."
• Gennett takes advantage of playing time
MOMENTS THAT MATTERED
See Billy hit: Hamilton entered the night with a career .327/.374/.386 slash line in 45 games against the Bucs. He continued to torment them Tuesday. After collecting three hits and two steals in the Reds' 7-1 win on Monday, Hamilton drove in the go-ahead run against Pirates reliever Juan Nicasio in the seventh inning. At the plate with two outs and Gennett on third base, Hamilton fouled off three straight pitches, took one ball and swatted an 89.3-mph slider into center field to score Gennett.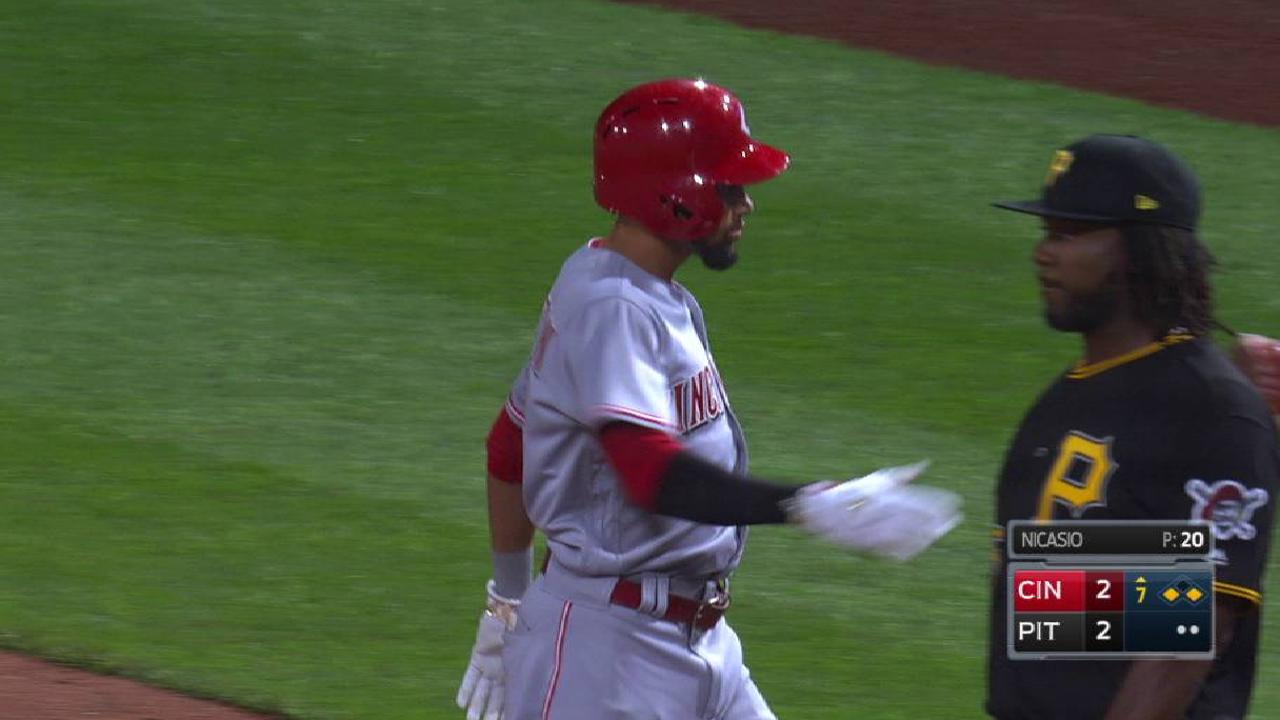 Missed chances up the middle: The Pirates tied the game in the sixth, but the Reds had two tailor-made chances to get out of the inning unscathed. With one out and runners on first and second, Jordy Mercer hit a potential double-play ball to third baseman Eugenio Suarez. Gennett caught the throw from Suarez for one out, but dropped the ball as he tried to make the turn to first base. Mercer reached safely, and the inning continued with runners on the corners. Pinch-hitter Adam Frazier slapped a ground ball up the middle, but shortstop Jose Peraza's throw to first sailed over Joey Votto's head, allowing Francisco Cervelli to score the tying run.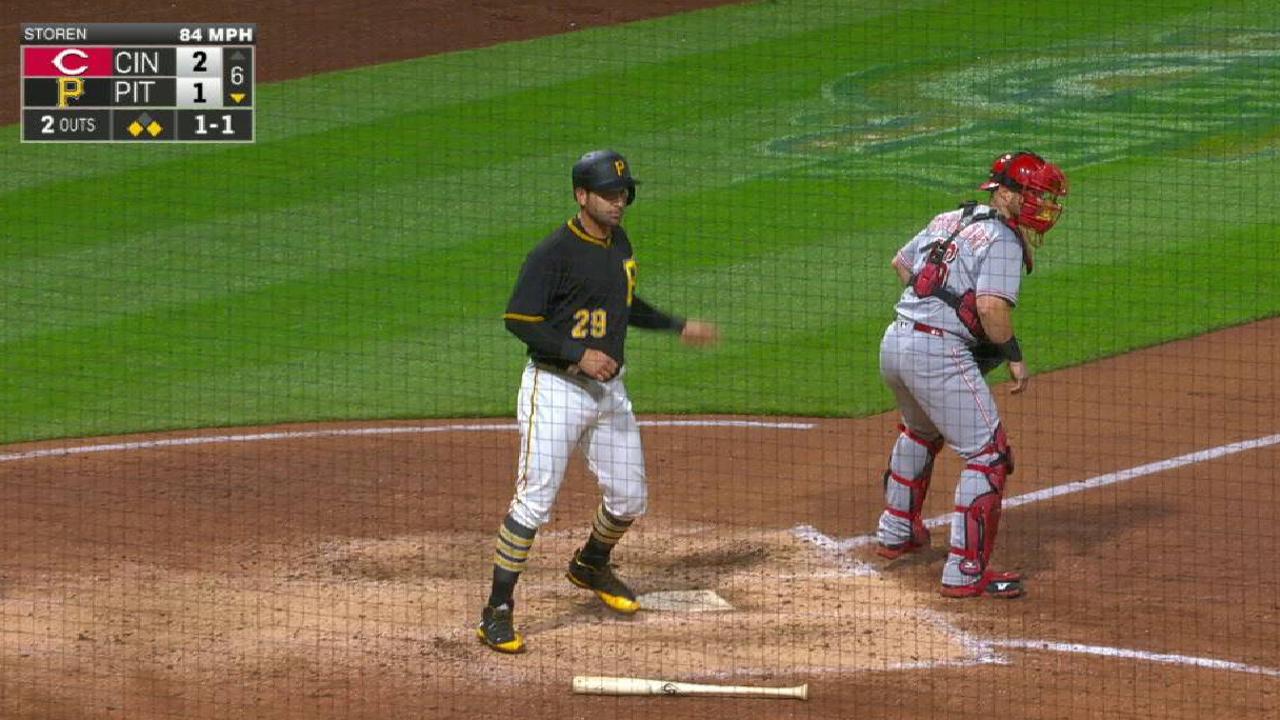 QUOTABLE
"If he's ever in a slump, he can watch that swing. That was pretty. He did exactly what he needed to do." --Taillon, on Duvall homering on a well-executed sinker down and inside
"They're out in front in a good spot right now. As we all know the season's not a sprint. It's a marathon. They have a very athletic team, and I think they're feeling good about themselves. They should. They're playing good baseball." --Hurdle, on the Reds
SOUND SMART WITH YOUR FRIENDS
The last Pirates player to score on a successful double-steal was also Marte, who did so against the Braves on June 27, 2015.
UPON FURTHER REVIEW
The Reds challenged to see whether Marte was safe at home on his delayed steal of home in the third inning. With David Freese at the plate, Gregory Polanco took off for second, and Marte sprinted from third to home. Marte slid under catcher Tucker Barnhart's glove to tag the plate and was ruled safe by home-plate umpire Mike DiMuro. After a 2-minute, 3-second replay review, it was ruled that the call would stand, Marte was safe, and the Reds lost their challenge.
WHAT'S NEXT
Reds: Reds rookie Amir Garrett pitched six scoreless innings against the Cardinals in a win in his last outing. He'll take the hill against the Pirates on Wednesday at 7:05 p.m. ET at PNC Park.
Pirates: Right-hander Ivan Nova will make his second start of the season in the Pirates' series finale against the Reds at 7:05 p.m. on Wednesday at PNC Park. Nova put together a solid season debut despite the less-than-ideal conditions Friday, as the Braves managed only one unearned run in his six innings.
Watch every out-of-market regular-season game live on MLB.TV.
Adam Berry has covered the Pirates for MLB.com since 2015. Follow him on Twitter and Facebook, read his blog and listen to his podcast.

Bob Cohn is a contributor to MLB.com based in Pittsburgh.

This story was not subject to the approval of Major League Baseball or its clubs.