Mackanin, Phils hold 'upbeat' team meeting
Manager speaks with Ramos, who says he didn't intentionally throw at Cabrera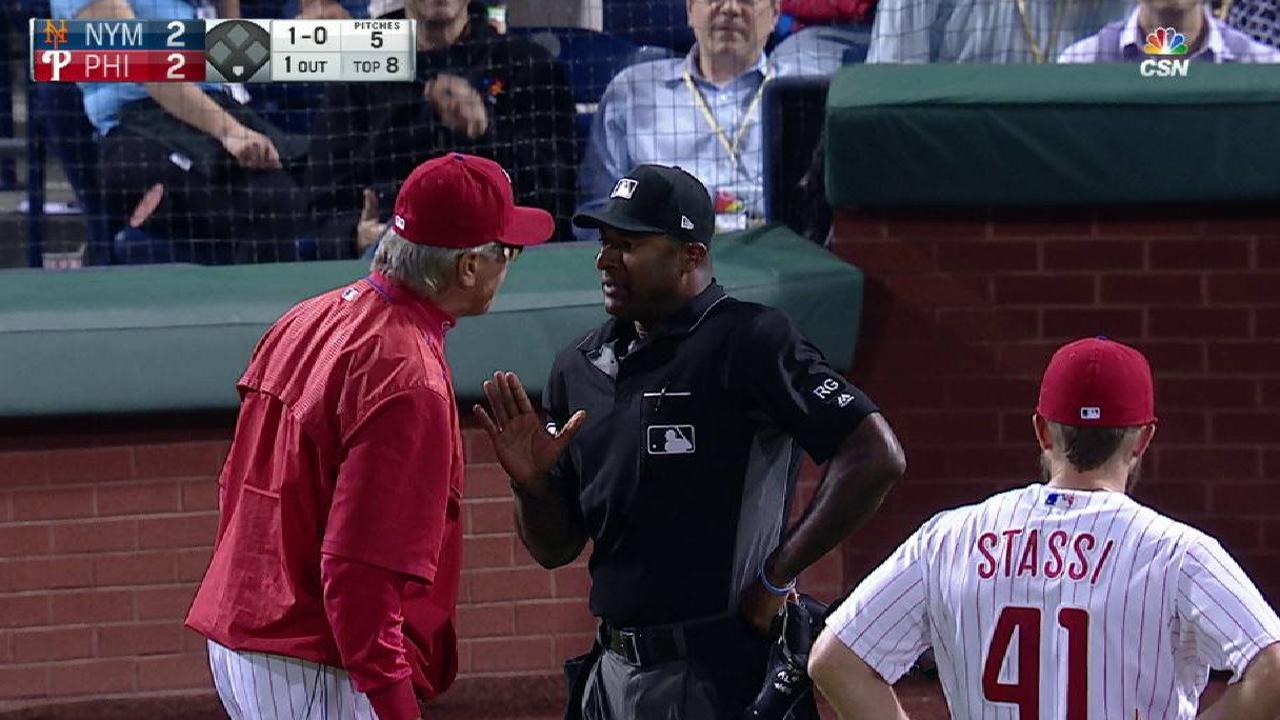 PHILADELPHIA -- Perhaps it is no surprise that Phillies manager Pete Mackanin called a team meeting before Tuesday night's 14-4 loss against the Mets at Citizens Bank Park.
He did not like what happened in the eighth inning Monday night in a 4-3 loss. Phillies right-hander Edubray Ramos threw a 96-mph fastball over Asdrubal Cabrera's head in perceived retaliation for the way Cabrera flipped his bat following a three-run, walk-off home run against him in the 11th inning Sept. 22 at Citi Field. It was a huge victory for the Mets, who moved into the top seed in the National League Wild Card race.
Mackanin spoke with Ramos before the meeting. He asked him if he threw at Cabrera intentionally.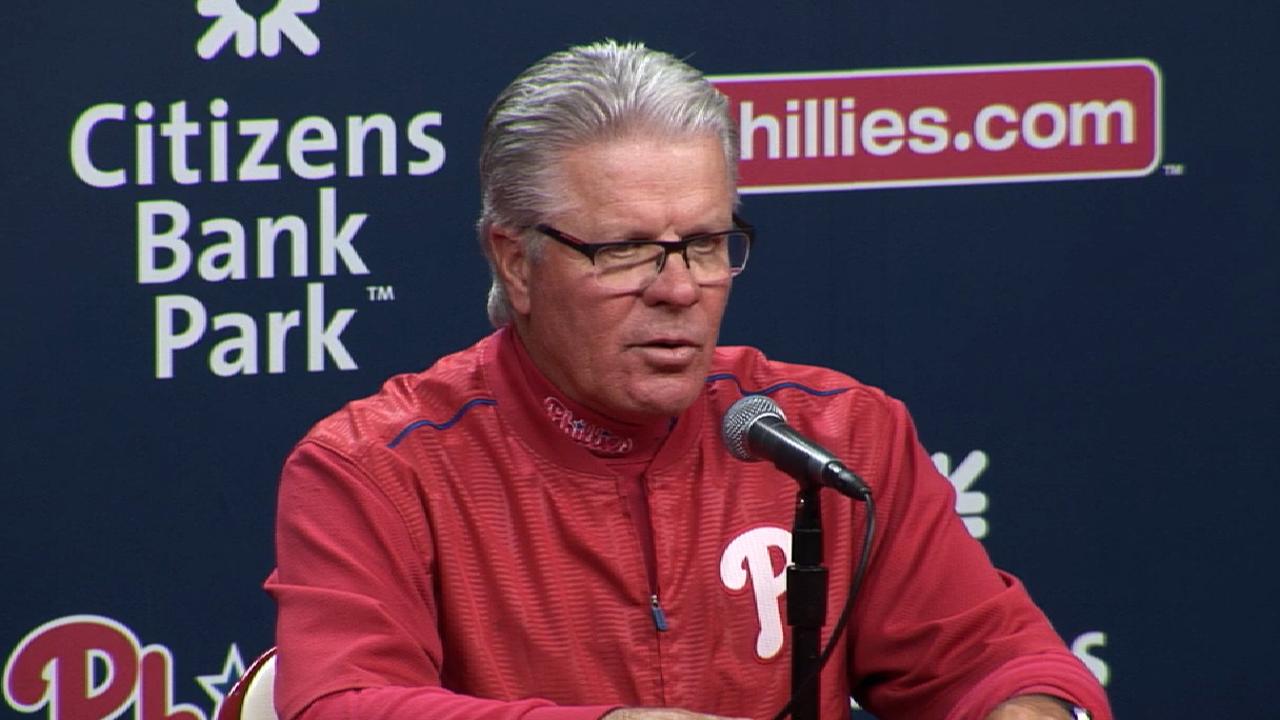 Ramos said no.
"That's the answer he gave me," Mackanin said. "I just want to leave it at that."
Mackanin then met with the team and essentially told them it's over.
In other words, put Ramos' errant pitch -- intentional or not -- behind them and play ball. Although, Mackanin had no inkling if the Mets would consider the issue closed. Asked if he expected the Mets to retaliate, Mackanin said he did not know.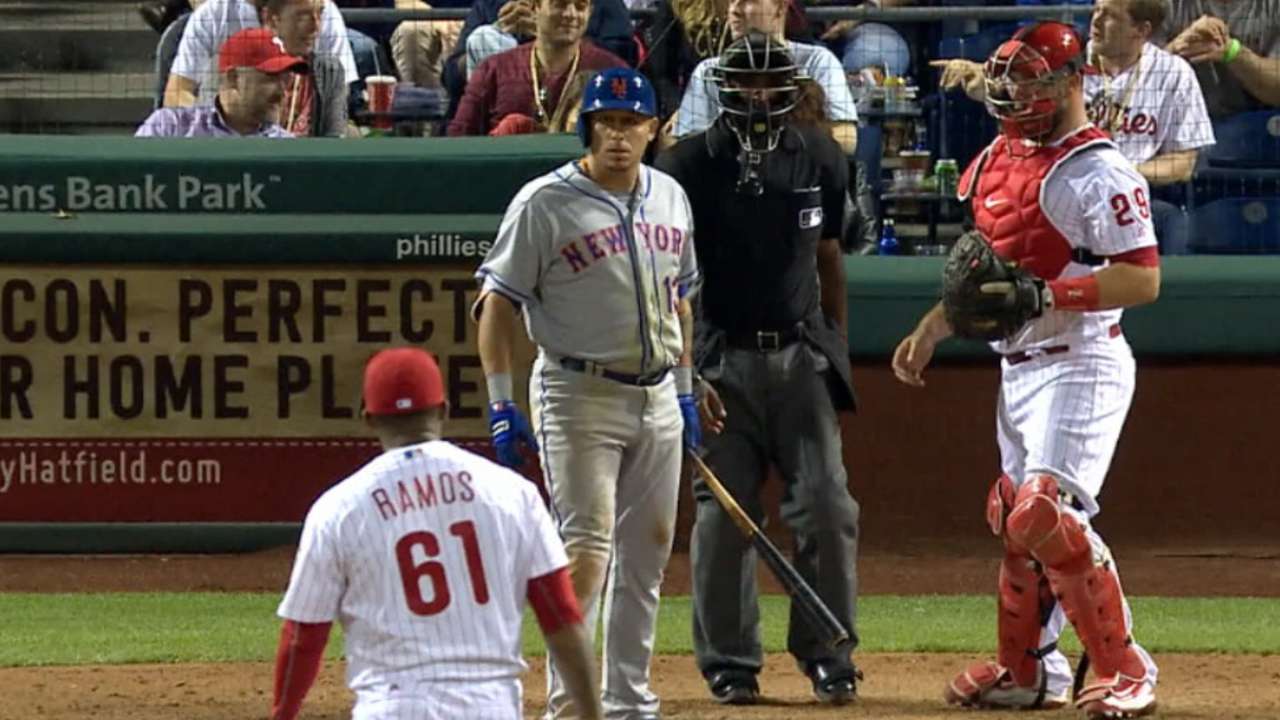 Mackanin said the meeting also touched on other topics, including collecting fines from players that recently showed up late for pregame stretch.
"It was upbeat for the most part," he said. "Just pointing out a few things I'd like to see them do."
But Mackanin hopes Ramos got the message.
"I'll never ask a pitcher to hit a guy, but I can't tell people what to do," Mackanin said. "If a pitcher doesn't like a hitter, you do what you have to do for whatever reason you want to do it. If you don't like how a guy dives over the plate and you want to come way inside and if you hit him, you hit him, that's up to you, I can't tell you not to do that. But I will never ask a pitcher to throw at a hitter, in the event that something bad happens."
It is interesting that Ramos might have held a grudge against Cabrera, considering the Phillies have one of the game's biggest bat flippers in Odubel Herrera. He not only bat flips home runs, but walks and sacrifice flies.
"He's been spoken to many times," Mackanin said. "He was drilled a half-dozen times last year. He is who he is and he's been spoken to about that and to be careful about that type of thing, but once again, you can only do so much, if that's who he is and who he wants to be, then he has to suffer the consequences."
For the record, Mackanin is no fan of bat flips.
"Fans might like to see it I guess but for me, it's just unprofessional," he said.
Todd Zolecki has covered the Phillies since 2003, and for MLB.com since 2009. Follow him on Twitter and listen to his podcast. This story was not subject to the approval of Major League Baseball or its clubs.