Statcast of the Day: Yoenis swats 3 HRs
Slugger first Met to achieve feat twice, drives in 5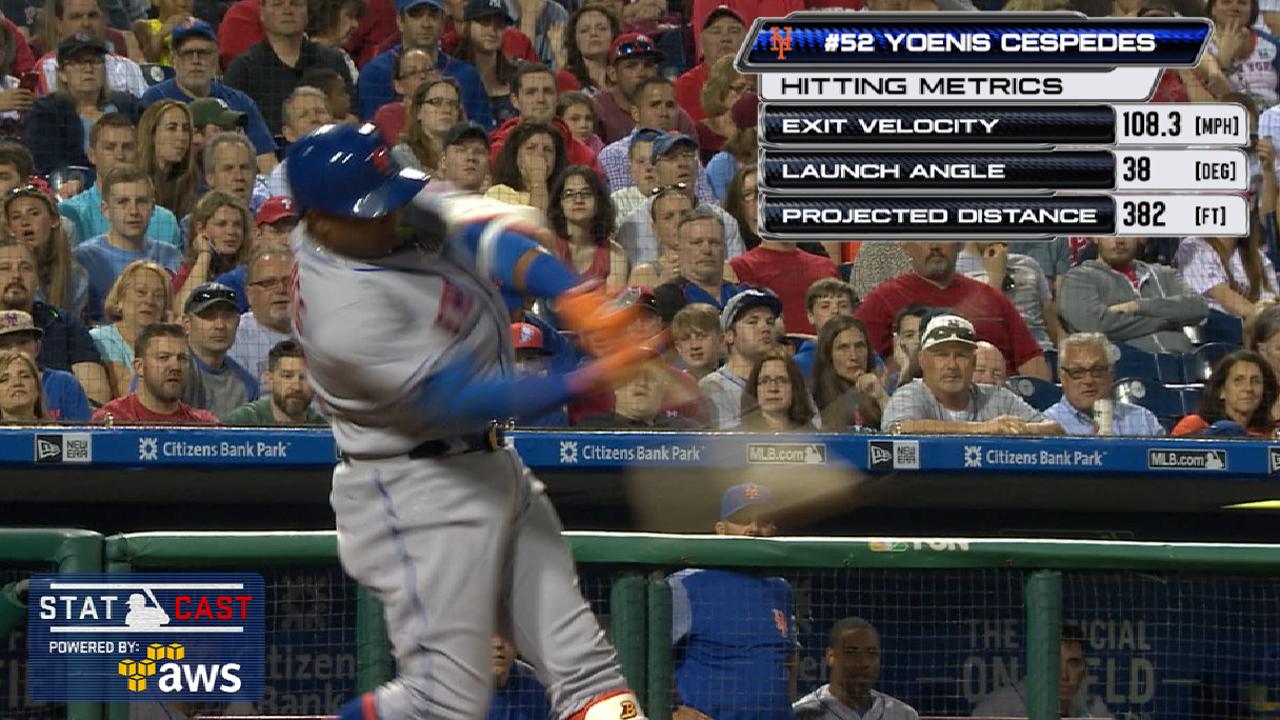 PHILADELPHIA -- For a brief moment at the end of his follow-through, Yoenis Cespedes held his bat firm, the tip of it pointing at the baseball in flight. Cespedes admired his handiwork. Then he lowered his head, ditched the bat and began his third and final trot around the bases.
Statistically, there is little argument against Cespedes as the Mets' best hitter. Tuesday, he proved it with the club's most impressive individual performance of the young season, homering three times as part of a 4-for-6, five-RBI night that highlighted a 14-4 win over the Phillies. In a single night, Cespedes raised his batting average nearly 100 points, more than doubling his slugging percentage via some of the hardest hits of the 2017 season.
"It looked like a driving range out there the way he was hitting the ball," Mets manager Terry Collins said.
• Cut 4: Yoenis falls down, homers in same at-bat
None of Cespedes' three home runs were as impactful as his first one, a three-run shot to straightaway center field that gave the Mets a 3-0 lead against Phillies starter Clay Buchholz, well before many fans had even taken their seats. Three innings later, Cespedes reached a 109.3-mph exit velocity on his second home run, depositing it near the left-field foul pole. Cespedes completed his hat trick with another solo homer off reliever Adam Morgan in the fifth.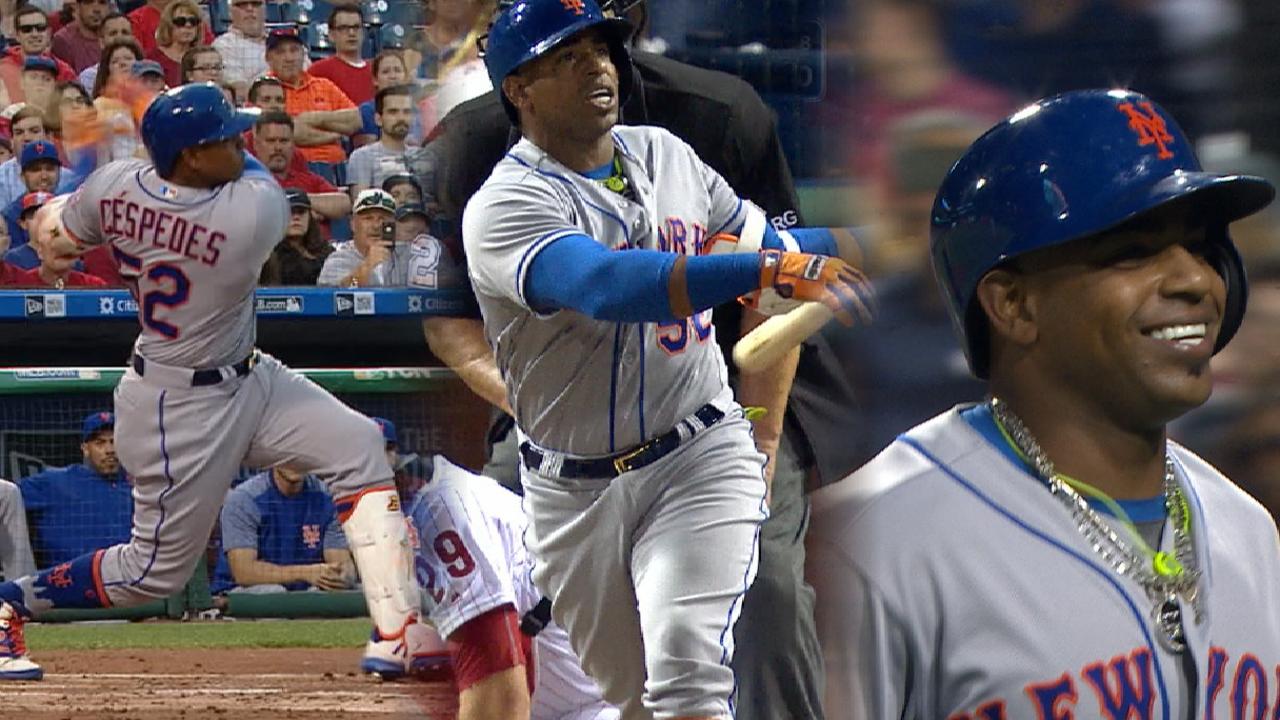 "Can you imagine?" Cespedes said through an interpreter. "I think any baseball player that hit three home runs would be having a lot of fun."
So were all those crunching the numbers. Cespedes became not only the 13th Met to hit three home runs in a game, but the first to do it twice. He matched a franchise record with four extra-base hits and, again, became the only Met to do it multiple times.
The more advanced metrics of Cespedes' night were equally impressive. Since Statcast™ began tracking data across Major League ballparks in 2015, 31 players have amassed three-homer games. Lucas Duda's effort on July 29, 2015 ranks first in terms of average exit velocity in a three-homer game, topping the scales at 109.3 mph. Cespedes' three-homer game clocked in fifth, at 107.6 mph.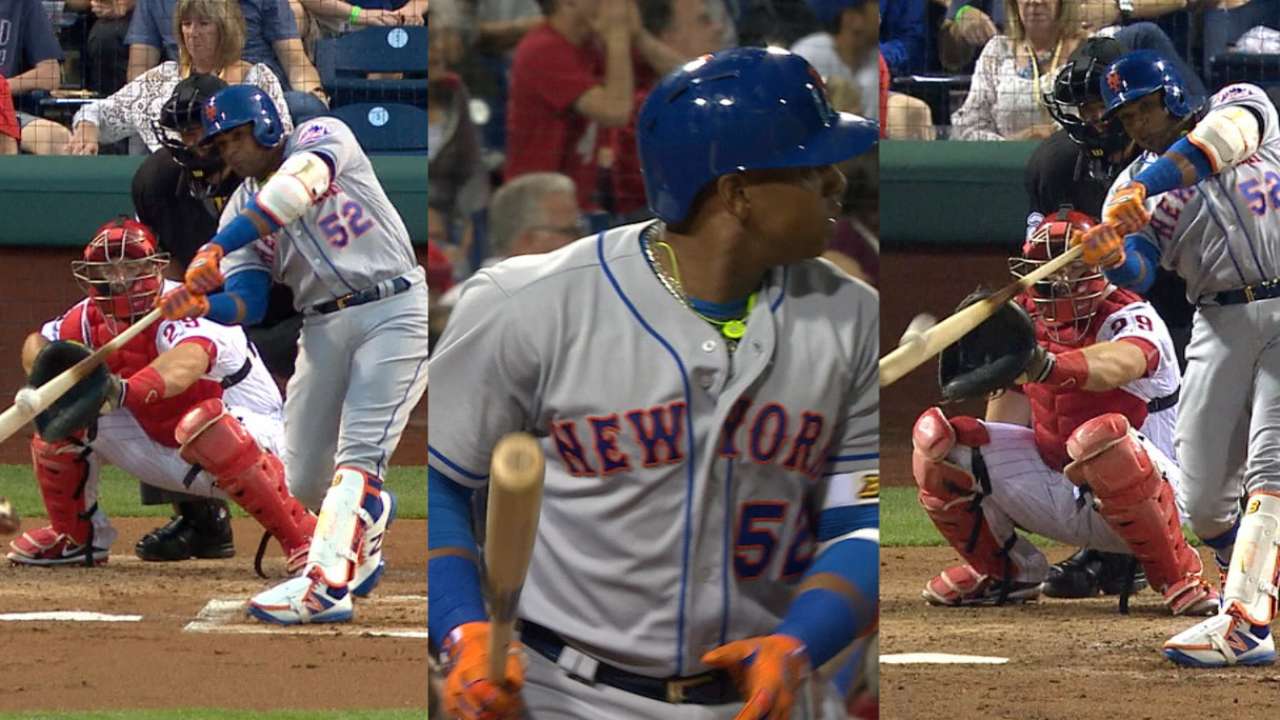 But Cespedes was not done at that point, also adding a 111.0-mph double over Odubel Herrera's head in the seventh inning for his fourth Barrel -- a hit with an exit velocity and launch angle combination that historically results in at least a .500 batting average and 1.500 slugging percentage -- of the night, not to mention the hardest-hit ball by any Met this season. Only two other Major Leaguers have amassed four Barrels in a night since the start of 2015. And only Cespedes, Ryan Braun, David Ortiz and Yasmani Grandal have collected four hits in one game with exit velocities of at least 105 mph apiece.
All those are fancy ways to say that Cespedes hit the ball early, often, hard and far, in a game that saw every Mets regular either collect multiple hits, drive in multiple runs or score multiple times. He crushed the darn thing. Cespedes hit nearly a quarter-mile of home runs in total. And while none of his long balls traveled quite as far as Duda's 448-foot, sixth-inning blast over the ivy-covered batter's eye in center field, Cespedes added his own personal touches -- including a 29.1-second home run trot that ranked slowest in the Majors this season.
"The whole game, we just made a lot of bad pitches," Phillies manager Pete Mackanin said. "You make bad pitches over the plate, you get hit. For some reason, the Mets, they don't miss them."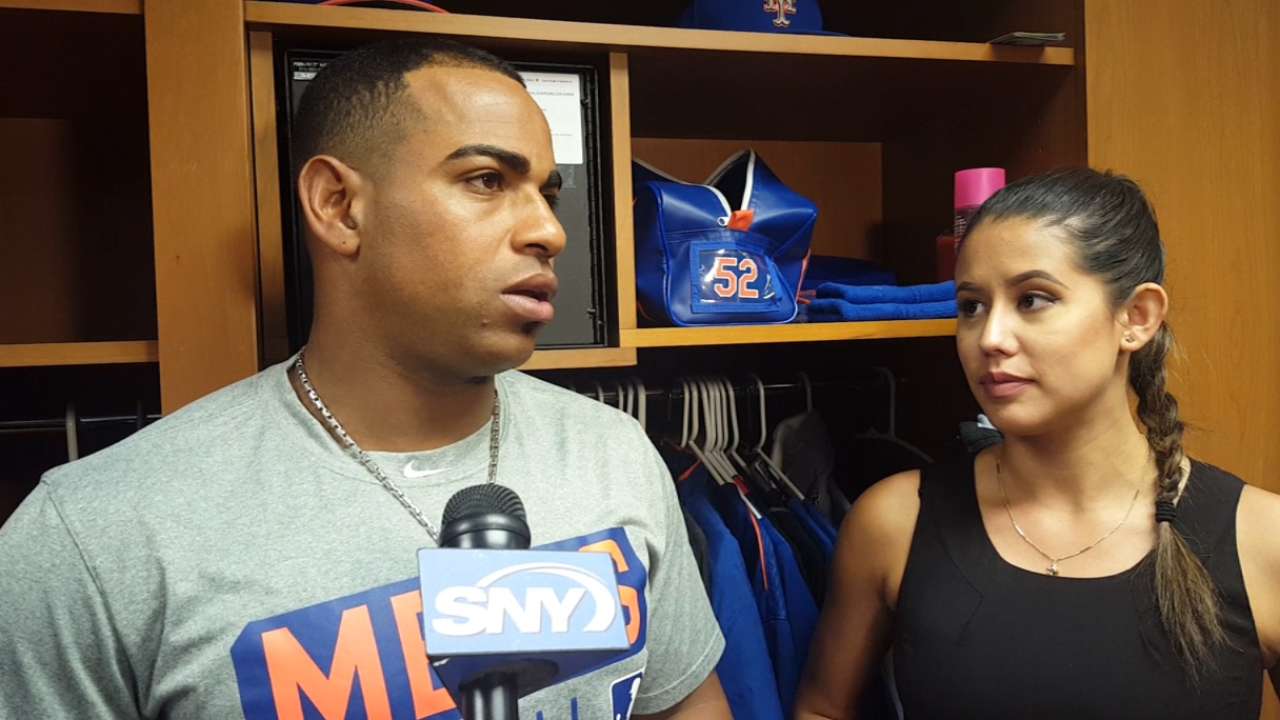 Like many Mets, Cespedes actually scuffled a bit over the season's first week, coming into Tuesday's play batting just .154 with one home run in seven games. No one fretted.
Following Cespedes' second homer Tuesday, Jose Reyes began ribbing his teammate in the dugout, telling him that anyone can hit two home runs in a game. So Cespedes outdid Reyes, hitting a third. By night's end, he sat tied with two other players, including teammate Jay Bruce, for the National League home run lead.
"Don't think for one second this guy's not going to have a huge year," Collins said. "This guy's dynamite. I'm not surprised he had a three-home run night. I'm not surprised by it at all."
Anthony DiComo has covered the Mets for MLB.com since 2008. Follow him on Twitter @AnthonyDiComo and Facebook, and listen to his podcast. This story was not subject to the approval of Major League Baseball or its clubs.