Statcast spotlight: 5 players to watch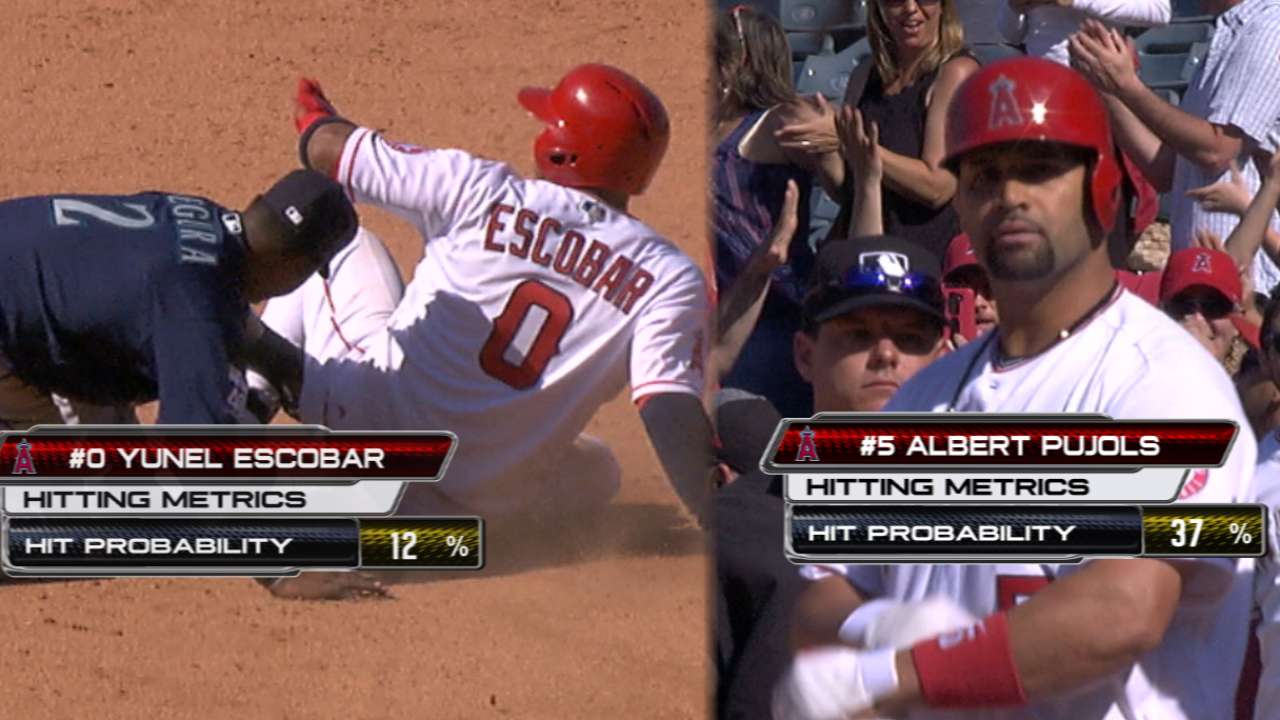 Using revolutionary Statcast™ data, here are five players to keep an eye on today. Watch it all on MLB.TV.
Yunel Escobar and Albert Pujols
10:07 p.m. ET -- Rangers at Angels
Down six to begin the bottom of the ninth Sunday, Los Angeles staged a furious seven-run rally for an unlikely 10-9 walk-off victory over Seattle. Just as unlikely were a pair of two-out hits by Escobar and Pujols. First, Escobar turned a 97 mph fastball from Edwin Diaz into a ground ball down the first-base line with an exit velocity of 89.1 mph and a launch angle of -22 degrees. Similar batted balls have gone for hits only 12 percent of the time, but Escobar's turned into a two-run double to extend the inning. Three batters later, Pujols -- who homered to begin the frame -- also hit a grounder to the opposite field with a 91.3 mph exit velocity and a zero-degree angle. Similar batted balls to Pujols have gone for hits just 37 percent of the time, but it found a hole to score two more runs and tie the game before Chad Pennington's walk-off single in the next at-bat. Escobar and Pujols had combined for only 41 ground ball hits the other way in the Statcast™ Era before Sunday.
Escobar's two-run double in ninth inning on Sunday
Exit velocity: 89.1 mph
Launch angle: -22 degrees
Hit probability: 12 percent
Pujols' two-run single in ninth inning on Sunday
Exit velocity: 91.3 mph
Launch angle: 0 degrees
Hit probability: 37 percent
Cole Hamels
10:07 p.m. ET -- Rangers at Angels
Hamels' changeup continues to be a key pitch for him. In his first start of 2017 -- a six-inning no-decision against the Indians -- opposing batters whiffed five times in 16 swings against his changeup (31.3 percent whiff rate), and those were five of the eight total swings and misses he got on the day (63 percent of his whiffs). That continues the trend from last season. Although Hamels threw only about 18 percent changeups, they accounted for one-third of his swinging strikes. When opponents took a cut at the pitch, they missed 40.8 percent of the time, which was the third-highest rate out of 50 pitchers who induced at least 200 swings at their change.
Highest whiff rate on changeups in 2016 (minimum 200 swings)
1. Jeremy Hellickson: 47.4 percent
2. Fernando Rodney: 45.9 percent
3. Hamels: 40.8 percent
4. Francisco Liriano: 40.4 percent
5. Adam Morgan: 40.4 percent
J.A. Happ
7:07 p.m. ET -- Brewers at Blue Jays
Coming off his 20-win season in 2016, Happ pitched well in his first outing of the new season. Even though he took a hard-luck loss to the Orioles, Happ went seven innings, allowing three runs and striking out nine batters without a walk. Of the strikeouts, eight came on fastballs -- which is how Happ got most of his K's last year, too. That went especially for his four-seamer: Happ's 113 K's on the pitch were fourth most in the Major Leagues.
Most third strikes on four-seamers in 2016
1. Justin Verlander: 135
2. Max Scherzer: 123
3. Ian Kennedy: 122
4. Happ: 113
5. Robbie Ray: 109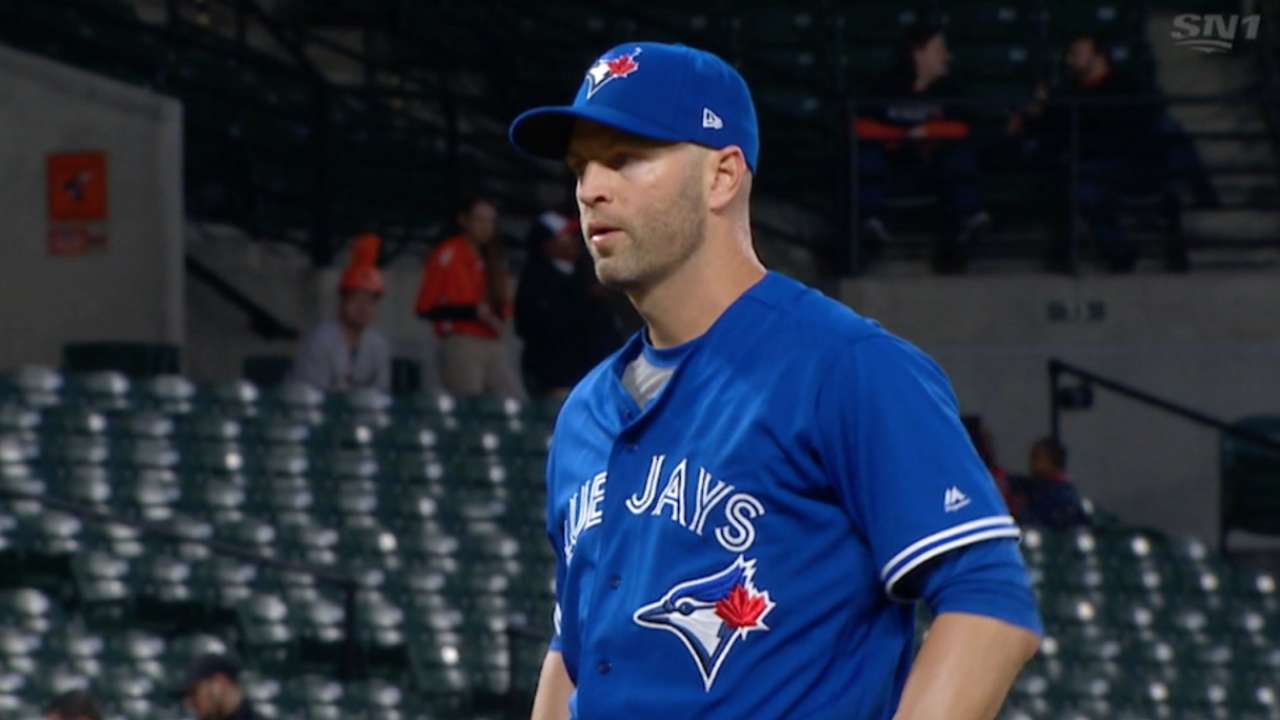 Giancarlo Stanton
7:10 p.m. ET -- Braves at Marlins
The Marlins return home for their Miami opener today. The notoriously pitcher-friendly ballpark is often unkind to hitters, but slugger Stanton has had no trouble leaving the yard. Stanton owns seven of the eight longest home runs at Marlins Park in the Statcast™ Era, including the longest (479 feet).
Longest home runs at Marlins Park from 2015-16
1. 479 feet: Stanton, June 23, 2015
2. 478 feet: Stanton, May 16, 2015
3. 475 feet: Stanton, May 6, 2016
4. 474 feet: Stanton, May 15, 2015
5. 458 feet: Stanton, May 19, 2015
6. 453 feet: Stanton, June 24, 2015
7. 451 feet: Christian Yelich, May 6, 2016
8. 448 feet: Stanton, Sept. 19, 2016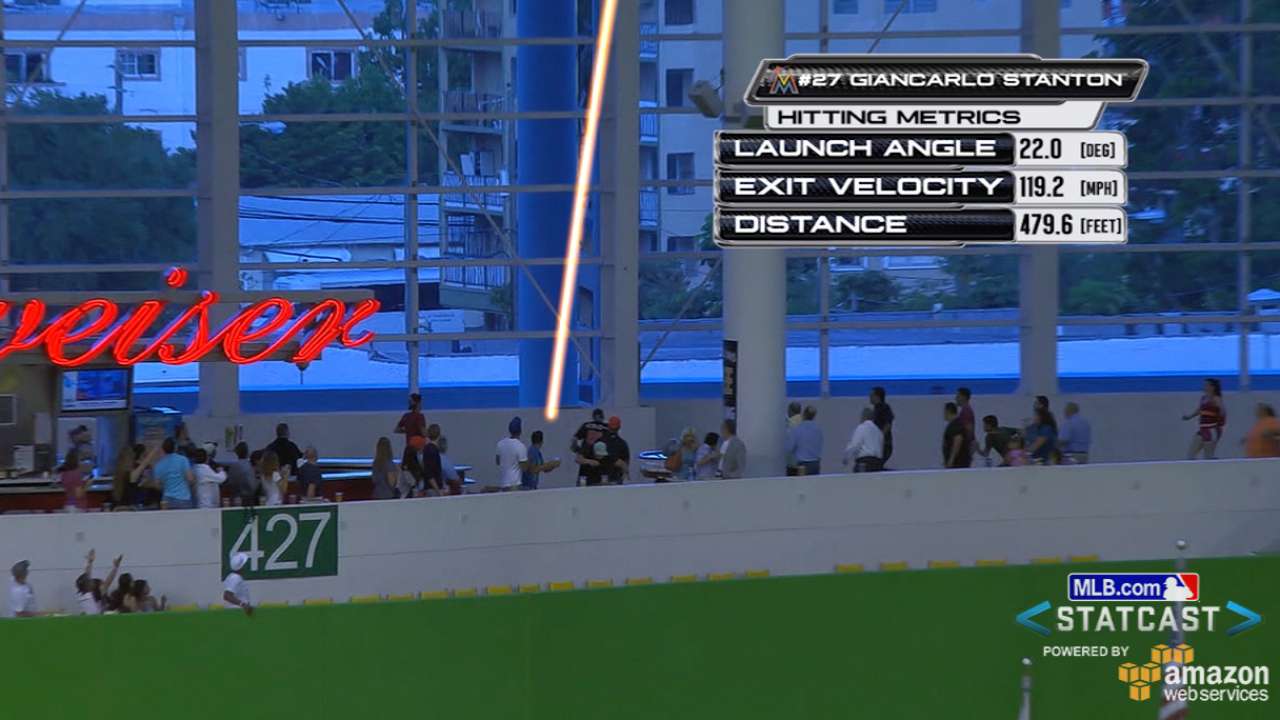 Bartolo Colon
7:10 p.m. ET -- Braves at Marlins
Perhaps he was just amped to face his former Mets teammates, but Colon's velocity was up for his Braves debut last week. The 43-year-old enjoyed an efficient outing -- allowing just one run, a solo homer by Jay Bruce, over six innings -- and Colon topped out at 93.6 mph on his four-seam fastball. For the game, his fastball averaged 92 mph, which is tied for his highest velocity since the start of the 2015 season.
Colon's highest average single-game four-seam fastball velocity from 2015-17
1 (tie). 92.0 mph, April 5, 2017
1 (tie). 92.0 mph, Aug. 26, 2016
3 (tie). 91.7, Sept. 5, 2016
3 (tie). 91.7, Aug. 26, 2015
5. 91.6, June 18, 2015