Reynolds has helped keep Rockies afloat
Veteran first baseman already has four home runs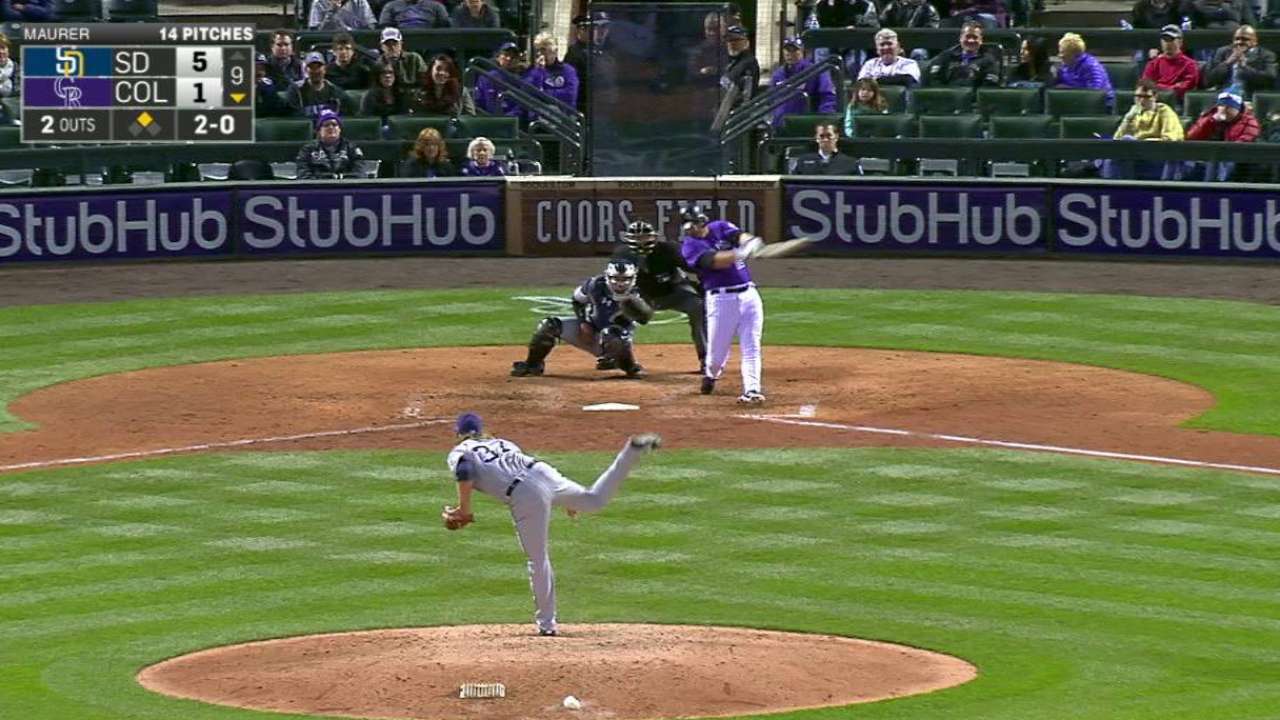 DENVER -- Mark Reynolds was the Rockies' everyday first baseman in 2016, but with the signing of Ian Desmond to a five-year, $70 million deal last December, the Rockies found their first baseman of the future.
Nevertheless, Colorado signed Reynolds to a Minor League deal with an invitation to Spring Training after Reynolds found himself without a new team by the beginning of February.
Little did either party know just how important Reynolds would be early in the season after Desmond was hit by a pitch and suffered a fractured left hand during Spring Training. Not only has Reynolds filled in admirably, he's been the Rockies' best hitter early on.
Reynolds belted his fourth home run of the season in the ninth inning of Monday's 5-3 loss to the Padres at Coors Field. The veteran slugger is batting .345 with 10 RBIs in the season's first eight games. With many lineup stalwarts struggling to open the season, such as Charlie Blackmon (.219), Carlos Gonzalez (.179) and Trevor Story (.148), Reynolds is picking up a big portion of the slack.
"The first at-bat of the season, when I hit the home run, it really kind of just got that confidence rolling in the right direction," Reynolds said. "It's huge. Every year, you come into the season like, 'Hey man, can I still do this?' And the first at-bat you hit a homer, and your confidence goes through the roof, and you feel like you can do it every time up."
With Desmond set to begin baseball activities (playing catch and taking ground balls) this week, Reynolds knows that now is the time to make a lasting impression on manager Bud Black.
"I was gonna be a bench player, and unfortunately Ian got hurt," Reynolds said. "I'm just trying to take advantage of the opportunity I'm getting, and when the time does come when Ian comes back, I just wanna make it hard on Buddy to take me out of the lineup."
Manny Randhawa is a reporter for MLB.com. Follow him on Twitter at @MannyOnMLB. This story was not subject to the approval of Major League Baseball or its clubs.