MLB.com Columnist
Jon Paul Morosi
Tigers aware 1st-half performance is crucial
Verlander, Kinsler realize that team makeup could change at Trade Deadline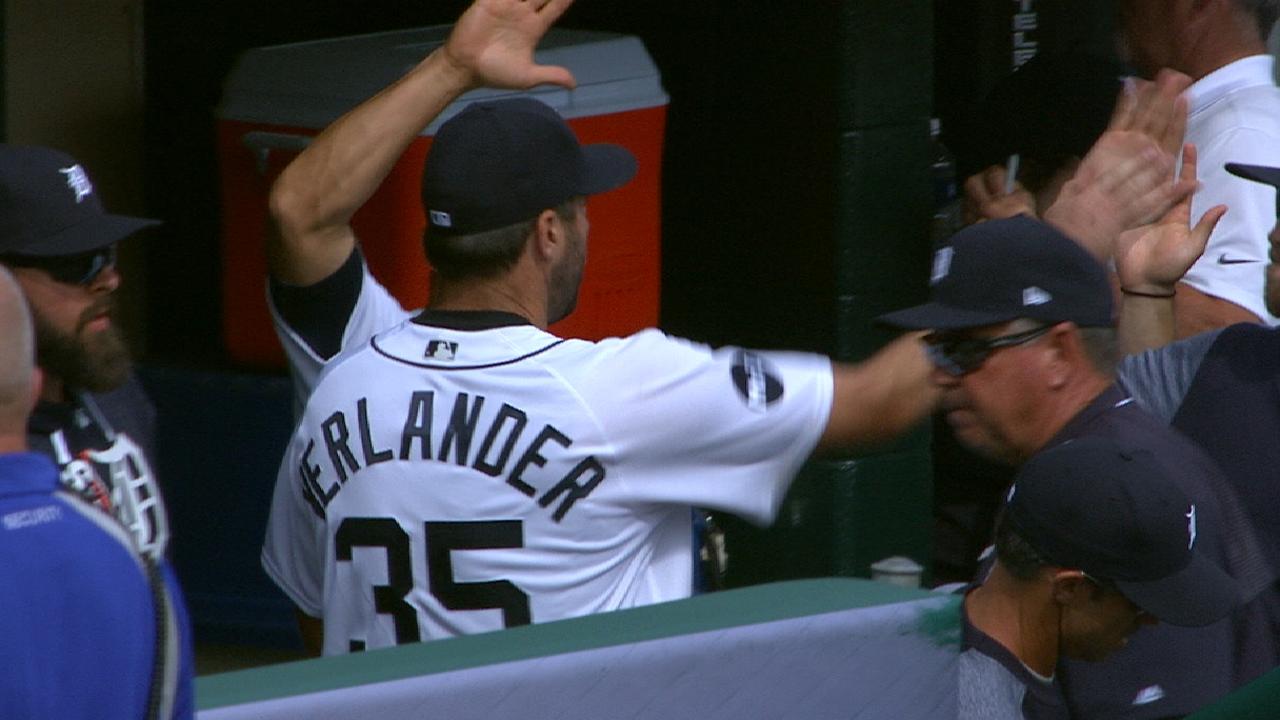 DETROIT -- The Tigers lost a winnable game Sunday, and fans reacted with predictable panic and dread. In Detroit, there's no such thing as an isolated bullpen meltdown. Even in April, a spoiled lead evokes the image of David Ortiz swatting Joaquin Benoit's splitter into the Fenway Park bullpen during the 2013 playoffs.
Justin Verlander understands this. He's also familiar with the franchise's present anxiety: If the Tigers play poorly (or even turn in a mediocre record) in the first half, changes contemplated last November may occur in July.
"Everybody sees the writing on the wall," Verlander said Monday. "If we don't play well, we're not going to be here. This team ain't going to be here. Nothing left to do but play good. That's it."
Simple.
At least Verlander made it look that way in Monday's showdown, a 2-1 Tigers win, with Boston co-ace Chris Sale. Detroit's bullpen needed an afternoon to recuperate, and Verlander's seven innings afforded them that. The only run he allowed was unearned; even that was something of a triumph for the Tigers, considering the bases-loaded, none-out situation that preceded it.
Even more remarkably, Verlander negotiated that high-wire second inning without command of his fastball. Curveballs saved him. And Verlander, in turn, rescued his teammates on a day the Tigers were without top right-handed hitters J.D. Martinez and Justin Upton against the left-handed Sale.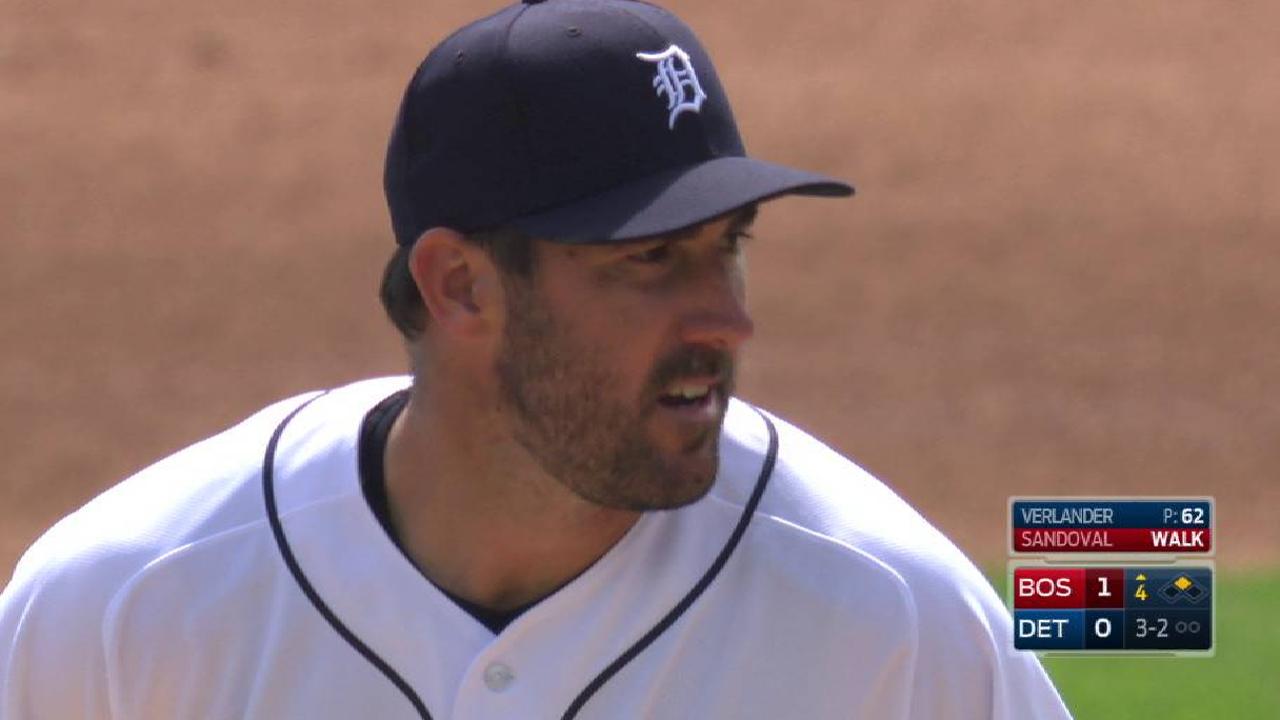 "There are guys who are true aces, and there are guys who are No. 1 starters," All-Star second baseman Ian Kinsler said. "There's a difference. [Verlander is] an ace. He's been that his whole career. To have a guy like that -- to either stop the bleeding or turn the rotation over -- is huge. It's huge for the whole season.
"I think [Verlander] puts thought into, 'I'm facing Chris Sale.' Whether J.D. or Upton are in the lineup, he knows it's going to be a battle, because [Sale] is just like him. He's an ace. He's one of those ace pitchers. [Verlander] always finds a way to motivate himself, every start. When he's facing someone like that, that's definitely at the top of the list, I would think."
Sale, saddled with the hard-luck loss, nonetheless delivered a second straight sterling start to begin his Boston career. He was one strike away from allowing only one earned run over eight innings, which would've been the best of his 10 career starts at Comerica Park. Instead, Andrew Romine pulled a bad-hop double down the left-field line and scored on Nicholas Castellanos' single -- the last of Detroit's five hard-earned hits.
"[Sale] was, pretty much, in total control for the entire game," said Tigers catcher James McCann, who finished 0-for-3. "Usually if a guy's throwing a two-seamer and four-seamer, it's within two or three miles per hour of each other. As a hitter, it's not a huge difference.
"But for him, he's throwing 97 mph with a 90-mph two-seamer and 80-mph changeup. That's three pitches right there. And then he throws in a slider. It's no wonder he can dominate like that."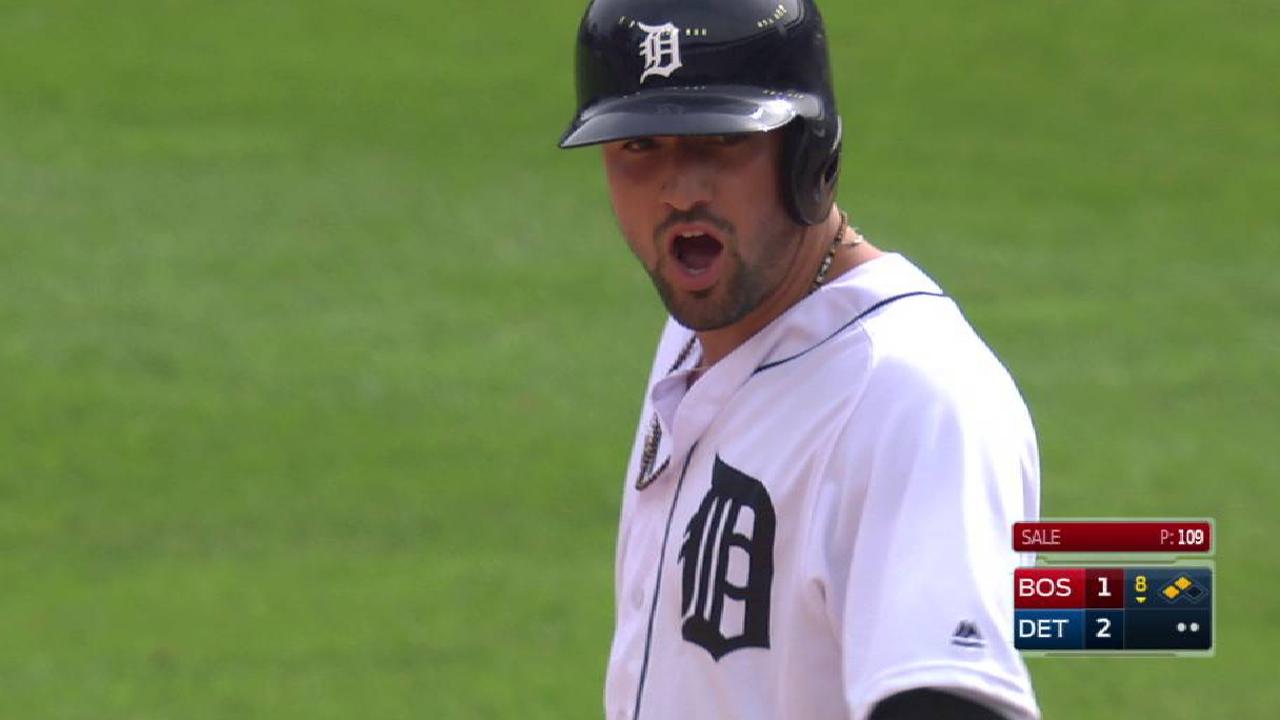 History says we shouldn't have been surprised to see Verlander and Sale create a spectacle that equaled the hype. In five career meetings between the two, Verlander's ERA is 1.46; Sale's is 2.78. The Tigers are 5-0.
Sale nearly helped the Red Sox secure what would have been a monumental series split, considering Xander Bogaerts (bereavement list) and Hanley Ramirez (flu) did not play during the four games in Detroit. The flu has affected multiple Sox regulars in recent days, including star Mookie Betts, in addition to David Price's ongoing elbow injury.
"It's tough," Sale said afterward, when asked about Boston's shorthanded roster. "It's part of it, though. You can sit here and try to find excuses all day long. You've just got to find a way to get it done, no matter who you're with or what you've got. I wish I would have been able to get it done today."
The Red Sox (3-3) are forecasted by many to reach the playoffs. The Tigers (4-2) have a less certain outlook. A sluggish start could mean an end to the team's competitive window, as early as the July 31 non-waiver Trade Deadline. April victories seem more important than they've been in years.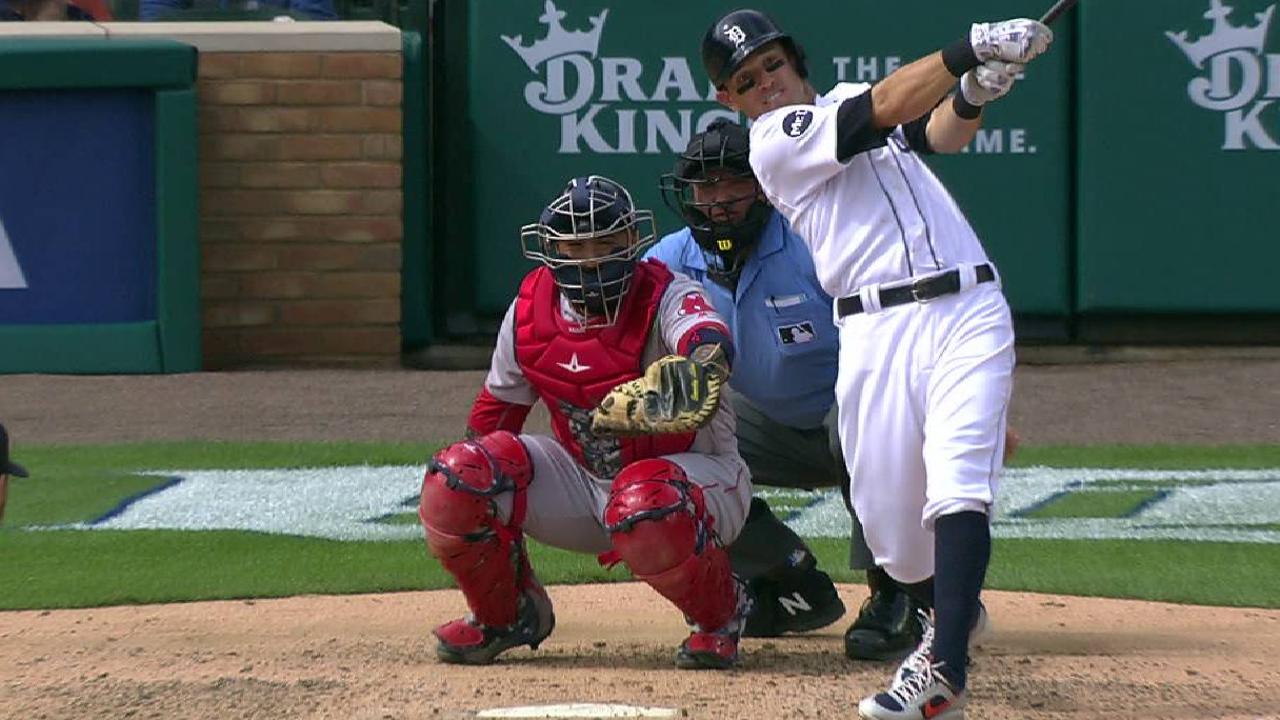 "I'm aware of it -- we're all aware of it," Kinsler said. "We're just in a really good place as a team right now. I'm living in the moment, enjoying good baseball. We've been playing good baseball. We know we're capable of that.
"You don't necessarily dwell on the fact that we could all be gone by the Trade Deadline. Let's just enjoy that we're playing good baseball and see how many games we can win."
And for the record, Verlander believes they'll win plenty.
"I really like our ballclub," Verlander said. "The bullpen is kind of in flux right now. That will get a lot better as guys settle into their role. You look at these guys: [Francisco Rodriguez] had 40-plus saves last year. Justin Wilson, with what he's done this year, adding that bigger slider -- he's going to be lights out. Alex Wilson puts up the same great numbers every year. I love Joe Jimenez [who received his first Major League callup on Monday].
"We've all talked about it, including [Tigers manager] Brad [Ausmus], about the sense of urgency early in the year. We know. We're aware of it. ... Bottom line, we can be really, really good."
Jon Paul Morosi is a reporter for MLB.com and MLB Network. He has also covered baseball for FOX Sports, the Detroit Free Press and the Seattle Post-Intelligencer. This story was not subject to the approval of Major League Baseball or its clubs.