Hurdle can relate to Bell's adjustment at first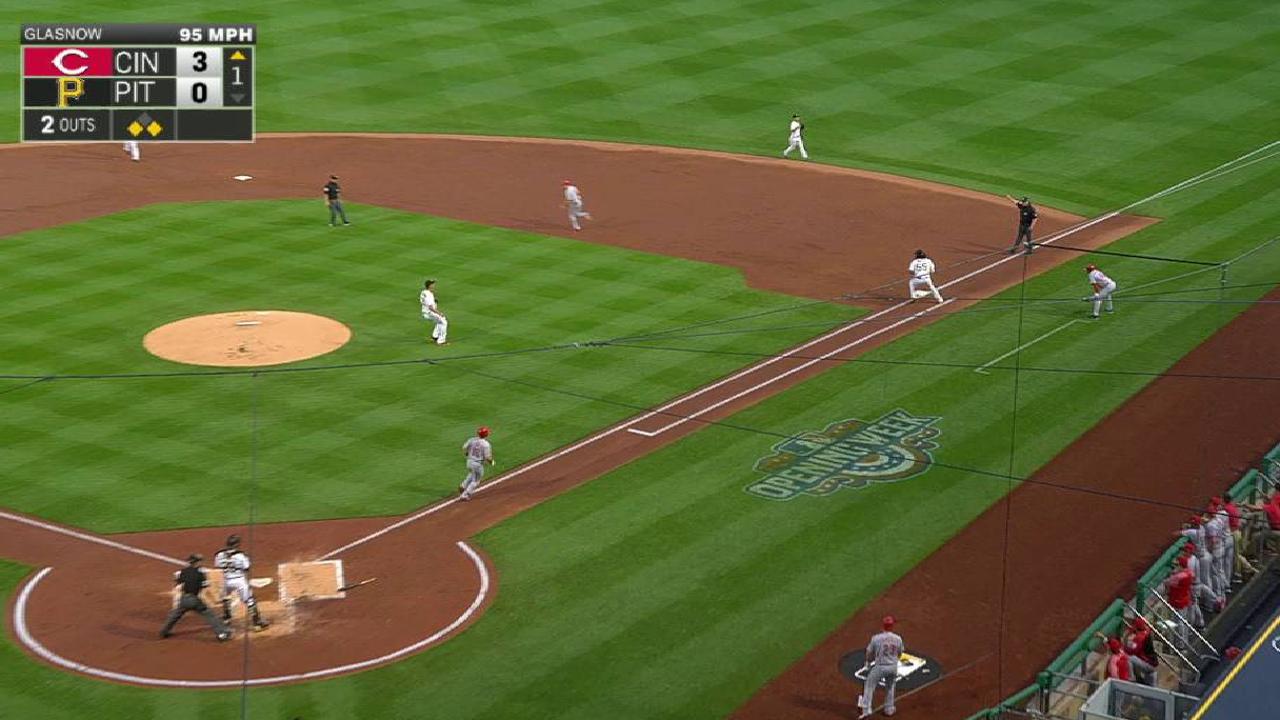 PITTSBURGH -- Four hours before first pitch Monday, Josh Bell was on the field at PNC Park, working at first base. Manager Clint Hurdle hit ground balls toward Bell, and infield coach Joey Cora watched as Bell made throws to second base.
Bell has been a first baseman since late 2014, but the former outfielder is still a work in progress. The man with a bat in his hand Monday could relate.
In 1978, the Royals asked Hurdle to play first base -- for the first time in his life -- with a week left in Spring Training. Chuck Hiller, Kansas City's infield coach, gave Hurdle a seven-day crash course at first base.
"He just told me to be ready every pitch. He worked hard to get me in a good fielding position, just so I would be ready," Hurdle said. "Then after it's hit, do the best you can. There's no such thing as a bad catch at first base. He kept it simple with me."
Bell's defense has improved each year, and Hurdle said he continues to show "positive signs." But it will take time before the 24-year-old is a finished product at first. Until then, the Pirates will continue to use a trio of late-game replacements: David Freese, John Jaso and Phil Gosselin.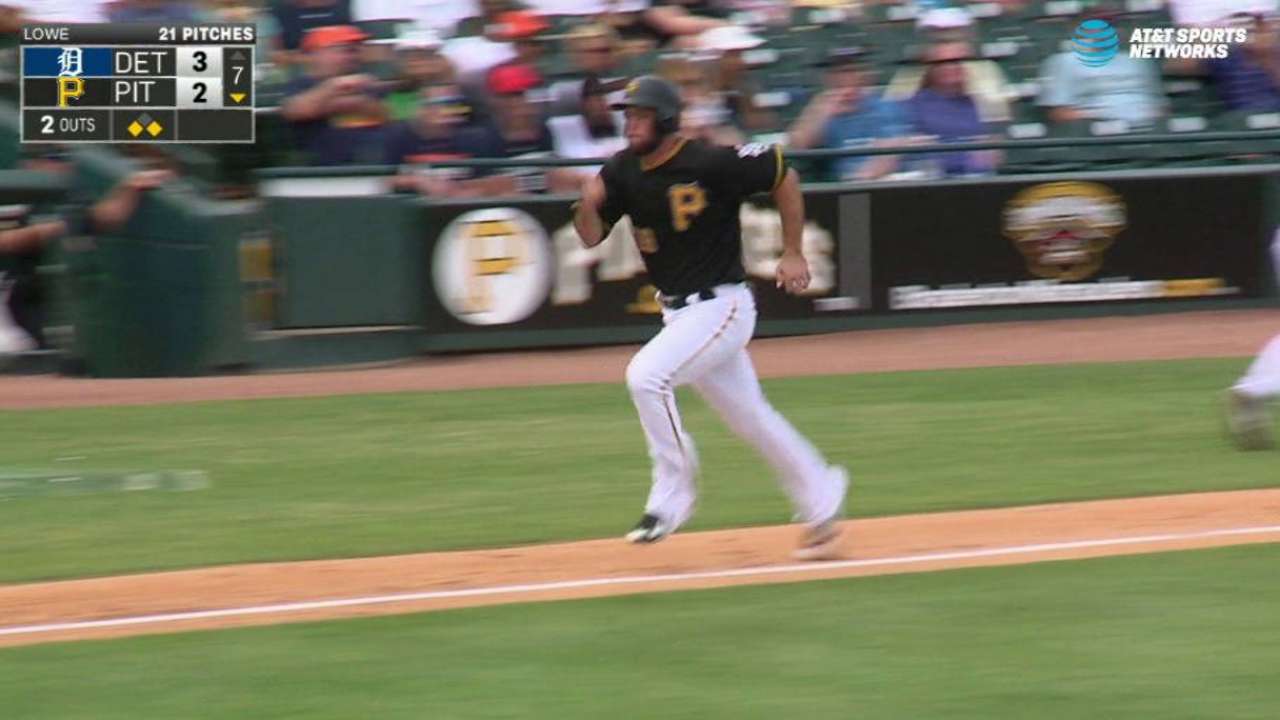 "Right now, we're best served with the late-inning opportunities going to John or to Phil or to David," Hurdle said. "The thing people lose sight of is how long [Bell has] been playing first base. The number of game reps you get in Triple-A, the heightened intensity here, it's different -- it's almost another level of learning."
Williams' impressive debut
Right-hander Trevor Williams pitched two scoreless innings in the Pirates' 6-5, walk-off win over the Braves on Sunday, keeping them close enough to eventually force extras. He did so in dominant fashion, striking out three and allowing one hit on 24 pitches.
More impressive? Williams, the last reliever called upon this season, hadn't pitched in a game since March 29.
"I was getting antsy," Williams said, smiling.
Williams, who competed for the final spot in the rotation, has come on strong since the midway point of Spring Training, more efficiently putting away hitters in two-strike counts.
"More aggressive with my offspeed pitches, a more aggressive mindset to get the out, and not be cute with it," Williams said. "I'm a reliever now. I don't have the luxury of trying to get guys out three times, setting them up for later ABs. Get the out now, as soon as possible."
Around the horn
• Infielder Josh Harrison (right calf tightness) did not start Monday but was available off the bench, Hurdle said. Harrison sustained the injury Sunday, when he was hit by a pitch. He took infield and batting practice with the Pirates Monday afternoon.
• The Pirates' walk-off win Sunday was their 100th at PNC Park and happened to take place on the 16th anniversary of the first regular-season game to be played at the ballpark.
• Starling Marte's walk-off homer Sunday was the fourth of his career. Only Ralph Kiner (six), Willie Stargell (six) and Andrew McCutchen (five) have hit more in Pirates history.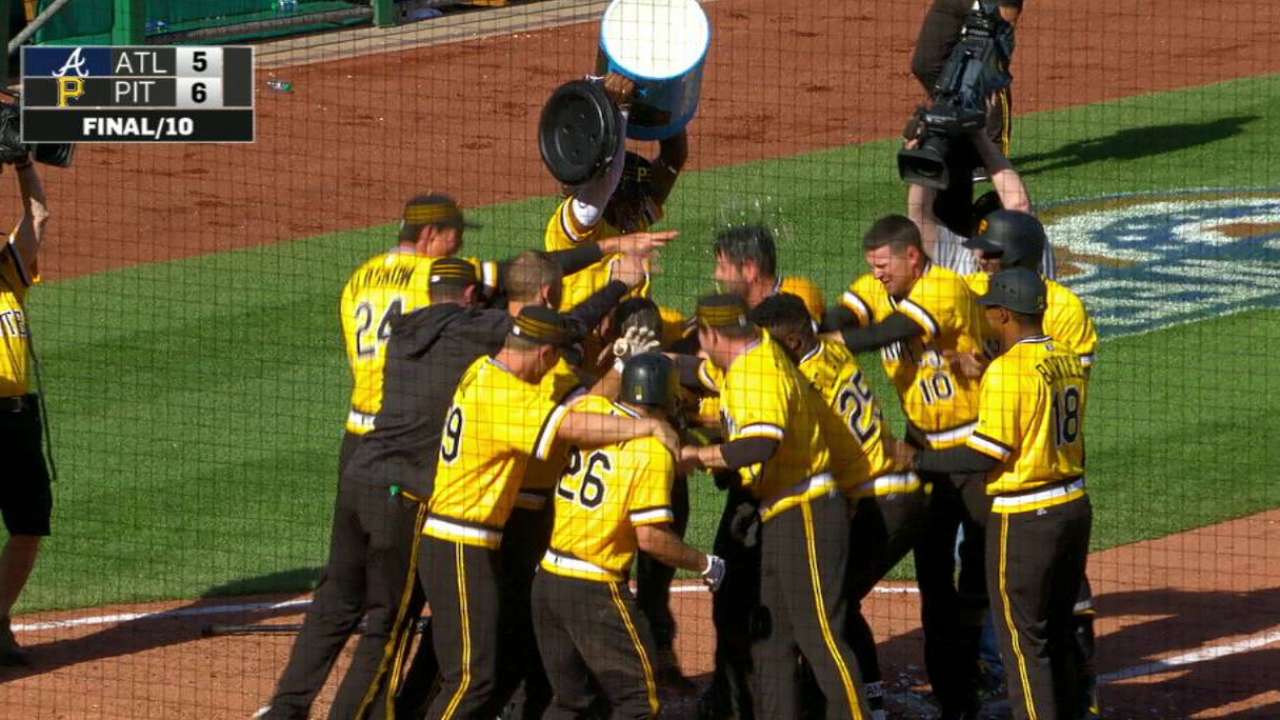 Adam Berry has covered the Pirates for MLB.com since 2015. Follow him on Twitter and Facebook, read his blog and listen to his podcast. This story was not subject to the approval of Major League Baseball or its clubs.