Rose to be inducted into Phillies Wall of Fame
All-time hits leader will be honored on Aug. 12 at Citizens Bank Park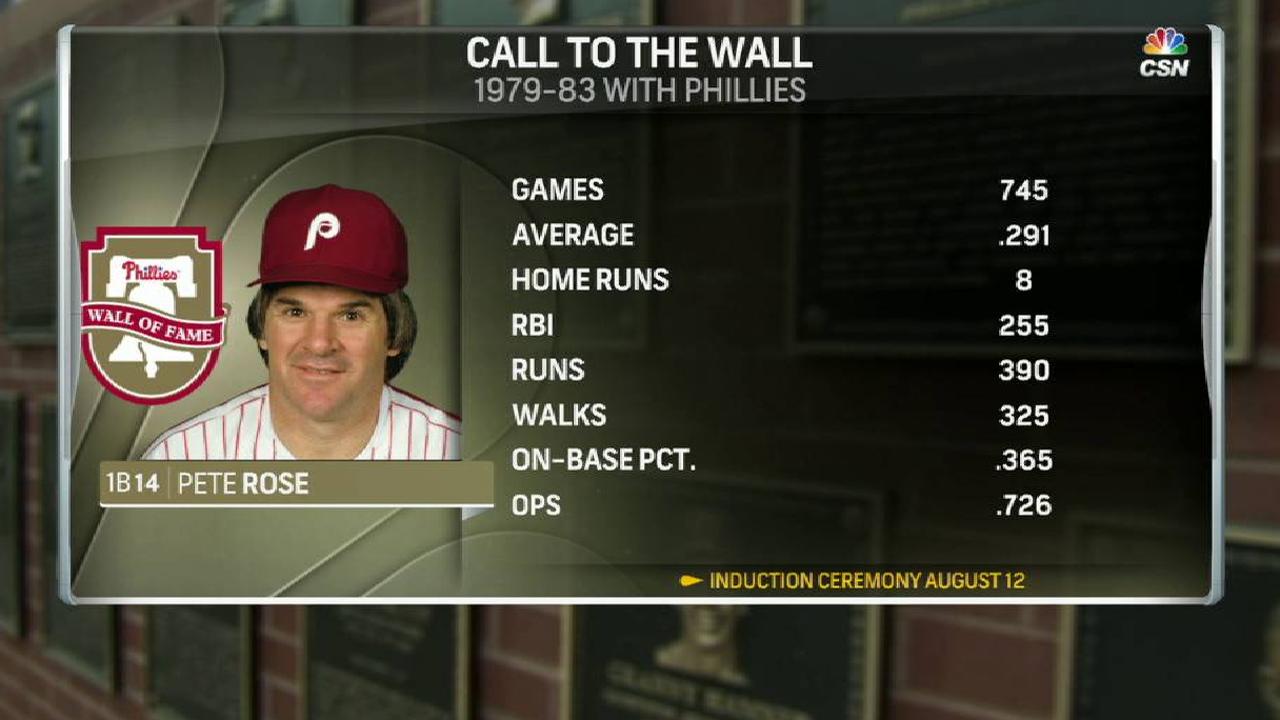 PHILADELPHIA -- Major League Baseball's all-time hits leader and a key cog in the 1980 Phillies World Series championship team will be honored on Aug. 12, when Pete Rose is inducted into the Phillies Wall of Fame at Citizens Bank Park.
"My baseball years in Philadelphia were amazing," Rose said in a statement about the 1979-83 seasons he spent with the Phillies. "Not just because we won it all in 1980 and came close in 1983, but also because the fans welcomed me from day one."
Rose finished in the top 15 in National League MVP Award voting two of his five years in Philadelphia, and he made All-Star appearances in each of his first four seasons with the organization.
Current Phillies bench coach Larry Bowa, and Rose's fellow infielder on that championship team, expects the atmosphere on induction night to be "electric," confirming why Rose endeared himself to the psyche of Phillies fans.
"These people love the way he played," Bowa said. "He's a blue-collar player."
Plus, the Phillies may not have won the 1980 World Series without him.
"He made a big difference in our lineup, obviously," Bowa said. "It's not like we didn't have a good team before he got here, we had a good team, but he was like the missing ingredient."
Rose's effort on the field was matched by the intensity with which he held his teammates accountable for their actions. When asked if Rose was a vocal leader, Bowa recalled times he himself was pulled aside by the perennial All-Star and confronted about being unable to execute. But not only did Rose single out other players, he also wasn't too self-absorbed to call out himself.
"He didn't consider himself a superstar," Bowa said. "He considered himself a blue-collar player that had to work for everything.
"That's how he was. He wasn't afraid, and if he didn't do a job, he'd be the first one to say, 'That was a bad at-bat by me.'"
Ben Harris is an associate for MLB.com. This story was not subject to the approval of Major League Baseball or its clubs.