MLB.com Columnist
Phil Rogers
Ricketts has old-school devotion to Cubs
Chairman ecstatic that 'lovable losers' label no longer applies to his ballclub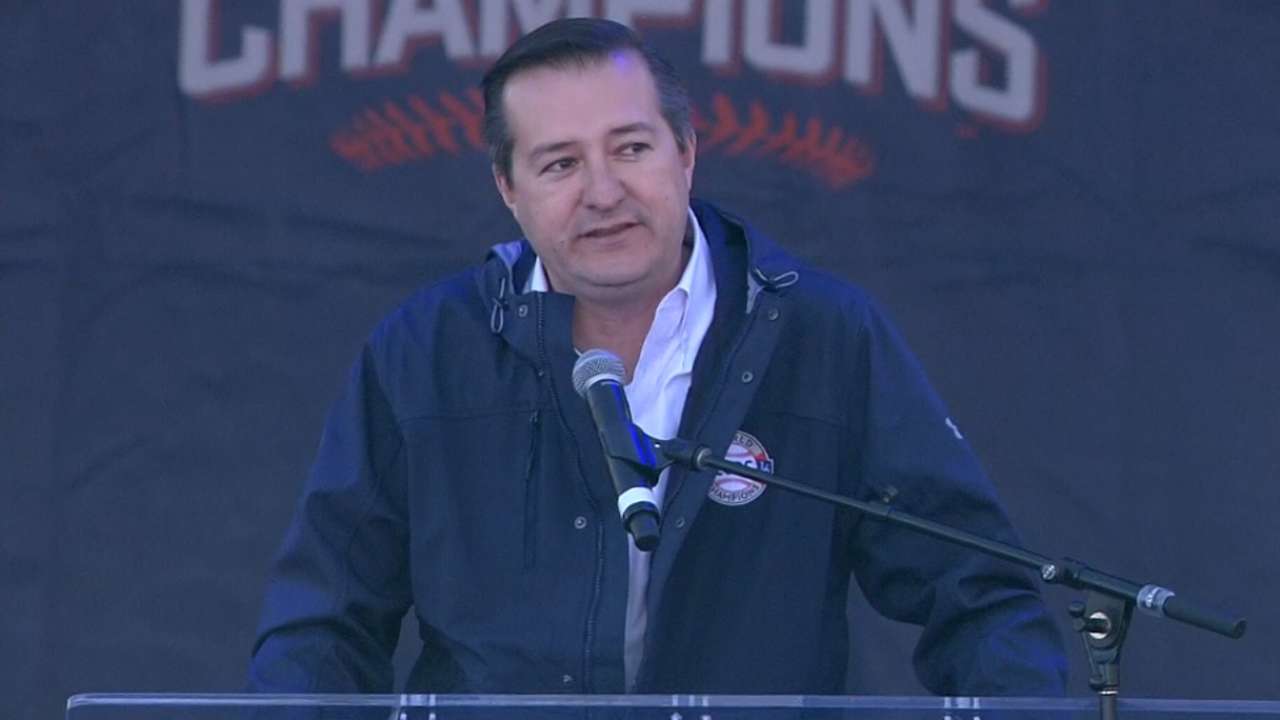 CHICAGO -- Tom Ricketts was the same as always on Monday, at least from the outside. He was humble, pleasant, accommodating and somehow able to both pay attention to details and enjoy the moment.
It's hard to know for sure how Walter O'Malley was on Opening Day at Ebbets Field in 1956, after Johnny Podres won Game 7 of the World Series the season prior to give the Dodgers their first championship.
But under the O'Malleys -- Walter and his son, Peter -- the Dodgers grew into a close-knit powerhouse with family touches that extended from Los Angeles to Dodgertown in Florida. Baseball has entered an era of corporate ownership, but Ricketts is a throwback to earlier days.
"I've heard that reference from [Rick] Sutcliffe and some of the guys who had Dodger ties," Ricketts said before Monday's ceremonies. "What I think it comes down to, coming in those first few years and knowing it would take time to get a better team, just letting everyone know our personal reputation was on the line, [that] we really cared about people who were there. We cared about them knowing they were in a family business, and just being there in person."
Few owners have been at their ballpark -- and those in their Minor League system, as well -- as often as Ricketts since he and his family purchased the Cubs in 2009. There haven't been any days better than this one, when the Cubs raised a championship banner for the first time at Wrigley Field, which opened in 1914 as home to the Federal League's Chicago Whales.
Not only are the Cubs celebrating the 103-win season and Game 7 victory over the Indians, but also the third offseason of renovations to Wrigley Field. From players to front-office staff and stadium ushers, everyone carries themselves with pride these days.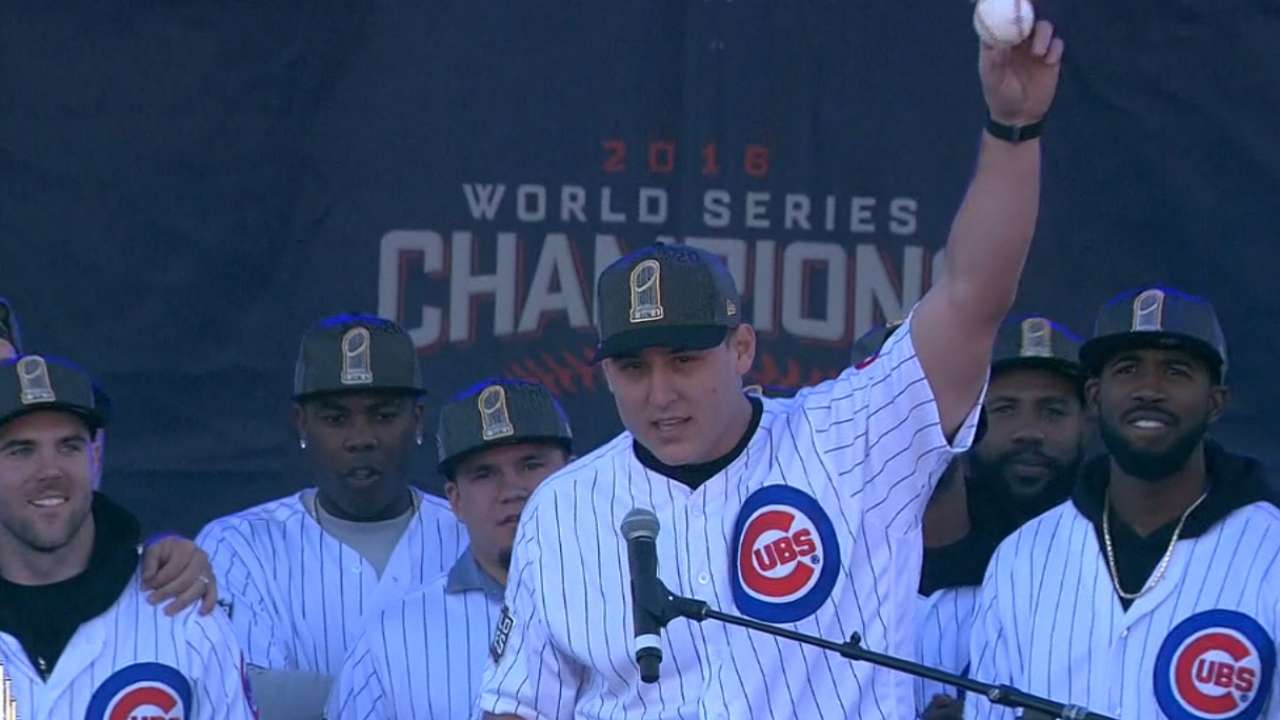 "How transformational is that?" Ricketts asked about winning the World Series. "We get to put behind us all the curses and goats and Bartmans and stuff. It's all history. Everybody associated the word Cubs with 'loser,' even though there were some pretty good teams [through the years].
"Lovable or not was the question. If you were a fan, we were lovable losers; if you weren't a fan, we were just losers. It won't go back that way. The red 'C' now stands for being a good teammate, it stands for playing hard and it stands for 'champion.'"
Ricketts marvels at how fans have reacted to the Cubs' championship. His first memory of the team's parade and celebration -- attended by an estimated 5 million people -- is of a boy on his father's shoulders.
"[He was] holding up a sign that said, 'Grandpa, we did it,'" Ricketts said. "The thing I find most surprising and moving with being associated with the success of the Cubs is the Chicago Cubs are a member of the family to so many people."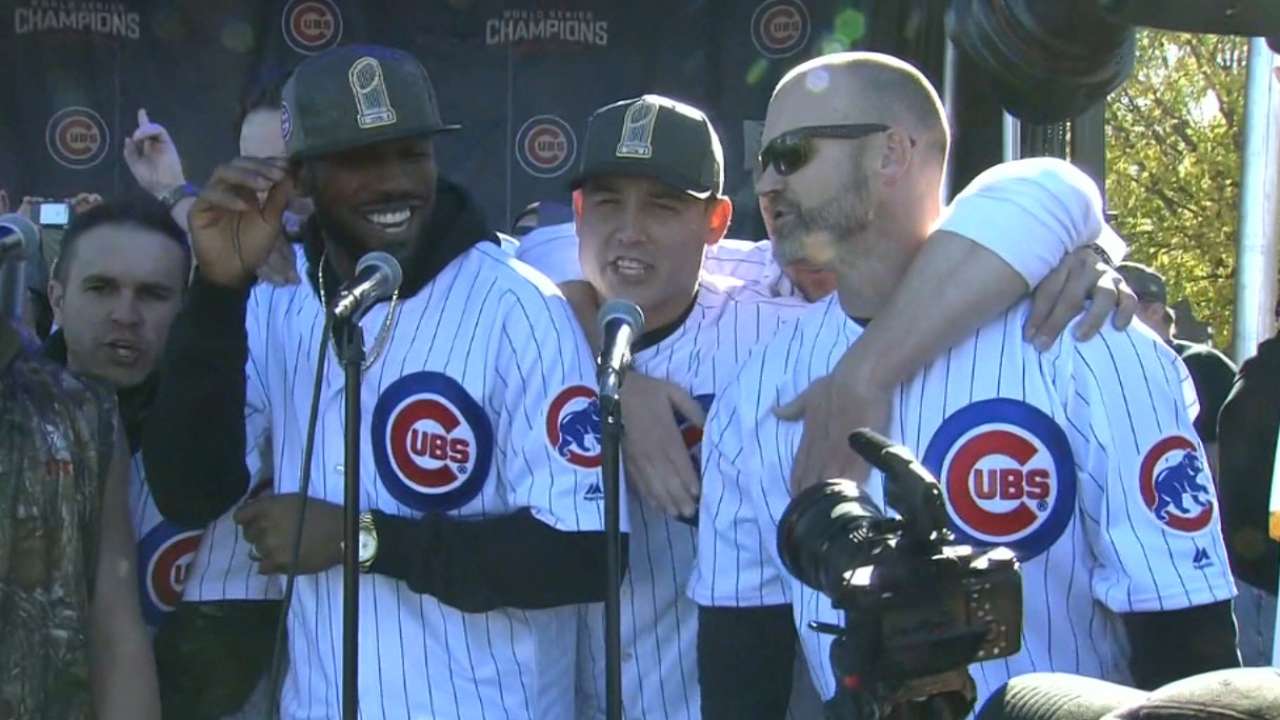 Ricketts still can't believe fans covered the outside walls of Wrigley with chalk-written messages, including tributes to grandmothers and grandfathers who took them to their first games.
"It was purely organic," Ricketts said. "We washed it off the first time, then it came back, so we let it go. It's amazing how much it meant to so many people. It was a relationship that people still have with their parents and grandparents that aren't still with us. It was so powerful. There aren't words to describe it."
• Cubs unveil Park at Wrigley before home opener
Wrigley Field has flown flags atop the center-field scoreboard signifying wins and losses since shortly after the scoreboard was constructed in 1937. The same flagpole is used for the American flag during games.
Because the foul poles are devoted to the numbers of retired players, the Cubs needed to do some construction to honor their 2016 championship. They built four flag poles in center field, two on each side of the scoreboard.
"Flags are one of our sub-specialties right now," Ricketts said, laughing. "We've got to get some more to put out there now."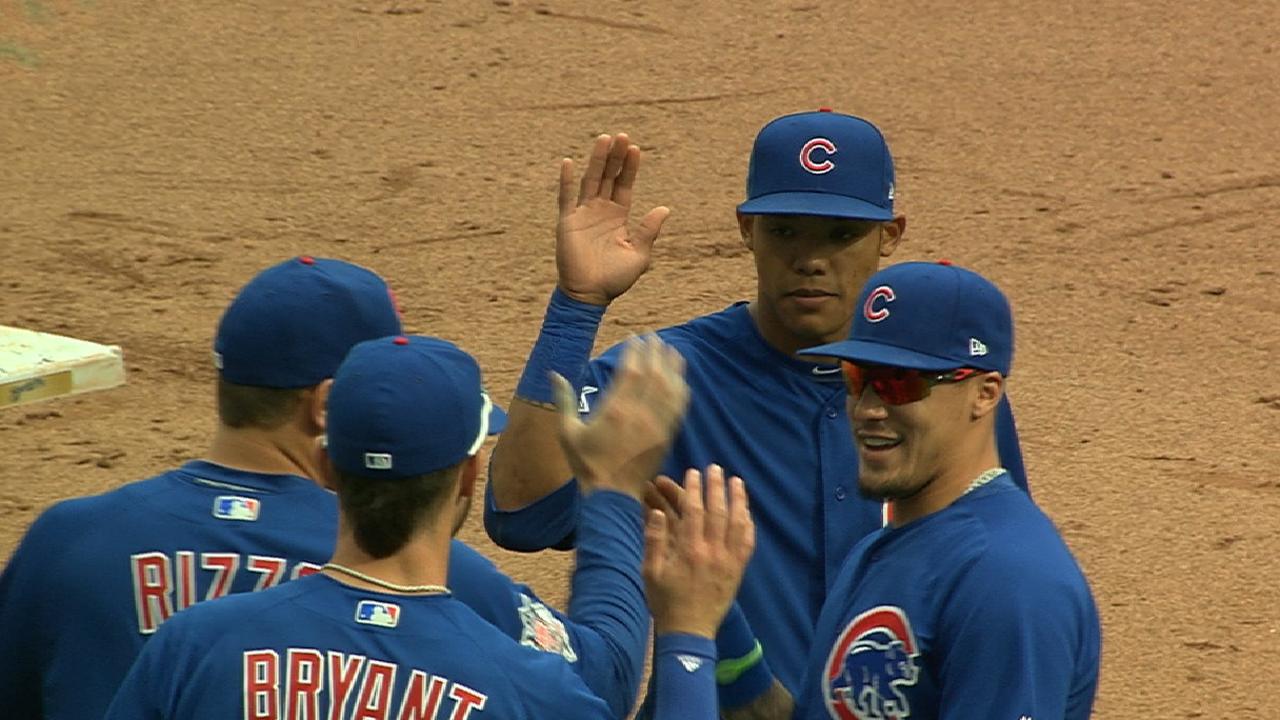 Thanks to Ricketts and president of baseball operations Theo Epstein, the Cubs appear built to last. They have a deep, talented core of players and a team of scouts and coaches in place to keep the talent coming.
Epstein, who was the general manager when Boston ended its 86-year World Series drought in 2004, has said chasing subsequent titles wasn't the same as getting the first one. Ricketts acknowledges that dynamic, but he sees nothing but good sailing ahead for his franchise and its fans.
"It's a point well taken that you can only break the curse once," Ricketts said. "But Wrigley is a happy place, one of the 10 happiest places in the world, according to Conde Nast [magazine]. Even when the team wasn't very good, people enjoyed themselves at Wrigley Field. There's something about it. There's an aura, there's a vibe, there's feel that you have at Wrigley.
"That's our baseline, right? Then you put out a good team and that just goes up. If you put on a good team that's young and has the kind of guys that everyone loves, everyone wants to cheer for, I don't think it's going to go backward just because we're good. Maybe the next parade doesn't get quite as many people, but we have Midwest fans who appreciate the beauty of Wrigley and their relationship to the team. I don't think anything's going backward in terms of happiness at Wrigley Field."
The Dodgers won the World Series six times and captured the National League pennant 15 times before the O'Malley family sold the team in 1998. The count has begun for the Ricketts family.
Phil Rogers is a columnist for MLB.com. This story was not subject to the approval of Major League Baseball or its clubs.