Los Reales le rinden honor a Yordano Ventura en el Kauffman Stadium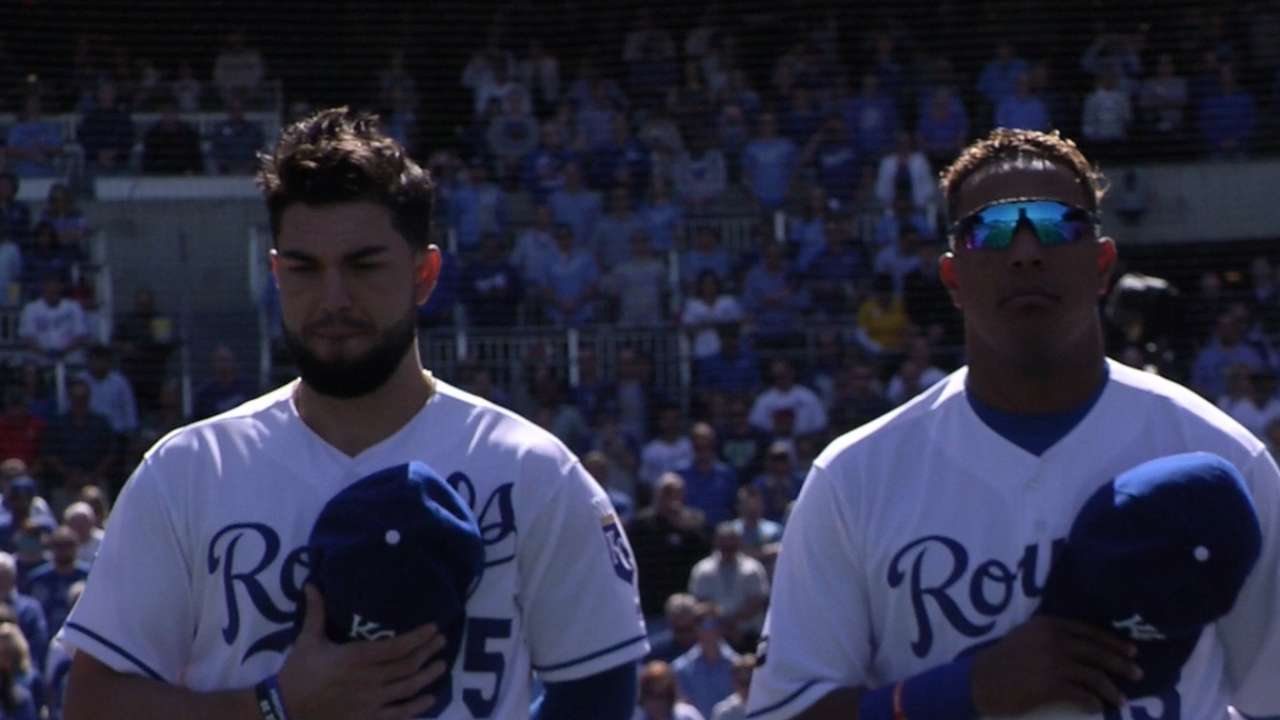 KANSAS CITY - Kelvin Herrera se subió los pantalones y se plegó su camiseta blanca en el camerino de Kansas City. A su costado, un espacio vacío, salvo por una franela enmarcada.
El simple casillero de madera era donde su buen amigo, Yordano Ventura, solía vestirse para los juegos.
"Esto es doloroso", señaló apesadumbrado el cerrador de los Reales.
En un soleado día inaugural en Kansas City, el alborozo habitual quedó marcado por una profunda melancolía. La muerte de Ventura en un accidente vial en su natal República Dominicana es una herida en carne viva que no cicatriza.
"Tenemos que sacar lo positivo de lo negativo", dijo Herrera previo al juego contra los Atléticos de Oakland. "Será una inspiración para nosotros, pero tenemos que seguir adelante".
No es fácil cuando se topan en todas partes con algo que les hace recordar la exuberante personalidad de Ventura.
Su casillero tiene una placa con la leyenda "ACE 30" encima y al frente se ha colgado una foto en blanco y negro de Ventura en acción. Y en los otros casilleros se han colocado fotos enmarcadas de Ventura con cada uno de sus respectivos compañeros.
En el terreno del Kauffman Stadium, la lona que cubre el montículo lleva la misma insignia de "ACE 30" que también aparece en un parche en los uniformes de los jugadores. Y el mismo mensaje ha sido desplegado en el Salón de la Fama del equipo por el jardinero izquierdo.
"No creo que puedas aislarte de ello, o ignorarlo, ya que fue alguien tan importante", comentó el manager de los Reales Ned Yost. "It's still heartbreaking to a lot of guys."
Luego de soltar a cientos de globos hacia el cielo, los Reales rindieron homenaje a Ventura. Fotos suyas fueron mostradas en la gigantesca pantalla en forma de corona en el jardín central. Y se guardó un momento de silencia al tiempo que un saxofonista entonó "Amazing Grace".
Su madre, Marisol Hernández, subió al montículo para hacer el primer lanzamiento ceremonial. Se puso la franela con el 30 de su hijo e hizo al ofrecimiento a su receptor desde que debutó, Salvador Pérez.
"Es durísimo", añadió otro de los estrechos amigos de Ventura, el torpedero Alcides Escobar. "Esto no es fácil porque siempre hay algo que te hace recordar a Yordano. Hay que salir a jugar por él. Pero es duro".