Star-studded first pitch opens Safeco season
Club icons help Mariners celebrate 40th anniversary in pregame ceremony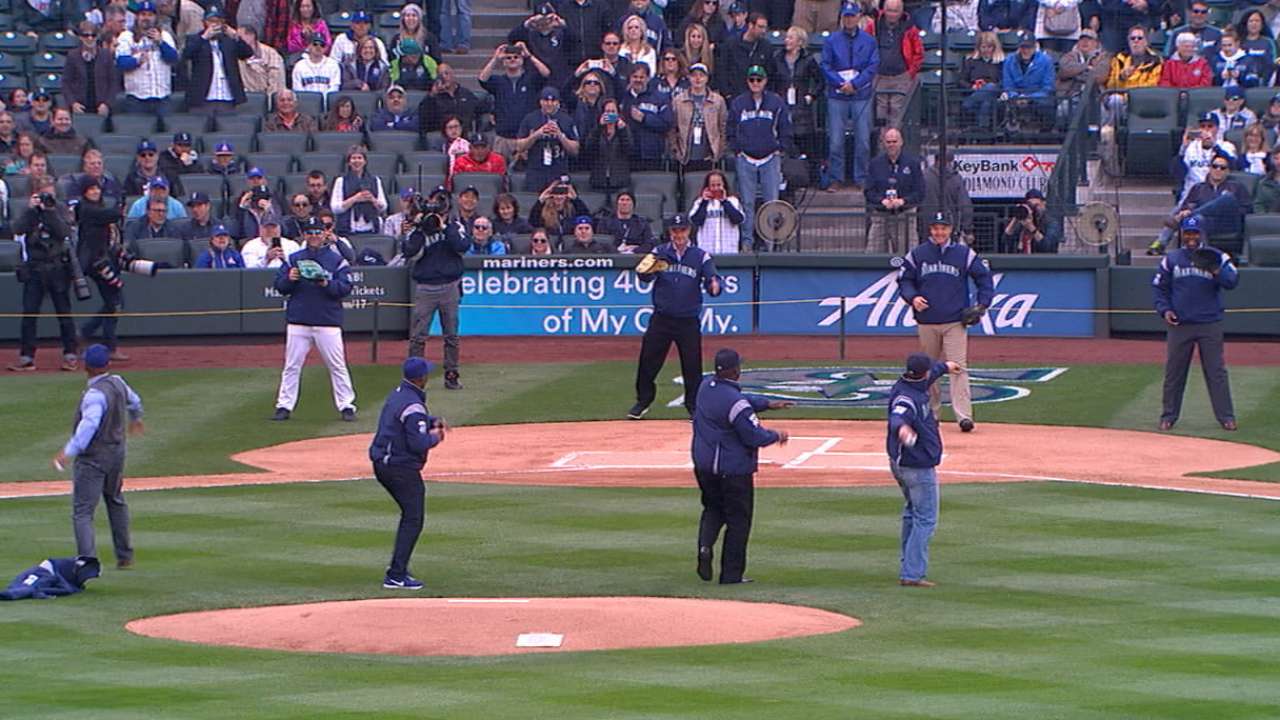 SEATTLE -- The Mariners gave a hat tip to four decades of baseball prior to Monday's home opener, with Ruppert Jones, Harold Reynolds, Mark McLemore and Willie Bloomquist simultaneously throwing out the first pitch before the current club took on the Astros at Safeco Field.
The four first-pitch tossers were a link to the team's history as the club celebrates its 40th anniversary season with the beginning of Year 41.
Jones, now 62, started in center field in the Mariners' first three Opening Day games from 1977-79. Reynolds played second for Seattle from 1983-92. McLemore was part of the 116-win club in 2001, and Bloomquist played for his hometown club from 2002-08 and again from 2014-15.
"Mac told me that Ruppert taught him the ropes, and Mac was the guy that taught me the ropes," said Bloomquist, the youngest of the group at 39. "And of course I watched Harold a lot growing up as a kid. To be out there with these three guys, I don't really feel worthy. But it's cool to be here with them and see them again."
A first pitch for the ages.#Mariners40 #MarinersOpener pic.twitter.com/zuvCFadv2p

— Mariners (@Mariners) April 10, 2017
The group threw to four Mariners Hall of Famers -- Alvin Davis, Edgar Martinez, Jamie Moyer and Dan Wilson.
Reynolds, 56, took time off from his job as an MLB Network analyst to take part.
"What an honor," said Reynolds. "When they called, I said, 'Yeah, I'm there.' Then to find out the other guys that are here as well, it's really cool."
Reynolds and Bloomquist took special delight in taking part as both grew up as Mariners fans. Reynolds is a Eugene, Ore., native, and Bloomquist was raised in the Bremerton, Wash., area and attended South Kitsap High in Port Orchard.
"I was real fortunate to be a Northwest kid, so I feel very unique to be able to be in the position I'm in," Reynolds said. "I feel such a part of it, having grown up in the Northwest. I remember when they played their first games, I remember Ruppert Jones, Bruce Bochte, Gaylord Perry winning his 300th. You name it. I've been around it, seen it and followed it."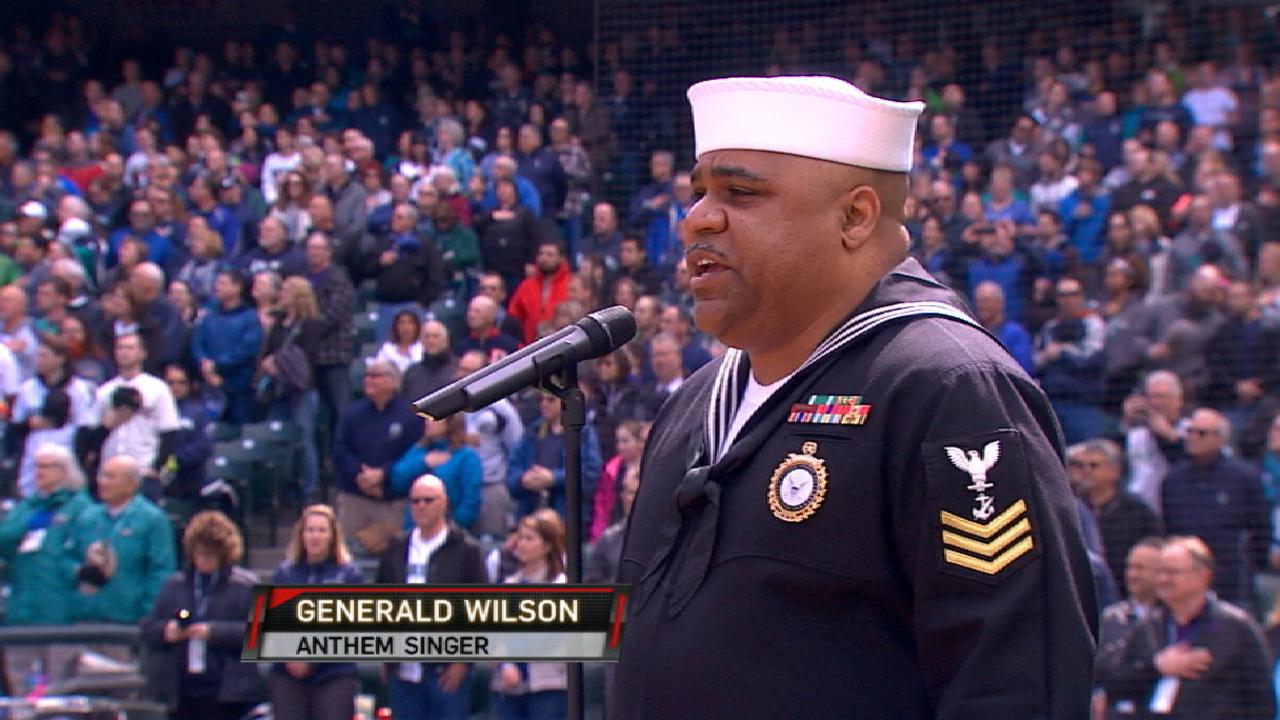 And now he's thrown his first Opening Day first pitch, though he worried how that would be memorialized in this Statcast™ Era.
"I know the guys at MLB Network will be breaking down every throw, so the pressure was on," he said. "But it's a fun honor. This is really cool."
The opening ceremonies were also highlighted by an emotional run-around-the-bases by Make-A-Wish child Sophia Robinson, an 8-year-old from Anchorage, Alaska, who has undergone six heart surgeries to deal with a congenital life-threatening condition.
Robinson first met Felix Hernandez four years ago during a Make-A-Wish event and has developed a friendship with the Mariners' star, as the two exchange text messages on a weekly basis and have spent time together during her hospital stays in Seattle.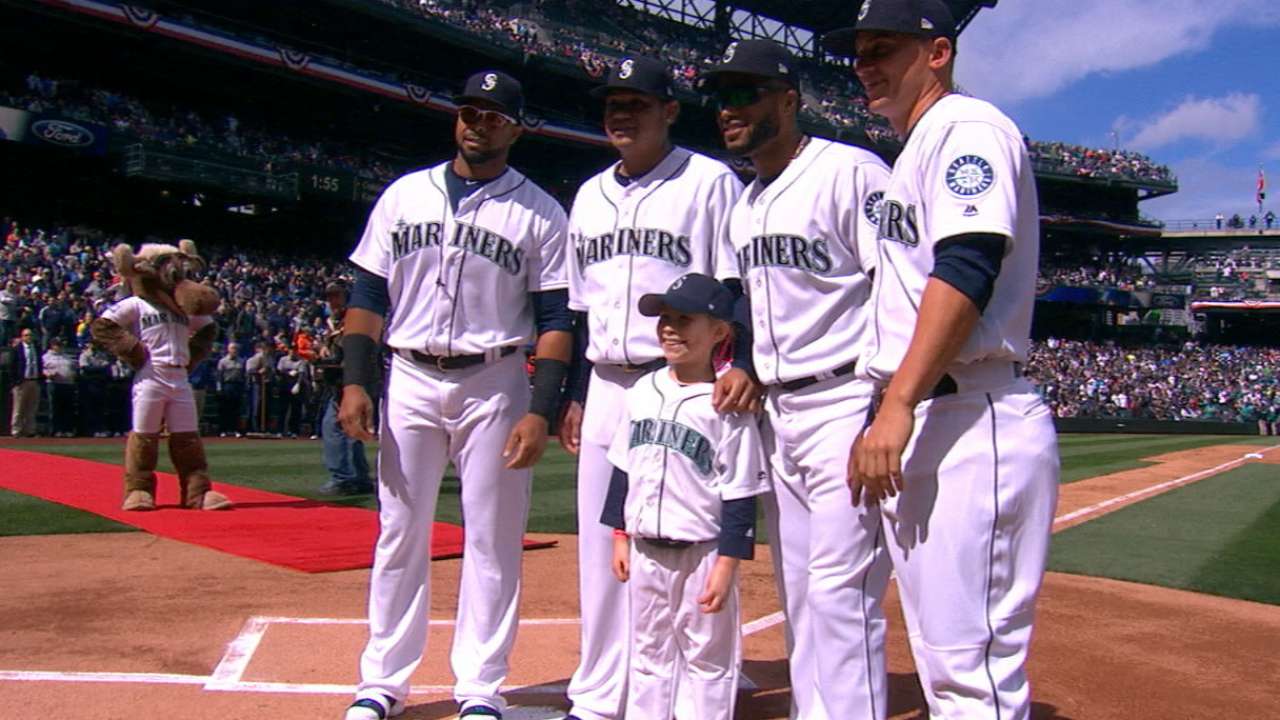 Robinson was selected this year to do the Opening Day honors, where she was greeted at home plate at the end of her run by Hernandez and teammates Nelson Cruz, Robinson Cano and Kyle Seager.
The national anthem was performed by Naval Petty Officer, 1st Class, Generald Wilson, Ret., and the colors were presented by the Kitsap Fire Fighters Union Honor Guard and Lakewood Police Department.
Greg Johns has covered the Mariners since 1997, and for MLB.com since 2011. Follow him on Twitter @GregJohnsMLB and listen to his podcast. This story was not subject to the approval of Major League Baseball or its clubs.