Royals get burned on 3-0 pitch to K. Davis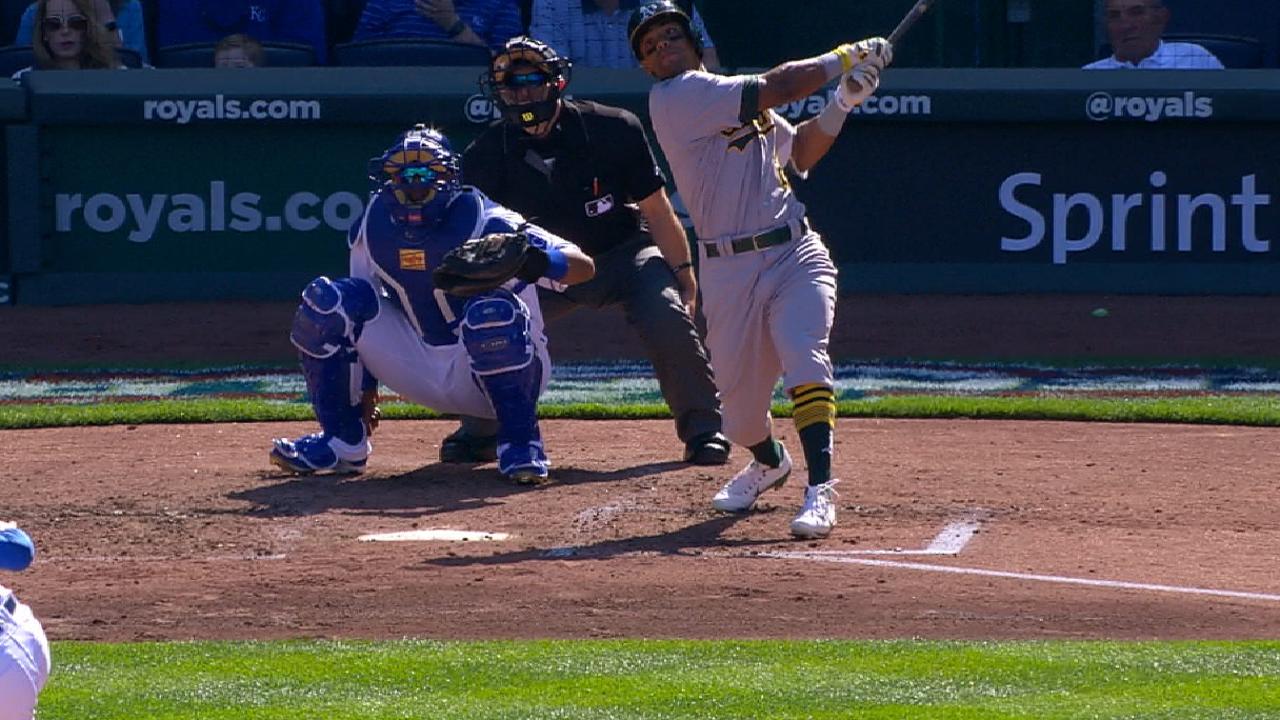 KANSAS CITY -- Royals manager Ned Yost knew. Starting pitcher Ian Kennedy knew. Catcher Salvador Perez knew.
The scouting report on Khris Davis was clear that the Oakland slugger wasn't about to take any 3-0 pitch if it was close to his wheelhouse. So Perez asked for a fastball down and away.
"It must have moved back toward the middle," Perez said.
It sure did. And Davis launched a towering fly ball to right-center field.
"I didn't think he got it all," Kennedy said.
"I didn't think it was a home run," Yost said.
But it sure was. Davis' two-run shot, with Ryon Healy on first base, provided the only offense of the day in the A's 2-0 win over the Royals on Monday.
It was Davis' fourth home run this season.
The Royals also certainly knew of Davis' power and ability to crush fastballs. In that key at-bat, the Royals started Davis off with a slider, then a changeup, and then a slider.
"But I missed with them all and kept falling behind," Kennedy said. "So I tried to get a fastball away and he reached out and got it. He's strong.
"I knew the wind was blowing that way. We saw a ball earlier to Lorenzo [Cain] that kept tailing away from him, so it was pretty strong. I felt it on my face all day. I think that made my changeup better."
Davis said he certainly was fastball-hunting.
"I got the green light, and I just put a good swing on it," Davis said. "Just a center-cut, middle-in fastball, and I was just telling myself not to try to do too much with it. I was hoping the wind would carry it a bit, but I got enough of it. It was a well-struck ball."
Jeffrey Flanagan has covered the Royals since 1991, and for MLB.com since 2015. Follow him on Twitter @FlannyMLB. This story was not subject to the approval of Major League Baseball or its clubs.