Inbox: Can Braves improve early defense?
Beat reporter Mark Bowman answers fans' questions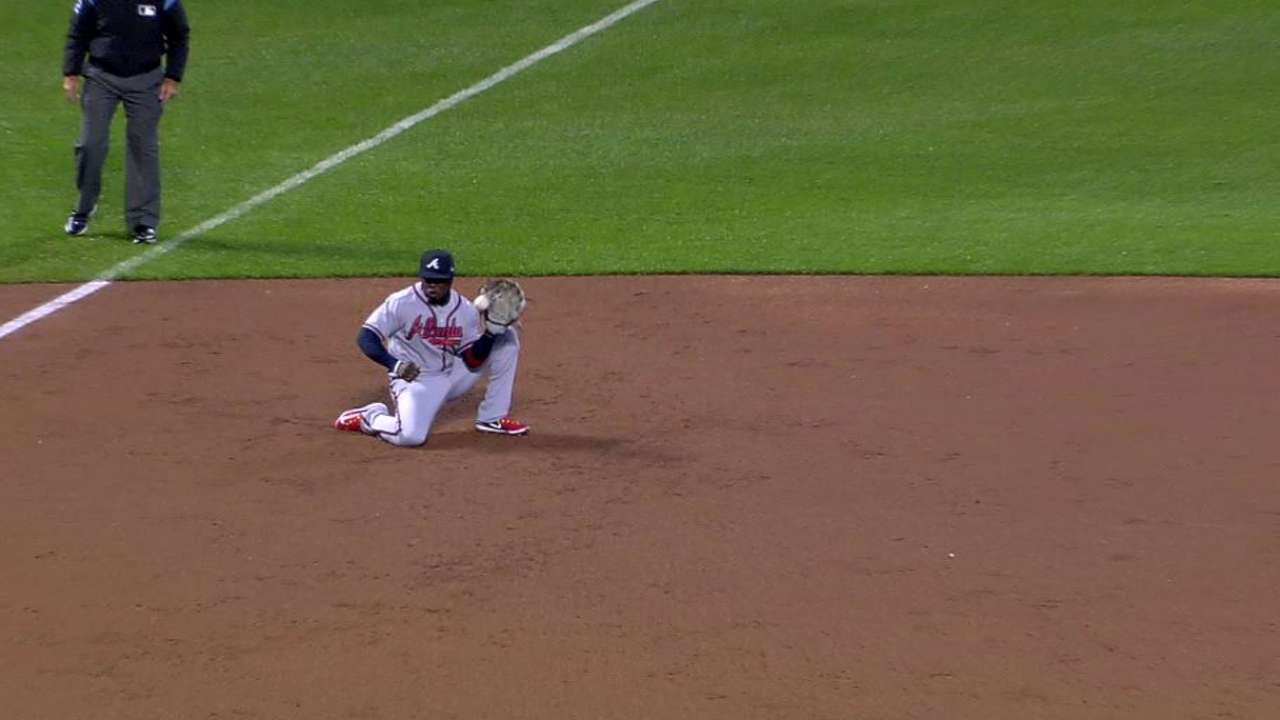 Do you think the errors and unearned runs come from early-season jitters?
-- @wtgarrison
The Braves were charged with six errors -- two per game -- during this past weekend's series against the Pirates, you could wonder if there was a hangover effect created by the travel issues that led them to arrive in Pittsburgh only nine hours before the start of Friday's series opener.
But you also have to remember the team entered the season with obvious defensive concerns at four positions. Going to Triple-A Gwinnett to learn to play left field might have magically made Adonis Garcia a better third baseman, but he still finished the 2016 season with minus-7 Defensive Runs Saved. Better than bad is still not good.
• Submit a question to the Braves Inbox
As for the catchers, Tyler Flowers produced minus-12 DRS in 2016 and Kurt Suzuki was only slightly better, at minus-7. It looks like Matt Kemp will have a little more range this year, but he produced minus-12 DRS during the time he spent as Atlanta's left fielder last year. And while second baseman Brandon Phillips still has the potential to wow you with a flashy play, he was at minus-7.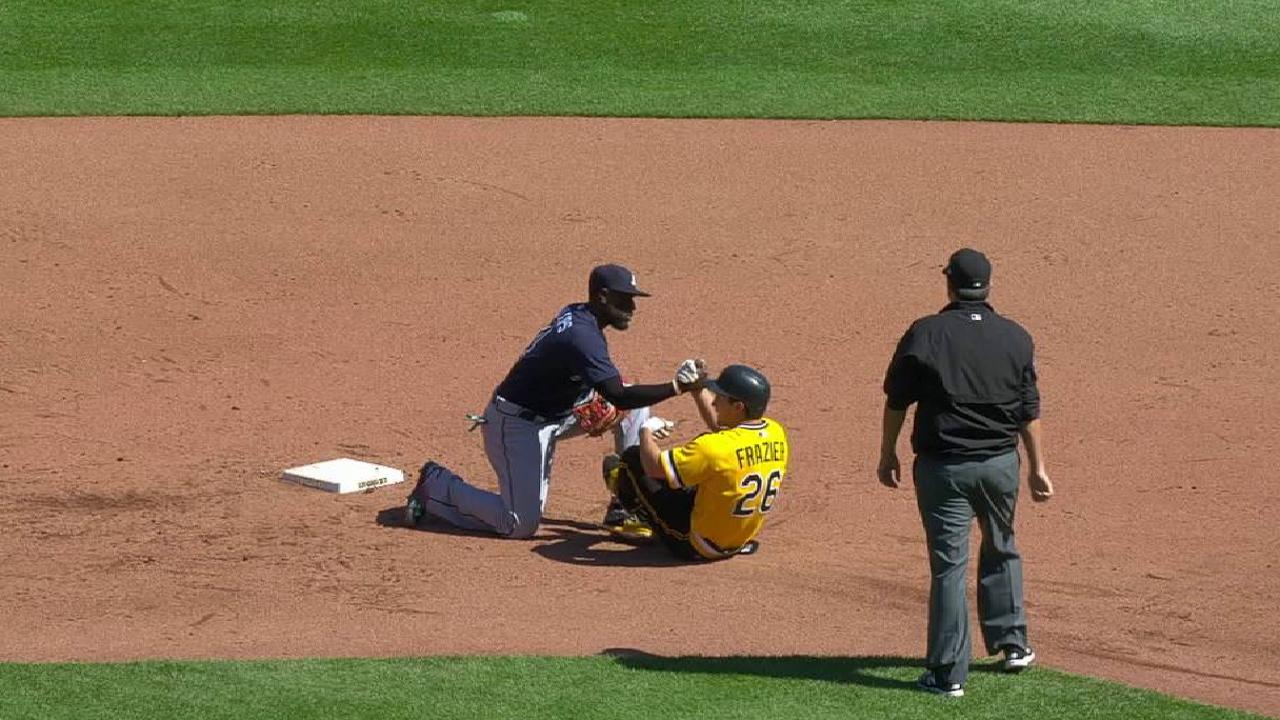 There's time to clean some stuff up, but before the season started, there were scouts saying defense would prove to be a significant problem for the Braves.
Could we see any of the Braves' pitching prospects join the bullpen this year?
-- @gthomas163, New York
Mauricio Cabrera might no longer fit prospect status, but if his right elbow continues to cooperate, he could be a key addition to the bullpen near the end of April. Not too far behind might be A.J. Minter, the left-hander who is the best relief prospect developed within Atlanta's system since Craig Kimbrel. Coming back from Tommy John surgery in 2016, Minter pitched once every three days as he posted 1.30 ERA over 34 2/3 innings at three Minor League levels. He was sidelined most of Spring Training because of an inflamed nerve near his elbow, but he is scheduled to make his season debut with Class A Advanced Florida on Tuesday. Minter has been assigned to Florida to allow him to pitch in warm weather, but he could soon be elevated to Triple-A Gwinnett.
Whether Minter ends up spending a month or more with Gwinnett remains to be seen, but as long as he stays healthy, there's certainly reason to expect he'll be in the Braves' bullpen at some point this year.
After the first the week, your thoughts on what needs improvement besides the bullpen?
-- @ranaya805
The bench is an even greater concern, simply because there aren't any clear internal options to strengthen the current makeup. With Cabrera and Minter around, the Braves can determine how long they want to remain patient with Chaz Roe or any of their other relievers who might experience extended struggles over the next few weeks.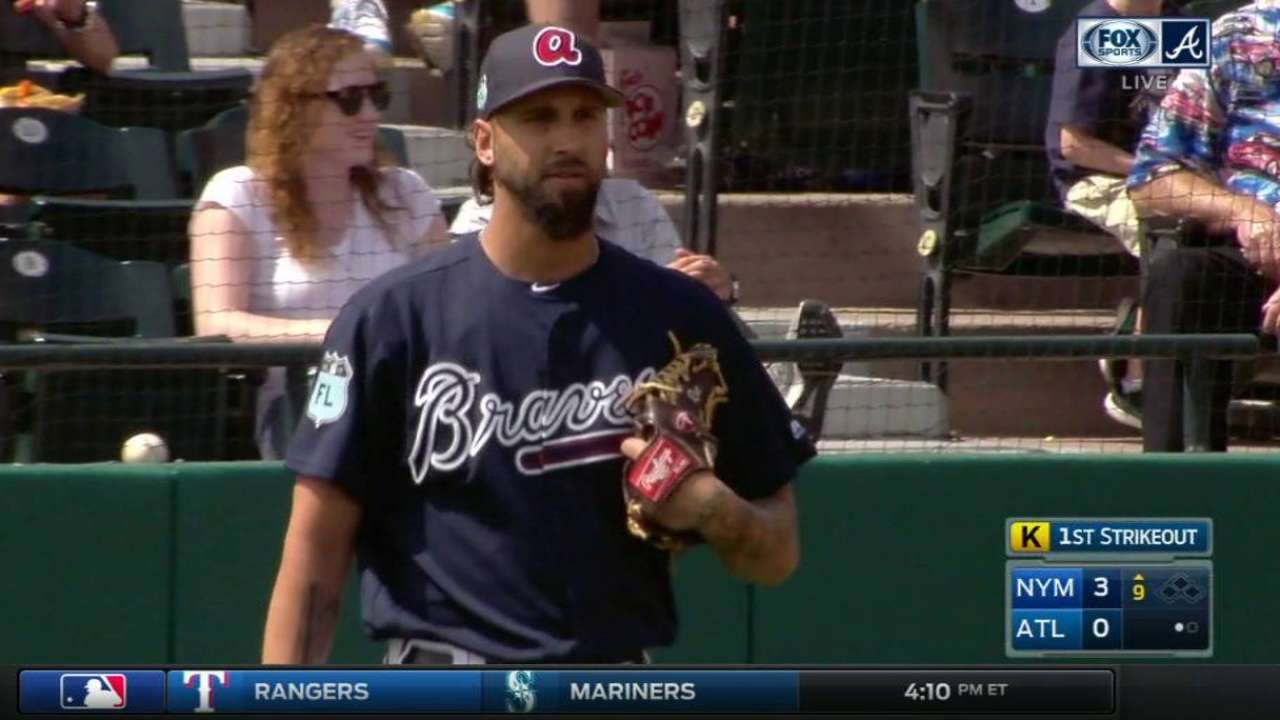 Now that we've had a few chances to be reminded that Emilio Bonifacio is the top pinch-hit option on the bench, there's even more reason to credit Atlanta for at least taking a chance on Ryan Howard with a Minor League deal.
If the Braves end up promoting Howard to the Majors, they'll likely have to stick with a seven-man bullpen. But as long as the starting pitchers continue to work deep into games, this won't be a problem, especially now that we've seen it's not always wise to hang on to out-of-options relievers like Roe simply because there was a fear of losing him to a waiver claim.
Do you think the Braves will handle Phillips similar to the way they handled Erick Aybar last year? Could they trade him and promote Ozzie Albies? Same with pitchers like Bartolo Colon and R.A. Dickey?
-- @AdamTheLame, Norfolk, Va.
There's certainly a chance the Braves will move some veterans within the season, but each of these decisions will be significantly influenced by the progress made by Albies, left-handed starting pitcher Sean Newcomb and the other highly touted upper-level Minor Leaguers who could soon be Major League ready. In Albies' case, let's remember he's still just 20 years old, and he struggled during the time he spent at Triple-A in 2016. Yes, Atlanta wants to win this year, but at the same time, it's more important to provide Albies, Newcomb and its other rising prospects a chance to do whatever necessary this year to be best prepared for '18 and beyond.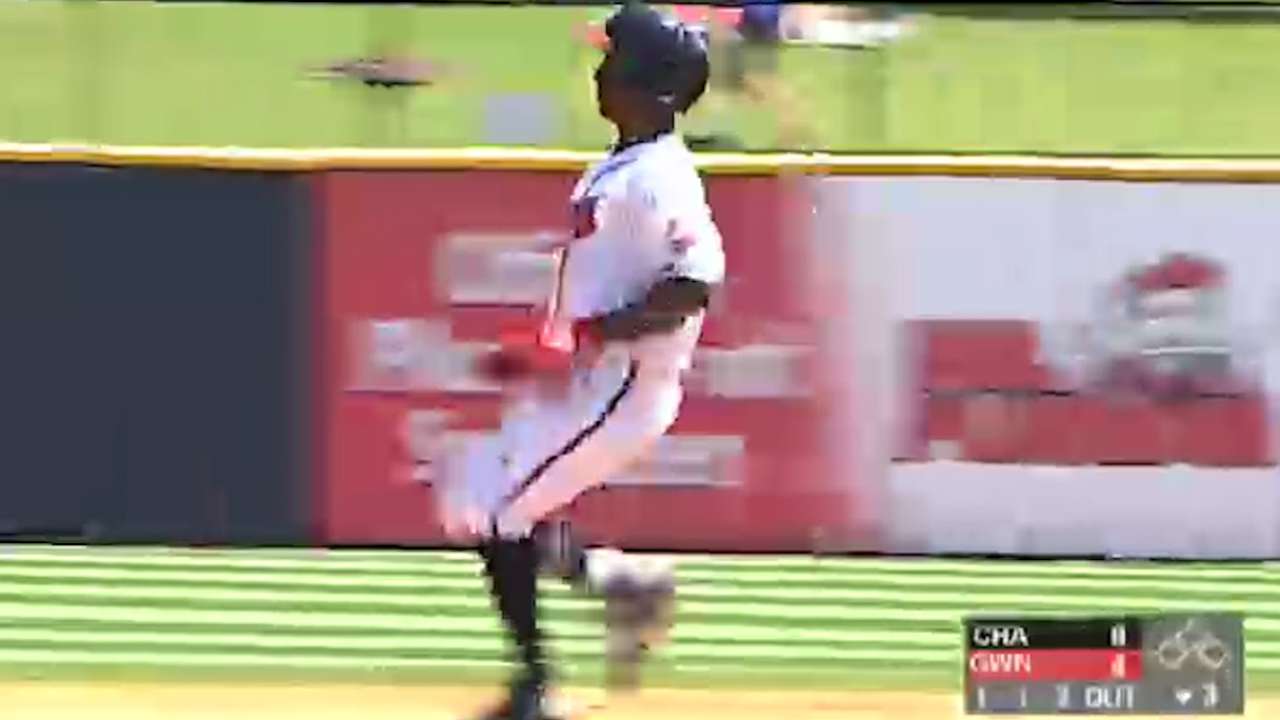 There's also a chance the Braves could reach a point this season where they feel one or more of these prospects gives them a better chance to win than the veterans currently in place. If this happens, then they'll certainly have reason to attempt to flip Phillips, Jaime Garcia or any of the one-year acquisitions they added this past offseason.
Mark Bowman has covered the Braves for MLB.com since 2001. This story was not subject to the approval of Major League Baseball or its clubs.