Hamels aims for longevity to go with success
Veteran lefty hopes to pitch 20-plus seasons in big leagues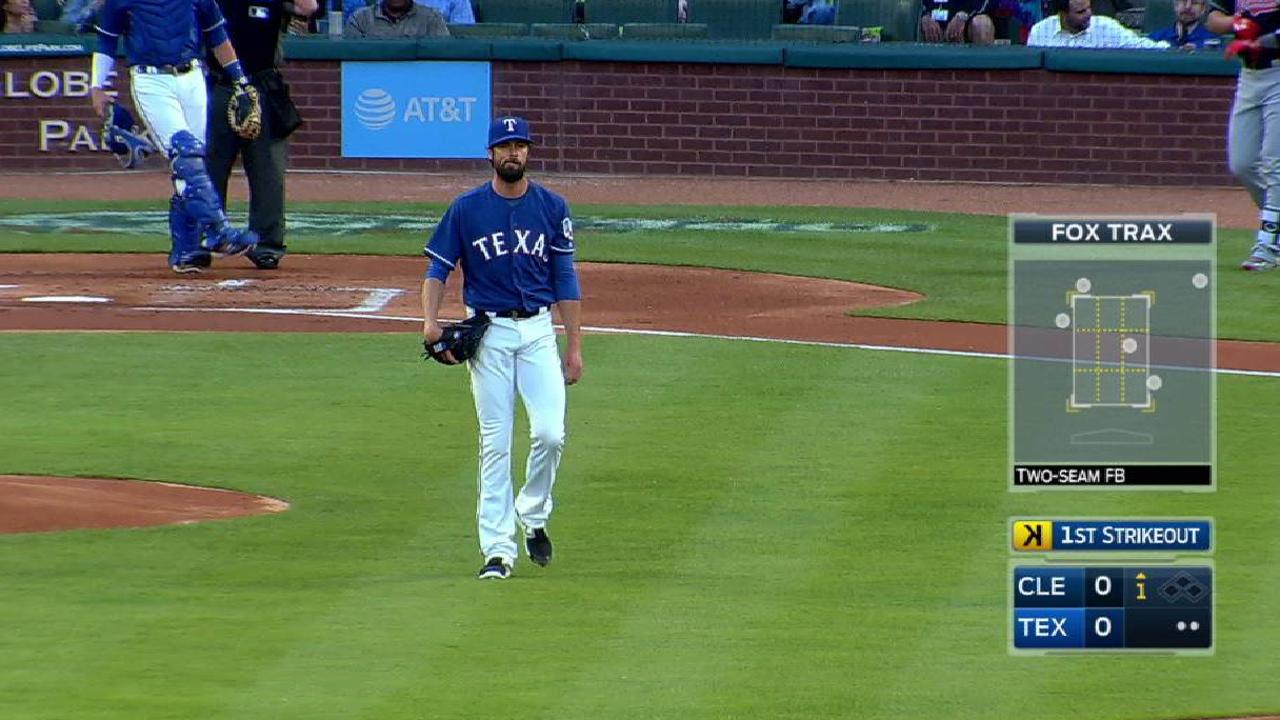 ARLINGTON -- Cole Hamels used to play catch with veteran pitchers like Roy Oswalt, Jamie Moyer, Roy Halladay and Cliff Lee when they were together with the Phillies.
Hamels learned a few things about how to do it when a pitcher gets older.
"I was watching and remembering what type of catch, what kind of work they were doing and the reason why," Hamels said. "Now it's starting to click in. But I still text those guys when I have questions, because they have tremendous insight."
Hamels realized it's not maximum effort on every throwing session and workout between starts. It's about being smart to stay strong and fresh. Moyer must have known something about it, because he was pitching at age 47.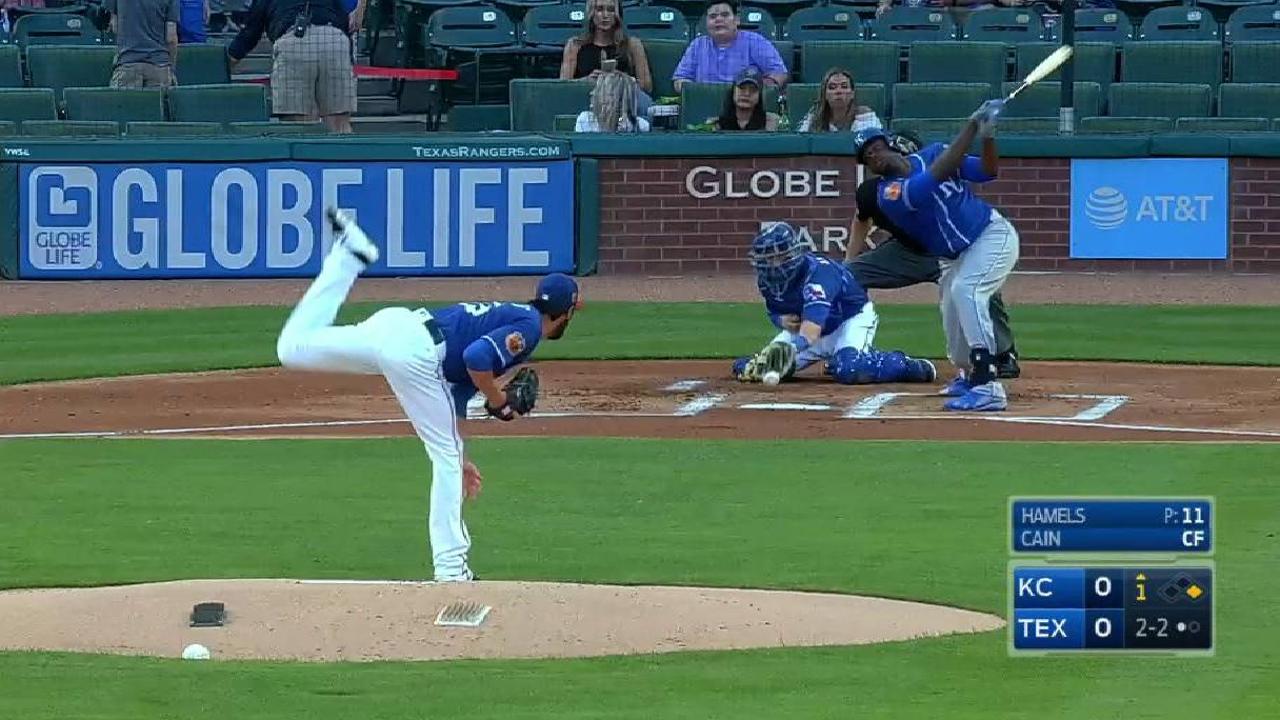 "If I could do that, it would be outstanding, but I don't know if I could do that," Hamels said. "We all see the trends in baseball. I don't think anybody is going to pitch past 45."
Hamels saw the trends this past offseason and took notice. Some older pitchers were having trouble getting jobs.
"So while I'll be following in that direction, I don't want to be following in those footsteps," Hamels said. "You have to be very aware that game is shifting. You can look at the age of teams and how they are changing and fast guys are coming in and out of the league, I'd like to continue to maintain my presence in this league.
"I have to be healthy, I have to be smart and I have to make the adjustments. Because if you don't, you're going to be pushed out really quickly."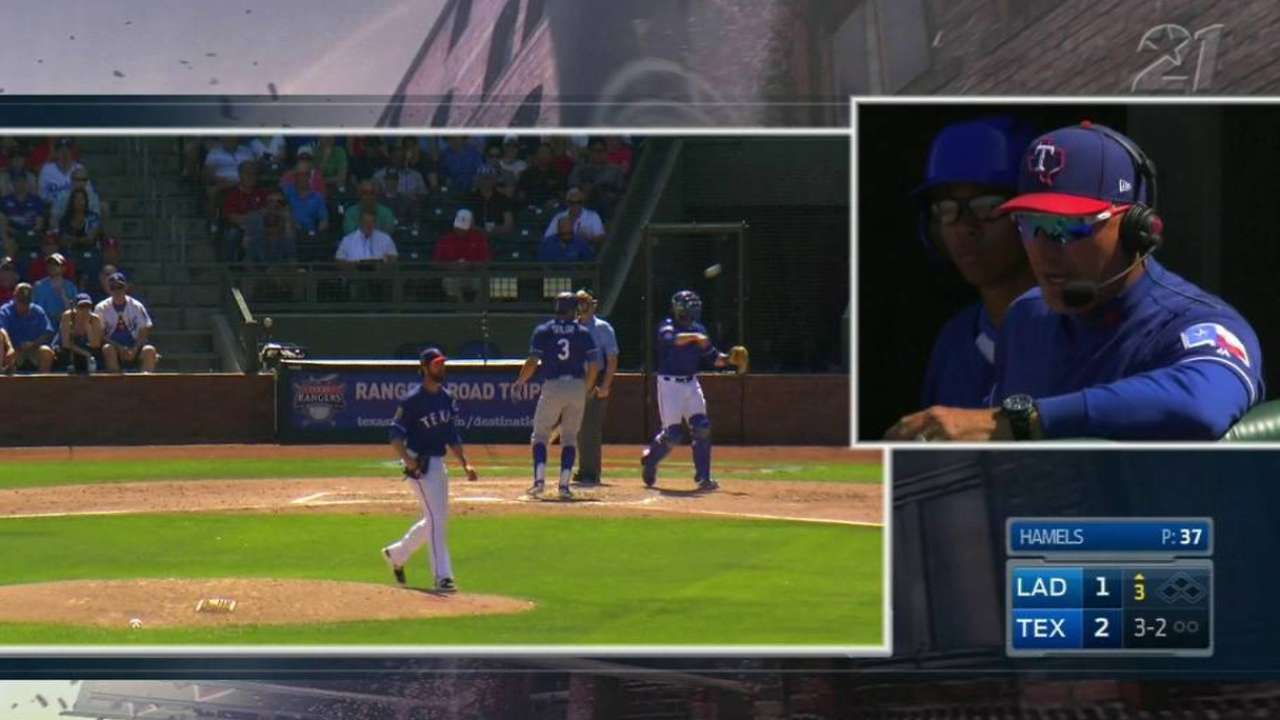 Hamels, who is slated to pitch against the Angels on Tuesday, is 33, and he's not ready to be pushed out. He was a 15-game winner in 2016, and he pitched 200-plus innings for the seventh straight season.
"That's what teams are looking for," Hamels said. "That's a rarity from starters. You can look at the stats and see how many guys have done it each year. I pride myself on being accountable that I can do that. An organization or my teammates know that I can be accountable to go out for six, seven, eight innings every start and keep it within a reasonable score."
So Hamels is looking for less stressful innings and more efficiency with his pitches this season. He was third in the league with 77 walks last season, and he said that is unacceptable.
"It's about being aggressive and being able to pitch deep into a ballgame with a certain limited number of pitches and maintaining health," Hamels said. "I want to attack early and establish the strike zone throughout the count and not shy away from contact."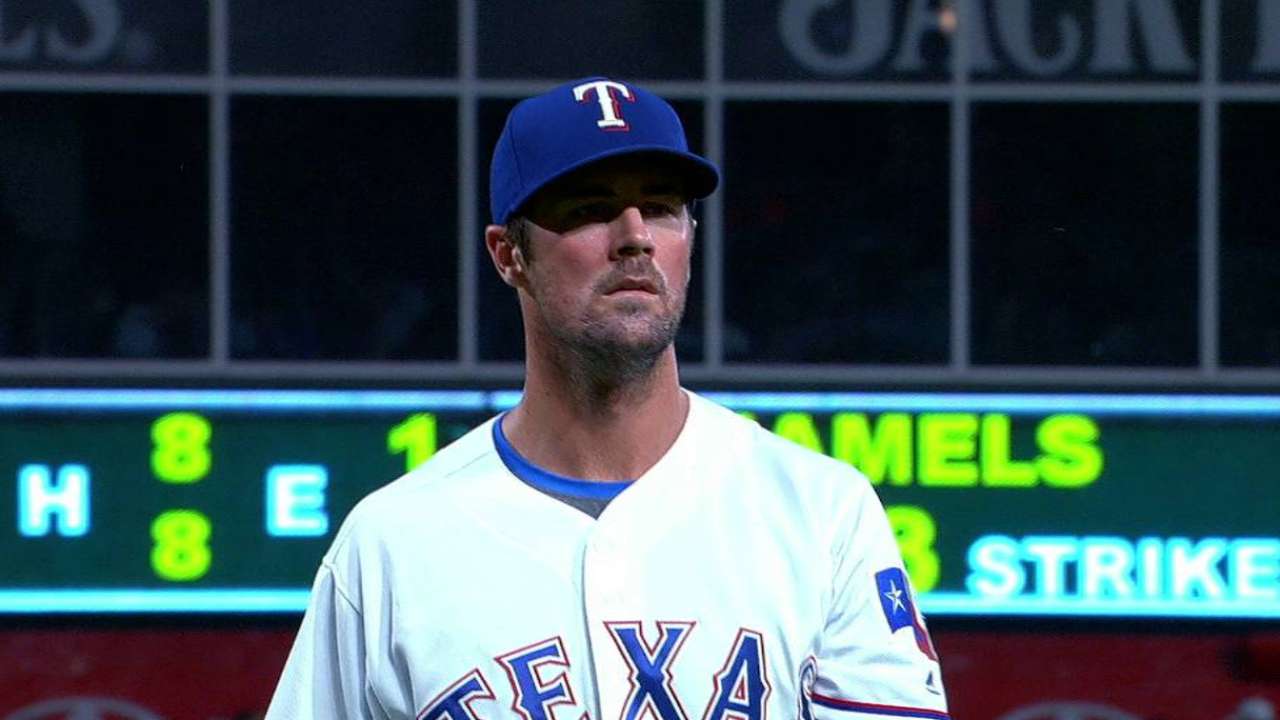 Hamels has a goal in mind.
"My main goal has always been to pitch 20-plus years in the big leagues," Hamels said. "That's what I am going to strive for every day. I don't try to skip days. My mentality is always to maintain and prove people wrong."
The Rangers have Hamels signed through 2018. There is a $24 million vesting option for '19 that kicks in with 400 innings in 2017-18, including 200 innings next year. He also can't be on the disabled list with a shoulder or elbow injury at the end of '18.
"I have confidence I'll make that option work," Hamels said. "I do."
T.R. Sullivan has covered the Rangers since 1989, and for MLB.com since 2006. Follow him on Twitter @Sullivan_Ranger and listen to his podcast. This story was not subject to the approval of Major League Baseball or its clubs.