Blister a non-issue as Thor wins first game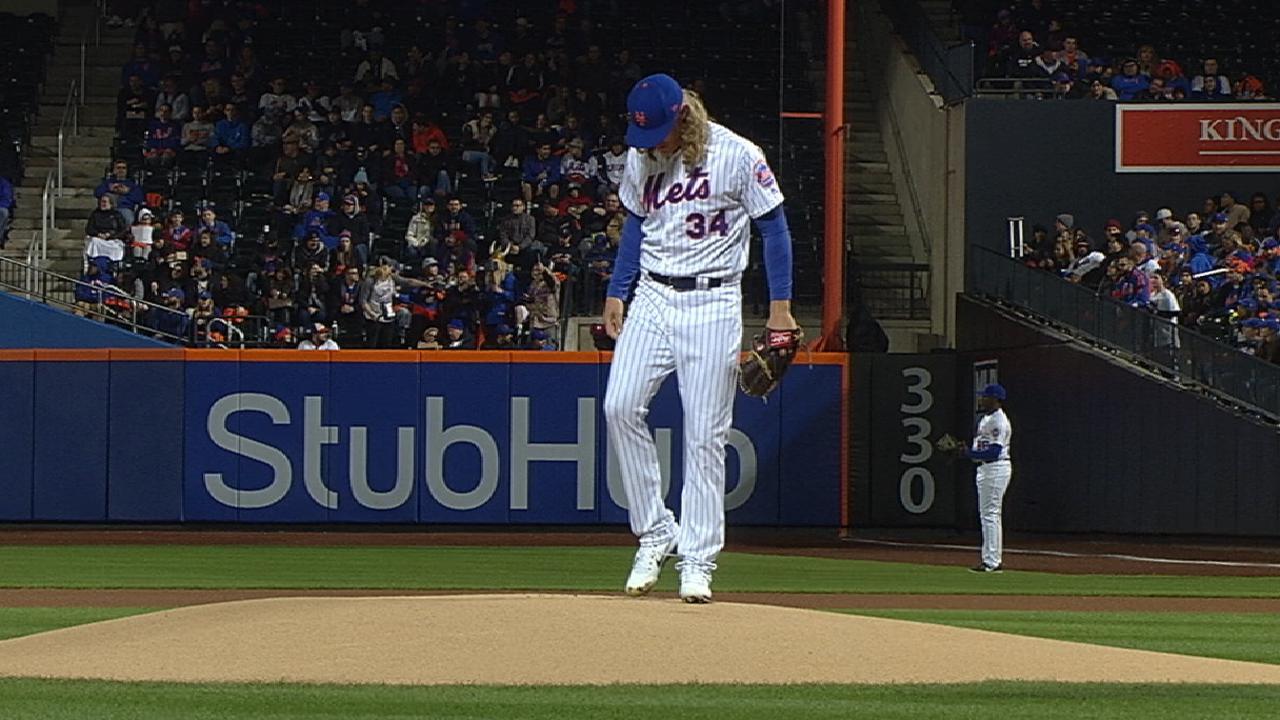 NEW YORK -- Noah Syndergaard wasn't bothered. Six days after he was forced out of a dominant Opening Day start because of a blister on the middle finger of his pitching hand, Thor was every bit himself in the Mets' 5-2 win over the Marlins in Sunday night's series finale at Citi Field.
Syndergaard went seven strong innings, holding Miami to two runs, one earned, on five hits. The big right-hander had his usual command, striking out nine without a walk. He hit 100.9 mph with a first-inning sinker -- the type of fastball he wants to prioritize this season -- the second-hardest pitch thrown in baseball this year according to Statcast™.
"I feel good with all my pitches right now," Syndergaard said. "The blister's fine. I think it just flared up last start because I wasn't really used to this colder environment."
With his finger a non-issue, the Mets let Syndergaard push his way through the seventh on 103 pitches, helping save a Mets' bullpen taxed during the season's first week. He batted for himself in the sixth before tossing one last 1-2-3 frame.
"When you're running your guy out there, you just say, 'Look, I'm gonna ride this guy for a while,'" manager Terry Collins said. "It got to the sixth inning and [pitching coach Dan Warthen] and I decided we'd let him go 105 tops, and sure enough he goes out and shuts it down in the seventh."
Syndergaard even kept control of the running game, a major recurring issue for him in his first two big league seasons, over which he allowed 63 stolen bases in 73 attempts, an 86 percent success rate. On Sunday, Syndergaard and catcher Rene Rivera combined to cut down two would-be base-stealers: speedster Dee Gordon at third and J.T. Realmuto at second, both in the top of the third inning.
"When Dee took off for third base, Noah's time to the plate was pretty good, too," Collins said. "Noah gave Rene a chance to make a play."
David Adler is a reporter for MLB.com based in New York. Follow him on Twitter at @_dadler. This story was not subject to the approval of Major League Baseball or its clubs.