Bullpen of the Week: Rockies
Holland resurfaces in Colorado; McGee, Dunn also solid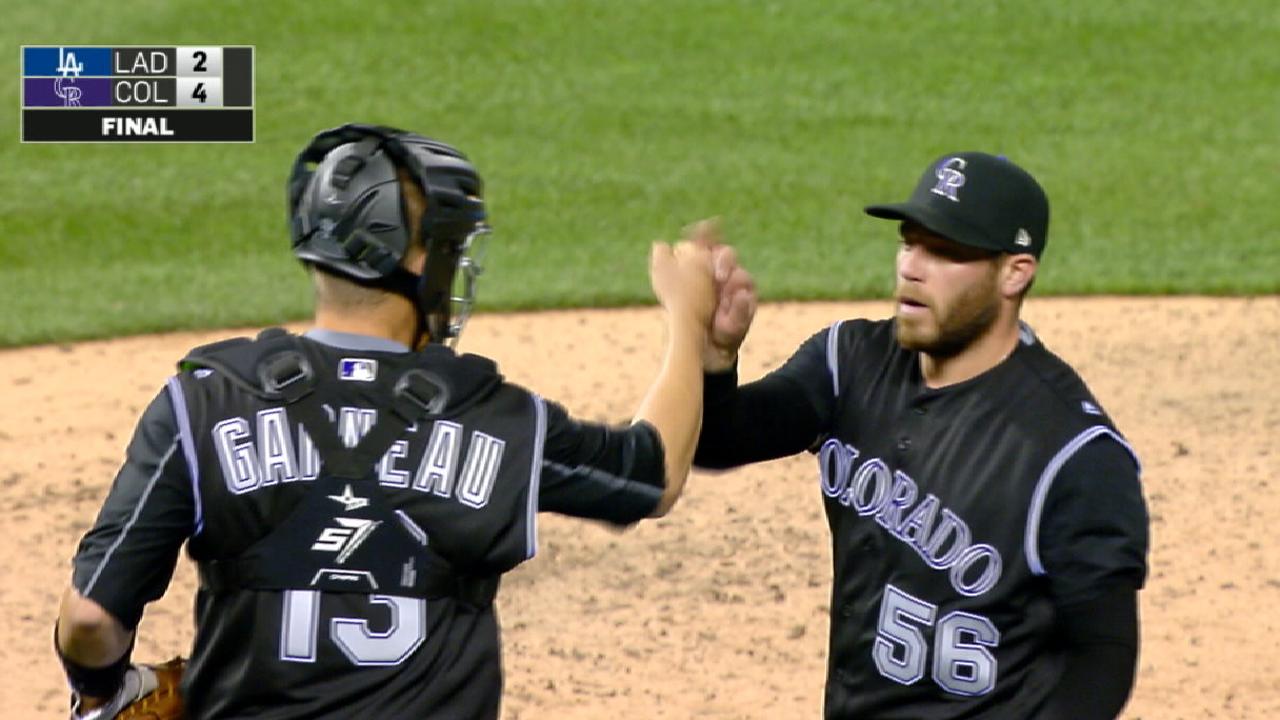 The Colorado Rockies are feeling good. They're playing well. And one of the main reasons has been the work done by their bullpen in the opening week of the Major League season.
The Rockies finished off the week with a 5-2 record, and the efforts of their relief pitchers earned the collective group the honor of MLB Bullpen of the Week presented by The Hartford.
As part of the MLB Prevailing Moments program, each Monday throughout the 2017 season, MLB.com is honoring the Bullpen of the Week. An industry-wide panel of MLB experts, including legendary stats guru Bill James, constructed a metric based on James' widely renowned game-score formula, to provide a weekly measurement of team-bullpen performance.
Here's how the Bullpen Rating System is compiled for each week. For reference, a weekly score of 100 is considered outstanding:
• Add 1.5 points for each out recorded
• Add 1.5 points for each strikeout
• Add 5 points for a save
• Subtract 2 points for each hit allowed
• Subtract 4 points for each earned run allowed
• Subtract 2 points for each unearned run allowed
• Subtract 1 point for each walk
• Subtract 5 points for a blown save
The Colorado bullpen scored a rating of 98 points by allowing eight earned runs and 22 hits in 25 innings of relief. Relievers struck out 35 batters against nine walks, and they earned five saves.
Resurgent closer Greg Holland showed he's all the way back from Tommy John surgery, earning four of the saves by pitching four scoreless innings and striking out six batters while walking one. Jake McGee also did well, garnering the other save and striking out four batters in two innings. And left-hander Mike Dunn might have pushed the Rockies over the edge. Dunn was simply spectacular, going 2-0 with a 0.00 ERA and striking out seven batters in four innings over four appearances.
The unexpected: Right-hander Carlos Estevez didn't have much experience above Double-A before he arrived on the big league scene last year, and it remained to be seen how he'd fare this year after making the team out of Spring Training. So far, so good.
How they prevailed: Estevez went 1-0 after going unscored upon in 3 1/3 innings, striking out four, including a high-leverage situation in a 2-1 victory over the Dodgers on April 7 in which he protected a one-run lead in the seventh inning despite giving up a leadoff single to Corey Seager. That was good for his third hold of the season.
The Rockies relief corps' overall performance was good enough to finish ahead of the equally surprising Minnesota Twins, who earned a weekly rating of 93 and just squeaked by the third-place Dodgers (92) and fourth-place Yankees (90.5).
Doug Miller is a reporter for MLB.com. Follow him on Twitter @DougMillerMLB. This story was not subject to the approval of Major League Baseball or its clubs.