Statcast of the Day: Angels win with 7 in 9th
Los Angeles capitalizes on a pair of unlikely hits to keep comeback alive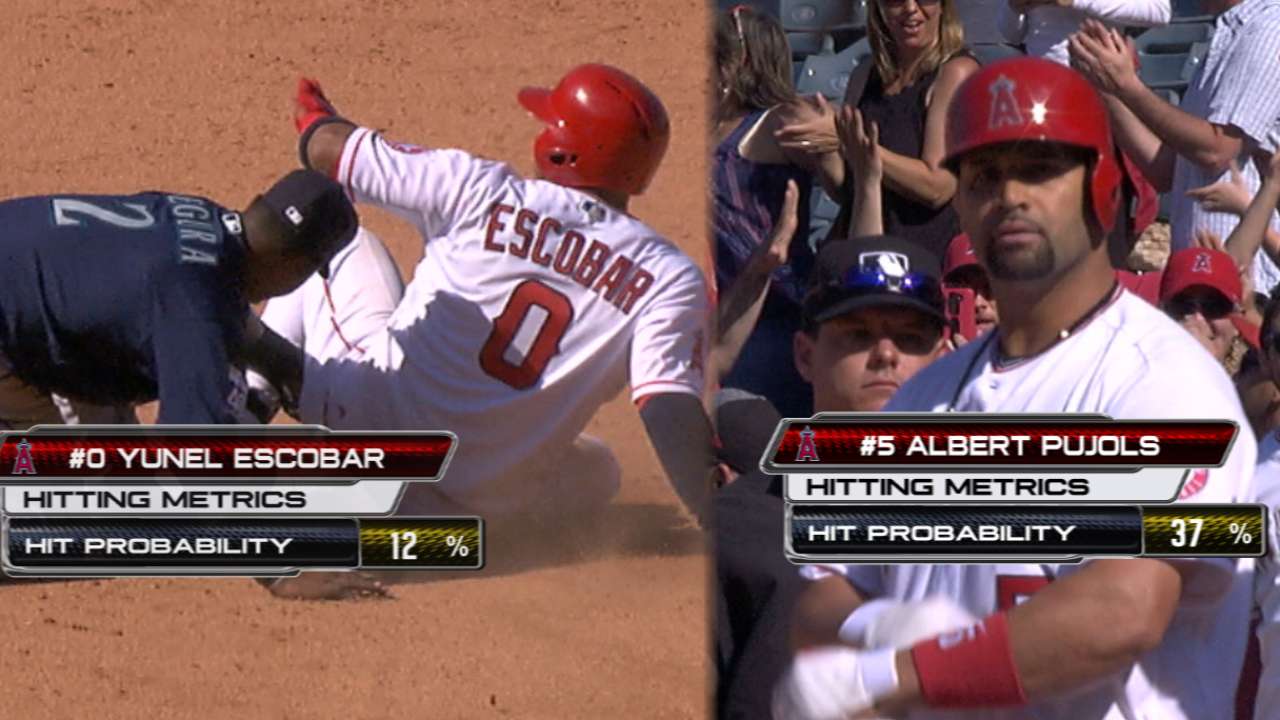 ANAHEIM -- The Angels staged an epic, seven-run rally in the ninth inning to beat the Mariners, 10-9, on Sunday afternoon at Angel Stadium, thanks to a leadoff home run from Albert Pujols and a game-winning single from Cliff Pennington. But it was two unlikely hits in the middle of the comeback that kept the rally alive.
With two outs and two runners in scoring position, Yunel Escobar chopped a 2-1 fastball from Mariners closer Edwin Diaz down the right-field line for a two-run double. The opposite-field hit pulled the Angels within two runs, 9-7.
The hit probability of Escobar's double was 12 percent, according to Statcast™, and it was only his 24th ground ball hit to right field (out of 337) in the Statcast™ era. In other words, it was a rarity. Other metrics on Escobar's timely double included an 89 mph exit velocity and a launch angle of -22 degrees, per Statcast™.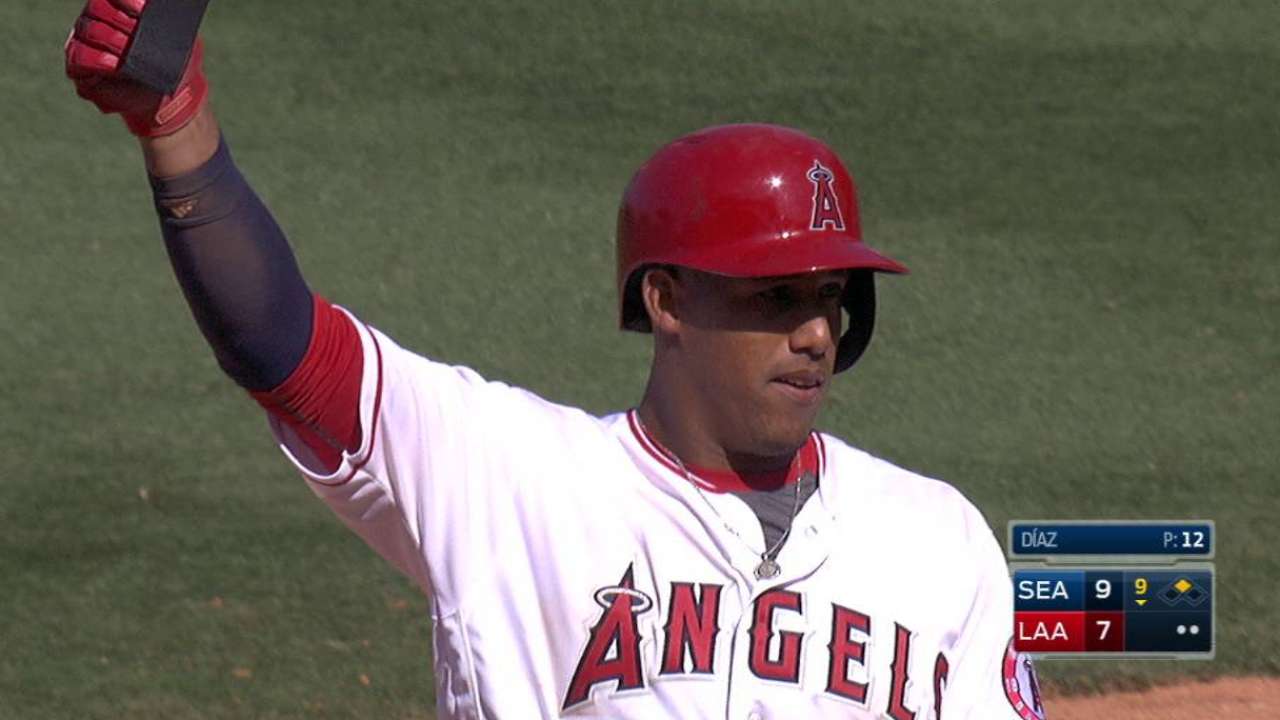 "Escobar did an unbelievable job hitting that ball down the line," said Pujols, who started the rally with a leadoff shot to dead-center for his 592nd career home run and first this season.
While Pujols' towering homer off Casey Fien was a beauty to watch leave the yard, it was his second hit of the inning that was much more important, and even more rare.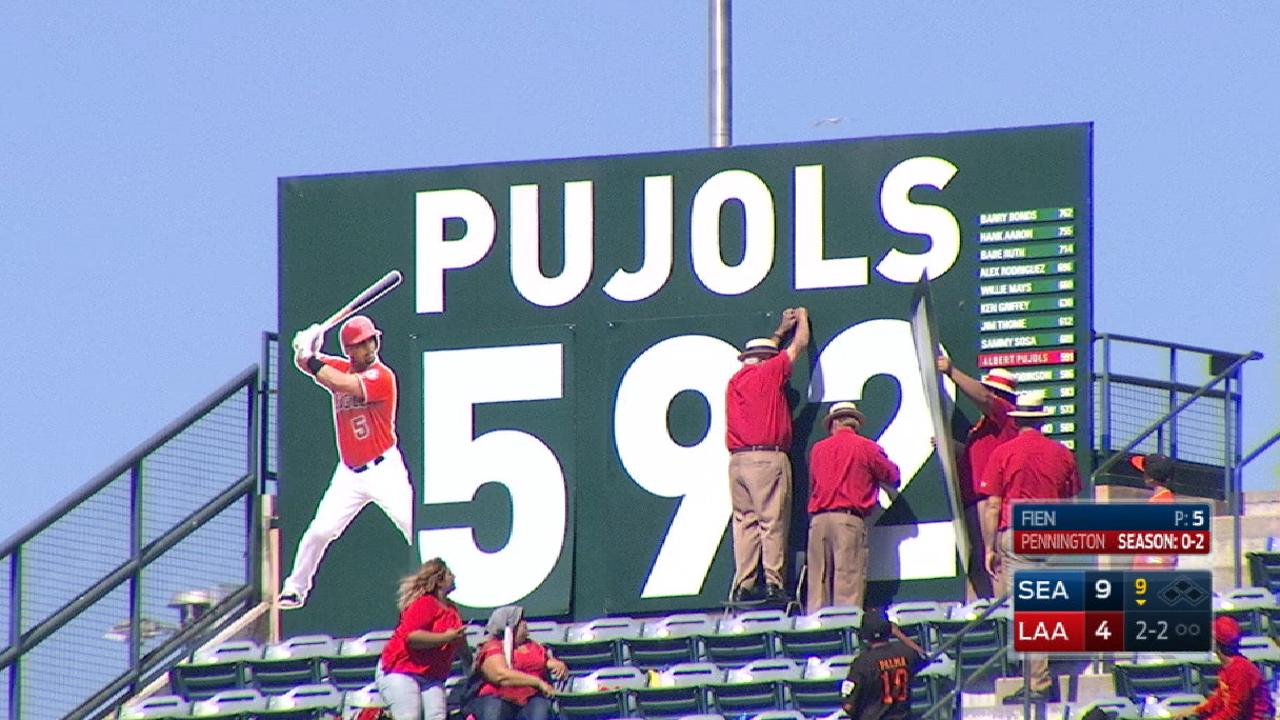 Following Escobar's two-run double, the Mariners pitched around Kole Calhoun and Mike Trout, walking both to load the bases with two outs. Pujols stepped in the batter's box for his second at-bat of the inning, and first against Diaz.
Pujols stayed with an 0-1 fastball and took it the other way, muscling it through the right side of the infield and just past the outstretched glove of first baseman Danny Valencia. Escobar and Calhoun raced home and the game was tied at 9.
"It's hard when you lose that kind of game," Mariners second baseman Robinson Cano said. "It's like nothing is going our way. But you just have to keep fighting.
The hit probability of Pujols' game-tying single was 37 percent, according to Statcast™, with an exit velocity of 91 mph and a launch angle of zero degrees. For Pujols, it was his 19th hit (out of 312 total) on a ground ball to right field in the Statcast™ era.
"Albert got the big hit," said Pennington, who followed Pujols with a single to right to score Trout for his sixth career walk-off hit. "His at-bat is the one that if he gets out, we lose. If I get out, we just keep playing. So Albert's the one who got the big hit. That's what he does. He knows what he's doing."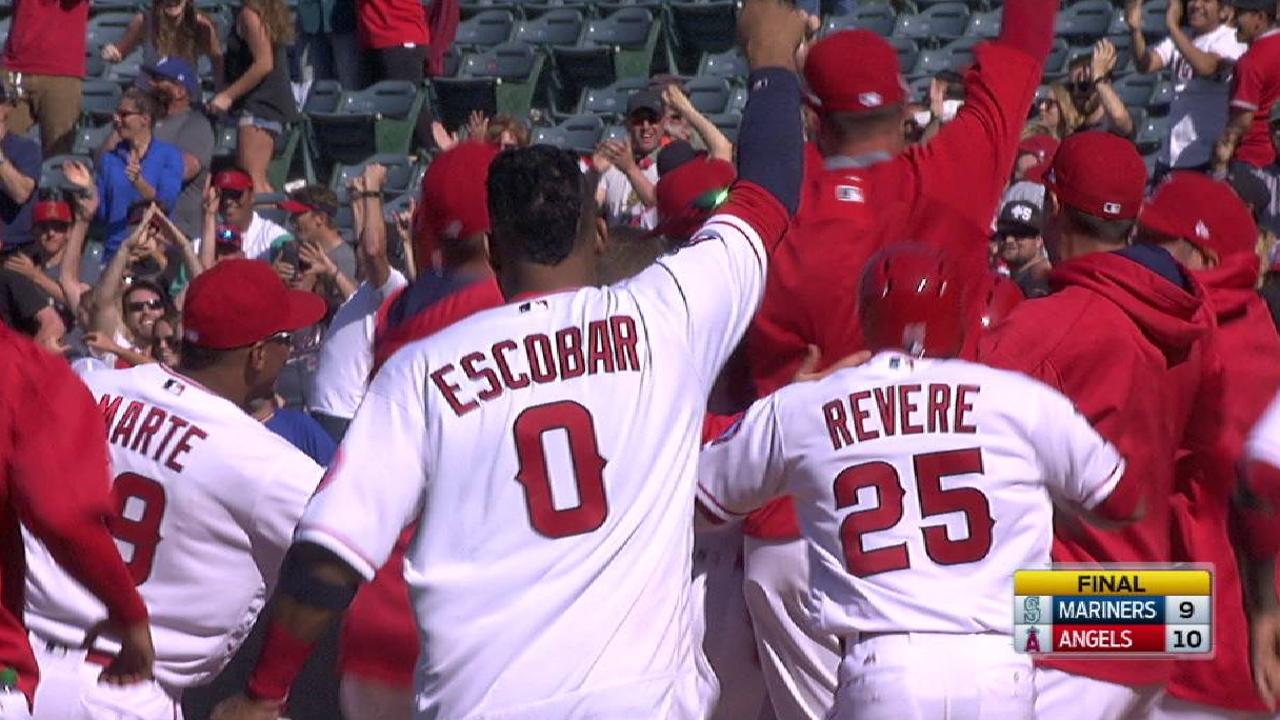 In all, the Angels sent 11 men to the plate and combined for five hits and four walks.
"We found some holes, those guys helped us with a couple walks and we just had good at-bats all the way through," said Angels manager Mike Scioscia. "That's some incredible clutch hitting at the end and good at-bats all the way through. Obviously, that's a huge deficit, but we just kept playing baseball and got a couple breaks and Penny got the big hit."
Sunday was the Angels' first walk-off win of the season, and the first time the club scored at least seven runs in the ninth to win a nine-inning game by one run since Aug. 29, 1986, when the Halos rallied with eight runs to beat the Tigers.
"That's called not giving up to make 27 outs," Pujols said. "That's the beauty of the game, you think you can flip a coin and it's over, and it's not until it's over."
Austin Laymance is a reporter for MLB.com. This story was not subject to the approval of Major League Baseball or its clubs.