Batting champ LeMahieu emerges from slump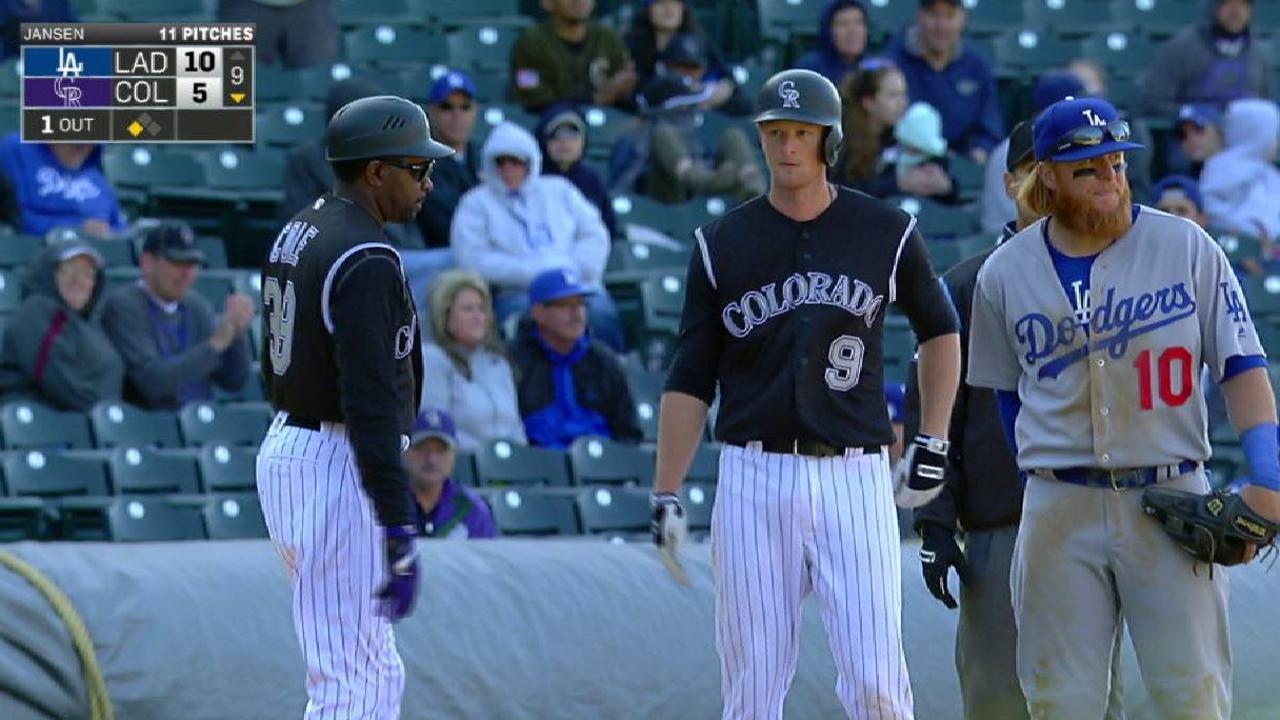 DENVER -- A silver lining to Sunday's 10-6 Rockies loss to the Dodgers came off the bench, and was powered by the man with the Silver Bat symbolizing his Tony Gwynn Award from 2016.
DJ LeMahieu, last year's batting champion who boasted a Majors-best .348 average, was taking a pre-planned day off Sunday, but it probably came at an opportune time. LeMahieu entered the game in the seventh inning having hit .087 (2-for-23) in his first six games of the season.
"It's not like an ideal start for me, but it's fine," LeMahieu said after Sunday's game. "I had a couple good ABs today. I'm ready to get going, and ready to beat up on the Padres coming in. We had a good series this series. I'm ready to get going tomorrow already."
LeMahieu matched his season total of two hits with two late-inning at-bats Sunday, a couple hard drives to right field with the second bouncing off the out-of-town scoreboard for a triple.
"Those are more like his swings," manager Bud Black said. "The line drive to right. The ball that hit off the wall, he hit that good. That was good to see."
His ninth-inning run-scoring triple and his subsequent run scored to touch Dodgers closer Kenley Jansen for two runs gave the Rockies a sense of satisfaction as they won the series, but lost their chance at the sweep.
"With Jansen, he's usually lights out," LeMahieu said. "We didn't want him to have a comfortable inning. I feel like we put together some good ABs, so it was good to get on their closer like that."
A week is a small sample during the course of a 162-game season, and nobody in the Rockies clubhouse has panicked about the reigning batting champ, who seems to be finding his groove again.
"It kind of stinks to get off to a start like that, especially when guys are on base and I'm not driving guys in," LeMahieu said. "It's really frustrating. But I felt good today. Hopefully, I can continue that. I'm looking forward to playing the Padres."
Owen Perkins is a contributor to MLB.com based in Denver. This story was not subject to the approval of Major League Baseball or its clubs.