Dodgers' bats capitalize to get past lefty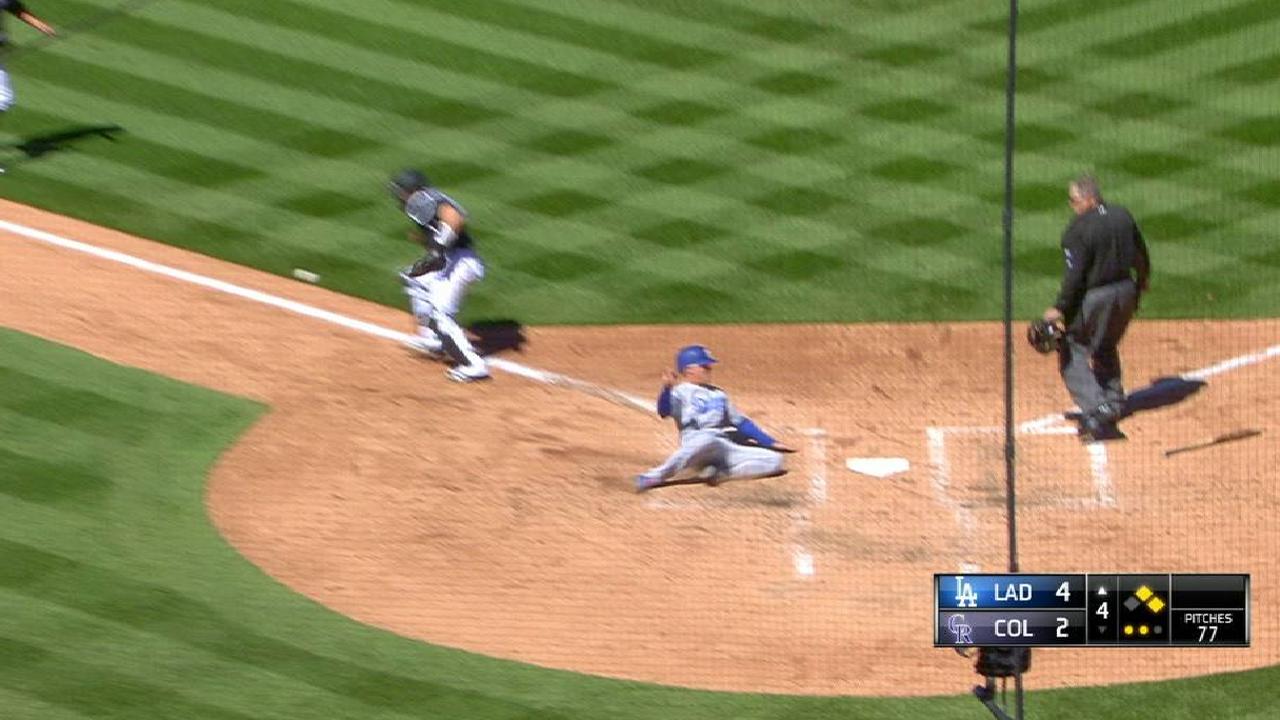 DENVER -- The Dodgers beat a lefty Sunday, getting to Colorado's Tyler Anderson early and often for a 10-6 win to avoid a series sweep.
"Honestly, we're not at the point this year where we're pressing against a left-handed pitcher," manager Dave Roberts insisted. With a cold, swirling, gusty wind turning Coors Field into a modern-day Candlestick Park, the Dodgers unleashed a 15-hit attack, including three from Logan Forsythe, who snapped an 0-for-13 slide; a two-run homer by Corey Seager in the second inning; and two hits from Justin Turner, including a two-run double in the first inning.
"It got colder, windier, trashier -- all of the above," Forsythe said of the playing conditions. "The infield started to get really hard. It was a funkier wind."
None of which, though, stopped Forsythe from taking an adjustment he gleaned from watching old video into the game.
"It's definitely more of a feel thing," he said. "Mechanically, nothing too much different, I just had to try that feel again. I looked at old video and made comparisons, and felt better today."
Forsythe opened the game with a double to trigger the two-run first inning. He went 3-for-5 with a walk and no strikeouts. He came into the game with nine strikeouts in 19 at-bats, a rough patch compounded by the fact his acquisition was prompted in part by the Dodgers' desire to add an everyday right-handed hitter to make life tougher for opposing lefties.
Seager's home run, projected to travel 427 feet by Statcast™, would be the third longest of his short career. It had an exit velocity of 104 mph with a launch angle of 26 degrees.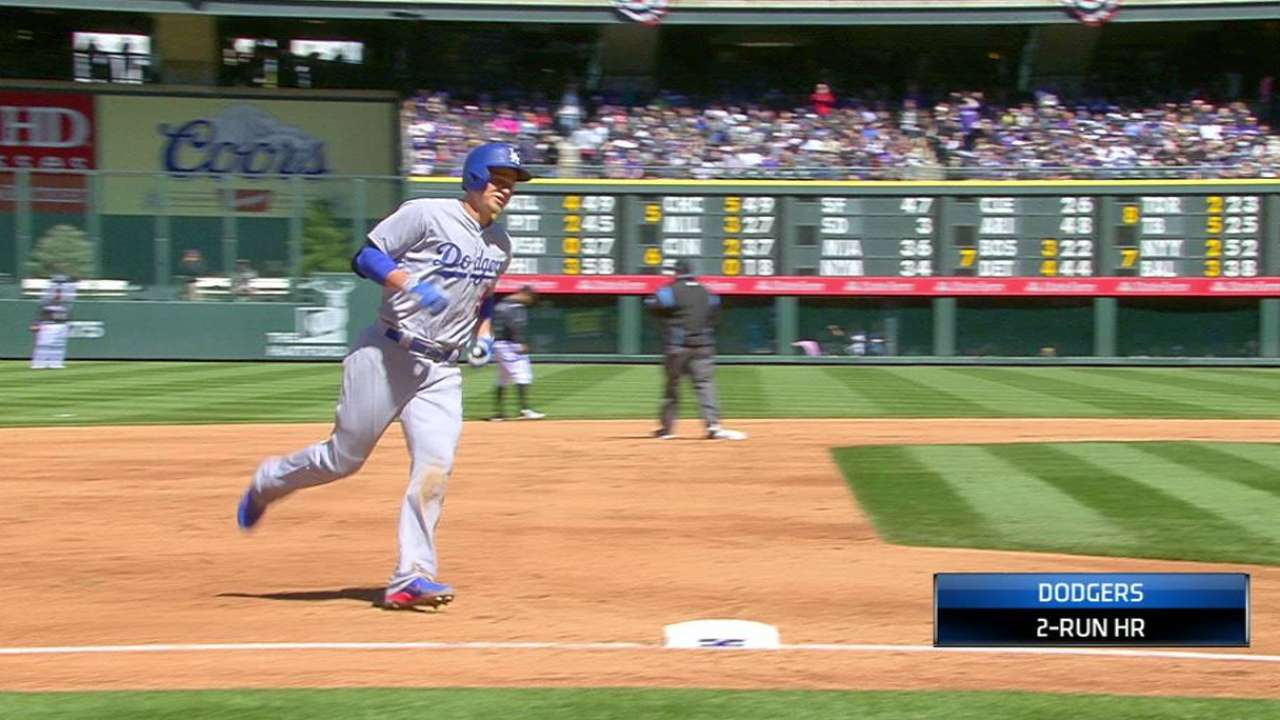 "But it wasn't all hits, we extended innings with walks," said Seager, whose club turned four of the walks into runs. "He just made mistakes and we capitalized, we didn't miss his mistakes."
Said Rockies manager Bud Black: "Tyler's a strikes thrower. Today he was a little bit off. The walks came back to haunt him a couple different occasions. He'll work on that between starts. His next start up in San Francisco, hopefully we'll see a better ball-strike ratio."
Turner went 2-for-4 and was in the middle of a key play, hit in the back on an attempted pickoff throw retreating at third base. He scored when the ball deflected away from third baseman Nolan Arenado in a three-run seventh inning.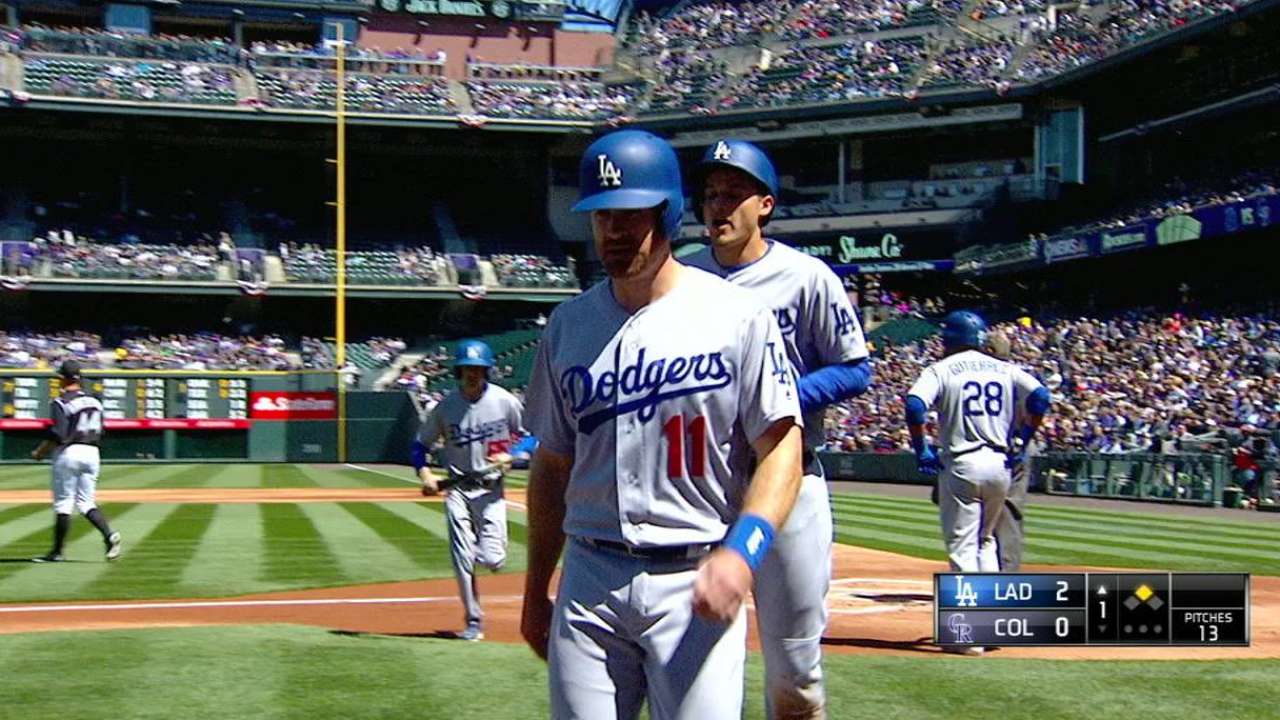 "The at-bats today were a lot better off of a left-hander throughout the lineup," he said. "We didn't chase, and we made them throw balls in the zone, and we didn't miss them often. It's just big to get a win and salvage the series, and get out of here on that note. We always seem to have a tough time playing here."
The Dodgers scored six runs with two outs, had nine batters with hits, seven players scoring runs and seven driving them in. They went 6-for-18 with runners in scoring position, a windfall that benefited winning starter Kenta Maeda, who was charged with four runs in five innings, including a two-run homer by Charlie Blackmon in the third inning.
Ken Gurnick has covered the Dodgers since 1989, and for MLB.com since 2001. This story was not subject to the approval of Major League Baseball or its clubs.