Conforto makes most of first start of 2017
Mets' center fielder hits first home run of the season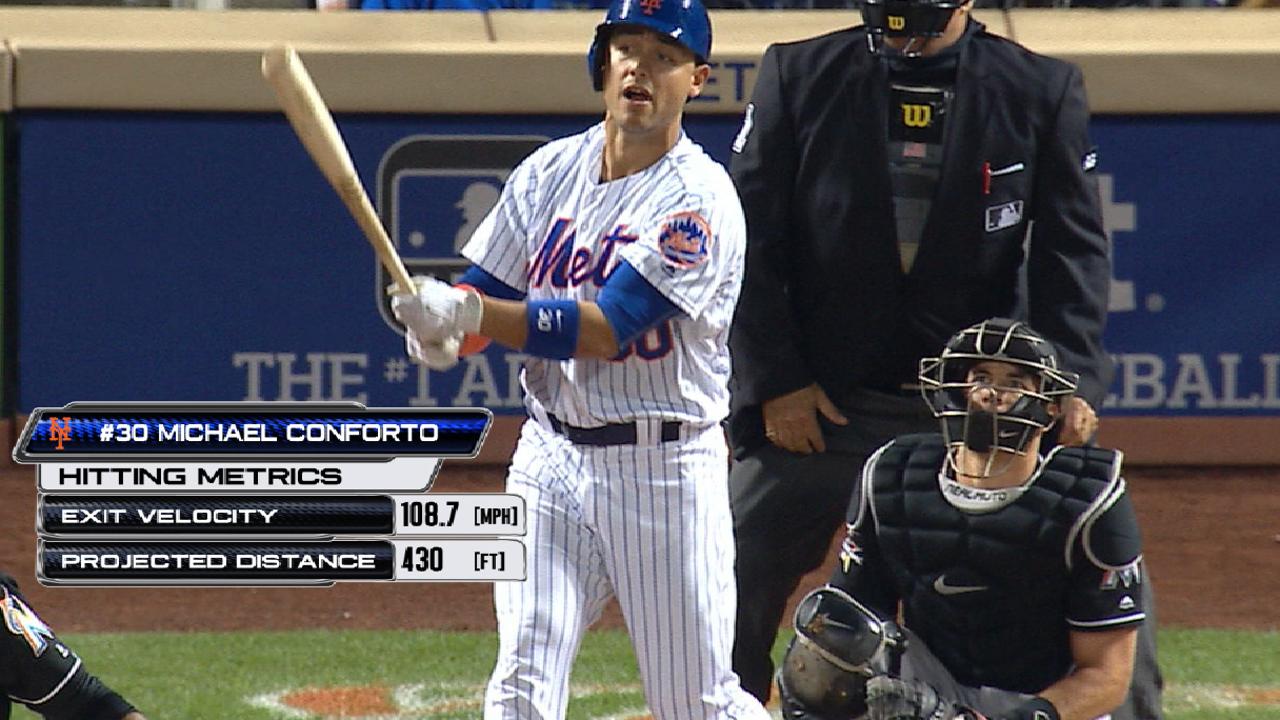 NEW YORK -- Before Michael Conforto left Citi Field on Saturday night, manager Terry Collins pulled the outfielder aside to let him know he would be in the Mets' starting lineup the following evening. Conforto absorbed the knowledge and went home, quietly content.
"It's not like I'm lying awake at night thinking about the start," said Conforto, who homered and drove in two runs in the Mets' 5-2 win over the Marlins. "I'm always excited to get to the ballpark in the morning. My routine in the morning is the same whether I'm starting or not. But all I can tell you is I was really excited to get in there today."
This was no ordinary lineup decision for the Mets, who have wrestled with the question of what to do with Conforto for much of the last two years. One of the most talented position-player prospects the Mets have developed this century, Conforto struggled last year as the Mets shuttled him between Triple-A Las Vegas and the Majors, at times burying him on the big league bench.
They entered Spring Training with half a mind to send Conforto back to Las Vegas, until injuries to Juan Lagares and Brandon Nimmo forced them to carry him on the Opening Day roster.
Then, for the season's first five games, the Mets sat him, using Conforto only in four brief cameos as a pinch-hitter.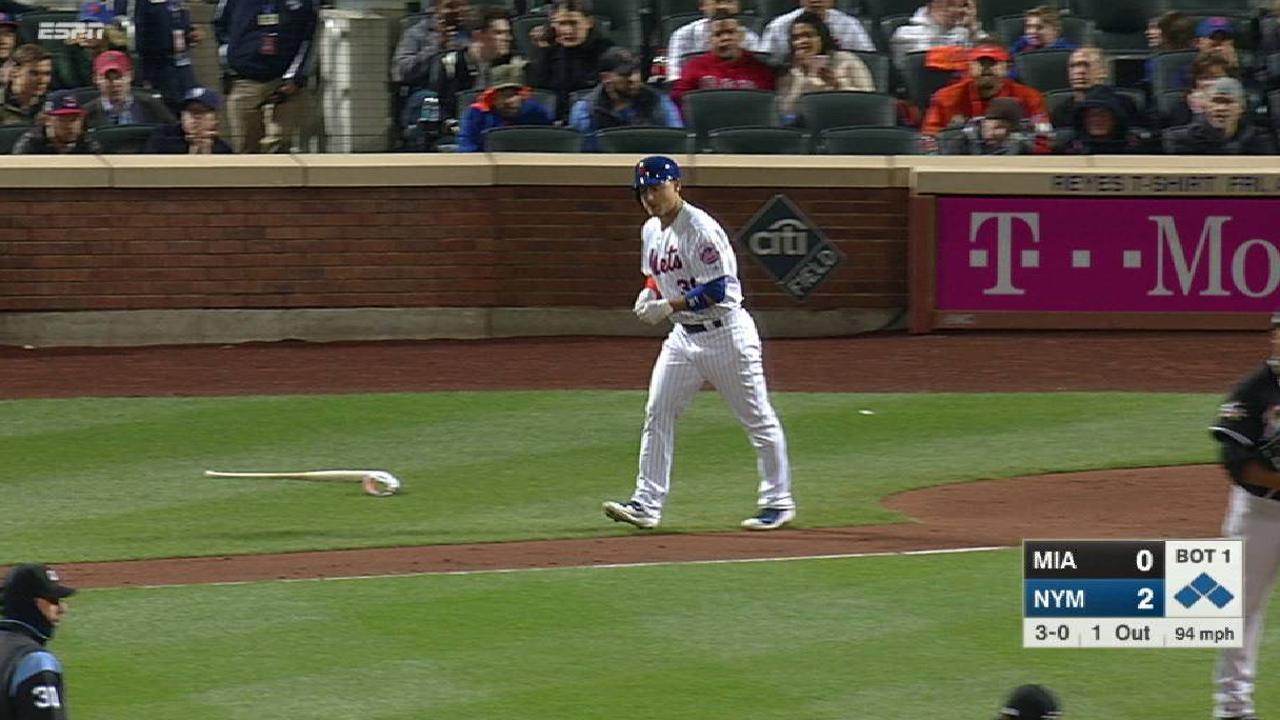 That all changed Sunday, when Conforto entered the starting lineup in center field, batting seventh. Because drama tends to worm its way into these situations, Conforto came to the plate in the first inning with the bases loaded and one out, drawing a four-pitch walk to plate a run. Five innings later, he drove a first-pitch Edinson Volquez fastball a projected 430 feet over the right-center field fence, proving the power that made him a first-round Draft pick still very much exists.
"You've just got to applaud Michael Conforto," Collins said. "A young guy put in a tough role, doesn't get a lot of playing time, and yet … those kind of guys are hungry. Michael wants to stay here. He wants to be in this lineup. I just had an idea that tonight he was going to do something, and that was a big hit for him."
It was not, however, enough for the Mets to rethink their regular outfield alignment of Yoenis Cespedes, Curtis Granderson and Jay Bruce, even factoring in Granderson's early-season struggles. Collins acknowledged that Conforto will shift back to the bench Monday in Philadelphia -- "Who am I going to sit?" the manager said -- and will remain there most games going forward. When Lagares returns from the DL, likely this week, the Mets will need to make a difficult decision regarding his short-term future.
All Conforto can do is continue to succeed when opportunities find him. Finishing 1-for-3 on Sunday, Conforto was also involved in an awkward play in center field, allowing Cespedes to call him off on a ball that resulted in a two-base error. Center field remains a relatively new position for him. So does the bench. Conforto is doing his best to grow accustomed to both.
"I'm going to continue to try to get better," Conforto said. "I'm going to just keep doing what I'm doing. I don't see this being all that tough. I've just got to try to focus on my job that day."
Anthony DiComo has covered the Mets for MLB.com since 2008. Follow him on Twitter @AnthonyDiComo and Facebook, and listen to his podcast. This story was not subject to the approval of Major League Baseball or its clubs.