Lefty Rusin's return bolsters bullpen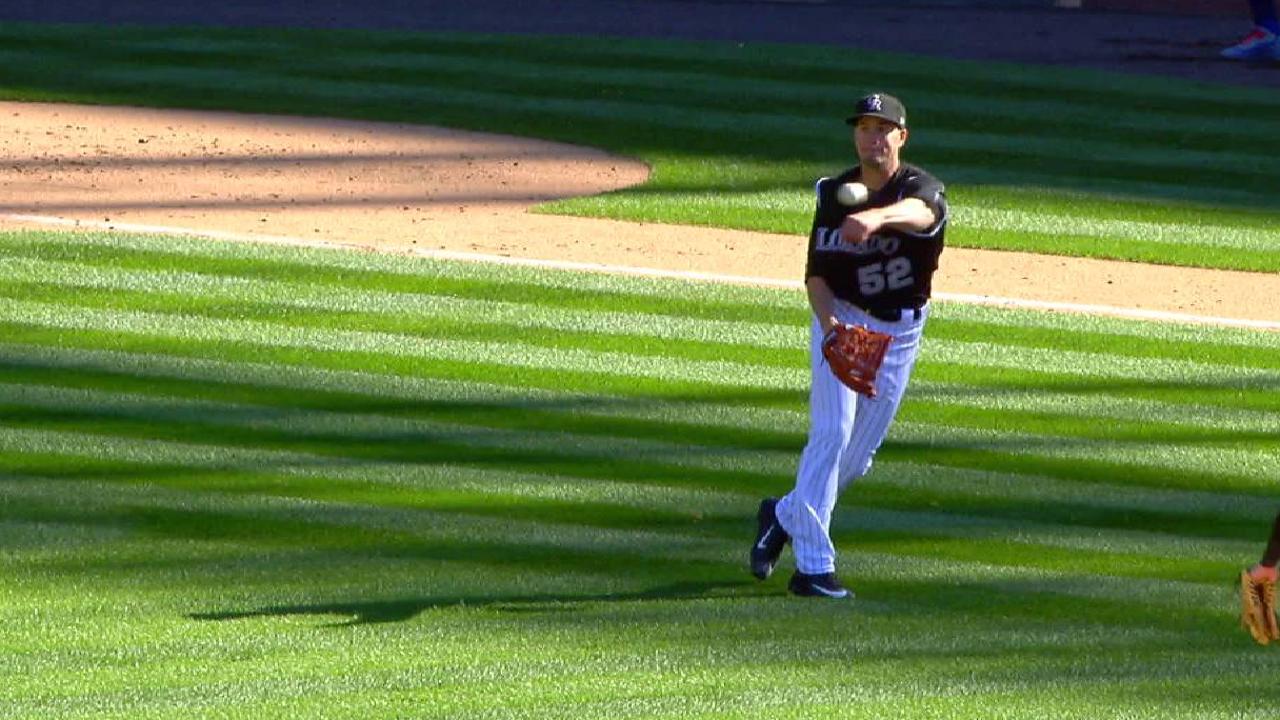 DENVER -- A versatile Rockies bullpen installed another left-hander Sunday when Chris Rusin was activated off the 10-day disabled list from a right oblique strain he suffered March 3.
Rusin pitched two innings in Sunday's 10-6 loss to the Dodgers, and gave up an unearned run and four hits while striking out two. He issued no walks, and pitched through 40-mph winds. He also started an inning-ending double play in the eighth inning.
"I feel good," Rusin said. "It was good to be back, and get out there and compete. I missed some of my locations and some of my pitches were a little rusty, but all in all, I was pleased with attacking the strike zone and not walking anybody. … It's just one of those days, crazy Colorado weather that you just have to deal with and try to block it out, and make your pitches."
The Rockies' eight-man bullpen is now carrying three lefties -- Rusin, Mike Dunn and Jake McGee -- giving manager Bud Black a resourceful luxury of depth.
"It gives you options to get certain matchups that you like on a given night you might want to get to," Black said. "Again, it all comes down to availability of the guys that night, and what you're looking for. I hate saying it, but every game is different based on what happened the previous night -- how guys feel, how their stuff is and what not."
In the Rockies' five wins this season, the bullpen has been credited with three wins and has given up just two earned runs in 19 innings (0.95 ERA).
Rusin gives the Rockies a utility pitching role. His best outings last year came in relief, particularly a string of nine outings from Aug. 29 to Sept. 29 in which he tossed 10 1/3 scoreless innings and gave up two hits. He also has long-relief capability, having made 15 appearances of three or more innings, including seven starts. As a reliever in '16, Rusin was 2-1 with a 2.58 ERA and 0.926 WHIP.
The Rockies haven't needed a long reliever this season, even with their bullpen amassing 21 innings entering Sunday. They've made do with their current depth, sending Carlos Estevez, Scott Oberg and McGee when the primary setup of Dunn, Adam Ottavino and Greg Holland need rest, such as in Friday's 2-1 home opener win over the Dodgers.
It's largely why right-hander German Marquez, who was optioned to Triple-A Albuquerque in a corresponding move Sunday, hadn't pitched since making his first career Opening Day roster. Marquez, who last pitched in game action in a Cactus League game March 30, will immediately be installed in Albuquerque's starting rotation, Black said.
Black, Story discuss plate discipline
At this time last year Trevor Story had seven home runs through the Rockies' first six games, which set an MLB record. The slugging shortstop is still seeking his first deep fly of '17, but said his approach has been geared toward strikeout rate than slugging percentage. Entering Sunday, Story had fanned nine times in 24 plate appearances. He laced a double off Clayton Kershaw in Saturday's 4-2 win.
In consulting Story about his plate discipline, Black has maintained a simple approach.
"We've talked about a lot of different things," Black said. "Not just on-base percentage, we've talked about a lot of different things. We talk baseball. In regards to his offense, he specifically said: 'Yeah, Buddy, I want to cut down my strikeouts and walk more.' We don't talk statistics."
Worth noting
• Triple-A infielder Pat Valaika hit for his first career cycle Saturday in the Isotopes' 12-5 win over Salt Lake, finishing with a career-high seven RBIs and three runs scored. Valaika, the Rockies' ninth-round Draft choice out of UCLA in 2013, cracked the Majors as a September call-up last year, and went 5-for-19 with a homer, two RBIs and eight strikeouts in 13 games.
Daniel Kramer is a reporter for MLB.com based in Denver. Follow him on Twitter at @DKramer_. This story was not subject to the approval of Major League Baseball or its clubs.