MLB.com Columnist
Barry M. Bloom
After first win, Greinke eager to face Kershaw
D-backs ace will oppose former teammate in next start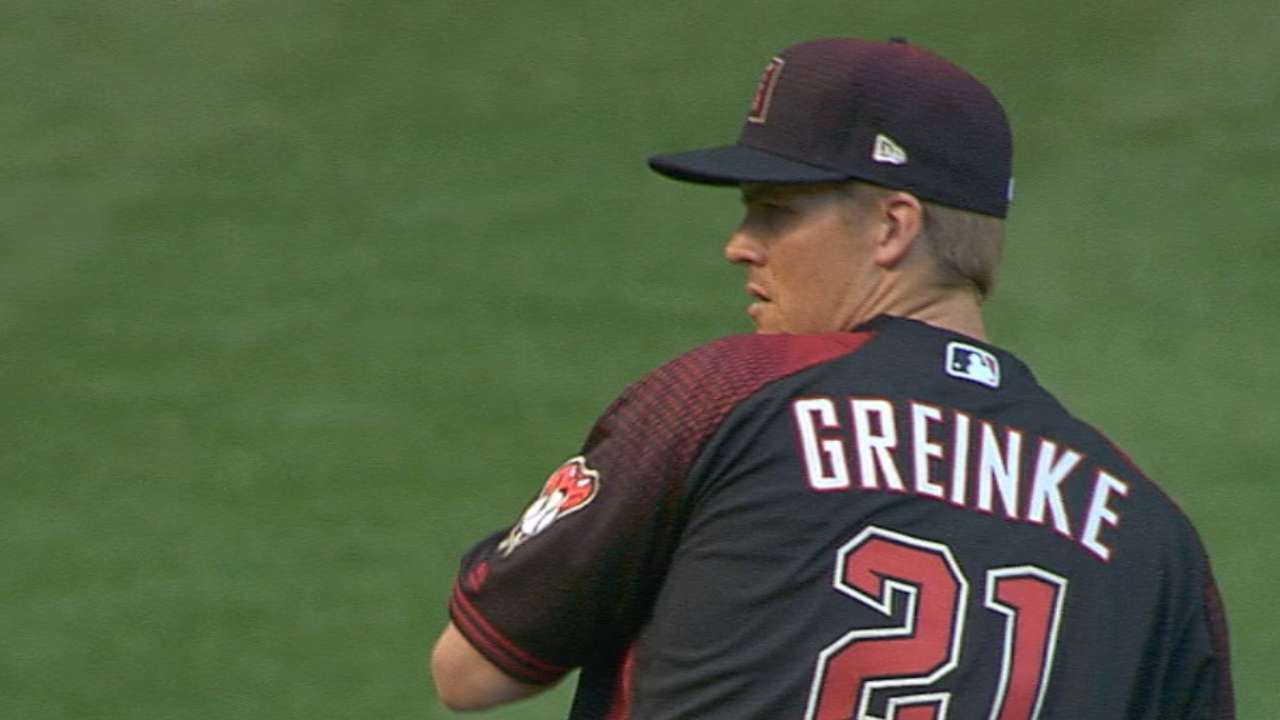 PHOENIX -- Zack Greinke bested Trevor Bauer on Saturday night in a battle of the right-handers as the D-backs mashed the Indians, 11-2, at Chase Field.
The next matchup for Greinke will be even better: Old buddy Clayton Kershaw at Dodger Stadium on Friday night.
It will be a first for Greinke, who didn't face Kershaw last season, his first in Arizona after three with the Dodgers. It won't exactly be a grudge match, but Greinke knows what's in store.
"He's so competitive that if I started taking it lightly it would be a bad game plan," Greinke said after pitching into the seventh inning and recording his first win of the season in his second start. "He has a great mindset. A great work ethic. He does everything as perfect as you'd want a pitcher to do."
Greinke had three of his best seasons ever pitching behind Kershaw in the Dodgers rotation from 2013-15. Greinke was 51-15 for a .773 winning percentage. That led to Greinke opting out of his Dodgers contract after the 2015 season and signing a six-year, $206.5 million deal with the D-backs.
Last year didn't work out so well. He was 13-7 with a 4.37 ERA in 26 starts and missed more than a month on the disabled list with a strained left oblique, an injury he sustained swinging the bat.
Greinke was never on point last season and, thus, neither were the D-backs, who confounded their ownership and front office with a 93-loss season. It led to changes in baseball operations and the club's third new manager in four seasons.
"I'm still trying to figure it out, what went wrong," Greinke said. "It's one of those things that will probably click in about three or four years down the line, looking back at it. Right now, I still don't know. I feel like I pitched good at the beginning of the year and near the end I didn't pitch as good. This year, I'd like to make good pitches all year long."
Greinke spotted the ball well against the defending American League champion Indians on Saturday night and was lifted with two out and nobody on in the seventh after throwing 106 pitches. He allowed five hits and a run, didn't walk anyone and struck out six.
Last year, he didn't record his first win until April 20, his fourth start.
"His changeup was really good," veteran Indians manager Terry Francona said. "And I know people make a big deal about his velocity, but he's still 93-94 and he locates really well. He pitches in. But off that, his changeup is really good. He can throw it any time he wants. His feel to pitch is tremendous."
Meanwhile last season, Kershaw also missed two and half months because of a back injury. Despite a plethora of injuries to every starting pitcher except Kenta Maeda, the Dodgers still won the National League West for the fourth year in a row and then went as far as the NL Championship Series where they lost in six games to the Cubs.
Still, when Kershaw did pitch he pitched well, logging a 12-4 record and 1.29 ERA in his 21 starts. When rookie manager Dave Roberts needed him the most, Kershaw got the last two outs of Game 5 of their NL Division Series against the Nationals to record the save and send the Dodgers on to the NLCS.
That's the left-hander Greinke knows he's going up against on Friday night.
"I want to face him," Greinke said, "just to see how nasty he is."
Barry M. Bloom is a national reporter for MLB.com and writes an MLBlog, Boomskie on Baseball. Follow @boomskie on Twitter. This story was not subject to the approval of Major League Baseball or its clubs.