Holliday 2K: Veteran collects milestone hit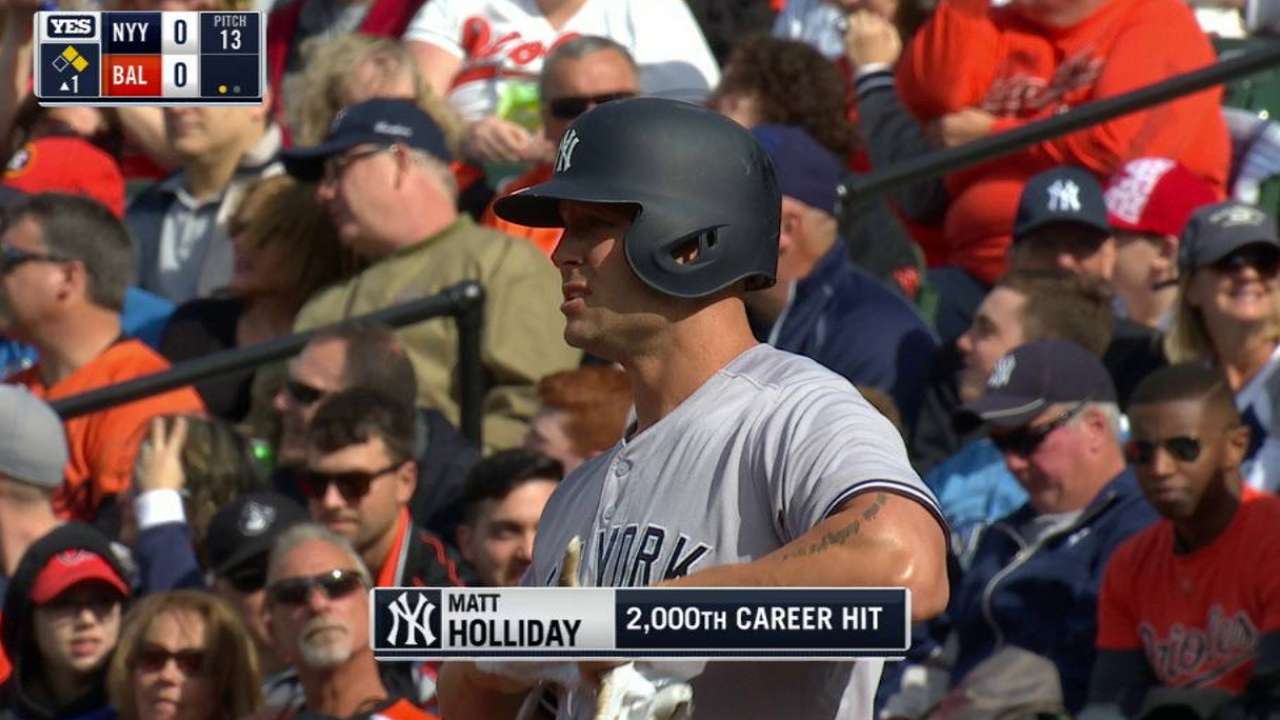 BALTIMORE -- Matt Holliday became the seventh active Major Leaguer with 2,000 hits on Saturday, reaching the plateau with a first-inning single to right field off the Orioles' Kevin Gausman in the Yankees' 5-4 loss.
"It means that I've been able to play for a long time and get some hits," Holliday said before Saturday's game. "It's a pretty good milestone. It'll be something I'll be pretty proud of."
Entering play on Saturday, the other current Major Leaguers with 2,000 or more career hits were Ichiro Suzuki (3,030), Adrian Beltre (2,942), Albert Pujols (2,826), Carlos Beltran (2,622), Miguel Cabrera (2,519) and Robinson Cano (2,214). Holliday is the 20th player to reach the 2,000-hit milestone as a Yankee. The previous player to do it was Alfonso Soriano, during his second stint with the club in 2013.
A big congrats to Matt Holliday on becoming just the 7th active player to reach 2,000 career hits! pic.twitter.com/DD6EDfsjdg

— New York Yankees (@Yankees) April 8, 2017
The 37-year-old Holliday started his career with the Rockies in 2004, picking up his first career hit on April 18 of that season, an infield single off the Cardinals' Woody Williams.
Holliday collected 848 hits with the Rockies (2004-08), 99 with the Athletics ('09) and 1,048 with the Cardinals (2009-16) before joining the Yankees this season.
"Some days it feels long, some days it feels like it just started," Holliday said. "I think you look back, and if you told me as a kid that I'd get 2,000 Major League hits, I'd have been pretty thrilled with that idea."
Holliday said that the accomplishment makes him appreciate how difficult it would be to reach 3,000 hits.
"You've got to play a long time, you've got to stay really healthy and you've got to get a lot of hits and not walk a ton either," Holliday said. "I remember Todd Helton told me, the first 2,000 are easy and the last thousand are the hard part."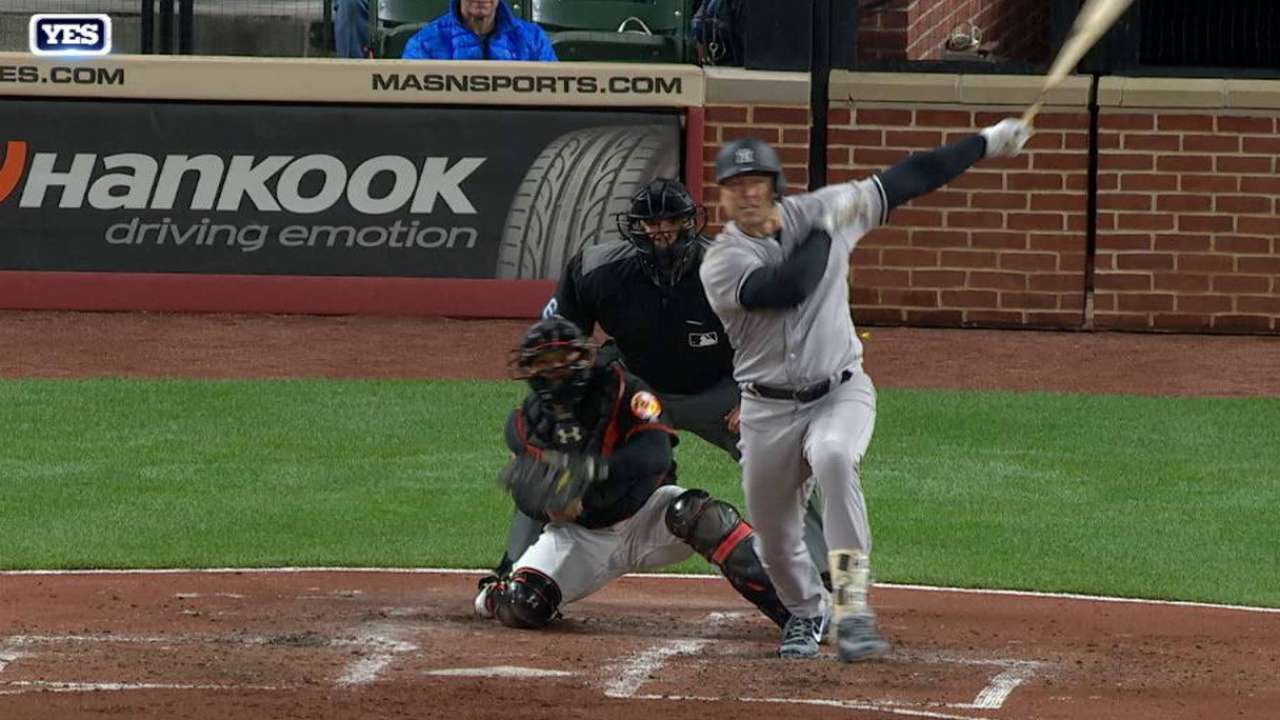 Holliday is also four home runs shy of 300, having slugged his 296th career blast -- and first as a Yankee -- in Friday's 6-5 loss at Baltimore.
"They're really just numbers, but I don't think there's been a ton of players who have hit 300 homers and had 2,000 hits," Holliday said.
Bryan Hoch has covered the Yankees for MLB.com since 2007. Follow him on Twitter @bryanhoch and on Facebook. This story was not subject to the approval of Major League Baseball or its clubs.