Tomlin's misstep costly in Indians' loss
Hitting Miller with pitch sets up five-run fifth inning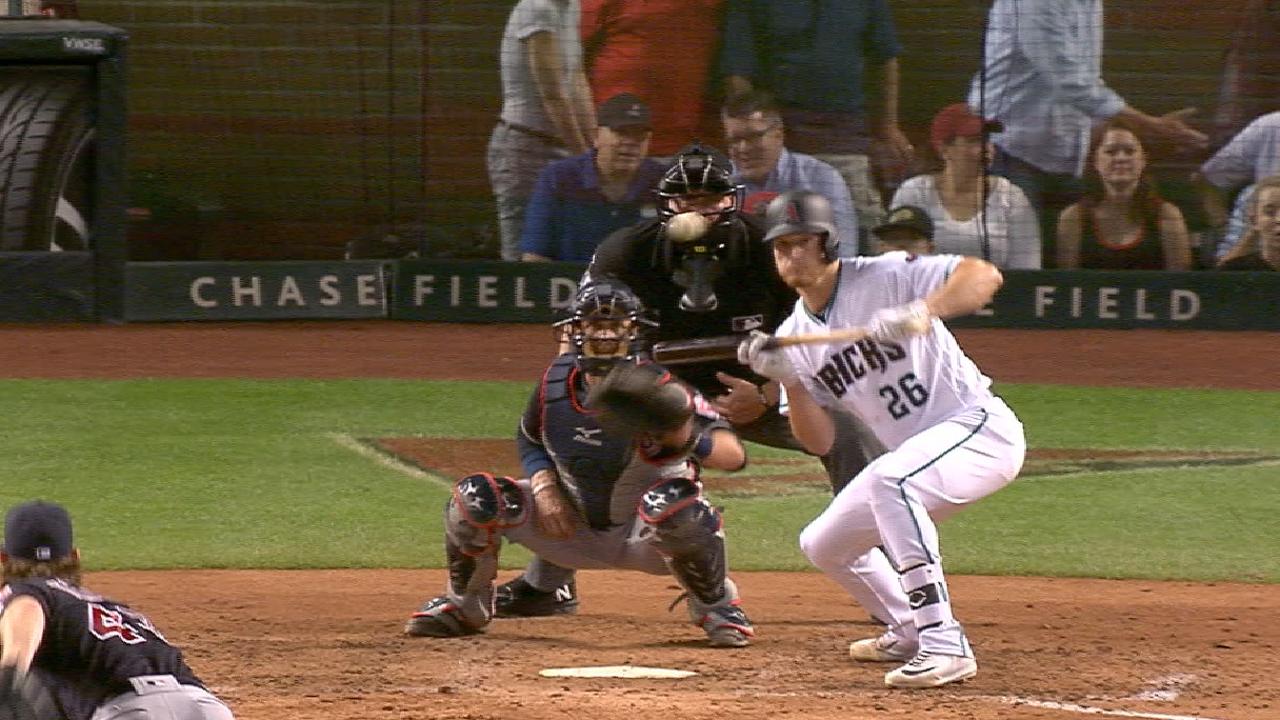 PHOENIX -- Shelby Miller was giving away an out and Indians starter Josh Tomlin planned on taking him up on the offer. That was until the changeup that spun from Tomlin's fingertips betrayed him, sailing high and inside and striking Miller in the chest.
The Chase Field crowd unleashed some boos, but this was not malicious on Tomlin's part. It was simply a misstep, and a costly one in Cleveland's7-3 loss to the D-backs on Friday night. Instead of inducing a sacrifice bunt, Tomlin gave Miller a base, and Arizona capitalized with a five-run inning that sent the Tribe to its first loss of 2017.
"You obviously want to get an out when a guy's giving you an out," Tomlin said. "He's sacrificing himself to move the guy to second base, so it kind of changed the whole dynamic of that inning."
Tomlin had already been teetering before his game-changing mistake.
After cruising through the first three innings, Tomlin flinched in the fourth. A walk to slugger Paul Goldschmidt helped set up a two-run outburst, which was highlighted by a Yasmany Tomas double off the wall in center. With Cleveland clinging to a 3-2 lead, Nick Ahmed led off the fifth with an infield single -- one with only a 14-percent hit probability, per Statcast™.
Given the situation, a sac bunt was in order for Miller, who fouled off the first attempt before squaring around for another. Tomlin fired an 0-1 changeup, and the D-backs' pitcher quickly maneuvered out of the way, as the baseball flew near his face. That put runners on first and second with no outs, and the top of the D-backs' order loomed.
"He started out good," Indians manager Terry Francona said of Tomlin. "When we got into the middle innings, they're trying to give us the out with the bunt and he hit him. Any time things like that happen, it doesn't bode real well for the inning."
Tomlin nearly escaped, though.
A.J. Pollock, Arizona's leadoff man, took three pitches and then swung through a 1-2 cutter for a strikeout. David Peralta followed with another strikeout, watching a sinker for the decisive pitch. The baserunners remained idle, but that sequence brought Goldschmidt back to the batter's box. Francona had a decision to make: Go to his bullpen or trust Tomlin?
In his career, Tomlin had allowed an .833 OPS to batters the third time through the order.
"It's the fifth inning," Francona said. "Whatever his history is, there's so much belief in him. I think he's earned that. If it's later in the game, that's different. But, in the fifth, if we start going to out bullpen and are matching up, we're going to run into a problem at some point."
Francona stuck with Tomlin, who gave up a two-run double to Goldschmidt that pushed the D-backs ahead, 4-3. Jake Lamb followed with an RBI single to right field, convincing the Indians manager to pull the plug on Tomlin's outing. Reliever Dan Otero did not fare much better, allowing two more runs to cross the plate to put Cleveland in a hole it could not overcome.
"That's what a good team does," D-backs manager Torey Lovullo said. "They take advantage of those mistakes."
When the dust settled, Tomlin was charged with six runs in 4 2/3 innings.
A lot of the damage could be traced back to one errant changeup.
"When they give you an out like that," Tomlin said, "you need to take it."
Jordan Bastian has covered the Indians for MLB.com since 2011, and previously covered the Blue Jays from 2006-10. Read his blog, Major League Bastian, follow him on Twitter @MLBastian and listen to his podcast. This story was not subject to the approval of Major League Baseball or its clubs.