Angels celebrate opener with Finley, fireworks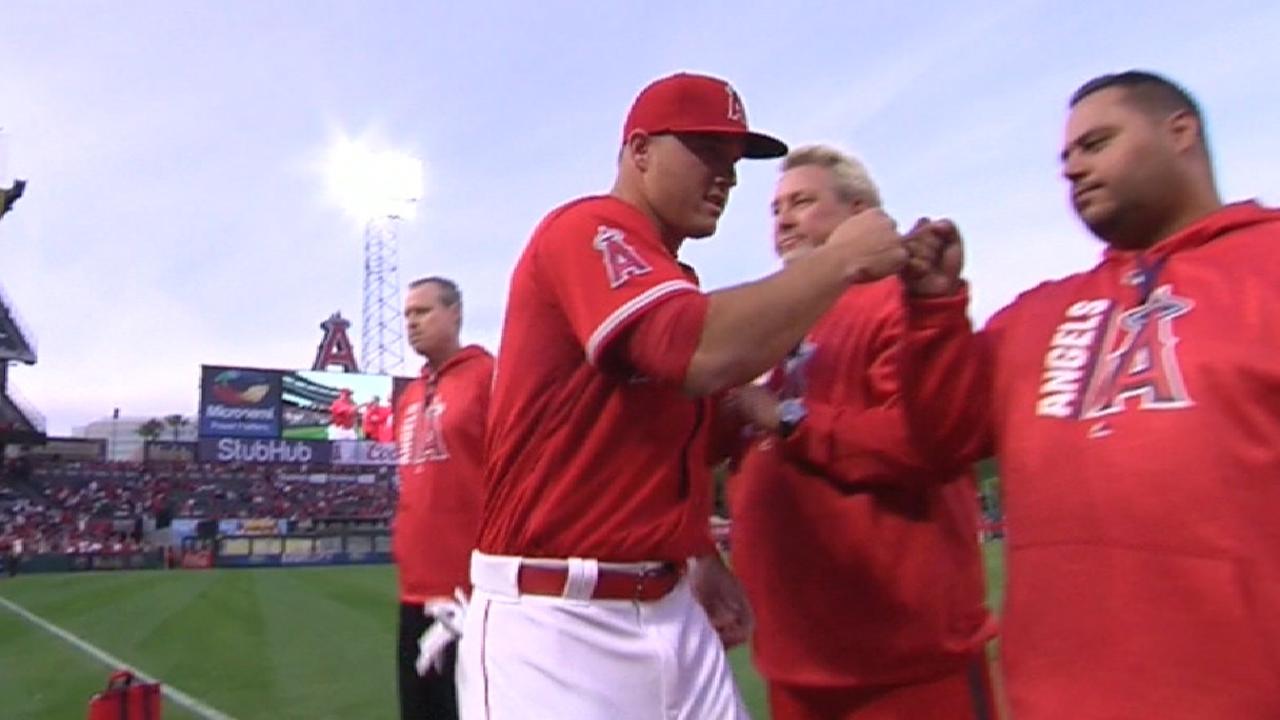 ANAHEIM -- The Angels inaugurated their 2017 home slate with the help of Halos Hall of Fame pitcher Chuck Finley, who threw out the ceremonial first pitch to trainer Rick Smith before Friday night's 5-1 win over the Mariners at Angel Stadium.
Finley, the Angels' franchise leader in wins with 165, received a rousing ovation from the fans in attendance and delivered a perfect strike to Smith.
The U.S. Army Color Guard was also on hand to unfurl a 300-foot American flag in the outfield as part of the pregame festivities. During the singing of the national anthem, the U.S. Air Force roared over the stadium in a C-17 aircraft. The Angels then played a highlight reel over the scoreboard before capping the ceremony with an impressive fireworks show in center field that briefly clouded the field in smoke.
Thank you for your service, @usairforce and @March_ARB! pic.twitter.com/kkEfxJgACM

— Angels (@Angels) April 8, 2017
"I think we're getting old, but Opening Days are not getting old," manager Mike Scioscia said before the game. "It's a blast. It's fun. We had an Opening Day in Oakland, so this one will be, not so much anticlimactic, but it's our home opener. I think you'll the energy from certainly the fans and our guys will be ready to go."
Worth noting
• Right-hander Huston Street, who has been sidelined since March 3 with a strained right lat, continues to make progress with his throwing program. Street said he made 60 throws Friday from as far back as 90 feet. He is hoping to throw off the mound sometime next week.
Street said his lat now feels fine, though he's been experiencing a bit of shoulder stiffness.
"I have a little stiffness up in the shoulder area, but you don't pick up a ball for four weeks and you kind of got to expect it," Street said Friday. "No alarm bells going off or anything like that. Got through my 60 throws today, got back to my 90 feet. Now it's about increasing effort level, increasing intensity and just getting to that level. There's a big difference between playing-catch level and then even pitching off the mound and then obviously in a game."
Street is projected to be out until at least late April, though he said he does not have a date in mind for his potential return.
"[Street's injury] is physically healed, now it's about throwing and getting back to where he needs to be," Scioscia said. "That could have a life of its own, too, so we're going to take it one step at a time with Huston. At times things are going to be a little cranky that he's got to work through, and at times he's going to make a lot of progress. So we're not going to put any time frame on it."
Maria Guardado covers the Angels for MLB.com. This story was not subject to the approval of Major League Baseball or its clubs.