MLB.com Columnist
Barry M. Bloom
Family ties: Goldschmidt proud of heritage
D-backs slugger respects his ancestors' struggles
PHOENIX -- Everybody has an interesting backstory and this is the one that belongs to D-backs first baseman Paul Goldschmidt:
His father is Jewish and his mother is Catholic. By the grace of God or by good fortune, Goldschmidt's great grandparents made it out of Nazi Germany prior to the Holocaust. Six million Jews didn't.
It was 1938. Their son -- his grandfather, Ernie -- was 5 years old.
The details have become murky with the passage of time, but this much Goldschmidt knows: Ilse Goldschmidt's family owned a thriving printing company in Germany. But she and her husband, Paul, knew the dangers that lurked in their native country. They were the lucky ones, who found sponsors in Boston and fled to the U.S., Goldschmidt told MLB.com this week.
"They were living in Germany and they figured out what was going to happen to them," Goldschmidt said. "All three of them got out and were sponsored by someone. I don't know who. That's what I understand."
The little family struggled to make ends meet, but they saved their lives. Ilse sold candy door-to-door and Paul eventually opened a luncheonette.
Ernie grew into a strapping young man who followed his dad into the food service business. He eventually married and had a son, David. David met Kim in college when the two attended Rochester Institute of Technology in Rochester, N.Y. They married and had three boys. Paul is the oldest of the three and was born in Wilmington, Del. The family flooring business took them all to Dallas and eventually Houston.
"Lucky they got over here," Goldschmidt said about his German ancestors. "My grandfather was able to father my dad and him me, and here I am standing here now. I'm sure there are many other similar stories. Not just the Jewish people, but other people as well who were able to escape horrible situations and were able to survive."
For the record, all three of the Goldschmidt boys were brought up under the Catholic faith and attended church growing up. It's tradition in Judaism that if the mother is Jewish, a child is automatically considered part of that faith. If the father is Jewish, it's up to the parents to decide.
No matter. Paul respects his Jewish heritage and understands what his ancestors had to do to give him the great life he leads as a baseball star.
"We know our Jewish history and we respect those beliefs," Goldschmidt said. "We had both sides of it as kids. My dad's side, my mom's side. We were exposed to all of it."
Passover, Easter, Chanukah, Christmas. The best of both worlds.
Goldschmidt is a premier player, a four-time National League All-Star in his first six seasons. In Thursday night's 9-3 win over the Giants at Chase Field, the right-handed power hitter smacked his second homer of the young season, and his 848 career hits already rank second on Arizona's all-time list. Luis Gonzalez is first with 1,337.
With his 100th stolen base on Wednesday night, Goldschmidt became only the fifth first baseman in Major League history to log at least 100 steals and 100 homers. He has 141 homers.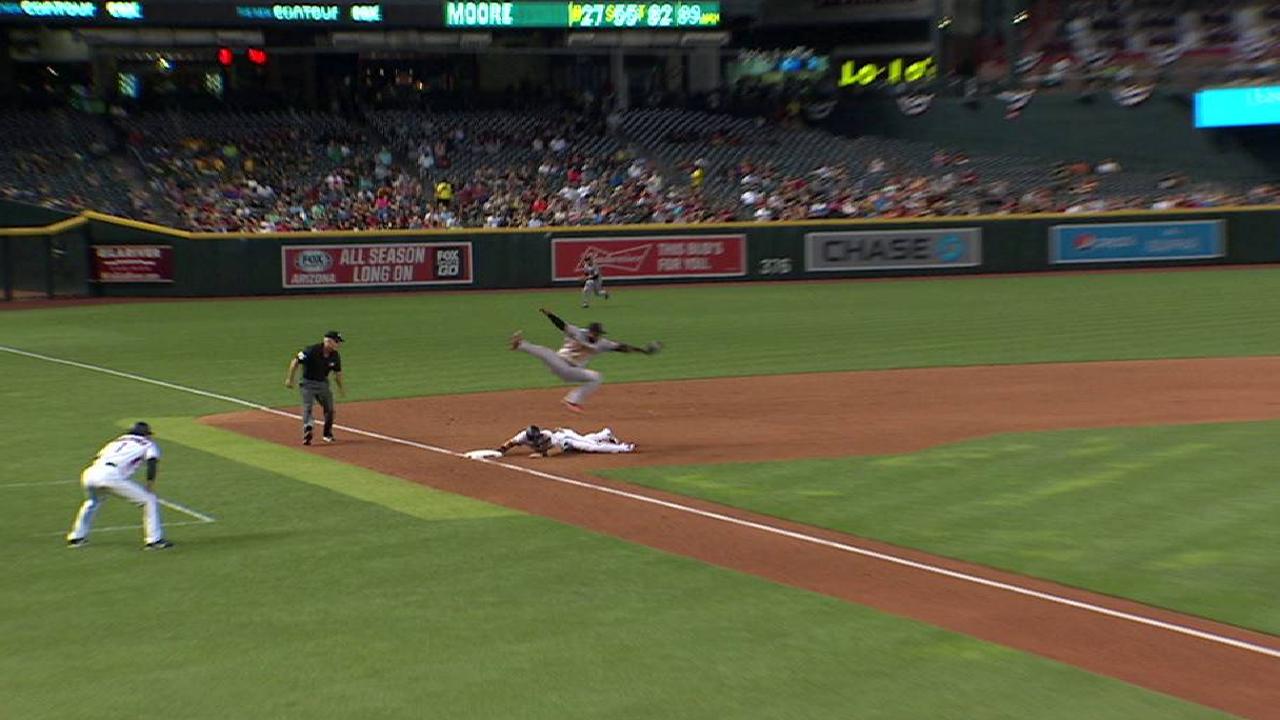 According to Statcast™, both of Goldy's homers this week were barreled at 107 mph.
For all his success, Goldschmidt plays with a quiet confidence and hardly craves the spotlight. He's a polite and private person, who only a few years ago completed his undergraduate degree via the University of Phoenix, taking his final classes online. Goldschmidt did that to honor both himself and to fulfill a promise to his family.
When asked about his family history, one fully expected that Goldschmidt might want to remain quiet about it. Not so. He gave a resounding green light to write this story. He's obviously proud of it.
Sports Illustrated printed a few graphs describing Goldschmidt's background sans his comments two years ago in a lengthy magazine piece that concentrated on his baseball prowess. But this is the first time he has spoken openly about it.
Goldschmidt is obviously aware that for so many youngsters, like his grandfather, things didn't work out the same way. The stories of death, destruction and survival are legion and there's no need to recount them again here. He's well-aware of the fact there are serious lessons to be learned and all that can never be allowed to happen again.
His grandfather is still alive and well and living in Fort Lauderdale, Fla., Goldschmidt said. His grandmother, Roz, died of cancer "when I was in the fifth or sixth grade."
Goldschmidt sees his grandfather two or three times a year, as well as his grandmother on his mother's side. At 29, he is married himself, and has a son, Jacob.
Clearly, Goldschmidt's family and where it came from is very important to him.
"I'm very proud of my family's heritage on both sides," Goldschmidt said. "It's a big part of me."
Barry M. Bloom is a national reporter for MLB.com and writes an MLBlog, Boomskie on Baseball. Follow @boomskie on Twitter. This story was not subject to the approval of Major League Baseball or its clubs.