Cutch stars on D, confident hits will come
Pirates RF throws out runner, robs homer in second game at new position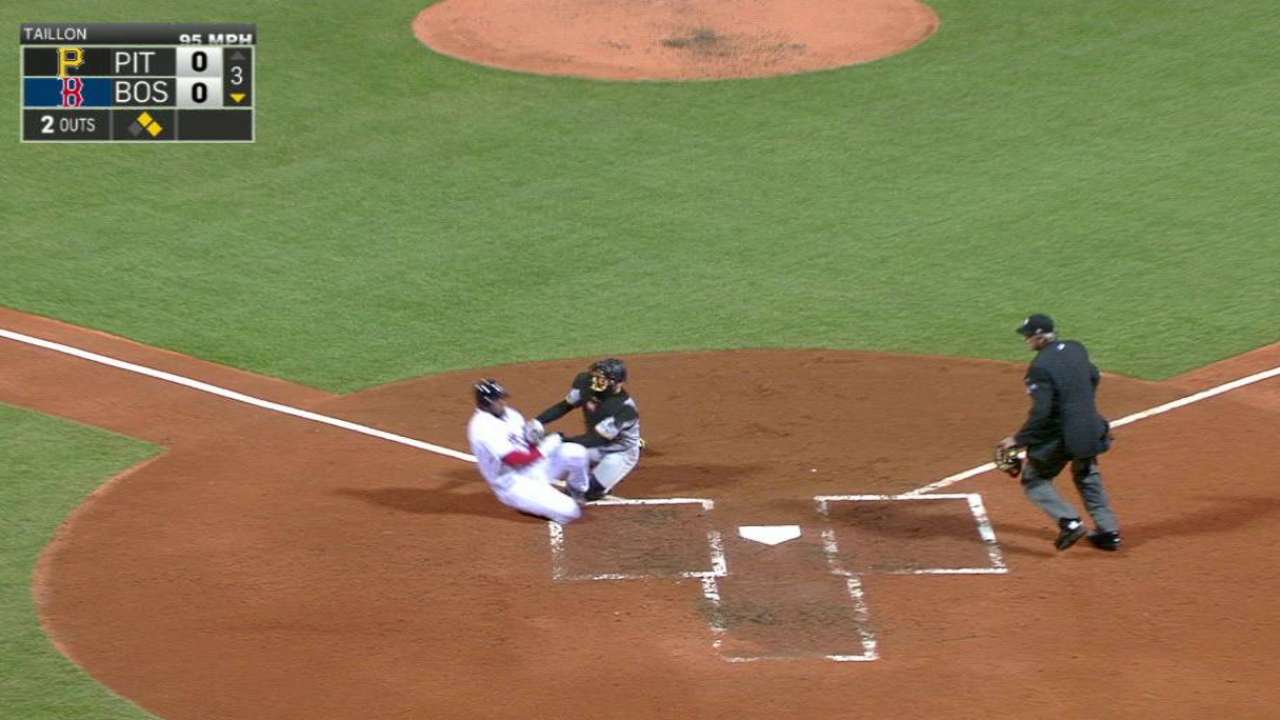 BOSTON -- Andrew McCutchen saved a run with his arm and two more with his glove Wednesday night at Fenway Park. As the Pirates head home for Friday's opener at PNC Park, McCutchen is ready to contribute more with his bat.
"If I get that first hit off the bucket list," McCutchen said, "I'll be good to go."
McCutchen helped preserve a scoreless tie with his right-field defense, but he was held hitless as the Pirates lost to the Red Sox, 3-0, in 12 innings. His 0-for-5 night brought his two-game total to nine at-bats without a hit.
A slow start might concern some Pirates fans who are wary after McCutchen's downturn last year, but Pittsburgh's franchise player said he is not worried.
McCutchen said he felt better at the plate Wednesday than he did Monday, when he struck out three times. He struck a few balls hard in the extra-inning affair, including a fourth-inning groundout that clocked in with an exit velocity of 109.2 mph, according to Statcast™ -- the hardest-hit ball of the game for either club. Yet McCutchen came away with nothing to show for it.
"It's game No. 2. I haven't got a hit yet, but it's game No. 2," McCutchen said. "I'm not going to stress over it. I'm going to keep my approach, [which was] a lot better than I was the first game. I'm going in the right direction."
The same could be said for McCutchen's defense. With Sandy Leon on second base and two outs in the third inning, Dustin Pedroia hit a hard grounder through the right side of the infield. As Leon ran through a stop sign at third base, McCutchen scooped up the ball and unleashed an 89-mph throw that traveled 217 feet, according to Statcast™.
Catcher Francisco Cervelli, waiting in front of home plate, received the ball and quickly tagged Leon for the final out of the inning. It was McCutchen's 56th career outfield assist, but his first as a right fielder.
"It's a shorter distance than center field. The ball comes straight to you," McCutchen said. "You've got more of an opportunity to be able to throw somebody out, as opposed to playing center field where it's deeper."
One inning later, Mitch Moreland launched a Jameson Taillon changeup deep to right field. McCutchen followed it to the warning track, back-pedaled a few steps, caught the ball and slammed into the short right-field wall, almost nonchalantly robbing Moreland of a two-run homer.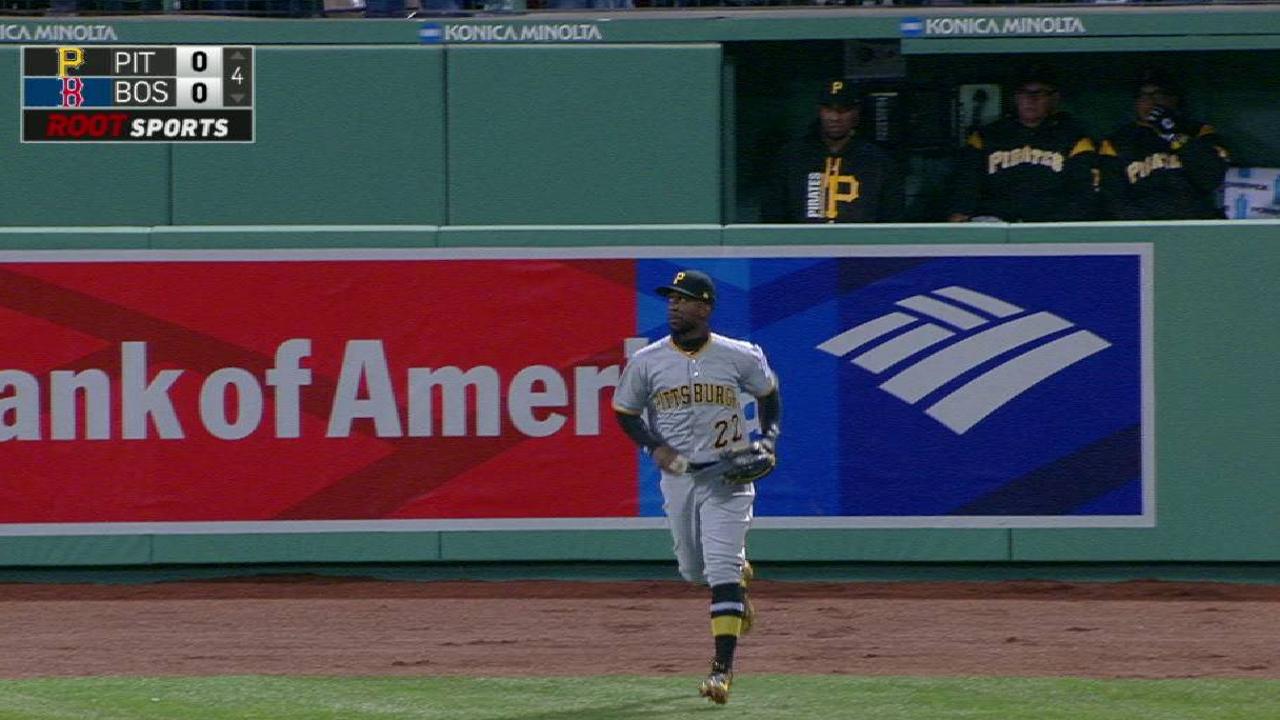 After watching Adam Jones steal a home run from Manny Machado in the World Baseball Classic, McCutchen returned to Pirates camp and said he'd always dreamed of doing the same -- but he would "need to get my 'go-go Gadget' legs" to rob one in front of the 21-foot Clemente Wall at PNC Park. He did it flat-footed at Fenway.
"I was just backing up and catching the ball," McCutchen said. "The wall was right there. I was just trying to catch it, that was it. I knew the wall was close. Didn't really know how close until I hit it. I was able to get the job done, get the defense in, keep it 0-0."
Adam Berry has covered the Pirates for MLB.com since 2015. Follow him on Twitter and Facebook, read his blog and listen to his podcast. This story was not subject to the approval of Major League Baseball or its clubs.