Statcast spotlight: 5 players to watch today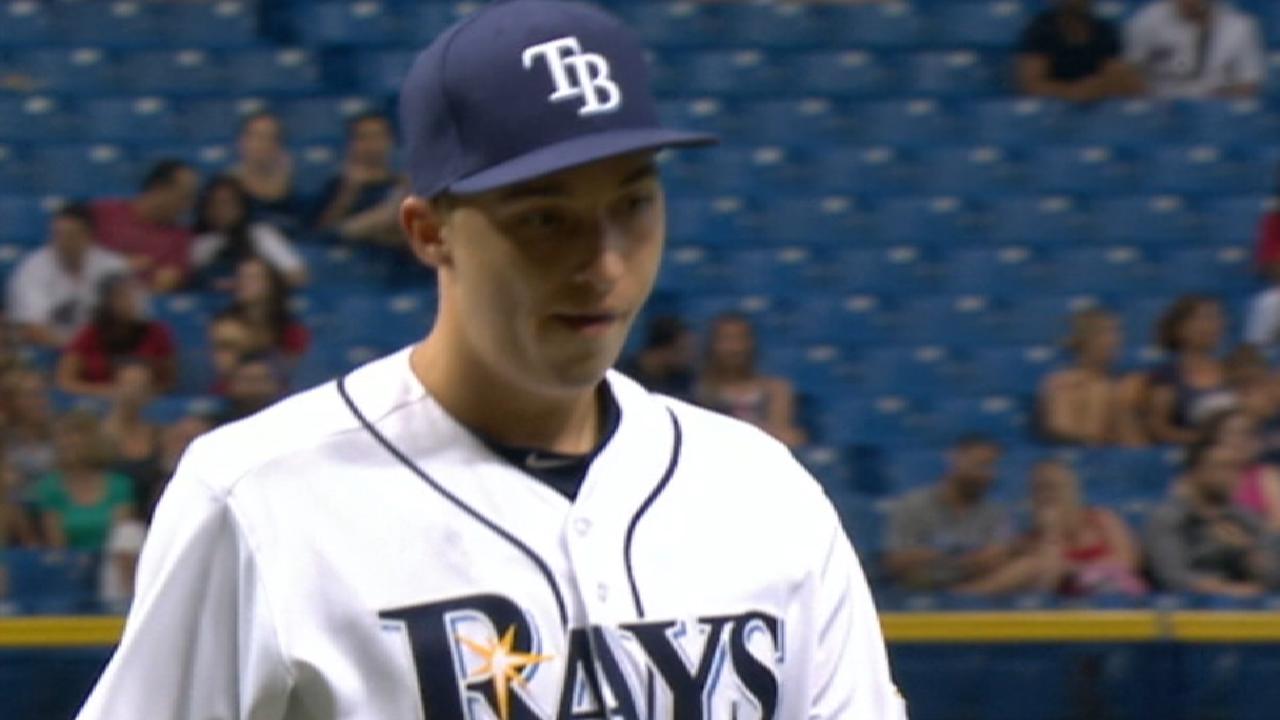 Using revolutionary Statcast™ data, here are five players to keep an eye on in today's games. Watch it all on MLB.TV.
Blake Snell
7:10 p.m. ET -- Blue Jays at Rays
Snell's devastating curve was on full display during his 19-start stint in the big leagues last season. Opponents had just a .065 slugging percentage against the then-rookie hurler's curveball in 2016, putting Snell first among all pitchers who deployed the pitch at least 200 times. The Rays will be looking for more of the same when the 24-year-old southpaw makes his season debut against the Blue Jays.
Lowest opponents' slugging percentage on curves for 2016 (minimum 200 thrown)
1. Snell: .065
2. Zach Duke: .085
3. Craig Kimbrel: .113
4. Daniel Coulombe: .116
5. Mike Montgomery: .138
Matt Harvey
7:10 p.m. ET -- Braves at Mets
Following a disappointing 2016 season that ended in early July, all eyes will be on Harvey as he makes his '17 debut coming off surgery to address thoracic outlet syndrome. One thing to watch will be the zip and effectiveness of Harvey's primary pitch, the four-seam fastball. Compared to '15 (2.71 ERA), Harvey threw the pitch at a lower velocity and spin rate in '16 (4.86 ERA), and it generated many fewer whiffs and more damage from opponents.
Average velocity of Harvey's four-seamer
2015: 96.2 mph
2016: 95.1 mph
Average spin rate of Harvey's four-seamer
2015: 2,337 rpm
2016: 2,233 rpm
League average: 2,245 rpm
Batting average/slugging percentage on at-bats ending with pitch
2015: .243/.374
2016: .320/.448
Misses per swing
2015: 24.5 percent
2016: 16.4 percent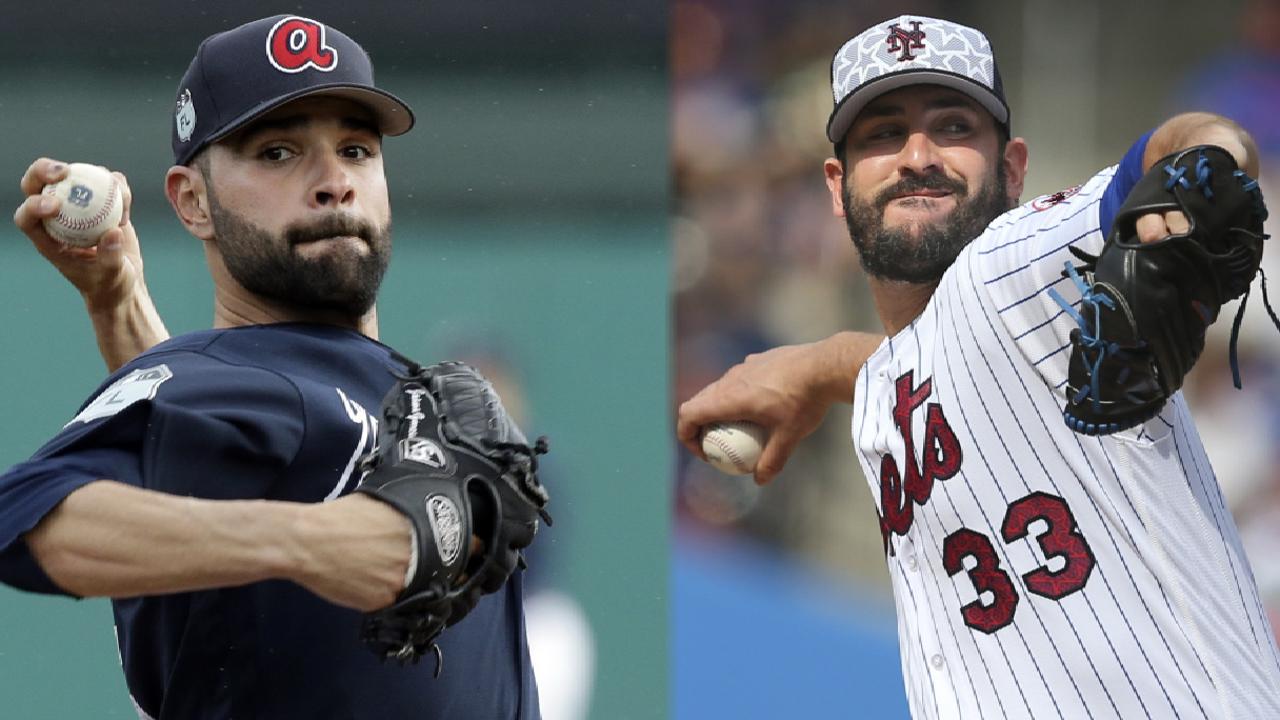 Jean Segura
8:10 p.m. ET -- Mariners at Astros
Segura slugged his first home run as a Mariner on Wednesday, benefitting from some perfect placement -- he lined the 93.9-mph shot at a 28-degree launch angle just over the wall in the right-field corner in Houston. Batted balls with that combination of exit velocity and launch angle have been home runs just seven percent of the time in the Statcast™ Era (2015-17). It was also Segura's second-softest home run as tracked by Statcast™.
Segura's lowest exit velocity on home runs in the Statcast™ Era
1. 9/17/16 vs. Dodgers: 88.3 mph
2. 4/5/17 at Astros: 93.9 mph
3. 4/7/16 vs. Cubs: 94.1 mph
4. 5/9/16 at Rockies: 96.7 mph
5. 7/15/16 vs. Dodgers: 97.9 mph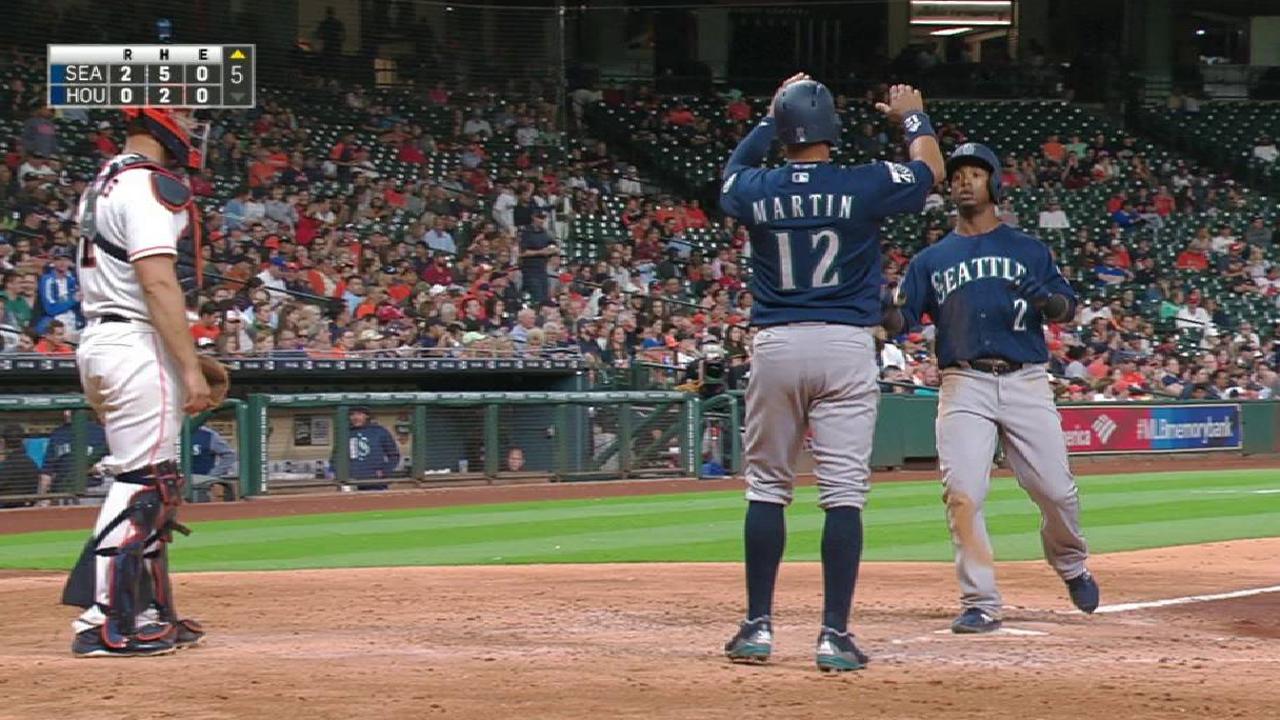 Ken Giles
8:10 p.m. ET -- Mariners at Astros
Giles got off to a tough start in 2016, but not so this year. In his first two appearances, he threw two scoreless innings with five strikeouts, and opponents missed on eight of their 15 swings (53.3 percent). Giles was among the league leaders in whiff rate last season (40.0 percent), but he was at only 29.4 percent while posting a 9.00 ERA in April.
Highest rate of swings missed in 2016 (minimum 250 swings against)
1. Luke Gregerson: 42.7 percent
2. Dellin Betances: 41.2 percent
3. Giles: 40.0 percent
4. Carl Edwards Jr.: 39.7 percent
5. Edwin Diaz: 38.9 percent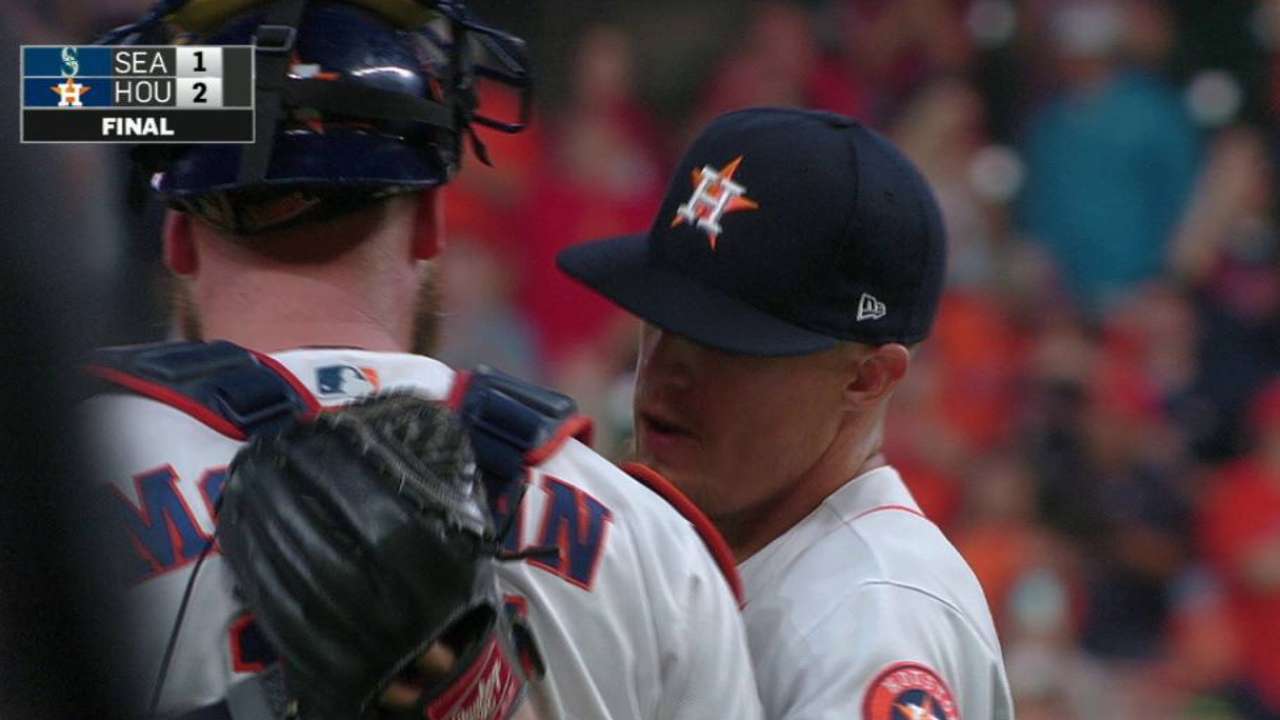 Brandon Belt
9:40 p.m. ET -- Giants at D-backs
Belt hit his first home run of the season Wednesday night, launching a moonshot at a 30-degree launch angle into right-center against D-backs starter Taijuan Walker. Belt led the Majors in average launch angle (minimum 250 batted balls) last season (20.2), and over the past two years, he's tied for the highest average on home runs (minimum 25) with the Cubs' Kris Bryant.
Highest average launch angle on home runs from 2015-16 (minimum 25 home runs)
1 (tie). Belt, 32.2 degrees
1 (tie). Bryant, 32.2 degrees
3. Asdrubal Cabrera, 32 degrees
4. Alex Gordon, 31.8 degrees
5. Curtis Granderson, 31.8 degrees
Highest average launch angle in 2016 (minimum) 300 batted balls
1. Belt: 20.2 degrees
2. Bryant: 19.8 degrees
3. Chris Carter: 18.8 degrees
4. Todd Frazier: 18.7 degrees
5. Matt Carpenter: 18.2 degrees