Dodgers' free agents come up big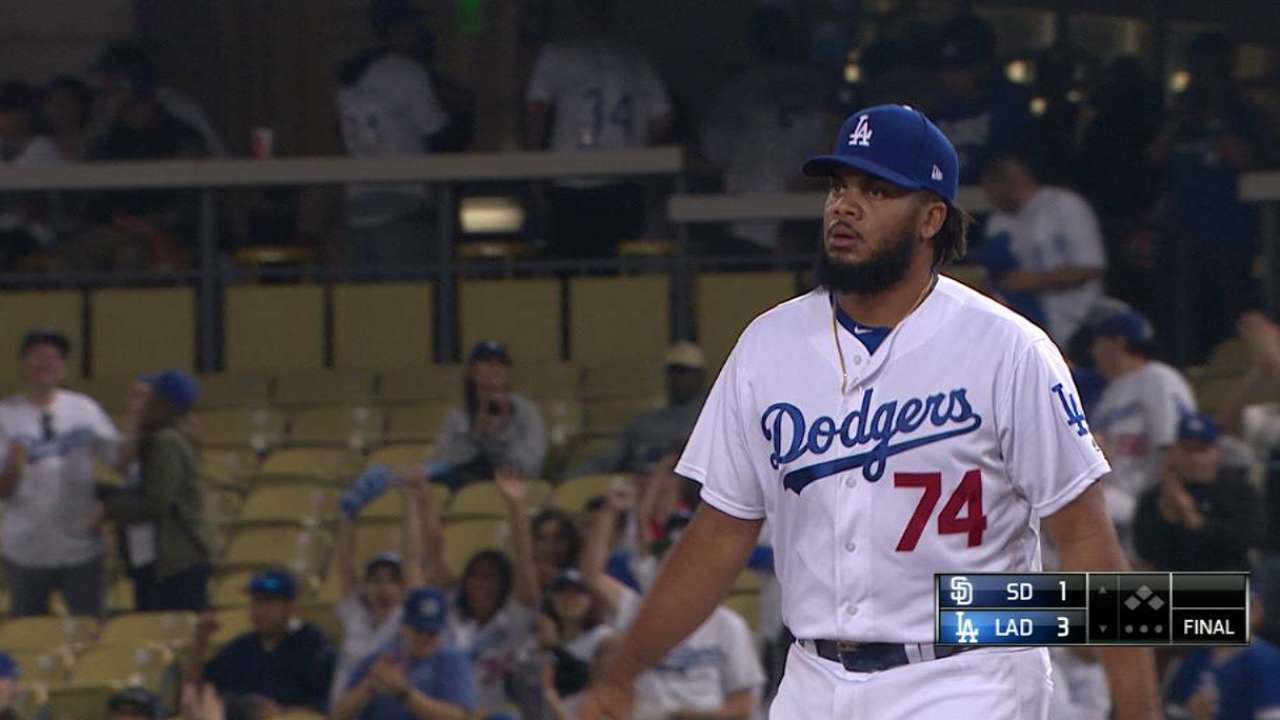 LOS ANGELES -- The Dodgers spent $200 million on free agents over the winter and got their money's worth Wednesday night in a 3-1 win over the Padres.
Rich Hill ($48 million) allowed one run on two hits over five innings, closer Kenley Jansen ($80 million) picked up his first save, Justin Turner ($64 million) had a pair of hits (including a bloop double off a lefty) plus a steal of third base and Sergio Romo ($3 million) made his Dodgers debut with a scoreless inning.
With Yasiel Puig slugging his first home run for insurance, the Dodgers had more to be pleased about than the slim margin of victory.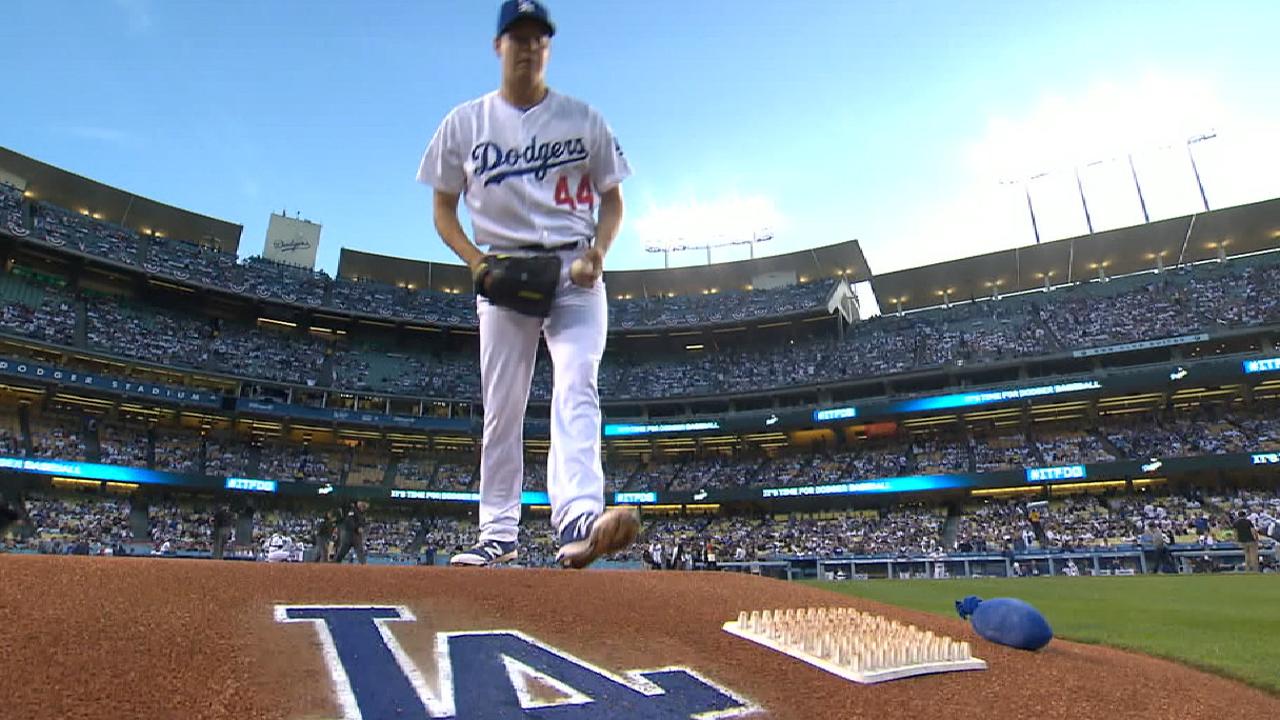 Hill, for one, showed continued improvement after a pretty shaky Spring Training. He struck out five and was removed after throwing 75 pitches, the pregame target of manager Dave Roberts, who said the 92-mph Trevor Cahill fastball that Hill took off his right (non-pitching) hand did not prompt his removal. X-rays were negative.
"I'd like all the guys to go deeper, but these two games it's just figuring out what's best for us to win that game," said Roberts, who also removed Kenta Maeda after five innings Tuesday night. "I know Rich and Kenta will go deeper, but in these games I felt it was the right thing."
Hill said he's already well ahead of his form of a year ago, when he struggled in the early months.
"Definitely better than a year ago and definitely going in the right direction," said Hill. "I was able to repeat my pitches. I feel good about the start and feel good about moving forward. Sergio and [Alex] Wood and Kenley were just seamless, and it was a lot of fun to watch."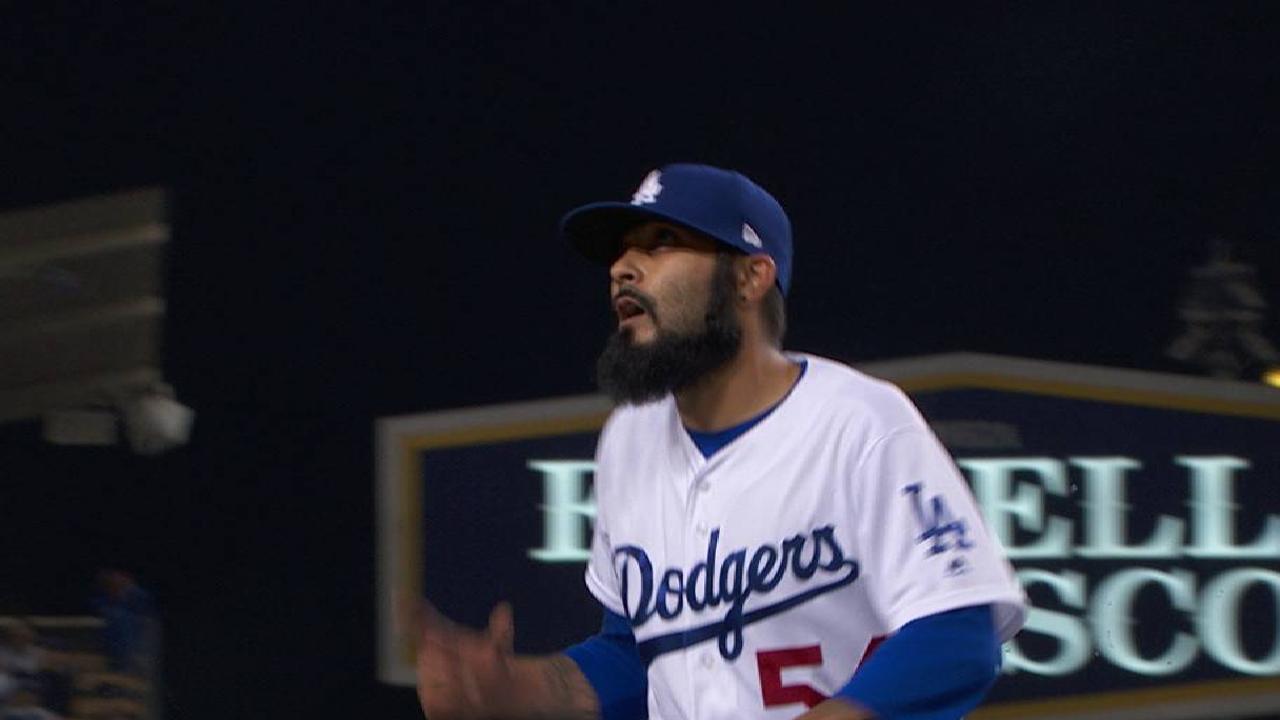 Romo pitched the sixth inning, Roberts said, because he wanted him facing the top of San Diego's order. Wil Myers laced a double on a high sinker, but Romo escaped.
"They told me to be ready by the sixth, and I was pitching in the sixth, so I've got to be ready for anything," said the former Giants closer, who entered to his customary "El Machon" theme song. "It was exciting to hear my song being played and hear the crowd's reaction to it."
Wood, squeezed out of the starting rotation despite a solid camp, pitched two hitless innings with a fastball between 93-95 mph. Roberts calls Wood's pitch mix and ability to throw multiple innings "a weapon."
"That's the highest I've been in a while," said Wood, who had elbow clean-up surgery last summer. "The adrenaline pitching for the first time is part of it. And the adrenaline coming out of the bullpen is different, because you can go 100 percent for an inning or two. I don't consider myself a reliever; I consider myself a starter that's relieving. That's my job, and that's what I'm focusing on now."
Jansen, who admitted he couldn't summon up adrenaline in the Cactus League, had no trouble answering the bell.
"It's so much different, man," he said. "We're just getting ready for the season, it's not the same as a meaningful game. Once you get in here, you're playing for one purpose, that got me going. When that phone rang, I was ready."
Ken Gurnick has covered the Dodgers since 1989, and for MLB.com since 2001. This story was not subject to the approval of Major League Baseball or its clubs.