MLB.com Columnist
Alyson Footer
Grateful Scherzer gets awards in front of fans
WASHINGTON -- When you can't decide which is cooler -- a no-hitter, or a 20-strikeout game -- and you've done both, that's a pretty good indicator that your Major League career is coming along quite nicely.
That's an obvious understatement for a pitcher of Max Scherzer's stature, given the 32-year-old Nationals right-hander is only the second pitcher in Major League history with a resume that includes a no-hitter and a 20-strikeout game. That Scherzer shares the distinction with a Hall of Famer -- Randy Johnson -- could foreshadow where he may be headed someday.
Scherzer, the reigning National League Cy Young Award winner, was the recipient of two Esurance MLB Awards in 2016, for Best Pitcher and Best Pitching Performance, the latter recognizing his 20-strikeout game. This was Scherzer's second award for Best Performance, having won in 2015 for his Oct. 3 no-hitter against the Mets.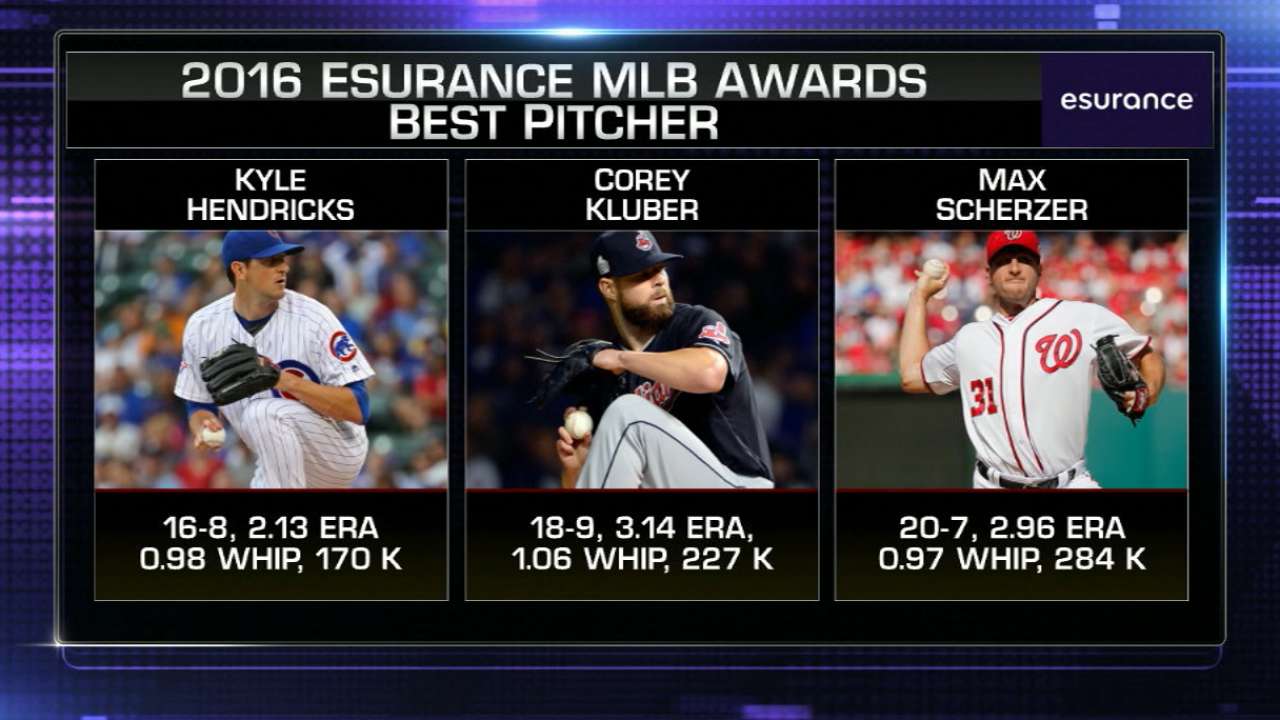 Scherzer received his hardware during a pregame ceremony on Wednesday, and he expressed his gratitude for the fans, who count for a big part of the voting body.
"The fans make this game go," Scherzer said. "When you get acknowledged by the fans for your achievements on the field, it means that much more. Actually being able to win Best Performance now twice, those are some of my favorite games I've ever pitched in my life. The fact that I get an award from it, it makes it even sweeter."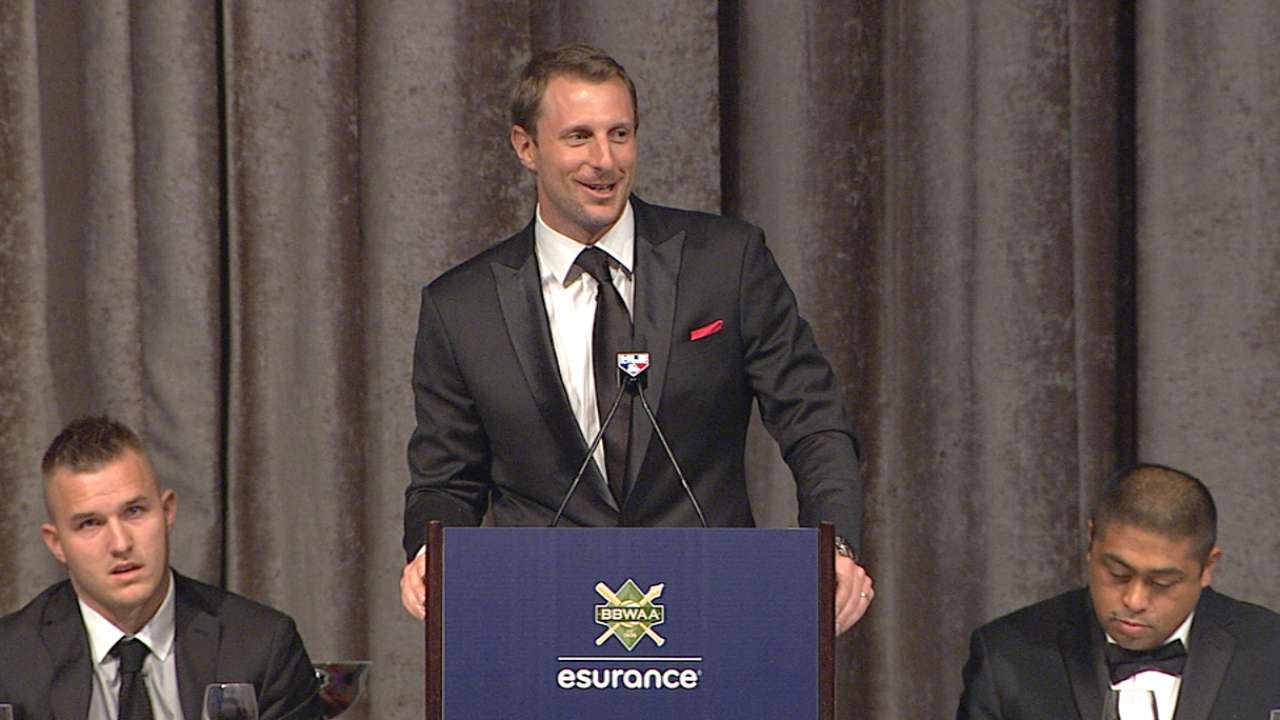 A closer look at Scherzer's body of work shows superiority in several areas. Last season, according to Statcast™, he averaged 95 mph with his four-seamer, ranking 10th among pitchers who threw at least 1,000 of them. Meanwhile, his four-seamer spin rate (2,550 rpm) dwarfed the MLB average (2,264) and ranked second out of 97 pitchers who had at least 750 tracked.
High-spin four-seamers tend to create more fly balls and missed swings, and in fact, Scherzer finished second among qualified MLB pitchers in strikeout rate and sixth in flyball rate.
In more traditional terms, Scherzer's career has been, simply, amazing.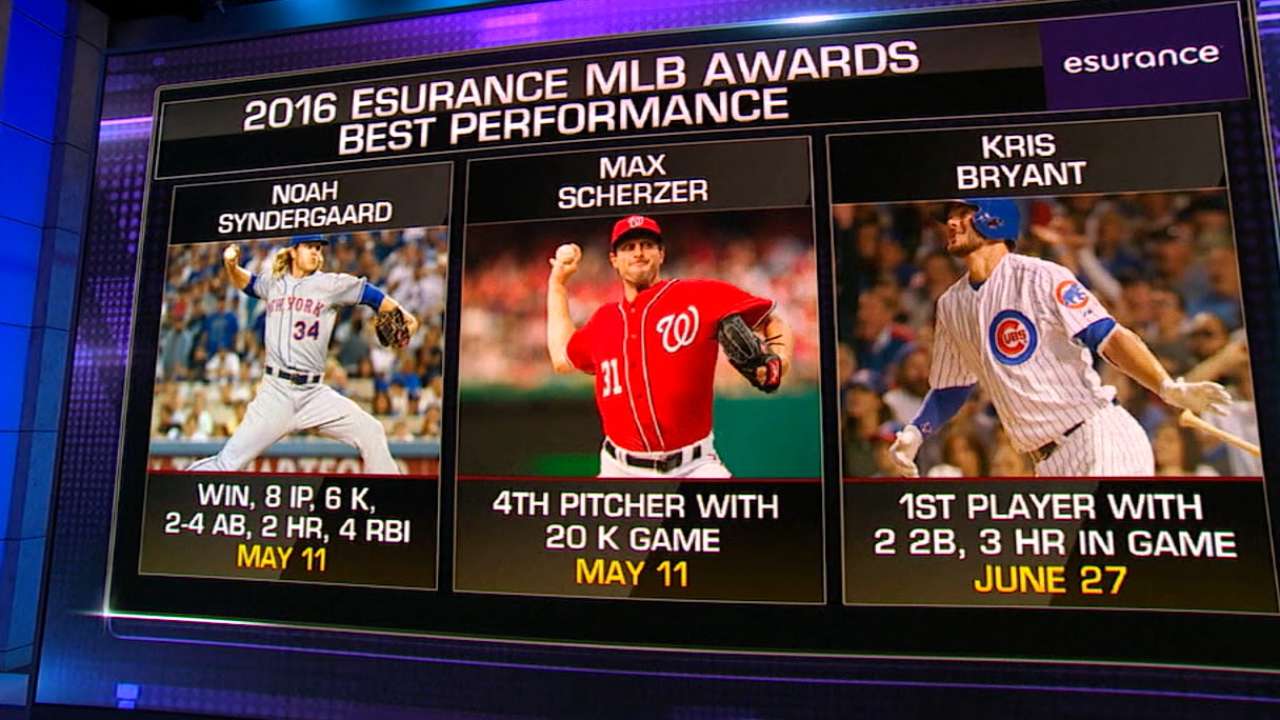 He's won a Cy Young Award in both leagues. In 2015, he threw two no-hitters, becoming just the fifth pitcher in history to throw two no-nos in the same season. He leads all active starting pitchers with a career 9.98 strikeouts per nine innings, and he's one of four active pitchers with 200 strikeouts in five consecutive seasons.
He's been asked on more than one occasion which was more exciting, his no-hitters or the 20-strikeout game? Scherzer gives obvious credence to both, but leans toward the latter as perhaps his top personal accomplishment so far.
"The more I've gotten away from each moment, I'm able to appreciate more the history of each accomplishment," he said. "The 20 strikeouts, it was so cool to be able to go out there and do that. I just remember that game just being locked, filling up the zone, constantly being in 0-2 counts and executing pitches. That one, I'll always remember."
Alyson Footer is a national correspondent for MLB.com. Follow her on Twitter @alysonfooter. This story was not subject to the approval of Major League Baseball or its clubs.