Statcast spotlight: 5 players to watch today
Using revolutionary Statcast™ data, here are five players to keep an eye on in today's games. Watch it all on MLB.TV.
Khris Davis
10:05 p.m. ET -- Angels at Athletics
Of Davis' 42 tracked home runs last season, 28 came off his powerful bat at 105 mph or harder, tying him for the second-biggest total in the Majors. He picked up where he left off in Monday's season opener, launching one big fly at 110.7 mph and one at 109.8 mph. Both shots ranked among his 10 hardest homers of the Statcast™ Era, though behind his personal record of 113.2 mph last June 13.
Most homers of at least 105 mph in 2016
1. Nelson Cruz: 30
2 (tie). Davis: 28
2 (tie). Chris Carter: 28
4 (tie). Chris Davis: 27
4 (tie). Miguel Cabrera: 27
Kendrys Morales
7:05 p.m. ET -- Blue Jays at Orioles
Playing in a big ballpark with the Royals last season, Morales led the Majors in most outs with a projected distance of 375 feet or further (17). Morales changed teams this offseason, heading to the Blue Jays, but in the opener at Camden Yards, the trend continued. Morales hit a Kevin Gausman pitch for a Barreled Ball (101.5-mph exit velocity, 27-degree launch angle), launching it a projected 389 feet, but center fielder Adam Jones caught it for an out.
Most outs of at least 375 feet in 2016
1. Morales: 17
2 (tie). Albert Pujols: 16
2 (tie). Jose Altuve: 16
4 (tie). Victor Martinez: 15
4 (tie). Cabrera: 15
4 (tie). Rougned Odor: 15
4 (tie). Evan Longoria: 15
Danny Salazar
8:05 p.m. ET -- Indians at Rangers
Salazar has been one of the most dominant changeup throwers in the Statcast™ Era. Since the start of 2015, opponents have hit just .142 against Salazar's change of pace. When hitters have swung at the pitch, they have missed 40.7 percent of the time. That opposing batting average ranked second among MLB starters who have ended at least 100 at-bats with a changeup over the past two years, and Salazar's whiff rate ranked fourth among those who threw at least 500 changeups in that time. Best of all, Salazar's 174 strikeouts on changeups are the most of any pitcher in the Statcast™ Era.
Most strikeouts on changeups since 2015
1. Salazar: 174
2. Kyle Hendricks: 154
3. Matt Shoemaker: 143
4. Marco Estrada: 141
5. David Price: 127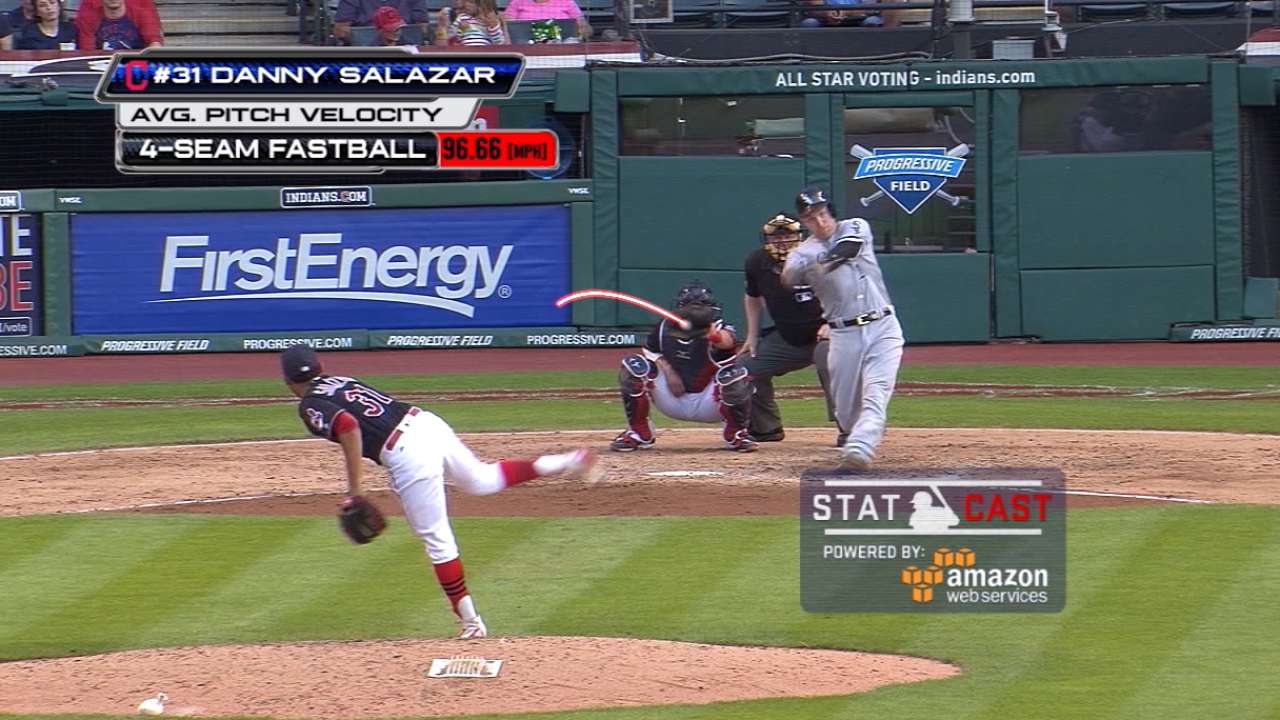 Bartolo Colon
7:10 p.m. ET -- Braves at Mets
At age 43 last season, Colon threw nearly 200 innings with a 3.43 ERA. If that's not enough, he did so while firing fastballs nearly 90 percent of the time -- far more than any other starter. His primary pitch -- the two-seamer, averaged a modest 87.6 mph -- which made it the third slowest in the Majors (minimum 500 thrown).
Highest fastball (four-seamers/two-seamers/sinkers) rate for starting pitchers in 2016 (minimum 1,000 total pitches)
1. Colon: 89 percent
2. Aaron Sanchez: 75 percent
3. Tyler Chatwood: 74 percent
4. J.A. Happ: 73 percent
5. Clayton Richard: 73 percent
James Paxton
8:10 p.m. ET -- Mariners at Astros
Paxton's 2016 average four-seam fastball velocity of 96.8 mph is impressive for anyone, but even more so for a starting pitcher -- especially a lefty. Paxton reached triple digits twice, topping out at 100.2 mph, and his 242 pitches of 98 mph or harder were nearly 10 times the number for any other southpaw starter (Carlos Rodon had 27).
Highest four-seam fastball velocity for lefty starters in 2016
1. Paxton: 96.8 mph
2. Danny Duffy: 95.0 mph
3. Robbie Ray: 94.8 mph
4. Blake Snell: 94.0 mph
5. Rodon: 93.8 mph