Blake superior? Treinen's sinker among best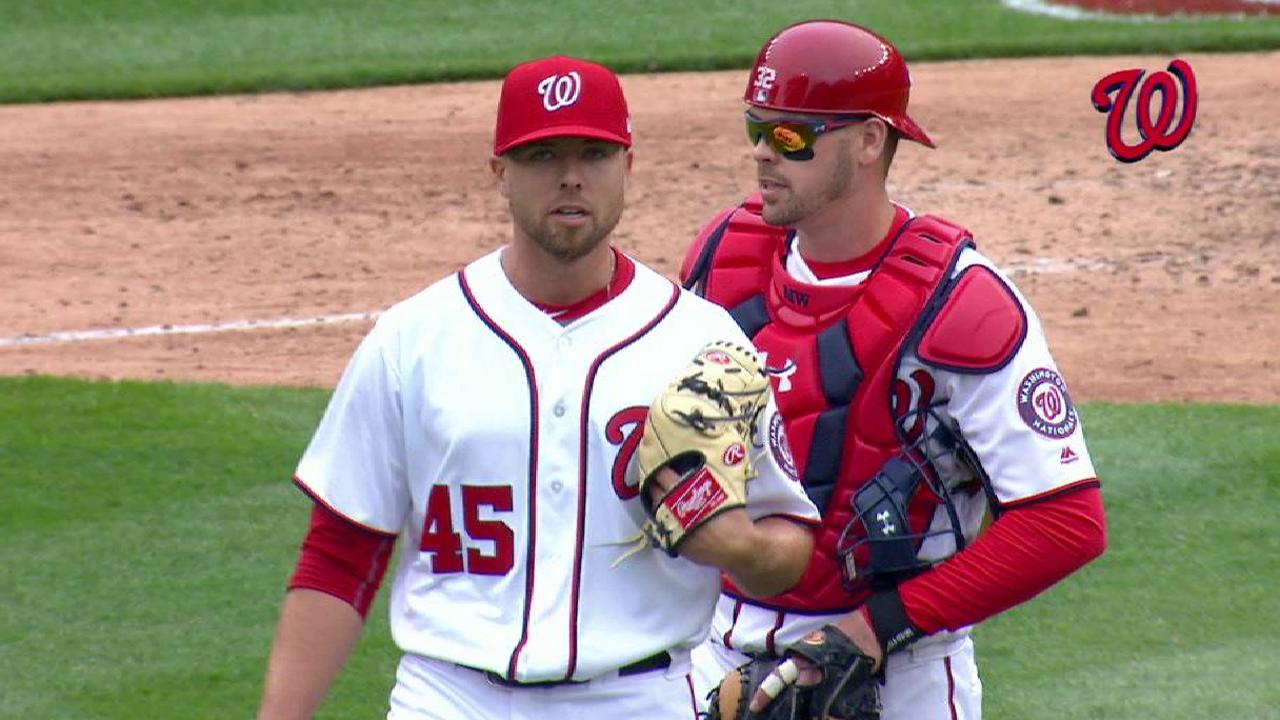 WASHINGTON -- Blake Treinen never imagined himself in this role. He came up through the Nationals' organization as a starter before he was converted to a reliever. And even then, Treinen was focused on sticking in the Major League bullpen after bouncing in between in the Minors. But when the Nats named him their closer to begin the season, he told manager Dusty Baker how much he was looking forward to it.
That was surprising to Baker. Treinen had not lobbied for the job as the Nationals searched for a closer the entire offseason or campaigned for the role as the team debated candidates during Spring Training. How come he never mentioned it?
"He said that wasn't his place to do it," Baker said. "He's an awfully nice guy with very good stuff on the mound and very respectful. There are a lot of guys who would have been politicking for that. He said he wanted it, but only after we asked him."
For a while, that was a knock on Treinen, that he was "the nice guy with very good stuff." Perhaps he is about to start changing that narrative into a positive after he blew away the Marlins on Monday afternoon to convert his first save opportunity of the year in the Nats' 4-2 season-opening victory. Because Treinen does have very good stuff, predominantly his turbo sinker that has drawn comparisons to Orioles closer Zach Britton.
The parallels are easy: they are both converted starters and now closers right down I-95 from each other, and they both primarily use a sinker, which they throw at similar speeds. The only reliever who posted a higher ground-ball rate than Treinen's 65.9 percent in 2016 was Britton, who had a stellar 80 percent.
Highest two-seam/sinker velocity, 2016
Minimum 500 thrown (101 pitchers) as tracked by Statcast™
1. Noah Syndergaard: 98.1 mph
2. Britton: 97.1 mph
3. Nate Jones: 97.1 mph
4. Yordano Ventura: 96.8 mph
5. Jeurys Familia: 96.4 mph
6. Treinen: 96.1 mph
7. Sam Dyson: 95.9 mph
8. Jeremy Jeffress: 95.8 mph
9. Jake Diekman: 95.6 mph
10. Aaron Sanchez: 95.3 mph
Britton did not start out as a closer, but he eventually developed into one of the best in baseball. The Nationals are hoping Treinen follows a similar trajectory. They are hoping Treinen will benefit from working with new catcher Matt Wieters, who caught Britton for years in Baltimore.
"The sinker he has, you can make those comparisons," Wieters said. "Granted, it's going to have to be a larger body of work, but the fact of him having that pitch that a hitter is going to have to cheat on to get to, it's tough to hit. So him having confidence to throw that for a strike at any time is going to be big for him."
Now Treinen still has a way to go to get to Britton's status. In at-bats ending with Treinen's sinker last season, opponents hit .277 with a .380 slugging percentage, compared to .160 with a .196 slugging percentage off Britton. Treinen generated swings and misses on 16.6 percent of swings against his sinker, while Britton got whiffs on 36.5 percent. The difference is that Britton still throws his sinker much lower in the zone than Treinen usually does. So while Treinen's sinker is great, comparing it to Britton's is still a high bar.
"He's definitely a guy that, as a sinkerballer, you watch," Treinen said of Britton during Spring Training. "Now, he's obviously lefty and I'm righty, but to see how he attacks hitters, it's fun. He does it with 80-plus percent fastballs. He's obviously very elite in what he does. His numbers last year put him probably the best in the game."
While Britton uses mostly fastballs, the biggest difference with Treinen is he also has a tremendous slider that last season held opponents to a .122 average and a .232 slugging percentage in at-bats that ended with it.
Treinen still throws his sinker twice as often, but he got 54 percent of his swings and misses and 74 percent of his swinging third strikes with the slider. It's how he got through his first save chance on Monday. Treinen threw 13 sinkers at a average of 97.2 mph, according to Statcast™, and primarily threw it for strikes. But when he needed to get opponents to chase the ball out of the zone, he used his slider.
Looking at Blake Treinen's pitch charts from the 9th yesterday. Threw sinker for strikes and used the slider to get hitters to chase pic.twitter.com/IIfHfw1X4e

— Jamal Collier (@JamalCollier) April 4, 2017
It included a key at-bat against Justin Bour with one out in the inning. Treinen, whose struggles with lefties got him sent to the Minors in 2015, fell behind, 3-0, before he battled back to 3-2. He shook Wieters off from the original call of a sinker to throw a slider that Bour swung through for strike three, garnering a fist pump from Treinen.
"That was the only pitch he wanted to throw," Wieters said. "He wanted that 3-2 slider. ... With his stuff, he kind of has 1 and 1A."
Jamal Collier covers the Nationals for MLB.com. Follow him on Twitter at @jamalcollier. This story was not subject to the approval of Major League Baseball or its clubs.