Inbox: Will no-lefties plan work for Marlins?
Beat reporter Joe Frisaro answers questions from Miami fans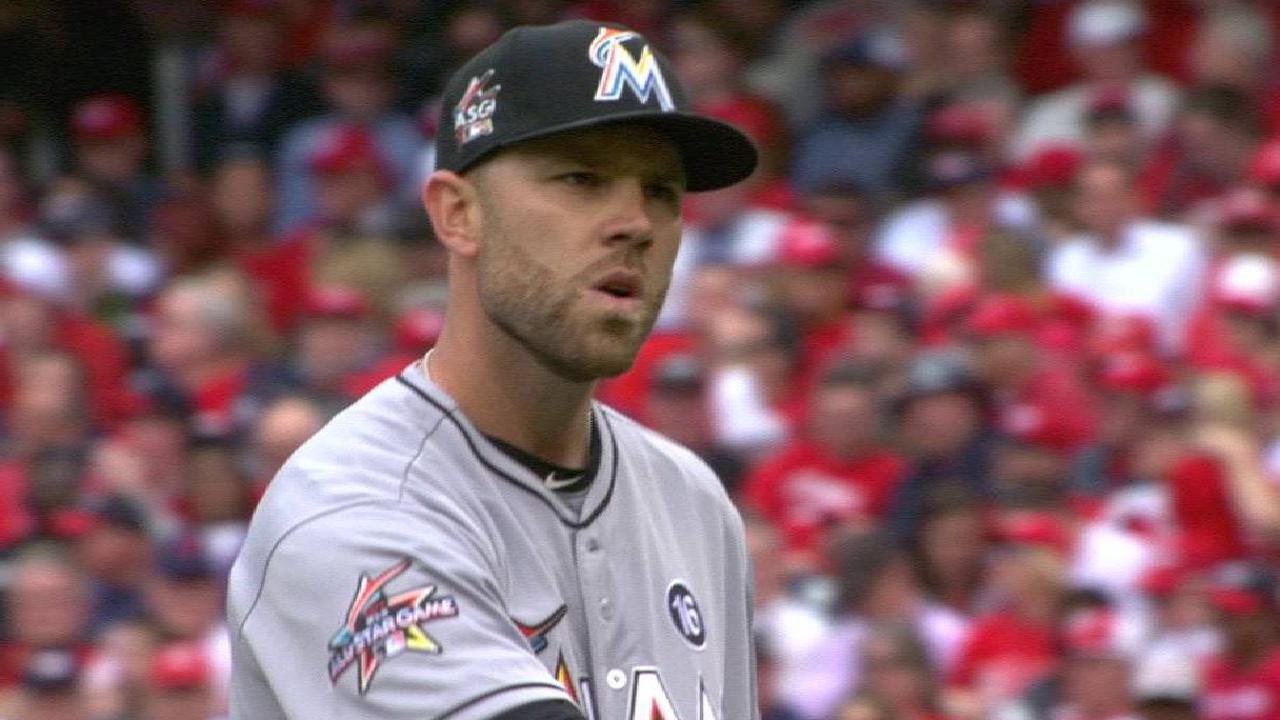 What does manager Don Mattingly plan on doing now with no lefties in the bullpen? Opening Day showed how difficult it is not having a southpaw.
-- @easanabria
That was an organizational decision the club was open about all offseason and throughout Spring Training. The Marlins feel handedness is overrated. They also noted that David Phelps is their Andrew Miller, and he's arguably their best reliever. Mattingly said after Monday's 4-2 loss to the Nationals that he plans to match Phelps up with the other team's top hitters. It didn't work out, and left-handed hitters Bryce Harper and Adam Lind each homered.
• Submit a question to the Marlins Inbox
Mike Dunn, who is now with the Rockies, was Miami's primary lefty reliever a year ago. When you look at his splits, left-handed hitters batted .278 off Dunn, compared to .263 for right-handed hitters. Phelps' splits a year ago: lefties .230, righties .172.
The Marlins signed right-handers Brad Ziegler and Junichi Tazawa in free agency, but they passed on lefty Travis Wood, who could start or relieve. Now with the Royals, Wood limited left-handed hitters to a .126 batting average, while right-handers batted .265.
The bottom line is, I'd still take my chances with Phelps.
How long do you think the Marlins will go with a short bench? I can't imagine for an entire season they want to keep just four bench players.
-- Juan T., Pembroke Pines, Fla.
I honestly don't think the team will stick with eight relievers for more than a couple of weeks. That could change if the starting pitching struggles the rest of the road trip, or if weather creates a scenario that leads to starters coming out of games early and the bullpen being taxed.
The starters should be stretched out more in the upcoming weeks, which will reduce the need for a deeper bullpen.
Once the starters are working deeper into games, I could see a fifth bench player -- perhaps by the first homestand, which starts April 11 against the Braves at Marlins Park. Third baseman Martin Prado (strained right hamstring) could be ready to come off the disabled list during that homestand. I wouldn't be stunned if a reliever is sent down rather than a position player.
Will J.T. Realmuto be splitting time with Justin Bour at first base only against lefties?
-- @lalo_827
Mattingly repeated on Opening Day that Bour will be given chances against lefties, and he won't be platooned. The decision also was made to carry Tyler Moore, who is a right-handed-hitting first-base option. With Moore on the roster, I don't expect Realmuto to get many starts at first base, at least not in April. Also remember, A.J. Ellis missed about a month of Spring Training due to a left hamstring strain. Although he is healthy now, the team may ease him into action a game or two a week. The first test for Bour will be on Thursday against Washington lefty Gio Gonzalez.
What does Giancarlo Stanton have to do to have a good season? Like 40-plus home runs and hit .280-plus? Just stay healthy?
-- @congunners
Staying healthy is a start. In 2014, Stanton was second in the National League MVP Award voting when he led the NL with 37 homers. He batted .288 that year. But injuries limited him to 74 games in '15 and 119 in '16.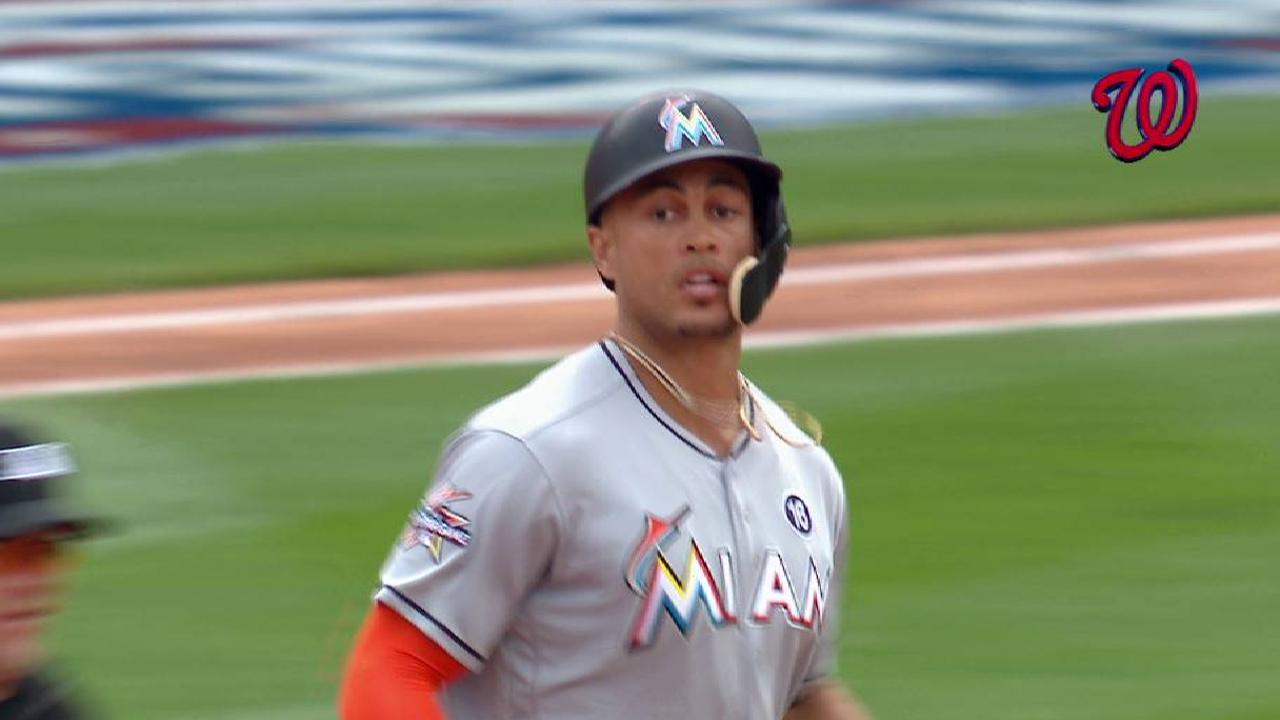 I noted this in a story the other day, and it's worth repeating. If Stanton simply improves hitting the four-seam fastball, his numbers should increase dramatically. Last year, he hit .234 off the pitch. Per Statcast™, there were 111 players in the Majors with 20 homers or more in 2016. Stanton had 27. Yet his batting average against the four-pitch fastball was in the bottom 14 of the list. Christian Yelich hit 21 homers and batted .358 against four-seamers.
Biggest "must see improvement" for the first half of the season?
-- @Manny560q
The easy answer is starting pitching, but I'm going to say the offense needs to score more runs. The Marlins were shut down after the fifth inning in Monday's loss, with the final 13 retired in order.
Joe Frisaro has covered the Marlins for MLB.com since 2002. Follow him on Twitter @JoeFrisaro and listen to his podcast. This story was not subject to the approval of Major League Baseball or its clubs.